Perhaps the only thing that fluctuates more rapidly in this sport than rider confidence, is fan "bandwagoneers".
Perhaps the only thing that fluctuates more rapidly in this sport than rider confidence, is fan "bandwagoneers".
Photos By: Simon Cudby
We are creatures of habit and if there's one thing we as humans and more specifically fans of sport love to do, it's predict victors. Motocross may be a high-priced niche sport but that doesn't mean we don't bring the traditional customs of mainstream sport right into our midst. Prior to the season, we spout off the arguments and reasonings behind our own expectations of who will own the lions-share of wins come seasons end. Just like the sun rising and water flowing downhill, those predictions see quick and highly contrasting amendments as the moto's click off and the unexpected happens.
Just look at the most unanticipated dominant rider of 2014 in Jeremy Martin. Prior to the motocross series and based largely off of his severely lacking Supercross series, Jeremy Martin was the very definition of cautious-optimism as Glen Helen approached. Following Glen Helen, the shock over his domination was abundant and vocal. Everyone was now talking about Jeremy Martin and for good reason. We all love an underdog and considering the younger Martin had failed to make two Supercross mains this year, he was a great story to kick off the outdoors which had been needing an intriguing storyline following the news that Ryan Villopoto wasn't (no wait, was– but really wasn't) going to line up for the Nationals. RV should actually thank Jeremy for shifting the topic of discussion from Villopoto being a lying bastard, to how awesome he and his spanking new Yamaha 250F were. Hole-shotting one moto and leading every lap could be a fluke but the margin by which he won suggested it was with purpose. Doing it again in the second moto confirmed that both Jeremy and the new YZ250F were a step ahead of the class. Teammate Cooper Webb finishing bridesmaid through both mottos at round one solidified that the new Yamaha 250F was well worth the wait (ok well, maybe not THAT long of a wait).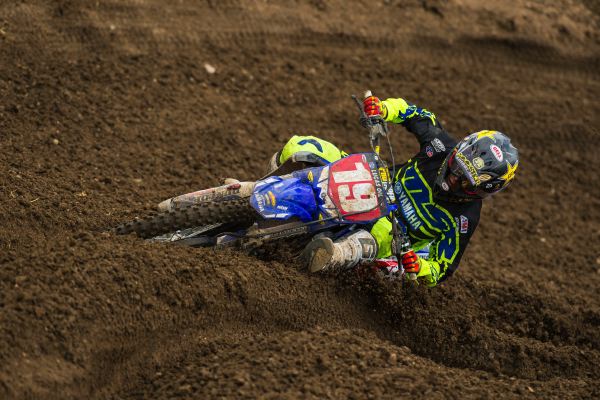 Jeremy Martin came out of the gate like a rocket in the series.
As the checkers fell on the second moto of Hangtown with mirrored results from Glen Helen, it started to look silly to not have a ticket on the Jeremy Martin choo-choo. We all know how JT$ went so far as to predict a J-Mart title clinch by series-end following his 5th-straight moto win after moto-one in Thunder Valley. Don't disparage JT either, at that point in time J-Mart had a 52 point lead over 3rd place in points (Pourcel) and although teammate Webb had shadowed him through 4 moto's, he wasn't exactly pressuring J-Mart to the checkers. Jeremy Martin looked indomitable yet in his post-race interviews he sluffed off the dominance with an "awe shucks" demeanor that didn't exactly ooze of testosterone and intimidation. Those are two things that go a long way in this sport even when fabricated means mores than legitimately personified.
When the J-Mart train saw turbulence (yeah sure a train can deal with turbulence- work with me), Blake Baggett was all too willing to step into that old familiar role and reeled off 4 straight wins followed by a 3rd this last moto at Muddy Creek (due to a late race crash which he had another legitimate shot at winning had he stayed up). Suddenly, all that talk of Jeremy Martin dominance turned into questions of what was wrong with the number 19 and how Blake Baggett finally looked like the Blake Baggett of 2012. Our minds are blown in '12 when Blake would week after week put on the second-half moto charge that was so superior it seemed superhuman. It was like he had taken a delayed release Adderall pill between motos (too soon?). No one else could do it, we had never seen anything like it and it couldn't be believed had it not been seen.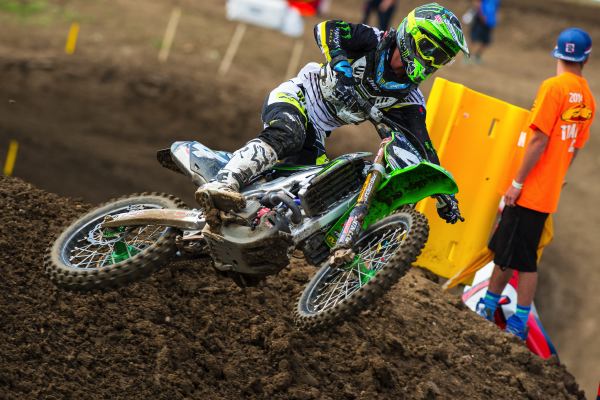 Baggett is the veteran with an uncanny ability to demolish the field at the halfway point of the moto.
Since that season Blake has dealt with multiple injuries, the most debilitating of which was a complicated wrist fracture that forced him to alter his familiar ridding technique. It took time and a couple return visits to get the wrist back to "as good as it can be" but he's clearly there. And of course, those Baggett bandwagons are once again loading passengers; even prior occupants on the J-Mart train. These aren't necessarily fans of either racers but simply educated fans of the sport who's predictions feed off the results, confidence and momentum of the most recent battles.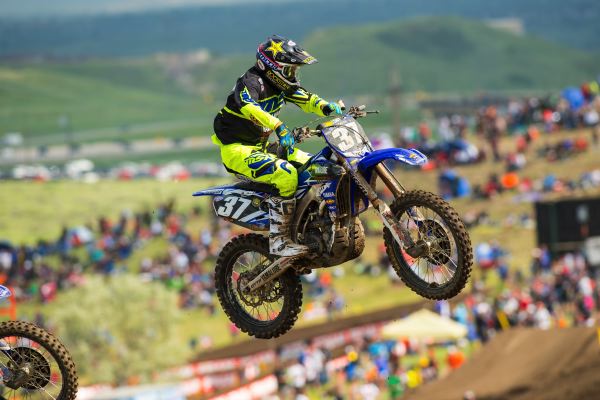 I see Webb feeding off a huge chip on his shoulder.
Somewhat inexplicably, although Cooper Webb is ahead of Blake in the points and won the last race, Blake is the one with the surging confidence, bandwagon and anticipation of taking over this series. Actually, it's quite easily explained in that Cooper is a rookie when it comes to this title stuff and Blake has been there and done that. Cooper is expected to make errors and learn from them, while Blake has experienced and learned from his short comings in years past. I think piss and vinegar go a long way in this sport and more specifically the 250 class and that is one thing Cooper Webb has in excess of anyone else in the class and that's why I wouldn't blink an eye if he were to seize control in the coming rounds.