The magazine bike test – it is as old as the motocross industry itself. As soon as forefathers put knobbies to dirt, there was someone there to write about it.
The magazine bike test – it is as old as the motocross industry itself. As soon as forefathers put knobbies to dirt, there was someone there to write about it.
At first, most of these articles were penned by street bike magazines like Cycle World and Cycle (actually fitting, considering most of these early dirt bikes were little more than street bikes with knobby tires), but as the sport exploded in popularity in the seventies, some off-road specific enthusiast magazines began to pop up. In 1971, Hi-Torque Publications was founded to cater to the exploding demand for off-road content. Their first product would turn out to be the granddaddy of all off-road enthusiast publications – Dirt Bike Magazine. Dirt Bike Volume 1, Issue 1 would hit the newsstands in July of 1971 and introduce a fresh and irreverent style to the industry. Even though Dirt Bike offered less-detailed reviews than the ones found in the established motorcycle press, its light-hearted tone and colorful personalities made it an instant success with the public.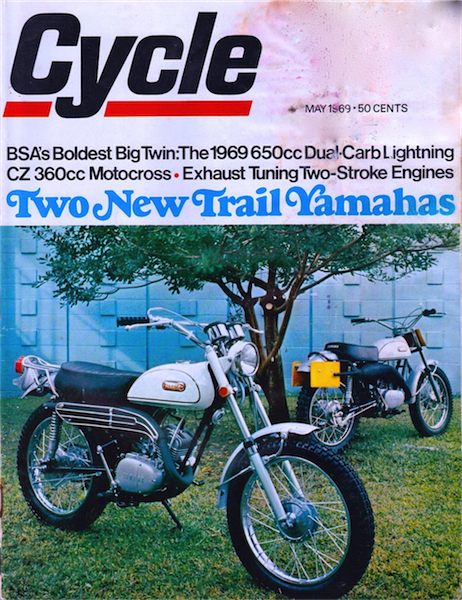 In the early days of motocross, most off-road tests appeared in street-bike-focused magazines like Cycle (pictured above, with the revolutionary Yamaha DT-1 on the cover) and Cycle World. These magazines actually did a very good job of running these early machines through their paces, going as far as to do detailed tear-downs and providing motor and suspension dyno testing in their reviews.
Two years later in the spring of 1974, Hi-Torque Publications would introduce a more racing-focused follow up to their successful first effort, Motocross Action Magazine. MXA (as it would become known) specialized in covering the motocross scene and offered personality profiles, how-tos, race coverage and motorcycle tests for the aspiring motocross racer. In an era before the internet, these bike tests and shootouts were vital to racers trying to make a purchasing decision and held major sway within the industry. A bad review in MXA or Dirt Bike could often mean the difference between success and failure in a sport where one or two outlets controlled the narrative.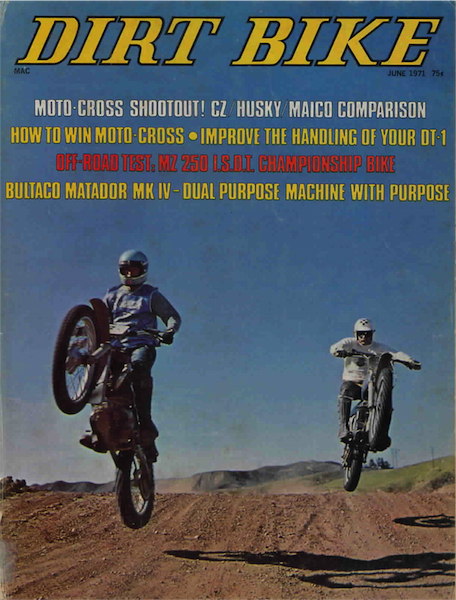 In 1971, Hi Torque Publications would release a new magazine devoted to just the off-road segment of the motorcycling community – Dirt Bike Magazine. Dirt Bike's tests were less detailed than the ones found in the established motorcycle press of the time, but they did offer a different take that was fun and less serious than the competition. With colorful personalities like Rick "Super Hunky" Siemen and Rondo "Mr. Know It All" Talbot (originally Vic Krause of Sidewinder fame) on staff, Dirt Bike would quickly become a favorite of off-road enthusiasts everywhere.
As the eighties rolled around, the sport's continued growth brought with it even more publications looking to build on Hi-Torque's success. Moto Cross Magazine, Dirt Rider and Super Motocross would all through their hats into the ring of the MX enthusiast press. With MXA, Dirt Bike, Cycle and Cycle World all continuing to do motocross tests and shootouts, the information landscape began to become a very crowded place.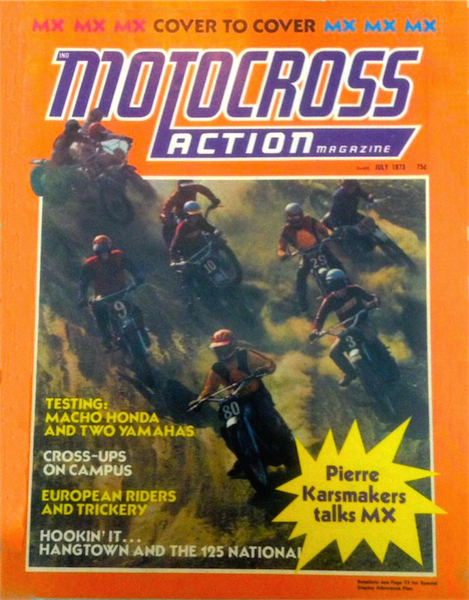 Two years after the release of Dirt Bike, Hi Torque would follow up their first hit with another home run, Motocross Action Magazine. For the next three decades, MXA would remain the most influential magazine in the sport.
The upside of all this additional competition was an onslaught of information for the consumer to make use of. Of course, the flip side to this was the fact that it could potentially become harder to sort out who was right in the cacophony of editorial opinions. In the 1970's and early 1980's, this was less of a problem, as there was typically such a huge gap in performance between the brands that the magazines usually agreed on a winner. As the quality of bikes have improved, however, it has become harder and harder to pick a clear-cut victor.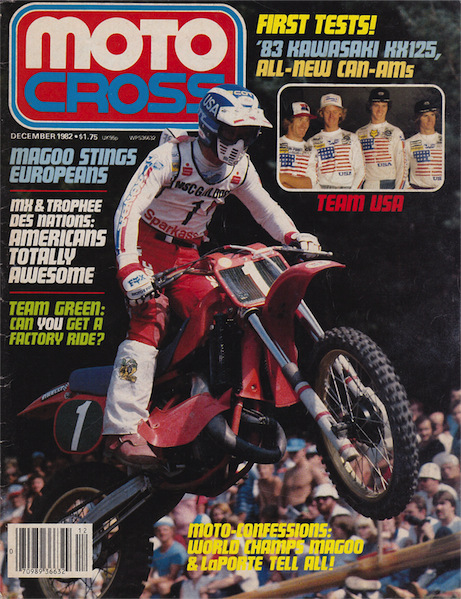 With the popularity of motocross in the early 1980's, it was inevitable that some other magazines would pop up to compete with Dirt Bike and MXA. Moto Cross magazine was a popular alternative to MXA for a time, but would eventually fad away by the middle part of the decade.
As a MX magazine reader and enthusiast of over thirty years now, I have always found this differing of opinion interesting. It is fun to go back now with the benefit of hindsight and see what all the magazines thought about certain bikes when they came out. In the process of my research for GP's Classic Steel, the first thing I do is dig out my old magazine tests. This is by far the most time consuming part of the job, and just finding the article I want can be a lengthy affair. I always try to read tests and shootouts from several magazines so I can get a good overview of what everyone thought. When everyone agrees on a bike, this is a piece of cake; when the reviews are conflicting, it can be hard to get to the truth.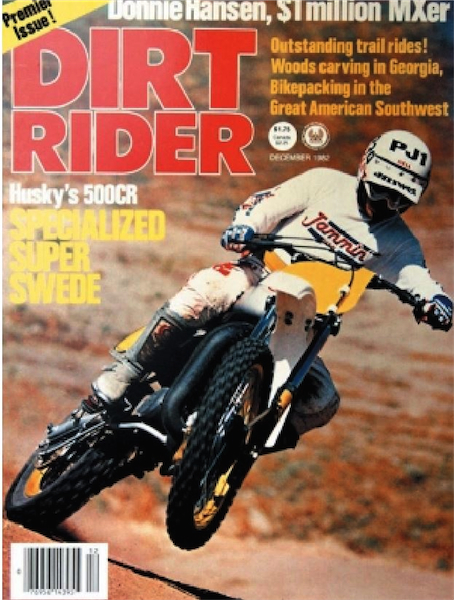 In December of 1982, Petersen Publishing Company would join the fray with a dirt-focused magazine entitled Dirt Rider. Less snarky and more off-road focused than MXA, Dirt Rider was an instant hit and continues in circulation to today (although it is no longer owned by Petersen).
Take 2002 for instance, when 99% of the industry (and public) went totally gaga over Honda's new CRF450R, but MXA said it handled like the front tire was flat. Did this mean that MXA was right and everyone else was wrong? Was this a case of the new bike smell going to everyone's heads? I personally owned one of these CRF's in 2002 and I never noticed the dreaded MXA push, but that doesn't mean it was not there. It just means that that either I was too slow to notice, too dumb to notice, or that my vet-racer physique put so much weight on the front tire that it had no choice but to stick. As always, you mileage may vary.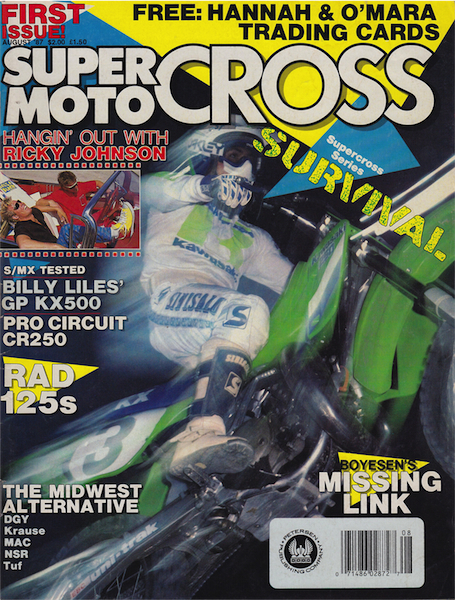 In 1987, Petersen Publishing took a feather out of Hi-Torque's cap and introduce a MX focused offshoot of Dirt Rider to compete with MXA. The new Super Motocross was flashier than MXA, offering a vibrant and colorful layout and a less serious tone. Unfortunately, the new magazine would fail to gain traction in the market and be gone by the end of '89. Of all the monthly motocross magazines that have come and gone over the years, this is the one I miss the most.
The more cynical among us might attribute this difference to an editorial bias, or financial concern. Certainly, there has to be pressure to not bite the advertising hand that feeds you. Over the years MXA has been accused of a Honda bias (Hondacross Action), Yamaha bias (Yamacross Action) and currently, a two-stroke bias (Smokercross Action). I leave it to you as to whether or not those concerns are legitimate, or just so much sour grapes.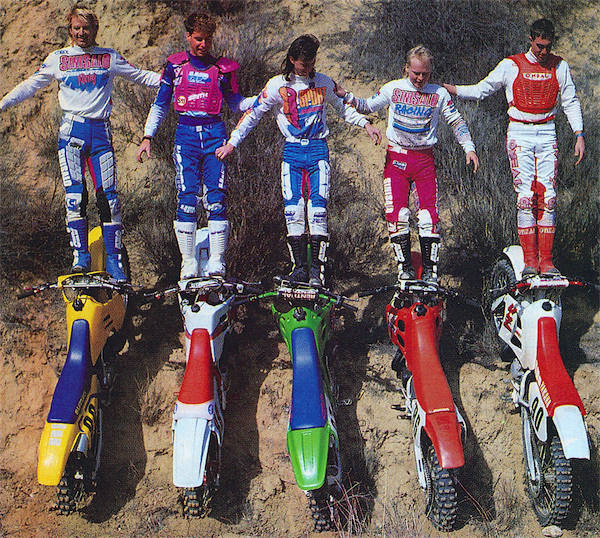 Dirt Bike Magazine putting the 1990 250 lineup through the critical "front numberplate strength test".
Today, the bike test landscape is more crowded than ever. In addition to the traditional media outlets, the great democratization of information known as the internet has made it easier than ever for average consumers to share their personal experiences. With a little initiative, any person with an iPhone can publish a review of their own for millions to see. Perhaps this makes the magazine motocross test an anachronism from a bygone era. For some, that may be the case, but for me, I still love the feel of paper in my hands and ink on my fingers. If that makes me a little out of touch, then so be it.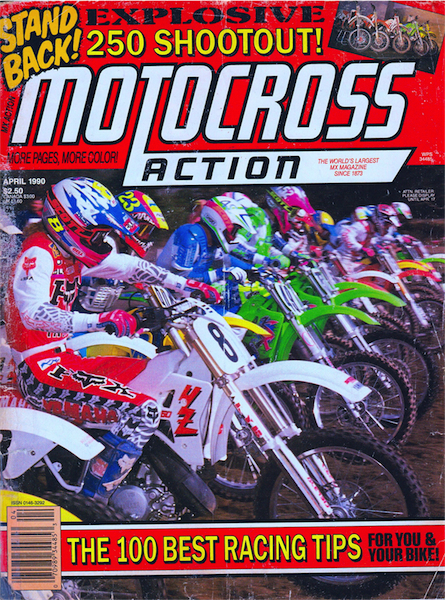 In the 80's and early 90's, Motocross Action Magazine was the king of the motocross shootout. They were very informative, extremely entertaining and never afraid to pull any punches. In 1990, MXA took an odd turn with the structure of their 250 shootout. Instead of the usual ranking and run down, they used a strange narrative style that had the wrecking crew discussing the 250-class rankings with a fictional marketing manager from one of the Big Four. Personally, I did not care for this bizarre editorial turn and thankfully they never used it again.
For this new column, I thought it might be fun to take a look back at some of the magazines from the golden age of MX to see what they actually thought of the bikes at the time. For each of these, I'll take a year and give a little run down of the machines that filled up young men's dreams that season. For this first trip down memory lane, I thought we would take a look back at the 250 class in my beloved year of 1990.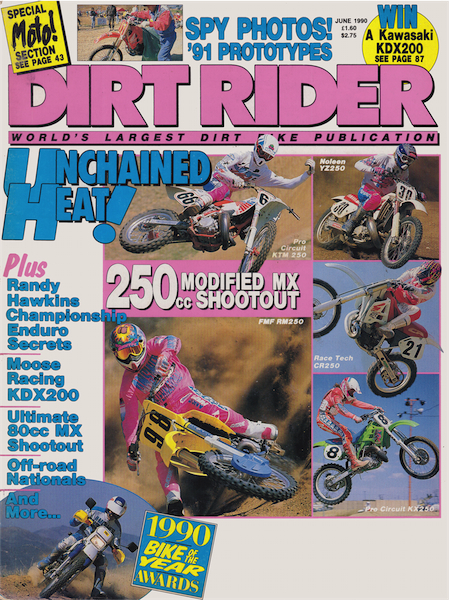 For Dirt Rider's run down of the best and worst of 1990, they first rated them in stock condition, then let a few hop-up shops see what they could do to improve the breed.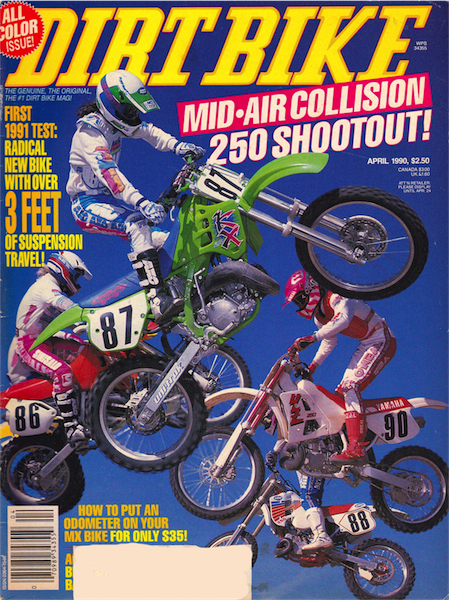 For their 250 shootout, Dirt Bike ranked the bikes first for motocross, then added an off-road ranking as well for the Bark Buster types.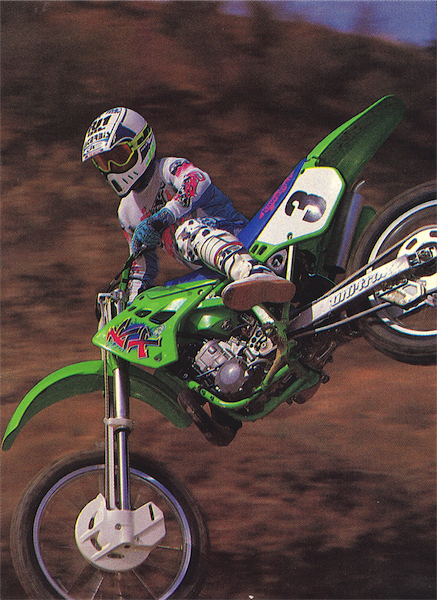 1990 Kawasaki KX250 Shootout Ranking- MXA: 1st Dirt Bike: 3rd Dirt Rider: 4th
Overview – A rocket-fast motor, excellent suspension and Buck Roger's looks propelled the KX to the front for MXA, but its "big-bike" feel, abrupt power, vibration and quirky handling held it back in the eyes of others. Probably the coolest bike of 1990, the KX was a trendsetter, but not a world-beater.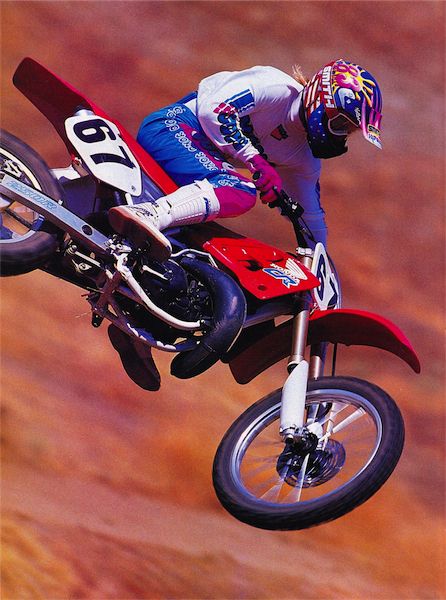 1990 Honda CR250R Shootout Ranking- MXA: 2nd Dirt Bike: 1st Dirt Rider: 2nd
Overview – In 1990, the Honda CR250R offered the best powerband in the class by a mile, but also the worst suspension by just as wide of a margin. In the eyes of Dirt Bike, the CR's luscious motor, faultless build quality and sharp manners were enough to win the day over its suspension foibles. For MXA and Dirt Rider, however, its medieval suspension was too gruesome to overlook. Overall, the CR was the best bike of 1990 in every category, save one.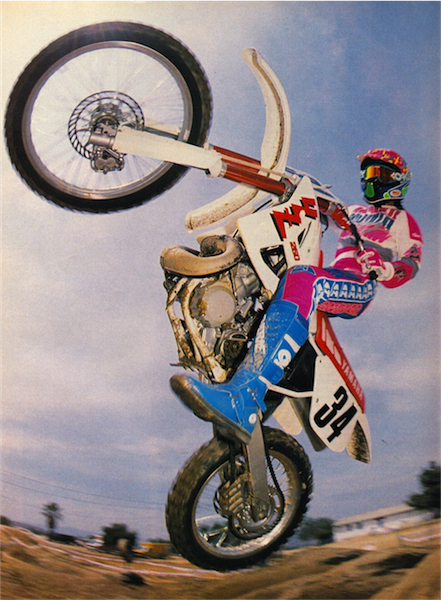 1990 Yamaha YZ250 Shootout Ranking- MXA: 3rd Dirt Bike: 4th Dirt Rider: 1st
Overview – The 1990 Yamaha YZ250 was a middle of the road bike that failed to excite MXA and Dirt Bike, but impressed Dirt Rider enough to come away with the crown of best 250. For Dirt Rider, its do-everything-well, but do-nothing-poorly competence won out over flashier, but more flawed competition. Its suspension was not as supple as the KX and its motor was less exciting that the green, yellow or red machines, but it did nothing weird and stayed together in one piece (something that could not be said of the brittle KX and grenade-prone RM). A notchy gearbox and a slightly vague steering feel were its only real flaws. Overall, it was a pretty good bike, but not great.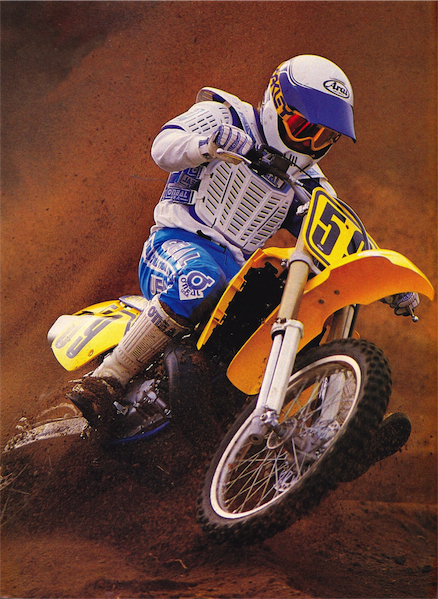 1990 Suzuki RM250 Shootout Ranking- MXA: 4th Dirt Bike: 2nd Dirt Rider: 3rd
Overview – The 1990 Suzuki was the kind of bike that was fun to ride, but hard to race. Its power was hard-hitting and abrupt, but short on duration. It required twice the shifts per lap of the other machines and could be difficult to manage on hard, slick tracks. Suspension was very good upfront and only slightly less so out back. In the handling department, it was excellent on tight tracks and the best jumper of the lot, but scary on high-speed circuits. By far the worst trait of the '90 RM250 was reliability, which was virtually non-existent. The bike ate pistons, rings and even crankshafts like they were on fire sale. If you could look past its quality issues, the RM was a fun bike, but for hard-core racers there were better choices.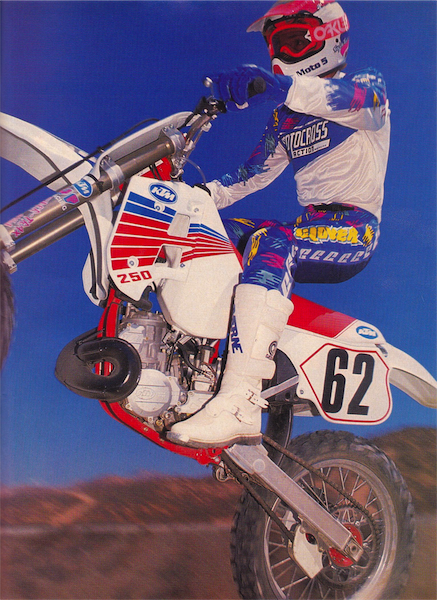 1990 KTM 250 SX Shootout Ranking – MXA: 5th Dirt Bike: 5th Dirt Rider: 5th
Overview – the 1990 Broc Glover replica KTM 250 SX was by far the most competitive KTM 250 ever built, but (and this is a big but) it was still in need of some major refinement to compete with the Big Four. Suspension was too soft for any serious motocross work and the shock rebound was fast enough to qualify as a catapult. In the suspension rankings, only the abysmal Honda was worse. All appreciated the new Honda-clone layout and the bike certainly looked the part, but the mellow enduro-style power was too slow for anyone above the novice class. Handling was even less inspiring, with a push to the front in turns and an odd habit of kicking sideways off jumps (auto-clickers). Overall, it was a step in the right direction, but still a mile wide of the mark.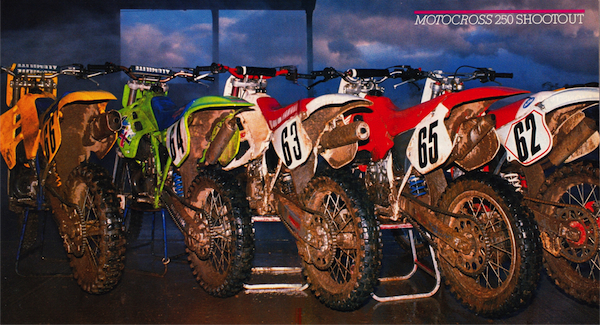 While the class of 1990 was top-to-bottom the most competitive field of 250cc motocross machines ever offered for sale, it is interestingly that only the KTM could bring the magazine editors to a consensus. In 1990, there was no omnipotent machine that waxed the field and left the competition in its wake. All of the machines had their good and bad points, and in the end, it was up to you to decide which one you could best live with.