Never before has an American-import been adopted, accepted and celebrated to the amplitude as Ken Roczen.
Never before has an American-import been adopted, accepted and celebrated to the amplitude as Ken Roczen.
Photos By: James Lissimore and Simon Cudby
It's no secret that we American's are damn proud of our history, accomplishments and ability to remain at the forefront of maintaining a balance between freedom, order, accomplishment and opportunity. As we hear seemingly weekly on the PulpMX Show, "these colors don't run". Keeping these criterion in mind, I find it a bit surprising, though not at all confusing, that we have welcomed Ken Roczen into our country as well as our hearts and in a dominant role no less.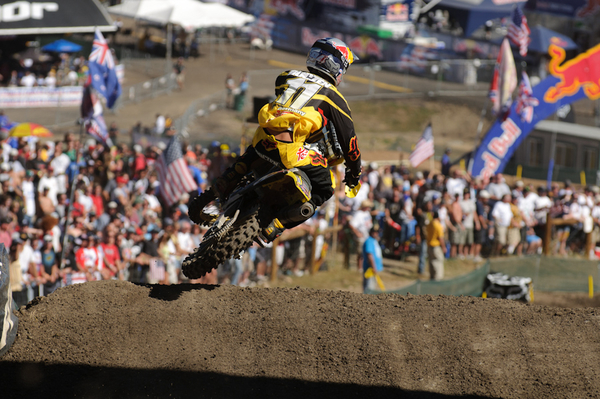 2010 MXdN at Thunder Valley. Ken's second professional outing on American soil. Lissimore Photo
As a pro, Kenny came to America initially in May of 2010 when he raced at the two-n-out USGP of Glen Helen where he rode well but didn't spark a whole lot of discussion with 3-5 finishes (Marvin Musquin went 1-1). Later in September of 2010 Ken represented his homeland, Germany, in the Motocross Des Nations held at Thunder Valley. In his sophomore outing on American soil he was touted highly and even at those impressive claims, he impressed further. He was the top finishing MX2 racer in both moto's he contested and in his second race the only riders he didn't beat were Ryan Dungey and Antonio Cairoli. For the ages old debate of which series bore the more reputable tag of "elitism", the German prodigy made a strong argument for the GP', though he had yet to show his trademark consistency on the Suzuki in 2010. He was incredibly fast but had more bad moto's than Musquin who secured the MX2 title in 2010.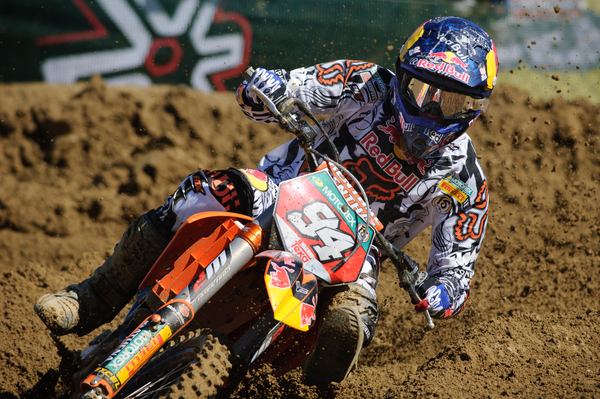 2011 USGP at Glen Helen. Roczen went 1-1. Lissimore Photo
There began whispers of Ken wanting to come race in America around that time though, which actually strengthened the argument for the American National series. There were some disgruntled GP supporters who would argue that Ken was fleeing the emerging Dutch superstar, Jeffrey Herlings. That intense storyline played out a bit in the 2011 MX2 GP's (albeit with Jeffrey still growing into his race legs), where Ken put his consistent speed together on his new KTM to secure the 2011 MX2 title. Prior to Ken's contesting of that 2011 face-off with Herlings, Ken came stateside for an ambitious taste of that which is typically the demise of most GP-imports. Supercross. Ken contested the West SX2 class and made every round but Seattle due to his preparation for the MX2 GP's and finished a very respectable 6th in the series with 3 podiums and even a win in Vegas. We saw, as expected, a few pretty impressive crashes by Ken but he remained intact and lining up for as much experience as possible in race conditions because his plans were to come stateside full-time in 2012.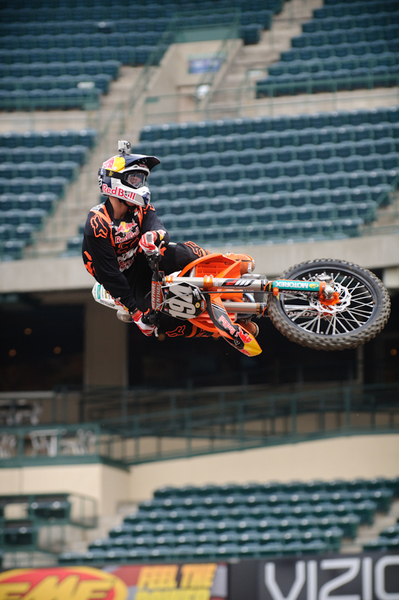 From A1 qualifying in 2011 it was clear, the American fans were going to like this kid from Germany. Lissimore Photo
Even in that 2011 preview of Ken, we American's, who are always more than eager to puff up our chests and resist that which is not full Americana, found it very hard to dislike Ken Roczen. He was smiling, always likable, approachable, refreshing in interviews and scrubbing the crap out of his KTM on the track and that was something we weren't used to from GP-imports. Not at that point in time anyway. I think it's almost as reliable as math at this point that any rider's likeability quotient, immediately gets boosted by the severity and persistency of their scrubs on the track. You could be arrested for impersonating a police officer and if your scrubs are— whoa, I'm talking crazy now.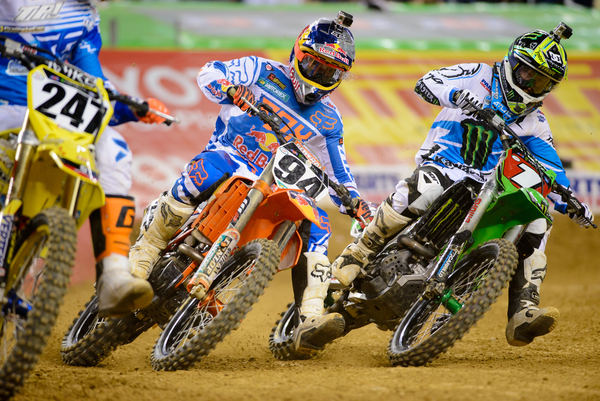 Kenny made the commitment to the program which has brought RV so much success. Some wondered if he would stick with it but those voices are diminishing. Lissimore Photo
This wasn't all by design either. Ken wasn't scheming at night before his venture to the States on how he could avoid becoming public enemy number one and suffering the brunt of American patriotism among the MX fans. Just like Chad Reed and JMB weren't devising plans on how to use their brash and unassuming (respectively) idiosyncrasies to put up walls between them and the fans. It's just their manner, disposition and social-savvy that lead them naturally. For sure, social-savvy was less in their control in the days of JMB and even in Reed's case, he had a genuine reason to race with and be inspired by that chip on his shoulder in the early days. Ken is just a natural when it comes to everything fans look for in a racer, publicly of course. He could be the biggest sonofabitch on the line when the camera's are off and the masses aren't privy (fat chance) but public perception is reality and on a scale of 1-10, he's been at an 11 since Anaheim 1 of 2014.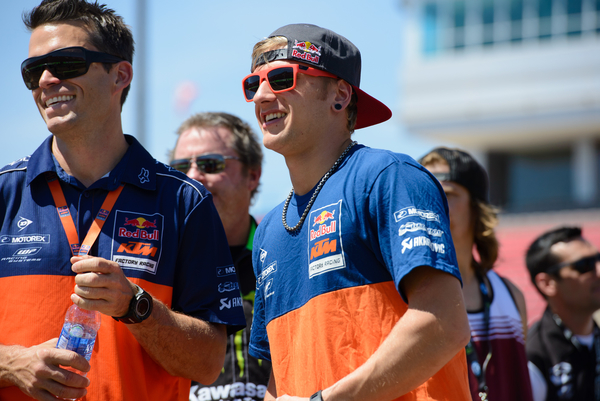 Even a blind MX fan would assume this kid is as American as it gets. Lissimore Photo
Signing on to RV's program this year has brought Ken to the next tier of the sport. There was honestly little question as to whether the new program could yield the results we've come to expect from Aldon Baker's program, the questions lied within the relationship between RV and Ken, both racing the same class now. Both capable of winning races and to a lesser extent in his first year on the 450, Ken winning a title. Publicly, RV's future plans have never been more up in the air. He took off this MX series to get his knee fixed, his 2015 SX contract is HIS option, he sold his compound, he's had disenfranchised racers of other discipline's in his ear and cap it off with his career-long disposition of never really appearing to love "the job". Ken will be coming off this dominating outdoor series, entering his sophomore 450 year in Supercross and more confident than ever. Add to that that neither RV or Ryan Dungey have ever really aspired to be the fan-favorite that Ken just does naturally, it's truly an odd predicament where the most endeared racer in American Motocross and Supercross is German-born, Ken Roczen.
And for reasons that are as legitimate and Americana as apple pie.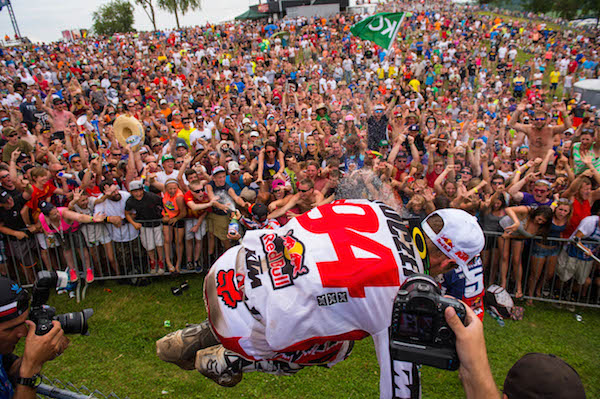 Roczen heading down for some Red Bud Rowdy love. Cudby Photo