I've been thinking about an odd comparison for a while, my TV guide pushed me over the edge for this weeks topic.
I've been thinking about an odd comparison for a while, my TV guide pushed me over the edge for this weeks topic.
Photos By: Simon Cudby
One of my all time favorite movie series' is Beverly Hills Cop. What's not to like?! It embarked on it's historic foundation with Eddie Murphy in his "RAW"-ness and was filmed in Detroit with one of the most authentic 80's soundtracks to this day. The first Beverly Hills Cop stands up to this day and by any measure or scale is a cinematic Classic with a capital SEE(See what I did there?).
When this odd comparison popped into my head initially, I did one of those "dog head tilts" as I realized the comparison actually held water; in my brain anyway. So here's the explanation for what I consider a parallel path between James Stewart's pro racing career and the Beverly Hills Cop series. As I was flipping through the on-screen guide tonight, what do I find but the original Beverly Hills Cop starting at that exact moment. How could I resist?!
In as quick a synopsis as I can muster, the current publicly available Beverly Hills Cop Trilogy and James' career can be broken down like this…
The first Beverly Hills Cop, as I stated, established the foundation in a groundbreaking way; yes, just like James Stewart's debut in pro racing. James came into the 125 class like a whirlwind wrapped in a typhoon. Remember this scene from the first 5-minutes of Beverly Hills Cop 1?
This is a metaphor for the excitement and intensity of James during his 125 pro career.
This is essentially the excitement, carnage and intensity that James brought to the 125 class in 2002. It could not more closely resemble JS7 himself if the semi-truck had a "7" on the side and it was spilling Red Bull into the Detroit streets. This "Beverly Hills Cop 1" era of James' career lasted through his 2004 series where he wrapped up his "little bike" career. Aside from the unfortunately common crashes, James was essentially untouchable and infinitely exhilarating both indoors and out. If you have any of The Great Outdoors MX National videos from Troy Adamitis from 2002-2004 you'll see, James is fully aware of his tendency–scratch that, compulsion; to do absolutely anything to win. There was no consequence that appeared dire enough to dull his need to win. In a world full of unearned and unfulfilled hype, James' on track exploits stood up to the claims and stomped them into the dirt. He decimated on the 125.
The second Beverly Hills Cop was a little smarter, with a more dynamic plot but still retained all the excitement and fireworks of the original. Beginning in 2005 James was in the premier-class, although Kawasaki opted to develop their 450 a year longer than anyone else before releasing it to the world and this really put James behind the 8-ball. He was a trooper and forged through 2005 until Kawi got on the 450 train in 2006. This "Beverly Hills Cop 2" era of James' career carried through 2009. He captured 3 titles during this era (5 if you count the "World SX" titles) and these remain his only premier class titles to date. I say "only" because judging by his "Beverly Hills Cop 1" era, you would have expected him to have far more. He certainly had the capacity to win more but lets not forget he was SX-only for a few years and there's of course that tendency to hit the deck while forging forward. It was James' speed, spectacular crashes and undefeated 2008 MX series which made this "Beverly Hills Cop 2" era so compelling.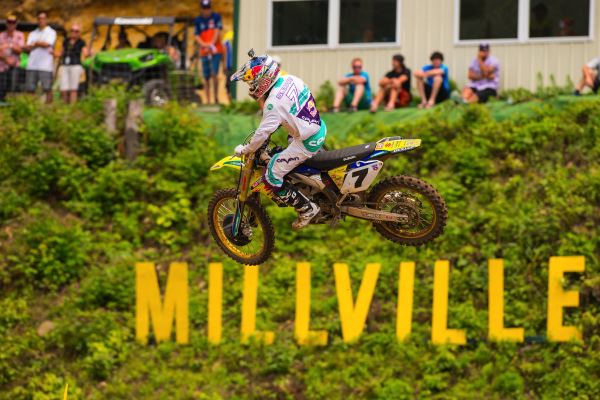 I'm hoping this was one of JS7's last "Beverly Hills Cop 3" races.
We then move along to Beverly Hills Cop 3. Uh…. yeah…. Beverly Hills Cop 3. Let me just say that Beverly Hills Cop 3 is not part of my 265-title AppleTV movie library. Beverly Hills Cop 3 is an abomination of the franchise. An imposter. A charade. A shell of it's former self. The "Beverly Hills Cop 3" era of James' career began in 2010 on that initial release of the revolutionary YZ450 and appears to be lasting through this 2014 year. There's no doubt that that 2010 YZ450 was fleshed out and proved to have some very legitimate issues that many top riders found to be irreconcilable. Unfortunately James was in positions piloting this tweaked design for 3.5 years and over that span he took some massive hits to both noggin and body. If anyone questions James' heart and inspiration, just look at the money he walked away from at JGR just to satiate his mind that he could capture his prior magic on a "non blue bike". That 3-year deal lasted about 6 months and when he first appeared on the Suzuki, it looked like anyone who had counted him out, had massive egg on their face. He looked like the James from the "Beverly Hills Cop 2" era! He looked absolutely renewed, like he could rewind the clock all the way back to the 2008 Nationals. But then there was "the photographer" incident… that poor, at least slightly idiotic photographer.
James again turned back the clock a few times in 2014, most obviously in Toronto during Supercross where he made everyone (RV was under the weather with a still undetermined illness) look absolutely silly. I believe there is still that magic inside for James. I just hope he does as well; and that he actually honestly believes it. Not this pseudo-confidence we all see riders gaining and losing from week to week based on their last finish. Nowadays all riders gain and lose confidence in the blink of an eye. You may think it's always been that way but I guarantee you with 100% certainty that the James Stewart of the "Beverly Hills Cop 1" era couldn't scrub confidence off if you removed both wheels from his bike while sitting on the starting gate. Maybe you call that immaturity or arrogance but I call it tangible faith; not hollow belief in yourself that ebbs and flows based results. Confidence shouldn't be something that exterior forces can manipulate.
It just so happens that there is a Beverly Hills Cop 4 in the works and am confident that Axel Foley will return to his roots with a solid plot filled with compelling-excitement and intensity. Likewise I hope that James Stewart returns in 2015 with a fresh perspective. The sport will be better for it.
Find the fun again, James.