Van Horebeek and Tixier win!
Van Horebeek and Tixier win!
It was all smiles on the podium in the Czech Republic! Jeremy Van Horebeek took the first MXGP victory of his career after a stunning performance that included passing race-two leader, Cairoli, with a lap and a half to go to take the moto win and the overall! Van Horebeek has hardly been off the podium all year, but the rider who likes to remain in control admitted he went over 100% to make the move on Cairoli, because he wanted the win so badly.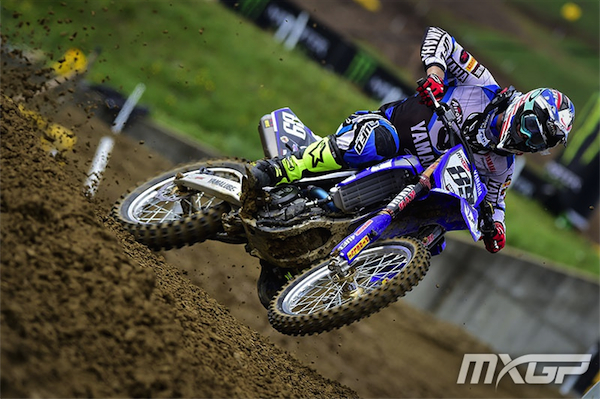 Van Horebeek dropped the hammer to claim his first overall GP win.
It was a superb tension-filled MXGP moto in race two, with moto one winner Strijbos, Van Horebeek, and Cairoli all going at it for the overall win. Cairoli was one lap away from winning the overall, but was still happy with a third on the podium, on a track he openly admits isn't his favourite. Kevin Strijbos dominated race one with a performance that reminded everyone of his form in 2007, when a lot of people thought he would be a future world champion. Strijbos has had some big ups and downs in his career, but he always had the talent, and Suzuki's decision to bring him back into the factory set paid dividends. His Suzuki teammate, Clemente Desalle, was not so happy. Desalle led early in race one, but eventually faded back to seventh with pain in his wrist. In between motos, it was announced that Desalle would not race moto two after it was discovered he had broken his scaphoid in a crash a few weeks earlier, but the break had gone undetected. It puts Desalle's and Belgium's chances to retain the trophy at the MXDN in 8 weeks, very much in the balance.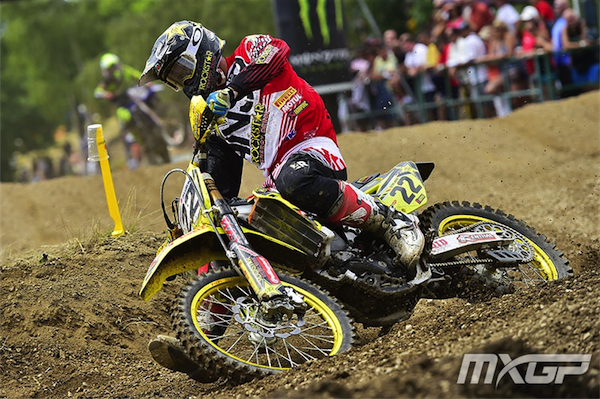 The old Strijbos was showing speed in the Czech Republic.
Italy's MXDN chances also took a dive when David Philippaerts, who had been riding very well lately, broke his ankle in the Sunday warm-up, and also faces a race against time to get fit for Latvia. Italy could draft Lupino in, although he still isn't back racing after his knee injury earlier in the season. The surprise result of the day was Dennis Ulrich, who scored a brilliant fourth place finish in moto two which was the best result of his GP career. His best result previously was ninth! Ullrich may have to replace Roczen for the German team in Latvia, if Ken chooses not race, but Ullrich has shown he will be a worthy replacement.
Gautier Paulin made a welcome return from injury and secured fourth overall. Paulin had a steady ride in race one to sixth, but rode brilliantly in race two to go from last to sixth. Paulin sometimes takes a few weeks to get back to race pace after injuries, but he seems pretty close to 100% already. He could be a contender to win again by the last two GPs in Mexico and Brazil. Shaun Simpson showed why Yamaha is interested in signing him for 2015, with a storming ride from 13th to 5th in race one. He struggled a bit more on the slippery track in race two and was locked in an eight rider battle for fifth, but eventually came home eighth, just ahead of fellow Brit Tommy Searle. Searle struggled with an injured thumb all weekend and was 17th in race one, but he rebounded for ninth in race two after yet another poor start. Searle is rumoured to be going to KTM for next season where hopefully he can re-discover the form that had him challenging for World titles back in the MX2 class.
Steven Frossard rode from the back of the pack to fifth in race two, but is probably disappointed his starts didn't put him in a better position to battle for the win. If RV does indeed race MXGP next year for Kawasaki and bring Rattray with him, it leaves Frossard in a precarious position with the other factory options filling up fast. Frossard has been inconsistent this season, but he has blistering speed and is still fifth in the championship. This would make it surprising if he ends up without a factory contract in 2015.
In MX2, it was every man for himself as a host of riders could visualise themselves winning their first ever Grand Prix. But it was Jordi Tixier who finally didn't crack under the pressure, and won the overall with 1-4 results to give himself real hope of winning the world title. Tixier rode the first moto like the rider we all know he can be, and slowly pulled away to a fairly comfortable win. Tixier admitted the overall win was on his mind in race two and he couldn't quite get his flow going, but he did enough to take the GP win. Maybe this will flick the self-belief switch in Tixier's head and he will ride up to his potential every week. Tixier is very similar to Marvin Musquin, and when Musquin realized he could win, he proved hard to beat. Tixier might just do the same in the next couple of GPs.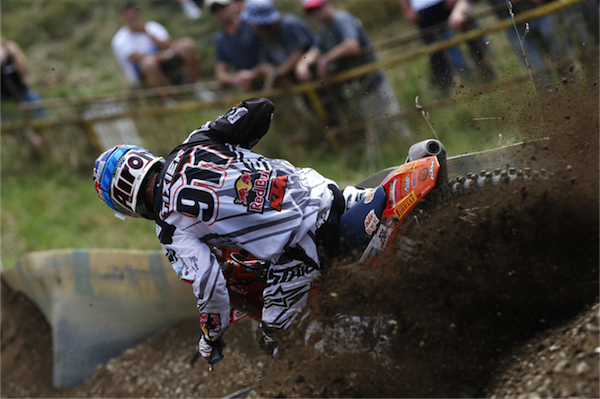 Tixier's hopes of a World Title are still in full swing.
The fastest rider in the field though was Dylan Ferrandis. The CLS Kawasaki man was on fire on Saturday, going nearly two seconds quicker than everyone in qualifying. But from there, his luck ran out. Ferrandis went down in turn one in his qualifier, but still came back to sixth to show that he had the race speed. On Sunday, Ferrandis' championship challenge was over before it started when he got knocked off on lap one, and had to pull into the pits for repairs. Ferrandis was so angry, he went back out and put in the fastest lap of the race! He came from a mediocre start in race two, to finish second behind surprise winner Christophe Charlier. But Ferrandis with better starts, could have went 1-1. His raw speed is the reason he has been chosen for the MXDN team, even if Tixier is generally more consistent.
Christophe Charlier showed what he was all about in race two with a super win. The Frenchman has had his season decimated by injuries, and hasn't been able to get any momentum throughout the year. But when he saw the lead in race two, his talent kicked in and we all saw what the Factory Yamaha man was capable of. Charlier finished second overall on the day, and that will surely help in his quest to find a suitable MXGP deal next season. Charlier could do big things on a 450 next year, as his tall frame certainly doesn't help him in MX2 when it comes to starts. Maybe the 450 will finally allow Charlier to show his true potential, similar to how it helped Jeremy Van Horebeek.
What can Charlier do on a 450 ride?
Romain Febvre should have been on the podium, but crashes yet again left him short. Febvre has the speed, but still makes silly mistakes, and his slim chances of a World title are almost gone. Surprisingly, it appears Febvre has been overlooked for a factory Husky ride in MXGP next year, despite being faster than 450 mounted Todd Waters on a 250f! Febvre may be heading to the USA after it emerged Husky appeared to have went with Nagl, Ferris, and Waters for 2015. Valentin Guillod got his first podium of his GP career at Loket, and it was well deserved. The Swiss rider was fast all weekend, and forced his way through to third in race two. And after some mega battles with Tixier, Butron, Tonkov, and Ferrandis, he ended up 3-3 on the day. Guillod has been very good in 2014, and should have lots of offers for 2015.
Speaking of 2015, KTM have put their faith in two talented youngsters to go alongside Jeffrey Herlings. 17 year old Dutchman, Davy Pootjes, has been signed on a five year deal, but will race the EMX2 series as well as selected MX2 GPs next season. Pauls Jonass, also 17, has also been signed for five years and will race MX2 GPs as Herlings' teammate next year. Both riders are former European and world champions in their youth career, and will clearly have a learning year in the pro ranks next season before being expected to go for the title in 2016 when Herlings' eventually moves up.
It was some of the best racing of the year in the Czech Republic and hopefully there will be more the same in Lommel this weekend, especially with MX2 still being wide open!
MXGP Overall top ten: 1. Jeremy Van Horebeek (BEL, YAM), 47 points; 2. Kevin Strijbos (BEL, SUZ), 45 p.; 3. Antonio Cairoli (ITA, KTM), 42 p.; 4. Gautier Paulin (FRA, KAW), 30 p.; 5. Shaun Simpson (GBR, KTM), 29 p.; 6. Steven Frossard (FRA, KAW), 26 p.; 7. Dennis Ullrich (GER, KTM), 23 p.; 8. Maximilian Nagl (GER, HON), 22 p.; 9. Tanel Leok (EST, TM), 21 p.; 10. Matiss Karro (LAT, KTM), 20 p.
MXGP World Championship Classification Top Ten: 1. Antonio Cairoli (ITA, KTM), 619 points; 2. Jeremy Van Horebeek (BEL, YAM), 562 p.; 3. Clement Desalle (BEL, SUZ), 484 p.; 4. Kevin Strijbos (BEL, SUZ), 469 p.; 5. Steven Frossard (FRA, KAW), 333 p.; 6. Shaun Simpson (GBR, KTM), 325 p.; 7. Maximilian Nagl (GER, HON), 291 p.; 8. Gautier Paulin (FRA, KAW), 235 p.; 9. David Philippaerts (ITA, YAM), 234 p.; 10. Davide Guarneri (ITA, TM), 232 p.
MX2 Overall top ten: 1. Jordi Tixier (FRA, KTM), 43 points; 2. Valentin Guillod (SUI, KTM), 40 p.; 3. Christophe Charlier (FRA, YAM), 39 p.; 4. Romain Febvre (FRA, HUS), 37 p.; 5. Jose Butron (ESP, KTM), 32 p.; 6. Tim Gajser (SLO, HON), 30 p.; 7. Aleksandr Tonkov (RUS, HUS), 27 p.; 8. Jeremy Seewer (SUI, SUZ), 25 p.; 9. Julien Lieber (BEL, SUZ), 23 p.; 10. Dylan Ferrandis (FRA, KAW), 22 p.
MX2 World Championship Classification Top Ten: 1. Jeffrey Herlings (NED, KTM), 594 points; 2. Jordi Tixier (FRA, KTM), 492 p.; 3. Romain Febvre (FRA, HUS), 453 p.; 4. Dylan Ferrandis (FRA, KAW), 425 p.; 5. Tim Gajser (SLO, HON), 420 p.; 6. Arnaud Tonus (SUI, KAW), 389 p.; 7. Valentin Guillod (SUI, KTM), 354 p.; 8. Aleksandr Tonkov (RUS, HUS), 335 p.; 9. Jose Butron (ESP, KTM), 321 p.; 10. Jeremy Seewer (SUI, SUZ), 282 p.
Article by: Jonathan McCready
Pictures by: YS and Ray Archer/KTM images