From "rooning" the sport, to orchestrating the tag-team mockery of the "Word of the Day", this former Englishtown flagger must be throttled.
From "rooning" the sport, to orchestrating the tag-team mockery of the "Word of the Day", this former Englishtown flagger must be throttled.
There has been a sub-surface shustling of the tectonic plates over the last few race-season's in "our sport".
Let's start from the origins of this catastrophe, shall we?
A man who once strutted his stuff under the guise "Pretty Boy" in his garage-based "backyard wrestling" foundation, moved sloth-like into "our" beloved sport from the far reaches of the northeast. A proud New Jerseyian, this Barry Carsten worshiping social-butterfly got his first taste of moto from the magazines his father brought home from his 9 to 5 at Bel-Ray Lubricants. When a young Jason Weigandt wasn't spending money(and quite honestly that was and is about 23.85 hours of everyday since his first breath) he was flipping the pages of Dirt Bike and Dirt Wheels magazines, soaking(get your mind out of the gutter, he was a kid fer chrissakes) his cranium in the world of two-wheels and mother-earth. Running rampant in his imagination was as close as he would get to actually straddling a fire breathing 2-stroke motocross bike thoughbecause Ma and Pa Weege believed two-wheels were far too dangerous to allow their frugal son to partake. There were four-wheelers though and much like Adderall, Crystal Meth or Mary-Jane, Weigandt looked at this quad allowance (not that kind of allowance Weigandt, settle down) as a gateway drug that would certainly result in his being permitted to move on to the purist of high's, a dirt bike.
In between backyard wrestling matches, saving money and turning his local trail system into a blue groove nightmare on his quad, Jason would take his next step toward the legitimate two-wheeled moto-world by donating(mere mention of that word makes Jason's skin crawl like a paranoid schizophrenic) his time at Englishtown Raceway. Jason was a model-flagger at the track and though he flagged many a race while Barry Carsten navigated the historic track, he never had the guts to approach him or confess his love while flagging. You'd think with a moniker like "Pretty Boy", confidence and gusto would not be lacking. While the flagging gig was going well, his chances at prosperity were very limited due to the exploits of the one known as "Ultimate". This guy, according to historical documents at the Library of Congress is likely to be the first employed(though not gainfully) caution-flagger in the history of American-moto. Jason saw the hopelessness of advancement in his position and logically blueprinted his next move.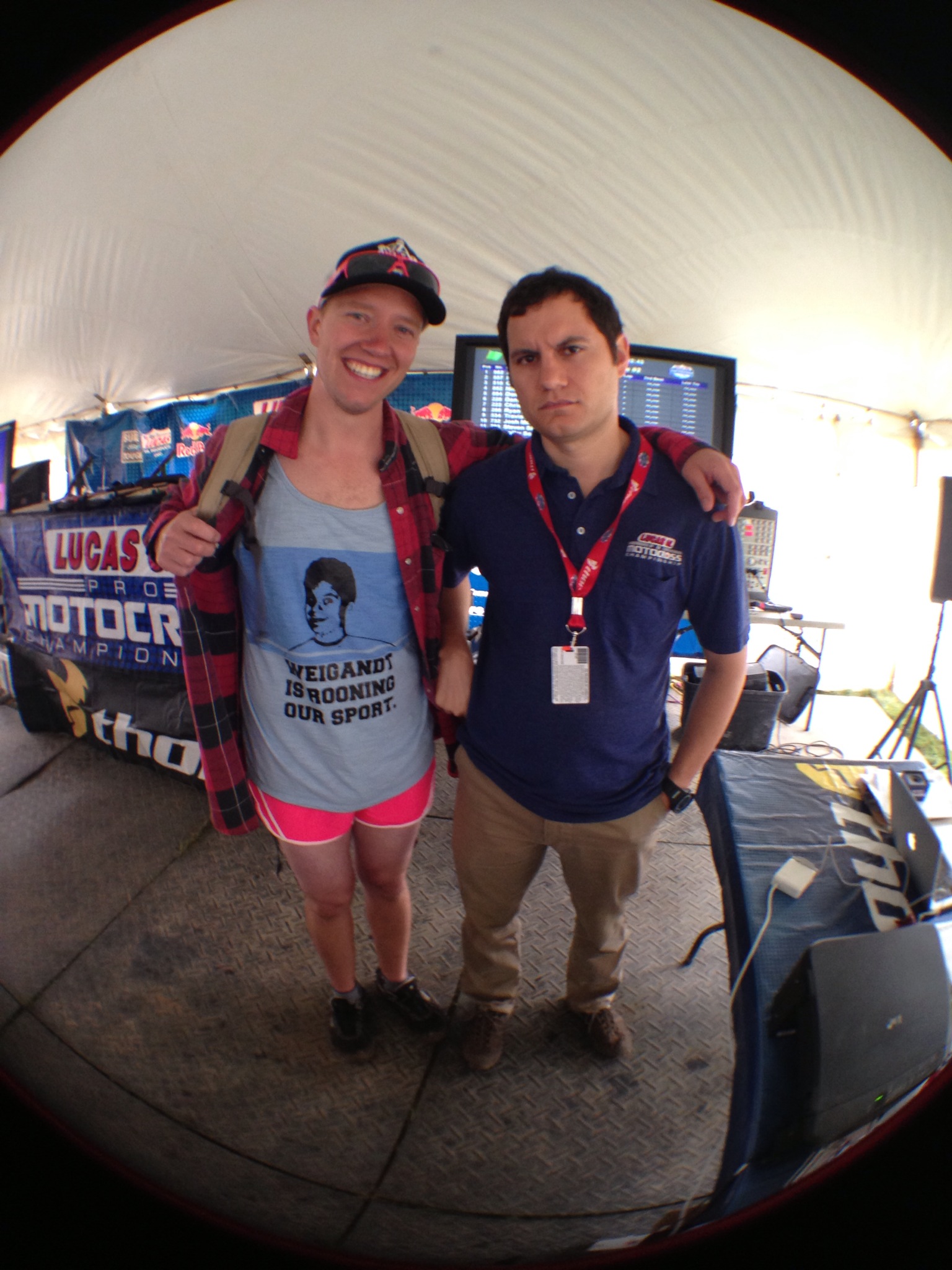 Clearly, the look on The Weege's face says, "Kings are not worthy of my time, let alone this poor shlub".
Weigandt's frugalness was so engrained in his DNA that he not only loved getting free things, he gravitated toward charity work, i.e. working for free as well. He offered up his literary services to a grass roots, regional motocross news rag called RacerX. They made it clear that he would not be paid but they just might print some of his writing to fill ad-spots that failed to be sold in the latest issue. This opened a line of communication between the Jason and the reputable and growing, RacerX. Soon there would be full color, national coverage and a growing subscriber base(not Weigandt though, those subscriptions ain't free bro). Jason continued to flag(though half-heartedly knowing that Ultimate would always be his superior) and write for RacerX until the day came when RacerX opted to make the jump into the online world. They needed a guy who had passion for moto, could perform a bodyslam from the top rope, knew how to pinch penny's, could relocate and was handy with the tongue sword. Talk about synergy!
Jason Weigandt packed up his Lunchables, filled up his Woodsman 4×4 quad and hit the long route through the woods, headed for Morgantown.
72 days later(those utility-quads are anemicly slow), "Pretty Boy" was slightly confused the first few weeks in his new digs. It was no Joe's Apartment(cockroaches were absent) but he'd rather get right to work and shockingly there was no work to be done initially. During this interim period he spent time perfecting his Suplex, choke-hold and sweeping the leg. Finally, Jason's new gig started– and The Weege was birthed.
The Weege began tossing around orders, rearranging furniture(I heard he even put Billy Ursic's head through a glass coffee table during an editorial meeting) and injecting his opinion anywhere an opinion could be implemented; and you know what they say about opinions. Things carried on this way for a few years and justifiably, the RacerX staff turnover rate was alarmingly high, though the Weege remained. Shocker, eh?
When the transfer of power(the original transfer, nothing to do with Brayton this year) occurred and MX Sports, the sister company to RacerX, took over the reigns for the American Motocross National Series, a collective sigh was uttered throughout Morgantown. At this point it was as predictable as the sun rising or the AMA waffling, that the Weege would enforce his will and wedge the Weege into the new TV broadcasting package. If there's one commonality amongst all narcissist's, its that seeing their mug on TV is always a good thing. The only thing better than seeing themselves on TV is being on two channels at the same time and on and on…
During the first few season of the "Weegecast" during the National's, things went pretty well on the surface. Jeff Emig was brought in and by "brought in" I mean Weege smashed some skulls together, twisted some arms and batted his eyelashes to those who dared resist him. It was very homo-erotic but that's par for the course when you combine "Pretty Boy" and "wrestling". I always found it very odd but totally next level on the diabolical scale how Weege would setup Emig as the prima donna with his custom tailored gear and always perfect hair; when the reality was that the Weege was running this show as the alpha-male. Have you ever seen that YouTube clip of Chris Berman on ESPN going nuclear on his staff?
Even Boomer is afraid of The Weege.
Well, let's just say "Boomer Berman" is afraid of the Weege. The Weege is the Honey Badger, bitches. Seriously, the guy completely misses the gate drop for a moto and DOESN'T EVEN APOLOGIZE! If there were a word for Jesus-like arrogance, it would be a 10 and Weege's scale is pegged at 11. We talk about "ballsout" racing a lot on PulpMX and Weege isn't even on the track but he lives a life of ballsout, he has no choice, there isn't a pant(cargo or otherwise) that can contain them.
This brings us to modern day and the foundation for my penning this plea to reel in the Weege. Stick with me.
In 2011 the TLD team, fronted by David Pingree(who was himself the recipient of a Weege headbutt and consequent dismissal from the RacerX-proper office pool) wanted to keep the TLD truck and atmosphere loose. One of the ways they did this was implementing a sort of "word of the day". This chosen word would then need to be shoe-horned into interviews and if the riders or Ping couldn't pull it off, the repercussions would be severe. Well, following in the shadow of this formula, Steve Matthes suggested the Word of the Day be brought into the TV booth for the Nationals. Of course the Weege would have to be on board with this idea for it to be implemented and luckily for the life of Matthes, Weege complied. Claimed it as his own even, one of "the best ideas ever birthed" in his own words. The initially agreed upon word was "Chupacabra". Weege weaved it into his race call so effortlessly that unaware viewers didn't lift an eyebrow. This continued on and week after week the impossible happened; the Weege got more arrogant, felt more empowered, became less and less tolerable and following Washougal, he has become utterly unapproachable. The Word of the Week in Washougal was "crown molding". The Weege went to the far end of the spectrum, I mean, "The One Who Flew the Cuckoo's Nest" has nothing on Weege's acts in Washington State. Crown molding was dropped no less than 8 times during the races and those in the TV booth have confirmed that every time the WotD(Word of the Day) was dropped, Weege's was witnessed kissing his biceps, pelvic thrusting into a full height mirror and "finger-gun" shooting the production staff. THE HORROR!
We have a week off from the Nationals and of course the Weege can not handle not being in some sort of spotlight at this point, so he ventured down to Loretta Lynn's to call the action all week. It's become a legitimate emergency situation. We must save ourselves and the Weege from himself.
Weege, help me, help YOU!