Sometimes the truth is painful. Photos by Simon Cudby.
Sometimes the truth is painful. Photos by Simon Cudby.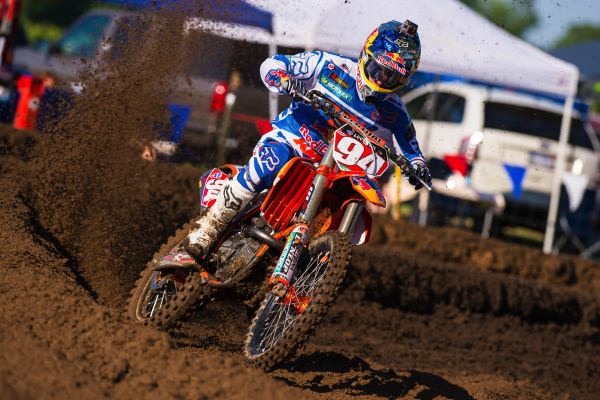 1st Ken Roczen- Roczen led almost twice as many laps as the next guy, he qualified fastest the most times and he had more overall wins than anyone else in the class. Start to finish, although it got a little shaky at times, he was the best guy in the class. Roczen's rookie year in the 450 class was even better than his first full year in the 250's which is pretty remarkable. Doesn't seem like that long ago I was watching a 15 ½ year old Roczen lead laps and win his home GP in Germany on a Teka Suzuki 250F. Teaming up with Aldon Baker proved to be a smart one for Kenny although at this point we have to take his second half results dropping off as a trend and not a one-year thing. It's a real deal. Luckily for him he rode the mud in Indiana very well and he had built up enough of a points lead early on that he could withstand the Dungey surge. Roczen's the one guy in the class, in the first half anyways, that could consistently pass any of the other contenders and pull away. The other guys who could do it here or there but usually the start determined where they would finish. There's no doubt to me that Roczen was the best rider start to finish this season and I'm sure there will be many more titles in his future.
JT: I agree with this assessment. I was almost sure that Roczen had put the 2nd half slide behind him after Red Bud… butttt he hadn't. He struggled for weeks on end down the stretch and came dangerously close to losing this title. Still, he was so much better than everyone in the early part of the season that the good outweighed the bad. I have a feeling that we will see him winning races for a long time.
Key Stat: 140 laps led for Kenny which is 62 more than the next guy who was Trey Canard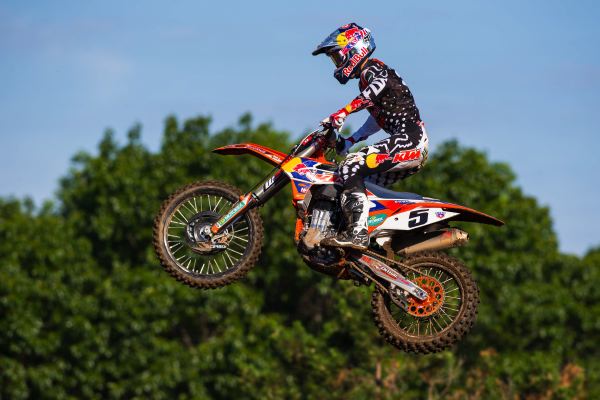 2nd Ryan Dungey- Dungey was his usual self this summer. He was fast, in shape and won some races. But like we've seen before, he's just missing that tiny, tiny tick of speed to the very best racers. He's an incredible racer and is one of the all-timer's but he's yet to beat Ryan Villopoto when he's healthy, James Stewart when he doesn't crash out or now, Kenny Roczen. And it's a shame really, the guy is awesome but he's too much in control of himself and his emotions. He's a robot out there and prefers the "I'm in it for the long haul" mentality that the very best riders don't always follow. He'll never do anything but give it his absolute best out there each race but the results almost don't matter. He's going to push it to a certain level and where he finishes is where he finishes. Sometimes that's enough to wax everyone and other times, there's that one or two elite riders who beat him. Roczen and Canard led more laps than him and Kenny and Tomac qualified faster more times yet Dungey got the most holeshots out of anyone meaning he put himself in a position to win more than anyone else in the class. I don't want to be come off as negative, as I said Dungey's an all-timer and was very good this year but it should be interesting to see what new trainer Aldon Baker can do with Ryan—I know what him and his past clients thought of Dungey in terms of his strengths and weaknesses so I would imagine they'll work on those and maybe, just maybe, a zebra can change his spots.
JT: I am a little bit higher on Dungey than Steve is. I agree with the comments on him being a legend in the making but I didn't think he was too far off this summer. His downfall was, stop me if you have heard this before, his inability to sprint in the opening laps. It has been his nemesis against Villopoto for a long time and I saw it take a toll again this summer. He was the man to beat at certain times in this series but when the conditions deteriorated in Indiana, he wasn't able to adapt as well as Roczen. Great year for Dungey but as we have seen before, had it been a tad better, he would be champion.
Key Stat: 1-2-1-2-2. Those are Dungey's finishes in the 450MX class points since he got into the class in 2010.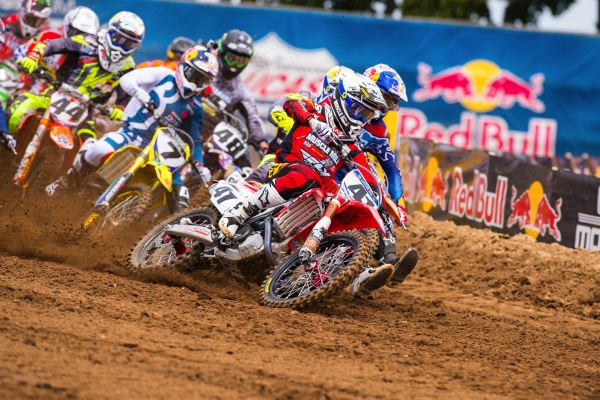 3rd Trey Canard- Look at this! Great job by Trey Canard in winning four out of the last six motos of the year. As we all know he switched to Kayaba fork and shock at Unadilla and, shocker, he won the second moto there. That started his streak and only the series actually, you know, ending seemed to be able to stop TC#41. It was rather remarkable as up to Unadilla Canard had been having a solid season but was a tick off the top guys. He could lead laps but when he did he often looked like he was really pushing while the other dudes were just riding. His margin of error was smaller than the other riders. Of course he was much better than anyone other than #94, #5 or #3 but that wasn't really making him happy. Then boom, his suspension components get changed and apparently, he changes as well. This is just another reason why riders are weird. I have no doubt that the KYB stuff worked better and it's a pretty major change but from going 4-4 to 1-1? Eeehhhh I don't know. Regardless it worked, Canard's entire outdoor season changed in the last three races and I'm sure he's gotten a ton of confidence from his wins. And I would bet my house we'll see KYB suspension on his CRF 450F come Anaheim 1 2015.
JT: What a change that a change can make. I am not sure if that makes sense but it does in my head so let's not get distracted. Whether or not you believe that the KYB change was the difference or if you believe that it was a mental boost or whether you believe that aliens landed in Roswell, in any case, Trey was much better in the last 3 races. He was easily the best rider in the series in the last quarter of the season and now all eyes will be on both he and his front suspenders to see if he can continue this momentum in January. I am hoping he does because a good Trey Canard is good for the sport.
Key Stat: Who are we kidding? The key stat was "When the KYB suspension was put on" which was Unadilla.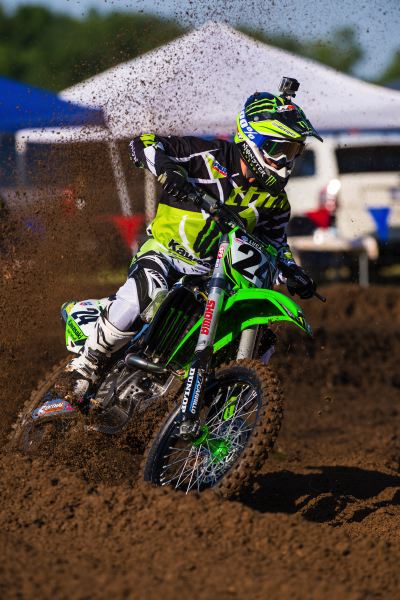 4th Brett Metcalfe- After a year away racing up in Canada, Metty filled in for Villopoto for the summer and I would say this finish indicates that he's still got it. Yeah he's not on the elite level of guys but he's still a top five rider and he's an asset to any team on and off the track. Metcalfe was impressive this year even though he went through a bit of a lull while he dealt with a bit of an injury around the mid-point of the year. Taking away his best finish and his worst finish, Metcalfe placed between 5th and 11th in every single moto. That's impressive and taking away one 11th place, he finished 20 out of 24 motos between 5th and 9th! You can look at those finishes and say that he's clearly not a great rider or you can look at those and say that he's exactly that- a great rider. Deep bro. Anyways I think Brett could end up back in Canada next year because I don't think a factory team would pay him enough money to stay in the USA and race supercross and motocross. Too bad, our loss is Canada's gain. If you're Brett you can make roughly $300K and do 29 races week in and week out or you can make $150K and race ten times up in Canada. He's made his money and is all about the lifestyle now.
JT: Metty is the quintessential professional. He works hard, represents his sponsors well, turns in good results, and goes home. I thought he did a great job filling in for RV, especially early in the season. I know he was a bit banged up as the summer grew long but he never complained or made excuses.
Key Stat: 20. As in 20 motos Metcalfe finished between 5th and 9th.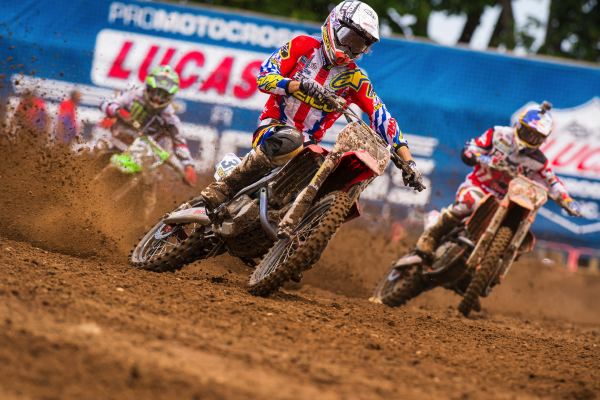 5th Eli Tomac- Oh what could have been for Tomac. Had he not missed the first four races of the year healing up from a collarbone injury he might very well have won the title this year. And why not? Roczen won it and Tomac beat'em last year so one would think he would be right there. Tomac's Millville race was amazing for sure. On the bigger bike he didn't seem to lose his aggressiveness (and I think Roczen looks more "normal" on the bigger bike than he did on the 250F) and looked a lot like he did last year. He rides off the back of the bike and really manually works the bike hard. It's definitely more tiring to ride like Eli Tomac than, say, Ryan Dungey but he makes it work. Tomac's blistering fast and won three fastest qualifiers in his nine races competed in while Roczen won two. Coming back to Muddy Creek Tomac holeshot and led laps which made you realize that waiting until you're 100% ready to go was the way to go for the #3. 11 moto podiums in 16 motos if you take away the huge mudder that was Indiana. Interesting that I heard Tomac, who's a notorious tough guy to please when it comes to his bike set-up, had a chance to try the KYB stuff that Canard liked so much and passed on it. Me knowing riders the way I do, I wouldn't be surprised if Eli asks to try again as Canard beat him so many times at the end of the year. Tomac has never really gelled with the air forks (he ran A-Kit Showa's with springs this summer) but maybe KYB will be re-visited for next year?
JT: Eli, along with Ken Roczen, represents the future of stateside motocross. If he can stay healthy for the full 2015 season, he will be a title contender in both series'. This offseason will be an important one for him, both preparing and also finding a setup he can win with in supercross.
Key Stat: 1-1. Tomac's scores at Millville and to me, the most impressive race of his career.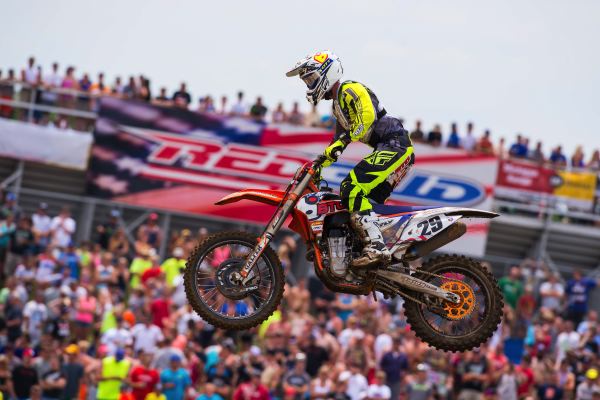 6th Andrew Short- A lot of people try to discredit Andrew Short. I've heard many people in the pits say so many times incredulously that this guy or that guy got beat by Short or that who are you going to sign for X amount of money…Andrew Short? Even though Short's been a factory rider for a long, long time now I still feel like he doesn't get the credit inside the semi-trucks for what he's able to produce year in and year out. His days of winning motos are over but all those people saying "Josh Grant has SO much talent" or "Weston Peick is so fast" need to take a look at the standings. I'm not bagging on those guys above but Short beat'em in the points. Yeah those above names had some bad luck but so did Short. His chain broke in the very first moto of the year! He scored nine points total in the first three motos of the year and fought hard to get sixth in the points. What was maybe the most impressive with Andrew this year was he's never been good in the mud but he was decent at Indiana and he's never liked Unadilla but he put in some good rides there as well. He seems to be adapting better than ever and likes the KTM. He also ran the air-shock all year and I'll be interested to see, if a year with no problems on the thing, Dungey switches to that next year. Shorty was a test mule for the Red Bull guys and as usual, didn't complain. He's just so solid in every way and can you tell that it bugs me when he doesn't get the respect I think he deserves?
JT: I had the pleasure of working with Andrew this year on the BTO/KTM team. He is a rider on the team that I was with for the last 6 years of my career, so I know the intricacies of his working environment really well. Trust me when I tell you that no one is a better role model for young racers than the 29. There aren't many people who I wish to be more like but Andrew is one of them. Being incredibly fast on a motorcycle is just a bonus and as Matthes said, he is overlooked far too often for that.
Key Stat: 8. As in 8 straight years Short's been in the top ten in 450MX series points collecting 3-3-2-3-8-4-7-6 finishes in that time.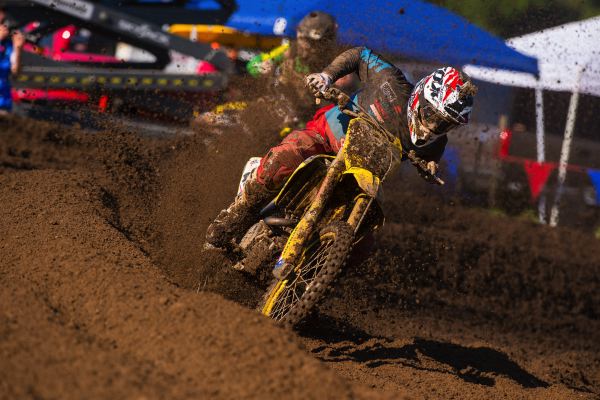 7th Weston Peick- Speaking of Peick, here he is! Picked up for the summer by the RCH team I think he did pretty well for them. Truthfully his privateer program was working pretty well for him so I'm not so sure he wouldn't have finished right here on the production Suzuki but he would be a lot poorer for the experience. Speaking of that, what a summer of fill-in's for Kawasaki (Metcalfe), RCH and Honda (Noren) as all three guys performed great for the new teams. Peick struggled to get the air forks working for him in the beginning and he had a bad race where he went DNF-DNF at Redbud. His starts were not good and I'm sure if you compared them to a Short or Metcalfe they were probably ten positions worse on the opening lap. Let's just break this down easily for you- Weston Peick's start's mostly sucked balls. The guy is just like a shark though, he never stops moving forward and I saw him just wear down big names here and there. Once he's onto the back of you, he's a bit like Mike Larocco was where you just knew that by the end, he would get you. If he could see you, he was going to catch you. Pretty impressive summer for Peick and I'm interested in seeing if the JGR Yamaha and its horsepower helps him off the start.
JT: Weston is one big snowball. He started to roll downhill last year and hasn't showed any signs of stopping. There were many times this year when he was the leader of the "2nd group". There was a group of 5 riders (Roczen, Dungey, Canard, Stewart, Tomac) that were always the best but most times of the season only 4 were active. Well, behind that 4, Peick was often next. That's saying something when you look down the list of names he was beating. I, like Matthes, am very interested to see what happens aboard the JGR rocketship.
Key Stats: 5th overall at Budds Creek which was Peick's best race of year.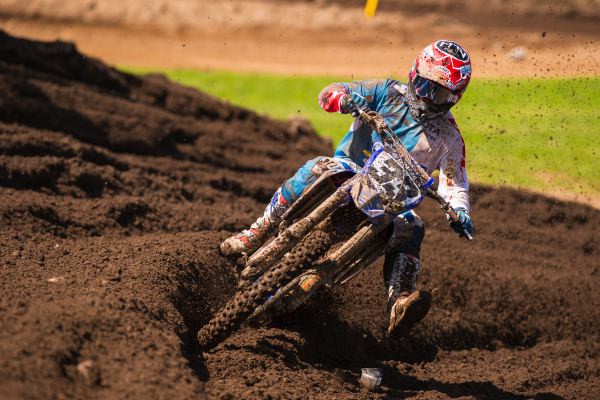 8th Josh Grant- Grant won the first moto of the year and pretty much shocked the hell out of me even knowing it was his hometown track. So you see that and therefore you know he has it in him to win. But he never really sniffed a podium after that. So better to have won and never again or have a guy that doesn't win, say a Metcalfe or Short, and finish all the races and ahead of Grant in the points? It's the ultimate question for the managers and sponsors of this sport. Grant was four points behind Metcalfe for the "Best of the Rest" group after Millville but he hit his head at Washougal and missed that race and the next one as well. And there went any hope for a fourth place in the points. Up until the injury he was riding pretty consistent and of course had that moto win. At this point this is what Grant is- still talented but unable to keep it together for an entire series. There's absolutely zero chance I would ever sign him to a multi-year deal as I think (and so do the JGR guys) that he needs that contract ending at the end of the year motivation to do well. Looks like Grant will be back on Kawasaki's with Team Two-Two next year and we'll see if he work on making it to every race.
JT: Josh Grant is easily one of the most talented riders in this sport. Being able to consistently ride at the front is tough to do and no one knows this better than JG. Still, though, he has made a lot of money by showing the flashes of brilliance he displays, like at Glen Helen. It will be interesting to see how the TwoTwo deal works out as it will be the first time Chad has had a full time rider/employee and Josh will also be in a different dynamic than ever before.
Key Stat: 1 as in finishing position for Grant in the first moto at Glen Helen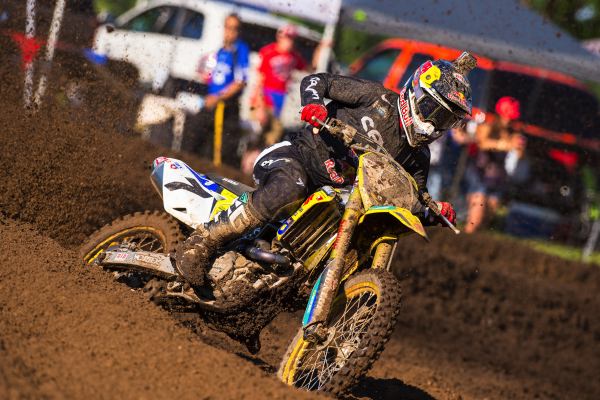 9th James Stewart- I don't know man. I just don't know. Stewie showed up at Glen Helen and fought with his Suzuki the entire time to put in a couple (for him) very average finishes. And Hangtown wasn't much better for the #7. Lakewood he turned it around and then High Point he goes 1-1 and cleans everyone's clock. Of course any listener to our podcasts will know that I just refuse to accept that Stewart's Suzuki was SO far off that he was unable to win at the opening rounds but able to kick everyone's asses at High Point. After the win his provisional suspension from the FIM for amphetamines was announced (from the supercross series and it had no effect for the motocross series) and not kidding, he crashed in every single moto after that. Every. Single. Moto. Well, eight straight motos anyways and then-POOF- he was gone from the series. With what, no one really knows. But he was riding during the week. Again, I don't know man. Stew's season was looking great after High Point and we saw magic here and there but it's not hard to think the drug suspension thing was hanging over him and affecting his riding. Too bad, once again with Stewart we are left with more questions than answers.
JT: There is so much to this story that future students might write their dissertation on James Stewart's 2014 summer. Every time I have a discussion on his impending drug judgment and the details therein, I end up leaving the conversation more confused than when we started. But, that's how it normally works with the 7 from what I have seen. There is a shroud of secrecy and misinformation and this deal has been no different. It's a shame that arguably the most talented racer in motocross history is facing arguably the biggest scandal in motocross history. This story is far from over.
Key Stat: 13. As in 13 points off the lead for Stew after his 1-1 ride at High Point. It all fell apart after that.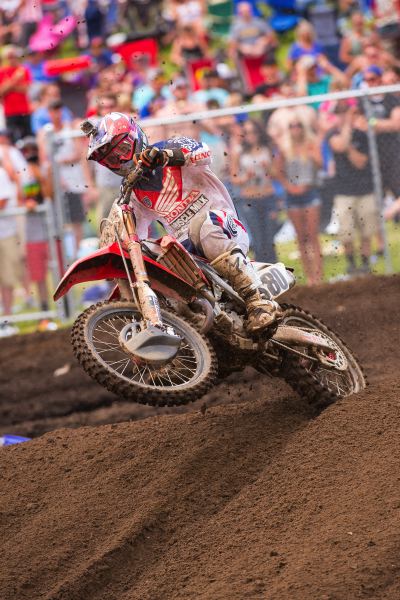 10th Fredrik Noren- This was a really cool story. The Swedish privateer who was literally sleeping in his van with his girlfriend gets a shot on Justin Barcia's factory Honda starting at round six and he starts to actually do well on the bike. Imagine jumping from a privateer KTM 450 to a factory Honda and trying to keep everything straight. Noren did just that and more. His charges from the back of the pack were impressive and he looked right at home on the red machine. His average points scored per moto before the Honda ride was 6 and after he got on it he averaged 13 points per moto. Noren looked great on the bike, his fitness seemed on point and a top ten in the series is awesome. I don't know which moto was more impressive, coming off the gate last in Indiana and making it up to 8th in the mud or at Utah when he crashed right out of the gate and, ten seconds back of the next guy, rejoined the race and made it to 9th. I thought that it was hella-cool of Honda to put Noren (one of the nicest guys around by the way) on the bike and thought it was a cute thing to do. In no way did I expect him to actually, you know, do well on the thing. Someone needs to make an after-school special about this deal.
JT: Noren proved that the bike makes a big difference. Suck it, Matthes.
Key Stat: Either 32 or 31 which is the number of riders passed Noren passed in the second moto's in Indiana and Utah respectively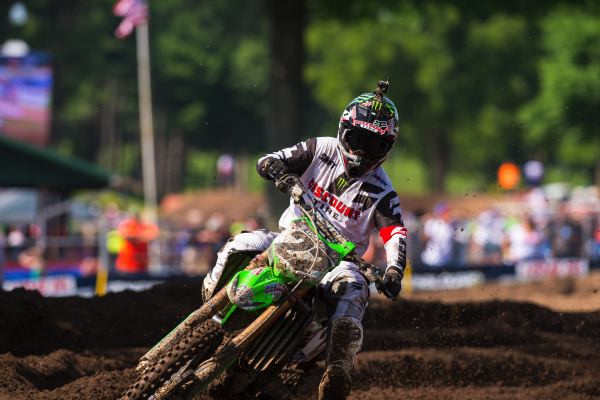 11th Chad Reed- Well the good news is that Reed was better than he was last year. The bad news is he still wasn't Chad Reed-esque out there. We knew Chad would get off to a slow start coming back from his injuries suffered in supercross and yes he hurt his back somewhere around the middle of the series but like Dean Wilson in the 250MX review, I still hold Reed in such high regard that I would think he could top ten in his sleep. 6 motos out of 24 with no points scored is rough and it seemed that Chad's outdoor season might come to an end at some point. But he toughed it out, got a bit healthier and scored some better results in Indiana and the first moto at Utah. I would say that with Reed's outdoor results since his infamous Chad-a-pult maybe he should think about not doing the outdoors anymore but I'm through with the "Chad Reed is done" stories. Hey his autograph line is still the longest one out there and it's good to see him out there. I would just hate to be a Reed fan and watch him ride around outside the top ten with guys that he probably can't even name.
JT: This summer was going to be tough and both Chad and I knew that before it started. He entered the series far, far from prepared after his injuries in San Diego. He has responsibilities and obligations, though, and he fulfilled them. Sure, his results weren't what he wanted. What's important now is that come January, he is the same Chad Reed that we saw last January.
Key Stat: 6th. Reed's finish overall finish this year which he got at Indiana.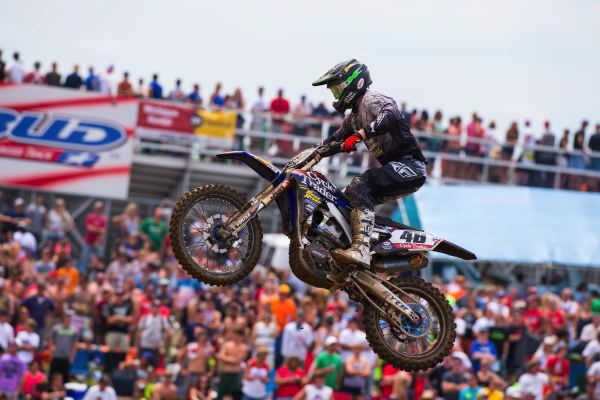 12th Ben Lamay- Lamay is solid for sure. Much better outdoor than indoor guy, Ben's typical moto is start around 20th spot and work up to 12th. Those rides are great but they don't really get you noticed much in terms of getting a ride. Better to holeshot, lead five laps and cartwheel your brains out in this sport. Lamay's like the new JT…one of those guys that does well but doesn't attract the limelight. His 11-11 at Utah was the highlight for him but again, it's the last race of the year and probably didn't get a ton of press. Lamay never had that moment where he wowed you but then you would see him near the back of the pack halfway through the moto and looking at the results he was just outside the top ten. We did see many times a clear division from the first four guys, to the next six or so and then Lamay and Albertson would be the leader of that next pack of riders. Almost without fail actually. I would also bet that Lamay probably passed 982 riders in the last ten minutes of the motos.
JT: First off, I have more limelight oozing from my pores than JLaw has banned substances. Secondly, Lamay rode great this summer. He was always moving forward and it's a bummer that he probably made $822 total for the series. Hopefully he can enter the 2015 SX season healthy and make some noise.
Key Stat: 11. As in 11 out of 24 motos where Lamay finished either 12th or 13th this season.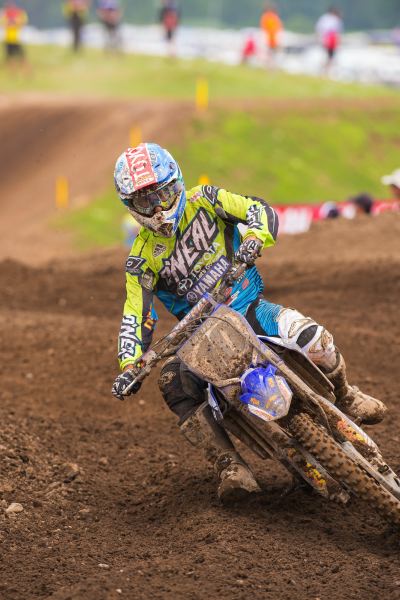 13th Justin Brayton- Every year Brayton struggles with the California tracks (because he's not a SoCal specialist and other times he focuses on supercross until that series is over) to start the series and finds himself in a big hole that takes all season to work out of. This year though he was injured to start the series but that hole he found himself in was still deep after missing four races. Never an outdoor motocross hero, Brayton's still capable of putting in some good rides here and there. He was great at Unadilla and usually rides well at Millville but not so much this year. It's hard for these guys to get fully "into it" when they miss so much time and they know that they're out of the team they're on for the next year. If healthy to start the series Justin's a top ten rider for sure-maybe better- but it's been a long time since he's made it start to finish through an outdoor season without getting hurt or having some sort of injury holding him back.
JT: JB10 didn't have the summer he was hoping for but he also came into it injured. He soldiered through it and finished up another tenure with JGR. Supercross is his strong suit so I suspect he is rubbing his hands together as the new season looms on the horizon.
Key Stat: 5 as in number of holeshots for Brayton this year which tied Ryan Dungey for most in the class.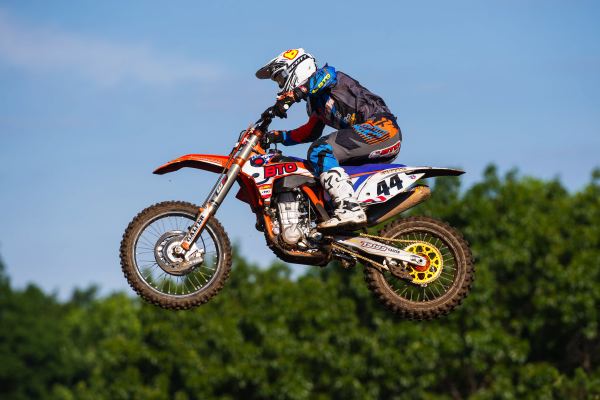 14th Matt Goerke- Matt's better than this finish and this is two years in a row that he hasn't been healthy for the motocross series. I've always thought of Matt as a better mx than sx rider but maybe that's changing since he moved to SoCal and has logged in solid indoor results. Matt came into the motocross season nursing an elbow injury from supercross and it seemed like every time he was getting going, he would crash out and hurt something else. His first moto at Muddy Creek was strong as well as in the mud at Indiana which maybe shouldn't be surprising as he's so good in the sand and most of the same principles work in the mud. No one, not even Brett Metcalfe, misses Southwick like Matt.
JT: Matt hasn't been the same since his wrist injury in 2013. He is still putting in respectable results but he was on the verge of something special last year. He will be making a change this coming off season, to what is yet to be seen. Hopefully he lands something solid and can work on getting back to his potential. When he is 100%, he can be a top ten guy week in and week out and that's hard to find.
Key Stat: 8 motos that Matt either missed or didn't score points in.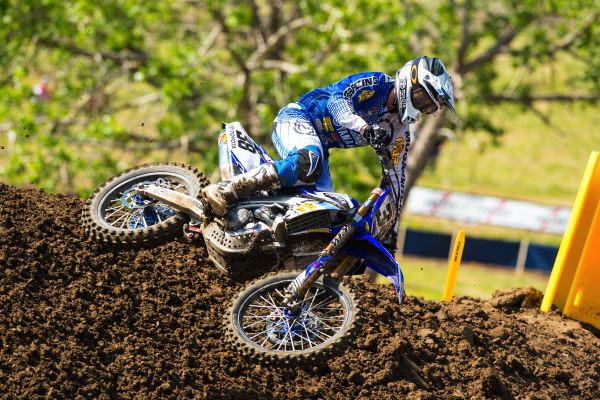 15th Phil Nicoletti- Nicoletti was promised six motos coming into the outdoors as a part-time guy with JGR and got fourteen. So to get this finish isn't so bad with missing ten motos. Last year Nicoletti was a bit of a revelation as he finished 14th in the points and had some good races here and there. In 2013 he averaged 8 points per moto and this year it was 9 points. So his stats were the same but didn't it SEEM like the races he did this year he was better? His best race was Unadilla (no surprise there for the New Yorker) and even though it's pretty funny to see I do think that Phil needs to have more of a positive outlook on things and maybe it would help him. But it wouldn't be as funny, that's for sure as self-deprecating Phil is hilarious.
JT: Filthy has lots of speed… But he also has lots of crashes. He used the super-fast JGR bikes to get some great starts this summer and was not afraid to run with the big dogs. I don't know what 2015 holds for Phil but I am sure he will find a home somewhere.
Key Stat: 7 and 9 which were Phil's moto scores at Unadilla and the first time according to him that he's ever finished two motos 9th or better.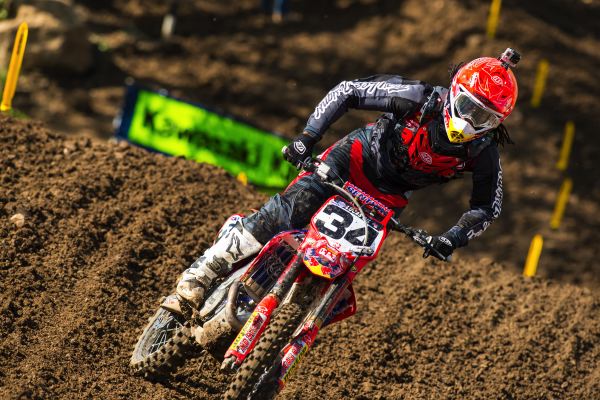 16th Malcolm Stewart- Mookie overheated bad at Budds Creek and despite him telling everyone he'd be back in a week or two, we never saw him again. Not sure what was going on but see Stewart, James for more questions about why he was missing races. I know the Troy Lee guys were told he was in every week and then at the last minute they would get a call saying he was out. They were as confused as anyone else. Anyways, Mookie on the 450 is much better than Mookie on the 250 and he didn't have the same flash as he did last year on the bigger bike but he was more consistent this year before disappearing. He averaged 12 points a moto this year in the races where he scored points which is about an 8th place. Last year he got a podium at Budds but still only averaged around an 11th place finish. So he was less wham-o this year but he was placing better. I have no idea why he didn't race at the end of the year and I have no idea what he's doing next year.
JT: I have really nothing to add here because I honestly have no idea where Mookie has been nor what his 2015 plans are. Thinking about it just makes my head hurt.
Key Stat: 6th place- the position in points for Mookie after the first six motos of the year. It was all downhill from there.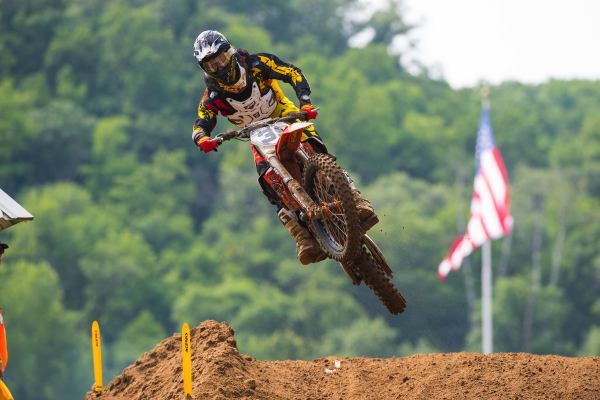 17th Ryan Sipes- Sipes got a shot on Millsaps' KTM for the second half of the year after joining the series at High Point when he had breaks in his GNCC stuff. I've always thought highly of Sipes and his skill and that's why I was wondering why he wasn't doing better at the races. It's not like the guy forgot how to ride while in the woods right? But not too worry, he got better as the series went on and even taking away his third in the mud in Indiana, he was pretty good at the last two races. I don't know, it's like a light switch went on after the mudder and he realized that he's still a good rider.
JT: Sipes has always been very fast. Sipes has always crashed and DNF'd a lot. This summer was no different but it was cool to see him get a shot on a good team and reward them with that Indiana moto finish. Sipes is a nice guy and hopefully does what makes him happy moving forward
Key Stat: 3rd place for Sipes in the second moto in Indiana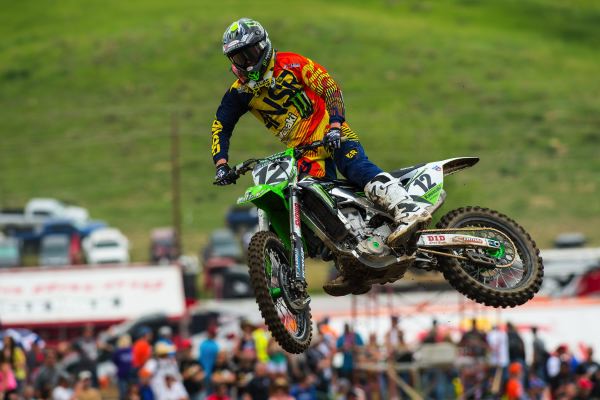 18th Jake Weimer- Where's the reset button for Weimer? A terrible injury-filled supercross season was followed by a terrible injury-filled outdoor season. Weimer actually was pretty decent at the start of the outdoors with a couple of sevenths and eighths which isn't that bad. But then he got cleaned out at High Point and suffered a serious back injury. Once he came back from that later on in the series it didn't really ever get going. A nice guy that's a very good rider, Weimer's going to have to rebuild himself from the ashes of privateer island or maybe, just maybe, a semi-truck ride of some sort. Hey Tim Ferry came back twice from being written off to regain factory rides. It can be done.
JT: If I was as talented as Jake and had also experienced the bad luck that Jake has, I would need to be under 24 hour surveillance and housed in a padded room. The poor guy can't catch a break and is surely stressing about his 2015 plans. We haven't seen the last of him, though, I would bet his dad's farm on that.
Key Stat: 15 motos out of 24 that Weimer either missed or scored no points in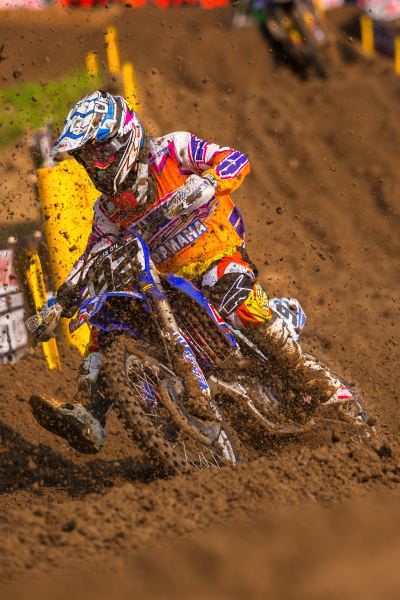 19th Killy Rusk- I first noticed Killy in supercross when he would get some good starts here or there and run up front for a few laps. That and the fact that he wore AXO gear was weird also. Anyhoo, he proved to be better in motocross than he was in supercross and was very impressive in Colorado which is where he's from but he says he's never, ever ridden at Lakewood other than nationals. Weird, right? Rusk was one of those guys that slogged around from 15th to 20th collecting points, making some cash and beating some guys that make more money than him as well. A good summer for a total privateer (he pitted out of Gus Racing rig) and clearly he's got some speed. He qualified tenth at Lakewood and you don't luck into that.
JT: Killy was the standard guy I used to display how poorly Chad was riding this summer. Nothing against Killy, but when he passed Chad on occasion, I took great joy in reviewing how that moto transpired for the 22. Killy was a bit up and down but he was in the top 15 most of the time and that is nothing to sneeze at. He is a real privateer and making next to nothing in this sport. I have been in this spot and it's a struggle. Great job and great summer.
Key Stat: 10th- the position Rusk qualifed in at Thunder Valley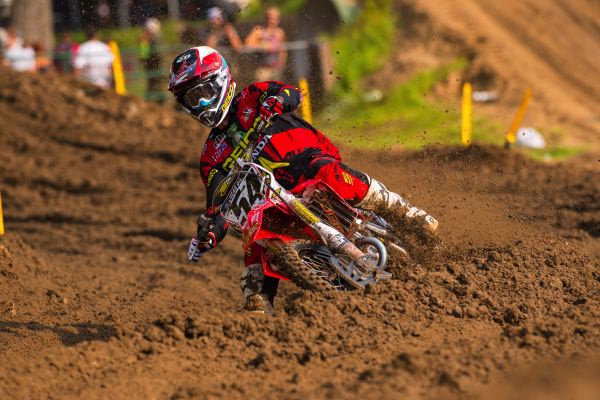 20th Christian Craig- Craig raced eight motos and finished inside the top twenty in points. That's pretty good right? And he worked a full-time job while he was heading to the races at that. He's still got that awesome style on a motorcycle and it was cool to watch him ride. Yeah his fitness wasn't great but again, HE WORKS A REAL JOB. There were some very impressive motos in there and even half-motos where he ran up front before getting tired. I was very impressed with what he could do all things considered and I would not be surprised if he made a comeback to racing. He's got skills!
JT: It was cool to see Christian come out of (early) retirement and run inside the top ten at times. His riding style is so effortless that sometimes it seems that he isn't trying (think KW). His father-in-law is in the Geico/Honda ownership group so this was an easy fit and honestly it was refreshing to see one of these comeback efforts succeed. It would be cool to see him do this again next year if he feels up for it.
Key Stat: 8 as in 8 motos raced for Craig and 8 motos where he scored points.