The word privateer means many things as you're about to read
The word privateer means many things as you're about to read
Hammerhead Designs was launched with the intent to provide new and better parts and innovative accessories for motocross bikes. One of our goals has been to design entirely new and unique products with improved ergonomics and the shift lever was the first part that we felt could be dramatically improved by providing a feature that would allow for the shifter to be repositioned to perfectly suit the riders size, shape, and preference.
Photos by Lissimore
Matthes: JT, it's more confusing than ever to determine who is and who isn't a privateer in the sport. It got to be so confusing for the folks at Feld Motorsports that instead of an extra $7700 each main event to be split up among the privateers they just said screw it and put that extra cash into the 450LCQ race figuring that was good enough. This topic came back to me after Utah national when Ben Lamay of the Rock River Yamaha team asked me if I thought he was a privateer. I hadn't given it much thought until then because it always made my brain hurt and sometimes got people mad (enter Paul Carpenter threatening me in the tunnel at Minneapolis SX when I wrote that I didn't think he was a privateer because of his works suspension that he had on his Honda).
Let me ask a guy that was at times the ultimate privateer—what do you consider a privateer? I told Lamay he wasn't because he got all expenses paid for (maybe even a small salary?) and was just there to make money. But then again, Lamay gets no help from an OEM in terms of works parts. His team gets bikes from Yamaha sure but they're just production machines.
We know riders like Chad Reed aren't a privateer but really, you could make a case for him being one in a court of law. He buys a little bit of works parts from Kawasaki and develops everything else in-house. It's not his fault he's got a sizable budget and all that right? Call it good marketing I suppose. But again, he's not a privateer, I think we all know this but my point is that Johnny Cochrane (RIP) could perhaps convince Marcia Clark that he was.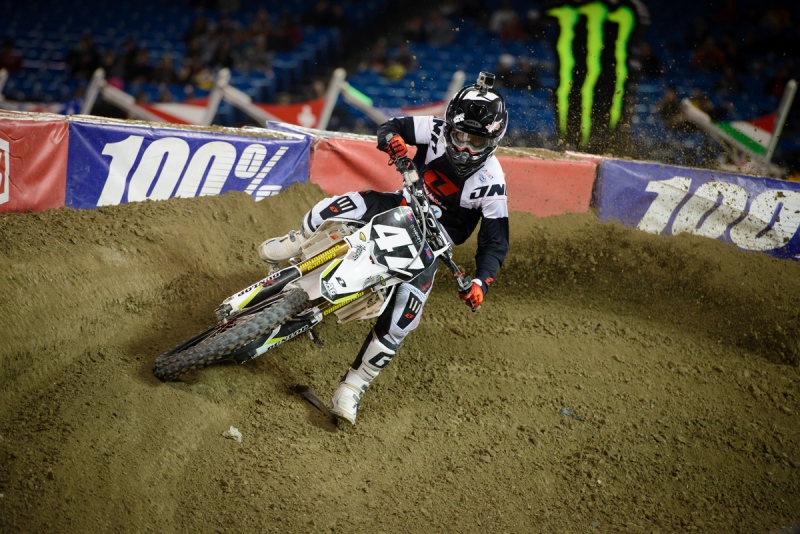 Is Kyle Peters a privateer even though his set-up is better than a lot of other paid riders?
In my mind there are factory guys (Dungey, Canard, JGR guys) then there are support teams with guys like Short and Reed and then guys like Lamay who get everything paid for. Riders like Ronnie Stewart (although technically he has a "ride") and every single Gus-Gus and Teddy Parks Journey rider (and even Kyle Peters although he's in a truck and his family is loaded, that's not his fault) are privateers.
We can't go by semi-trucks (like they used to), OEM help (like they used to) or whether or not they get paid one dollar from anyone out there. It's almost got to be a case by case deal. We've got to figure this out JT so that the fans who cheer for the little guys in the sport can do so accurately.
As someone that got paid a lot of privateer bonus money over his career, what say you?
JT: This is indeed a slippery slope. Back in the 2000's, Toyota used to have a contest for the top three privateers in final Supercross points. The payout was $25,000-$15,000-$10,000, so naturally there was a lot of emphasis put on determining who was a privateer and eligible for this battle. I did not envy the (now) Feld guys because they had lots of riders pleading their cases on both sides. There really was no foolproof way to define a privateer.
In my case, I was being paid a salary, had my expenses paid for, but didn't have access to any works parts and accordingly my motorcycle was nowhere near as advanced as the upper echelon guys I competed against. I had the glitz and glamour of being under a semi and most things were taken care of but in my mind, I was way behind on technology and equipment. I had a production motorcycle (that Honda had given me as per my deal) and it was no different than anyone that showed up in a pickup truck. That was my defense for being a privateer.
The real grey areas for this came with a rider like Travis Preston during his Factory Connection Honda days. This team didn't get full factory bikes back then but he definitely had works parts on his bike that I could visually see. It was tricky for the decision makers because while he certainly wasn't on the same bike that Factory Honda was, his bike had advancements that simply weren't available to me regardless of the price. He was eventually declared ineligible but I think had he kept the works parts to internals and hidden it a bit more, he would have skated around the rules and cashed in. That was the game back then… Push the envelope as far as possible without showing your cards.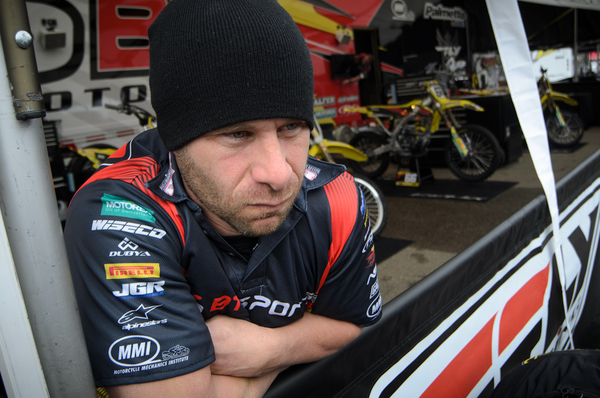 JT pondering the privateer question back in the day.
Ultimately, I think there are simply too many versions and definitions of a privateer. There will never be a consensus because no one agrees on its parameters. Unless the rulebooks clearly define that down to the most minor of details, arguing it will always remain futile. To me, a guy like Ben Lamay is a privateer because I know how much better Josh Grant's YZF450 is than what Lamay is riding. They are built by the same shop (JGR), but they have completely different levels of components and performance. That's basically the same scenario as I was in and I was considered a privateer at the time as well.
There also is the hard core fan who only considers a rider pitting out of his Ford Ranger to be a privateer. There can't be any real support behind him and he is also driving to the races, working on his bikes and showering at the Flying J Truck Stop after the races. While I don't totally adhere to this thought process, I can also understand the context. That's really the rub here. What one person considers to be a privateer might be far different than what you or I believe defines the exact same privateer. I just don't see that wide range of opinions changing anytime soon.
Matthes: So JT, your line of demarcation is what's on a bike? But as you wrote about Preston that can be easily hidden and who really knows. We both know a Kawasaki privateer out there that has factory things on his bike from some "buddies" of his and let's not forget the BTOSports Suzuki rider that had a lot of year old works Suzuki parts on his bike after his friend switched to Kawasaki's in 2010. I don't think you can go by the bike- you just can't.
Bottom line—if it's not costing you anything to go to the races then you're not a privateer. I realize that doesn't leave a lot of guys to pick from but Matt Lemoine, Ronnie Stewart, Robert Lind, Killy Rusk—all the dudes under those two privateer teams- they're privateers. The Lamay's and Martin's of the world are not privateers. If you pay for your entry to the races, you're a privateer. And yes, that meant you weren't either. I'll be waiting by the mailbox for you to write us a check for all that privateer money that you won and we'll re-distribute it back to the Ty Birdwell's of the world.
JT: I understand what you're saying but in the same breath, some of these guys you named are getting money to go racing as well. They have friends' companies and businesses that want to be involved on a smaller level donating money for them to get to race to race. So does it matter where the money comes from? If it's not their money in any case, does that also make them uneligible?
Also, please don't get me started on your Ty Birdwell approach, who by the way, had a full time hired mechanic (you). Fortunately for him, his Dad was successful and was able to pay for his way. So, does that also disqualify him? Simply because the money came from a buddy or parent instead of a team owner who could also be a buddy? Do you see how murky it gets?
Is there really any importance on the privateer status anymore anyway? The US Tobacco deal is gone, the Toyota Privateer Challenge is gone, even the Whoop Monster is gone. It really is much ado about nothing.
Matthes: NOTHING IS OVER!!!! See I agree with you in a way- who cares and it doesn't matter all that much anymore because there's nothing in the way of privateer awards. EXCEPT…the fans still care. More than ever on my Twitter feed or on message boards I see fans calling this guy or that guy a privateer and you know how it goes in our sport. You could have the nicest factory guy in the world saving puppies from a fire and he will NOT be as loved as the privateer who's also an axe-murderer. People love privateers! They love the "little guy"!
So that's why I think we need to try and identify these guys for the fans bro. And there's a difference from a rich guy like Birdwell's dad or Kyle Peters nowadays and a team manager picking a rider like you and deciding to pay him. You were good enough to beat out a lot of other riders for a paid ride. That makes a difference.
Will those privateer monies be paid back in cash or check?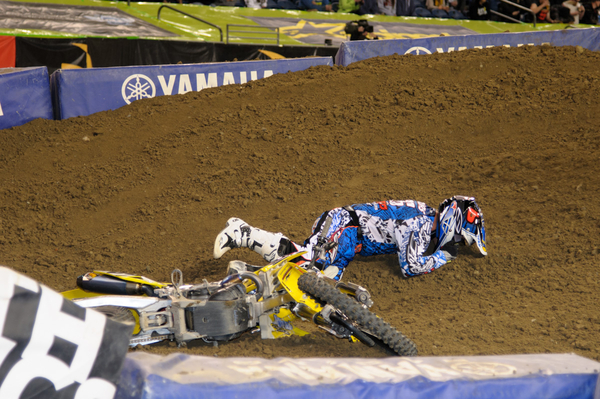 Thomas takes a look deep into the dirt for the definition of a privateer.
JT: Ok, ok, I will do it for the fans, much like JS7. That doesn't change the problems identifying these guys as we have just discussed. My advice is this, if you see a rider and he isn't one of the elite guys, cheer for him. The money in this sport is only respectable at the very top tier and is far worse than 10 years ago. Even if a guy is doing fairly well in the results, he probably is still struggling financially. I am not talking about the top ten 450 Supercross guys. They are doing just fine for the most part. I am talking about a kid getting 12th in the 250 class or a 450 guy, like Adam Enticknap, who can make mains but doesn't do it regularly. They aren't getting rich off this sport, be sure of that.
And as far as my money being paid back, would you like Subway/Honda's email or DNA Energy's phone number? Take it up with them.
Matthes: I think I'm more confused now than when we started this. Sorry everyone.