Nagl wins the battle, Cairoli wins the war!
Nagl wins the battle, Cairoli wins the war!
By: Jonathan McCready
Photos By: Youthstream and Ray Archer (KTM Images)
Antonio Cairoli is now an eight time World Champion. Yes, you read that right, only Stefan Everts has more titles than the extraordinary Italian. The Scilian is currently the best motocross rider in the world mainly due to his ruthless consistency over any terrain in any country. It's one thing having Cairoli's speed at one round but doing it over eighteen is proving to be the problem for his competition as is staying healthy enough to make all 18 rounds.
Maybe Ryan Villopoto will provide the answer to the conundrum in 2015? If he does it will be the best title of Ryan's career. But Cairoli is only two championships away from equalling Everts so he has the motivation to keep going and finding new ways to improve.
Cairoli didn't have his best day in Brazil but he still made the podium and had the Brazilian fans chanting his name from the grandstands when he clinched the title after the first moto. It has been an emotional year for Cairoli after he lost his father in May and understandably Cairoli dedicated his eighth World Championship to the man who had been behind him from the first time he threw a leg over a motocross bike as a child.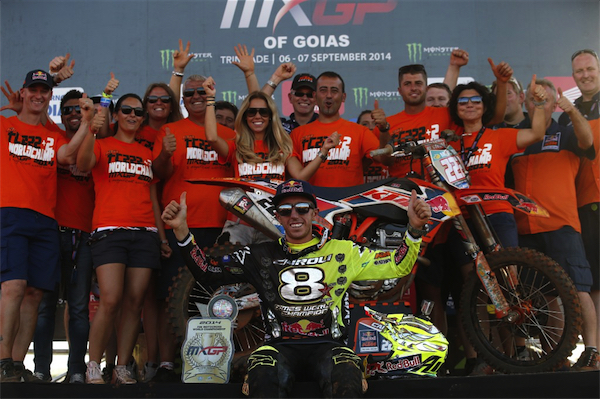 The Legend, posing for his 8th title.
Max Nagl had his best GP in a couple of years with a flawless 1-1 performance. The HRC man was dominant all weekend and no-one could get close to the German. Honda might be wishing they had kept Nagl to partner Paulin in 2015 but Husky will be delighted to have Max leading their team next year if he can find a way to consistently pull out performances like he did in Brazil.
Gautier Paulin had a so-so first moto after a mediocre start but held Cairoli off in race two for second and claimed second overall. Paulin is getting stronger every week after his injury and leading France at the Nations must be his priority now.
Tommy Searle had his best GP since the British GP in May. Two half decent starts for Searle in the top ten meant he got to see the pace of the some of the faster guys for the first time in a while and despite a crash in race one, Searle still managed fifth overall.
Steven Frossard was an impressive second in race one and showed just why he got selected for the French team with his speed. But in race two he showed why some are still sceptical of his inclusion after crashing on the first lap, Frossard came back from last to seventh but the crash meant he lost out on a podium on a tie-break with Cairoli. Frossard still struggles to put two motos together but his speed is certainly not in question.
Poor Shaun Simpson, the Scot was in a battle for fifth in the championship when a pass on Dean Ferris went wrong in race one and Simpson ended up on the ground with a dislocated shoulder. Fortunately Simpson got his shoulder back in the socket quickly and lined up for race two and fought hard for a remarkable sixth place. Simpson lost his fifth place in the championship but is only ten points behind Frossard with the final round in Mexico last week. Hopefully the shoulder isn't badly damage and Shaun can still take his place as team leader for team GB in Latvia.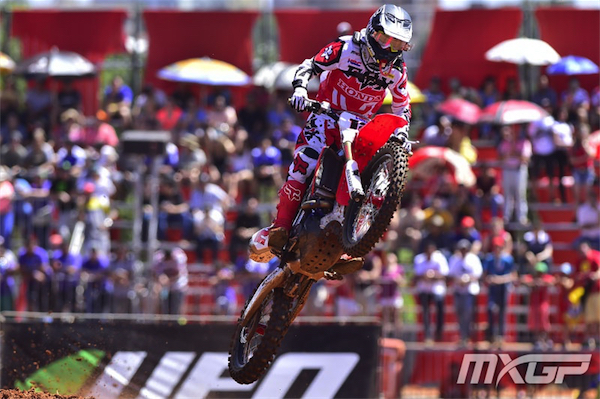 Nagl finished the series strong with a 1-1.
That wasn't the only injury to affect the MXGP class or the MXDN teams. Jeremy Van Horebeek threw it away big time in the qualification race and injured his ankle. He rode with painkillers to take 13th in race on to secure second place in the championship but Van Horebeek is now in a race to be fit for Belgium's MXDN title defence – they are already missing two of the riders that won it for them last year – Desalle and De Dycker!
It was also a disaster for team Australia after Dean Ferris crashed out of third place in race two and broke his femur. It was a terrible end to what was a happy return to MXGP for Ferris. Hopefully Dean won't have his 2015 preparation wrecked by the injury but it is a sad way for the Aussie to finish his season. It has been a year of bad luck for Husky with fellow Aussie Todd Waters breaking his femur in May at a practice track and the disappointing form of Tyla Rattray who just didn't perform to the level the team expected and had niggling injuries of his own.
In MX2 it was all happening at once and it was hard to know where to watch!
But in the end a sick Romain Febvre won his first ever GP, Tim Gajser won his first ever GP moto and title contender Jordi Tixier battled from behind to score two top five results in his quest to nick the title from the injured Jeffrey Herlings!
Febvre ran away with race one but had to fight hard for third place in the second moto to keep his adversary Dylan Ferrandis from winning the GP by one solitary point. Febvre was over the moon with his win and it was well deserved after the Frenchman showed some brilliant speed during the season. He now has only one GP left in MX2 before he moves to MXGP with factory Yamaha.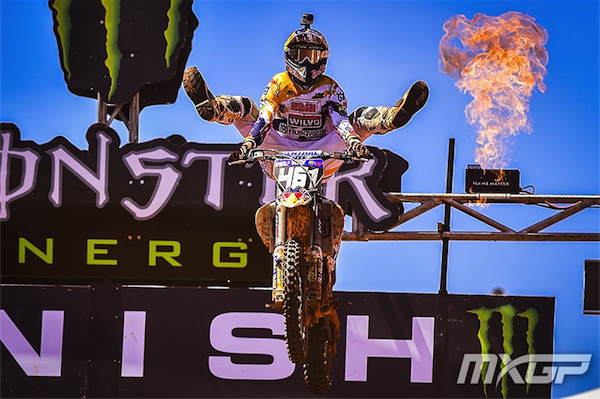 Febvre secured the overall win on the day in MX2 and 3rd in the series.
Dylan Ferrandis went someway to justifying his selection in the French team with a solid performance despite two bad starts. Ferrandis can come through the pack quicker than Tixier and doesn't seem to be as affected by pressure as the KTM man. Dylan will be pushing for a win at the final round in Mexico.
Tim Gajser's maiden moto win (and Honda's first since 2009) almost went unnoticed with the championship fight and Febvre's overall win. But Gajser showed why he is the most promising rider in the class with a runaway win in race two. A crash in the first moto dashed Gasjers hopes of the overall victory but his talent and coolness under pressure was evident in his flawless second moto ride. This was a huge victory for the 17 year old and will boost his confidence immensely going into the off-season.
Gajser could well be Herlings' biggest challenger next season and getting the sweet taste of victory is only going to strengthen his desire to be on Herlings' pace next year. Herlings injury has opened the door for guys like Gajser to gain speed and confidence going into 2015. HRC will also be boosted by this victory and will push even harder to provide Tim with a machine to rival the KTM next year. Tim Gajser is the next big thing in World motocross.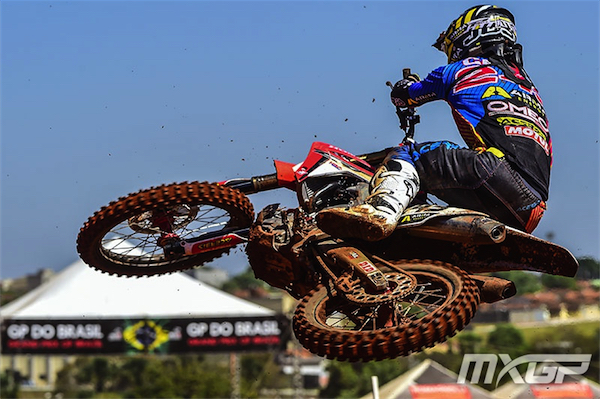 Could Gasjer pressure Herlings in 2015? He's been impressing.
Jordi Tixier rode better than his results indicate but he would have been hoping for at least a podium in Brazail. Two bad starts cost him his chance but Tixier also isn't the best at passing people (similar to Ryan Dungey). But he did ride well and has his shot at the title next weekend in Mexico. It will be the biggest race of his life.
Arnaud Tonus made a welcome comeback from injury and was a fine third in race one just behind his teammate Ferrandis. He struggled more in race two only finishing ninth but a lack of race fitness is understandable after his lay-off. Tonus and team Switzerland are very motivated for the MXDN and believe they could be dark horses for the podium.
Julien Lieber gave Belgium fresh hope they have half a chance of retaining their title (if Van Horebeek isn't hampered by his ankle). Lieber was in his first race for Standing Construct KTM after leaving Suzuki at the end of July. The talented and smooth riding Belgian appears to be finally given the tools to show his talent and after battling at the front in both motos. Lieber was flying and hopefully now he has the confidence to match his talent.
With MXGP title wrapped up and five 450 factory riders injured and missing for the last MXGP round in Mexico plus the likes of Boog and Nicholls also missing in action, the main attraction will be MX2 and who wins the title.
The obvious question is will Jeffrey Herlings try to ride 7 weeks after a broken femur and even if he does, will the doctors let him? The pressure is on Tixier but if Herlings doesn't appear the Frenchman still needs 24 points to take the title, which he should be able to do unless he cracks under the pressure – which even Tixier admits is his weak point! It should be interesting!
MXGP Overall top ten:
1. Maximilian Nagl (GER, HON), 50 points;
2. Gautier Paulin (FRA, KAW), 40
3. Antonio Cairoli (ITA, KTM), 36
4. Steven Frossard (FRA, KAW), 36
5. Tommy Searle (GBR, KAW), 32
6. Kevin Strijbos (BEL, SUZ), 32
7. Davide Guarneri (ITA, TM), 25
8. Milko Potisek (FRA, YAM), 24
9. David Philippaerts (ITA, YAM), 24
10. Matiss Karro (LAT, KTM), 20
MXGP World Championship Classification Top Ten:
1. Antonio Cairoli (ITA, KTM), 705 points
2. Jeremy Van Horebeek (BEL, YAM), 596
3. Kevin Strijbos (BEL, SUZ), 530
4. Clement Desalle (BEL, SUZ), 484
5. Steven Frossard (FRA, KAW), 392
6. Shaun Simpson (GBR, KTM), 382
7. Maximilian Nagl (GER, HON), 357
8. Gautier Paulin (FRA, KAW), 315
9. Davide Guarneri (ITA, TM), 270
10. David Philippaerts (ITA, YAM), 258
MX2 Overall top ten:
1. Romain Febvre (FRA, HUS), 45 points
2. Dylan Ferrandis (FRA, KAW), 44
3. Tim Gajser (SLO, HON), 39
4. Jordi Tixier (FRA, KTM), 34
5. Valentin Guillod (SUI, KTM), 33
6. Arnaud Tonus (SUI, KAW), 33
7. Jeremy Seewer (SUI, SUZ), 27
8. Christophe Charlier (FRA, YAM), 27
9. Julien Lieber (BEL, KTM), 25
10. Max Anstie (GBR, YAM), 21
MX2 World Championship Classification Top Ten:
1. Jeffrey Herlings (NED, KTM), 594 points
2. Jordi Tixier (FRA, KTM), 571
3. Romain Febvre (FRA, HUS), 534
4. Dylan Ferrandis (FRA, KAW), 511
5. Tim Gajser (SLO, HON), 487
6. Arnaud Tonus (SUI, KAW), 422
7. Valentin Guillod (SUI, KTM), 412
8. Aleksandr Tonkov (RUS, HUS), 384
9. Jose Butron (ESP, KTM), 345
10. Jeremy Seewer (SUI, SUZ), 328