The MXDN interviews
The MXDN interviews
Photos by Ray Archer
Chad Reed
You fell in your first moto today and then second moto, an even bigger fall right up down the start straight. Not the day you wanted to have.
Not at all. It was a rough weekend but I felt really good in the practices. I felt like my speed was there, comfortable with the bike and everything. Just when it counted I wasn't there. Rough one. That last crash hurt a little.
I didn't see it but I heard it was good. Clout was looking okay and he went down. Moss had a so-so day. As a country, not one of your better days.
As a country it was a rough weekend. Mossy fought the bike all weekend. It's always tough when you jump on a plane and somebody offers up a factory bike. Factory bikes are factory bikes for one individual only. They're so custom made to that rider. Coming over here and jumping onto Sal's bike, right from the first ride out he just really struggled.
I can't believe they didn't bring suspension!
Just nothing. Literally the only thing they brought was handlebars and that's it. It's a little frustrating from our point of view because we try to advise against that, but when you hear the word factory everybody jumps at it and think it's immediately going to be better. But it is what it is. I felt like we were better than what we were but it was just a rough weekend. You can't qualify 17th and expect to have a shot at it, going to the gate 17th and 37th is just not going to get it done.
I said to you before we started this interview, why did you start on the outside? And you said, that was my inside gate.
Yeah, it was brutal. What do you do from there? I'm disappointed. I don't know. I don't want that to be my last des Nations but I love this event a lot. At some point you need to weigh up the reward verse risk. I just think that des Nations is so hard for us that race in the US. I think the US and riders in general kind of struggled. For me it's going to be a pretty strong argument to try to convince the wife to be able to go next year.
You're writing some checks out of your own pocket.
Yeah, for the most part you are. Australia does really, really well. I come out of pocket a little bit. Not terrible. My heart's always in it. I always want to be there. But sitting here today I can tell you right now, the conversation I just had with Ellie I don't know if I'm going to be in France as a rider.
I thought this track was really simple, hard to pass. It didn't separate anybody and a lot of times if you didn't get the start you couldn't do it. What'd you think?
I agree a little bit and disagree. I think it was far from simple. In a smooth form it was pretty simple, but the track got really, really rough. The biggest thing that we struggle as US riders is our race tracks are just so different. These guys ride very different to us, and truthfully I actually feel comfortable riding the way that they ride but obviously I'm on a US-based bike so our bikes handle that way, they're kind of set up for that way. I've learned that for the last 13, 14 years, I've been riding a bike like that, so now that's my comfort level. The biggest thing is in the US we ride Supercross so obviously we're very aggressive driving into the turns, so we get big bumps coming into the turns. And then it's kind of like a U-turn and then drive it out.
Here they have a little bit more technique in the fact that they ride in Belgium a lot, which is sand. So they open up their turns. They enter from the outside, sweep it in nice and smooth and have really good mid-corner speed. They're used to riding on all this. I'm not making excuses, just facts I guess. But those guys were solid this weekend. My pace in practice, I felt really good. We just didn't translate that into a good start and then a good solid moto finish.
You tried the Ohlins this weekend. Any thoughts or anything you can tell us about that?
We're trying that option out. Showa's been great to us and we're not ruling out that we're not going to go that direction.
So this was a good test session?
Yeah. As a team owner you've got to make decisions sometimes based off of some of the things that you feel. Writing large checks isn't always ideal. I just think that we're not a factory race team and we don't ever have that straight communication with the Japanese so sometimes there's some things lost in translation. If something's figured out we're never really the first one to get it. You've got to weigh up your options and I just think that we have a great product in Ohlins. I actually felt really good this weekend. It's probably the best I've rode outdoors. It doesn't show, but just out there riding in practice and everything like that, I actually felt really good.
You've been on holiday too, so coming into this race you hadn't prepped like you would like to and you were still 4th or 5th in practice. So yeah, you were all right considering this isn't probably the most ideal prep you ever had.
Yeah. If we're going to go that way, truthfully I haven't trained since Red Bud. I really haven't. It's the hard truth. Truth hurts sometimes I guess. I felt that I could come and put my best foot forward and give it all I got for the green and gold. It wasn't perfect preparation but it is what it is. Like I said, the pace was there, I just didn't get the starts. I was just in the wrong place at the wrong time.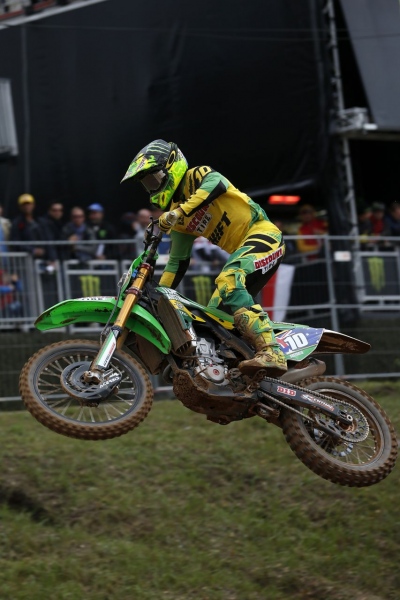 Reed didn't have the day he wanted to in Latvia.
Talk about your trip a little bit to Valentino Rossi and Antonio Cairoli in Venice, with your friend/partner JT. Looks like you had a good time?
Yeah, I spent a lot of time with JT. It's been weird the last three days to not be sharing a room. We had a good time. Ellie was going to Australia on September 11th…
And you're into the Moto GP so this was cool for you.
It is, I'm a big fan. I have friends and all that in the paddock there. For me, I feel like I have a pretty good knowledge of what's going on. It's fun for me to go and stand in the Valley garage and kind of watch it all go on. Riding flat track with those guys and Marcus,Valley. JT and I had a great time.
I understand JT's flat track skills were not ideal?
Not solid at all. The second time there we took Dan Truman as well. And Dan Truman was faster than JT. Dan Truman is not a racer. Not that JT is a racer but JT was a racer in '98 or something. So JT's got some work to do.
Pirelli Tires, Ohlins Suspension… When are you switching to UFO gear? You're going the Euro way.
Heading that way you think? I feel good. I feel like our decision to test out the Ohlins here and my decision to go to Pirelli is all good. We had a two-day Supercross test before I flew to Europe. That test was really positive actually. So I feel good. It's been a rough summer. I'm not going to lie. And it's been a rough Des Nations, but do what I do. Everybody will be counting me out and we'll go to work here in October.
And truthfully it's not going to get any better for Monster Cup because I'm going from here to Australia and I'm going on vacation with my family. I'm going to see my mom and dad. And I'm not going to ride a dirt bike between now and Monster Cup. Hopefully Josh Grant sets up the bike good for me. After Monster Cup I'm going to put my head down and get on the grind.
****
Roger DeCoster
Not the day you wanted to have again. Some good individual performances but just some mistakes that couldn't be overcome.
Three years in a row now that we struggled. There's many things we can think about, but one thing is the French rode awesome today. We cannot come up with excuses and say we did not win because of this or because that. They were the best team today and they deserve the win.
They didn't make any mistakes. Nobody had any issues.
No mistakes, good starts all day long. We got in all kind of trouble. Jeremy crashed in the qualifying yesterday. Eli had a crash in both motos. Ryan crashed in the second moto. That was just too much. But there's so much pressure on our guys also at this event. We have such a big entourage and I think we need to look a little bit at the fact that we have too many people talking and too many opinions, too many experts talking to the riders trying to tell them what they should be doing. I think these guys are too good to keep being told all day "you need to go win."
Today these guys, if they're going to come here they want to win. We need to back off a little bit I feel and let them do their job and trust that they're going to do as good as they can do. It's hard to come here on tracks where the Europeans ride GPs every year. They know the tracks evolve. They're used to the weather, they're used to a lot of things. It not easy to come. And basically there's a target on our bike also. The goal for every European country is to beat America. They will be willing to help each other to beat us.
Yeah, I see other media members from other countries kind of get happy when somebody from another country just gets by an America.
Oh yeah, that's a fact. And we also got spoiled in our best years, the years that we won very easily. Our riders were so dominant. But now the level is more even and the equipment is very even. It's tough.
We almost need to educate our fans, that hey, these Euro guys are good and it could go either way. They still don't realize that, a lot of fans. They still remember the heydays of America just kicking everybody's ass.
There was a time that I think a lot because of Supercross our technique evolved quicker than the rest of the other countries and we benefited from that. But now they have had time to catch up. Like you said, it's very even. There's a lot of information out there, a lot of exchange of information to the teams, we're connected worldwide. They know what we run, we know what they run. They only ride outdoors basically. Our riders' techniques and bike setup is influence by Supercross. When we come to outdoors of course we change but we don't go all the way because the way they have developed their riding and their riding technique and all that what they're used to they're not comfortable with maybe the idea of a setting that would work on this kind of track. So there's a little bit of that.
On the other end you have to look also on a bad day for us, we're still on the podium. We still managed to come back on the podium from way behind. If you look at our consistency over the last 30 years, we're always fighting for the podium and we seldom don't end up on the podium. Even with all the problems we had today we still managed to come back and make the podium.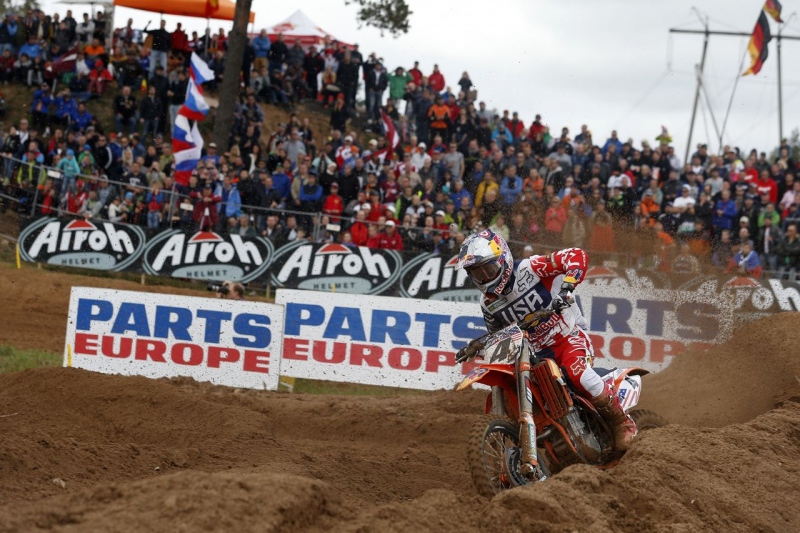 "On the other end you have to look also on a bad day for us, we're still on the podium. We still managed to come back on the podium from way behind. If you look at our consistency over the last 30 years, we're always fighting for the podium and we seldom don't end up on the podium. Even with all the problems we had today we still managed to come back and make the podium."
Let's talk about Jeremy Martin real quick. Broken toes, broken foot probably. A bad crash. He really gutted it out. It didn't get the great finishes, but he did well.
I think he did awesome considering his injury. It's amazing that he was able to ride. We didn't want to sacrifice a start position for the 450 so we put him on the outside. On this track it was a big handicap on the 250, especially on the 250. He did not whine, he did not complain about his pain, his injury and all that. He showed a lot of toughness.
Thank you very much. Thanks for your work in getting this. We got to calm everybody down and realize that this race can go either way these days.
Yeah, I want to win as much as anybody and everybody. Our team feels the same as me and they work hard for this, the mechanics, the crew, the people that support us in Europe. To make an event like this happen, it takes a lot of work. I want to thank Alpinestars, Red Bull, for taking care of all our crew, and everybody else that's helped this year.
***
Eli Tomac
Terrific second moto ride by you. But still at the end of the day you're one of those guys I think you put the team ahead of your individual rides and for that you're probably pissed.
I'm pissed. I don't get on an airplane to come over here 20 hours and to fail like that.
And you're 0-2.
0-2, what the heck is that? That's not good. Maybe third time's a charm for us and we'll come back and smoke everyone next year. You never know.
Your starts hurt along with that crash. I don't know what happened leading into that, but that was a kicker for you.
It was. I don't know. They gave me the inside both times because they knew… Actually my starts sucked this weekend but going back to the Nationals in America my starts were fine. So going back to the Euro gates, there's more room behind the gate there and it was sandy and guys were building these huge ramps. I haven't had experience with that. Plus they rolled the gate like crazy, where in America the pipe's too close where you can't get away with that. Ryan and Martin, they got better starts but I was getting worked. I was spinning.
Your second moto, somebody told me you were 2 seconds faster than Gautier, best lap time to lap time. You were on it. You had to have been feeling good. To me you looked like you were riding very angry because your feet were coming out and you were kind of herky-jerky. You looked very angry.
I was pissed. I was angry. I stalled my bike. I was almost to Van Horebeek, I was right there on him and then stalled the bike. I actually went to an old fork that I had in the Nationals. It was night and day. I changed my front end and it was night and day. First moto I was getting arm pump. I'm like, maybe it's just the funky Euro dirt, but I'm like no, something's not right. I should have been on that fork all week.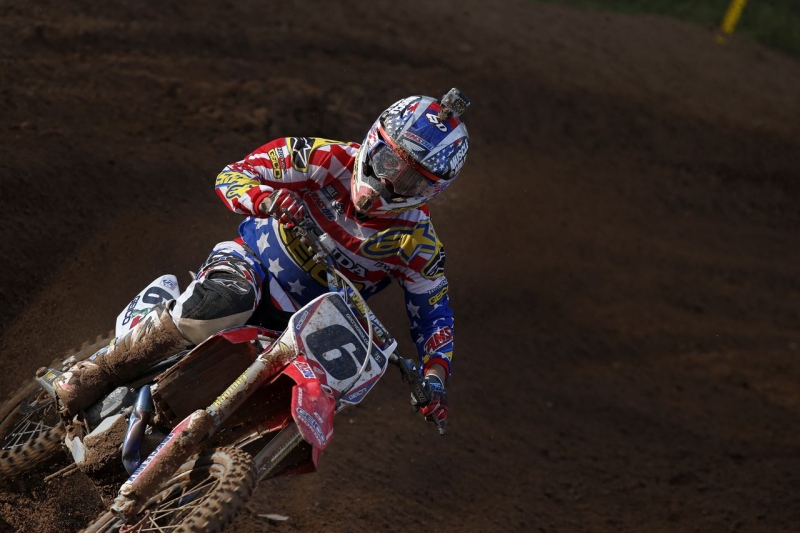 "I changed my front end and it was night and day. First moto I was getting arm pump. I'm like, maybe it's just the funky Euro dirt, but I'm like no, something's not right. I should have been on that fork all week…."
Track-wise what did you think? Not a lot to separate you guys but obviously you came from the back pretty good.
If I would have had my awesome front end it wouldn't have been an issue. I wish there was some more soil like this in America. We need some sand.
Our tracks are too close to the same thing.
Everything's the same. It's clay-base, it's big jumps. Yeah, it's cool for the fans but we need to do some motocross tracks and just haul some sand in.
Your first moto, JT and I were talking about it. It looked like maybe you got up to Leok and you know how it works, you can't get by somebody right away so then you started getting into their speed. We thought maybe that happened to you, but was it more of a case of arm pump?
Yeah, a case of arm pump. I came off the track not even breathing, that's how bad I was tightened up.
You looked like you were going to zoom by him.
Yeah, then I got stuck and got arm pump.
A lot of fans get really upset when USA loses this race, Twitter followers, my email people. But at the end of the day these guys haul ass. America, you guys didn't have a great day, you still got 3rd but France rode well.
Yeah. I think the world has changed. The Europeans, maybe 5-10 years ago there was so much talent in the US we would win all the time, and that was when the golden days of RC and Stewy, they were just kind of freaks of nature. These guys are getting faster and we're coming to unique tracks that we don't have in America so it's getting tougher and tougher for us.
Thanks for doing this. Congratulations on the 3rd. Great second moto ride.
Thanks.