Former factory rider Vuillemin talks about his home country winning it for the first time since he was on team
Former factory rider Vuillemin talks about his home country winning it for the first time since he was on team
Photos by Ray Archer
France did it, they were very good w Paulin winning both motos. Lots of people were critical of the team for leaving Marvin and tixier off but they answered with a great ride. Thoughts?
They did exactly what a team should do to win MXDN… One of the 450 guys has to win, the other one has to be top 3-5 and the 250 has to finish at least in the top 10 of a moto. They even did more than that. Paulin dominated. Frossard won the Open class and Ferrandis went 9-9 starting from the 22nd gate. I was skeptical because Marvin and Jordi seemed like a better picks than Dylan in 250. They both won more races/motos than Dylan. On this day, obviously, Ferrandis was a great choice but if you look at the stats, Tixier scored 167 points (out of 200) in the last 4 GPs when Ferrandis "only" scored 132. Frossard looked like a "normal" pick but the guy is super inconsistant which could be dangerous for a race like MXDN. His last 4 GP scores were 11-5, 13-6, 2-7, 7-8.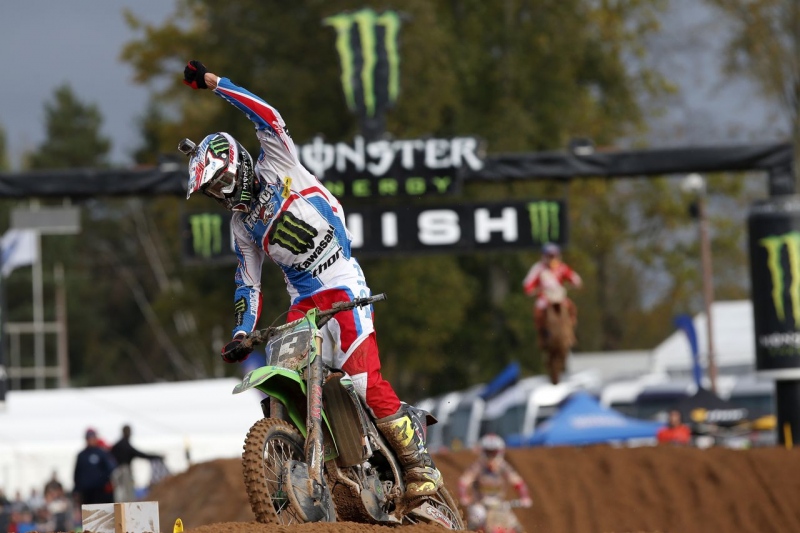 Gauthier Paulin was fantastic at the MXDN as he won both his motos.
Personally, I would've been more creative and picked Musquin for the Open Class and Tixier in 250 (even if I wouldn't have picked Tixier last year but they did). Marvin scored 167 points out of 200 in the last 4 Nationals with 1-1, 2-5, 3-1, 4-5 scores… Blame me to try to build the best French team with the 3 riders with best forms. It's why I didn't agree on the team selection when they announced it. Today, I look like an idiot but the stats never lie and I'd rather have the odds in my favor than bet on what the riders' potentials could deliver. But full credit, Team France rode perfectly this year and won with 17 points! Belgium won the MXDN in 2013 with 27 points, Germany with 25 in 2012 and the US with 26 in 2011. It shows you how good France did with scoring only 17 points.
Team USA…what happened?What can they change, if anything, to get back on top?
It's tough to win when one of your riders break his foot on Saturday! You can always debate the selection of the team after the fact. I don't like teams that send rookies or sophomores to a race like the MXDN. The first 2 years Carmichael went to MXDN, England 1998 and Brazil 1999, he didn't do very good. In England, it was a mudfest so it's understandable but in Brazil, even after 2 championships and a track similar to an US track, he DNFed a moto by crashing and didn't do too well. That was the year Dobb won the 125 class in front of Chiodi and I. Two veterans were in front of the very important 125/250 class at MXDN. The small bike often determined the outcome of the race. Baggett, after winning 8 motos in the Nationals in 2011, went 17-17 at MXDN in France. The US still won, thanks to Pourcel's Pirelli mousse, but it shows you how challenging that race is. There's so much pressure on the US teams every year and you need veteran gladiators that went to war a few times in the team. RV not being there was a big loss for the US team and I'm wondering what the result would've been with RV and Dungey in 450 and dropping Eli down to the 250. RV hasn't raced the last 3 MXDNs for Team USA and the US didn't win the last 3 editions. "Captain America" whoever he is, in this case Dungey for the last 3 years, has to win his class. Ryan hasn't won his classin a while.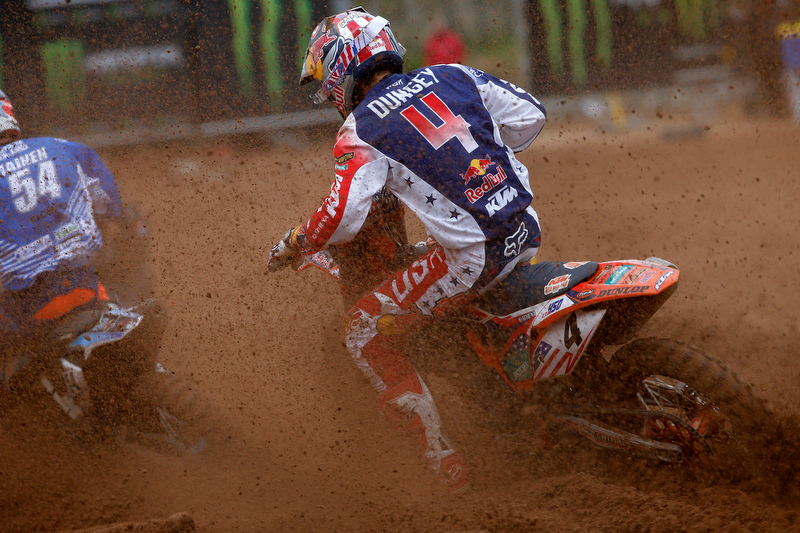 "The bottom line is that the American 450 riders under performed"
In the last three MXDNs, he's scored 7-9, 6-7 and 2-11 when, to win the trophy, he should've won at least 3 motos and be top 3 all three times. Same goes for Eli this year. He got 6th in the MX2-Open moto and got beat by Noren, Searle on a 250, Wilson, Frossard and Strijbos. If you do the same scenario in the US, Eli being 12th on the first lap of any US moto on any US tracks like he was in his first MXDN moto on Sunday, there is no way he gets 6th and gets beat by those 5 guys. His second moto, it was the Eli we know. 22nd on the first lap and he caught up to 3rd but it was too little too late.
The bottom line is that the American 450 riders under performed. Jeremy's 11th place with a broken foot, even compared to France's Ferrandis' 9th, should've been enough to win the race but Dungey and Tomac had to beat Paulin and Frossard… What can they change? There's nothing to change. Team USA needs Tomac to ride at MXDN like he did in Millville and Dungey to ride like he did in Washougal where they both went 1-1. But, let me be their lawyer for a second… The season has been super long for Americans. They're racing since the first weekend of January. The nationals have been over for a month. Some took some time off, some started SX testing. It's a long trip from the US to Latvia. Jet lag going that way is super tough to recover from and you can't be at 100% arriving less than a week before the race. They only had a 45-50 minute practice to learn a new track and set up their bikes when the GP guys have been racing that track every year since 2009. All of those things work in favor of the French and Belgian team which makes the MXDN very challenging nowadays.
Belgium was solid as was GB- after that there wasn't anyone close. Thoughts on these two countries?
Belgium is always solid and would've been even more dangerous with Desalle. Great Britain was a good surprise but it's tough to get a podium when one of the two best riders ride a 250. It only worked for Germany in Lommel with Roczen. But Ken on a 250 at MXDN is like having 3 450 riders in the team. Simpson was the weak link for GB and his 13th was only good enough to tie the US but the American got the bronze medals with Dungey 2nd place finish in moto 1.
Most impressive rider or team for you outside of the obvious?
Two riders impressed me. Tommy Searle winning the 250 class was impressive. He got 4th in the MX2-Open moto which was very very good. It was a good tactic from the GB team to line up the 250 guy on the inside. He got a great start and stayed up front. Another impressive rider was Tonkov, the Russian. He got 8th in the MX2 world championship this season. He showed up on a 450 for the race and went 5-6!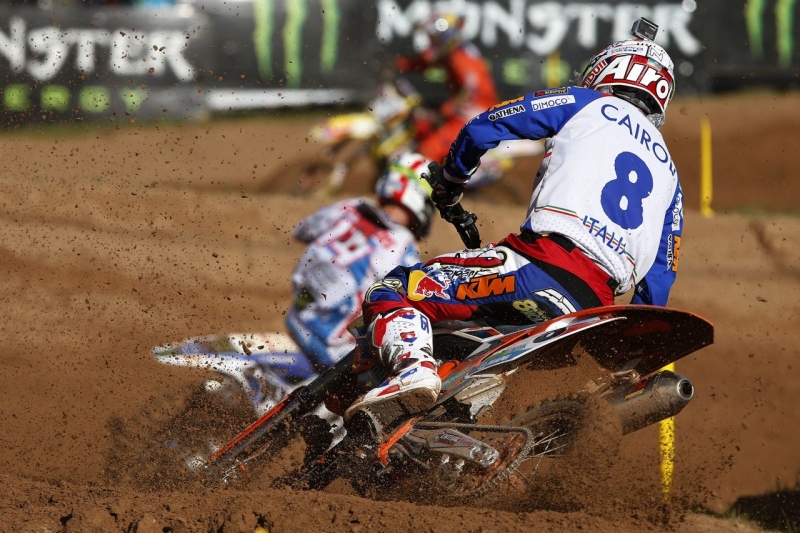 "What was disappointing was Cairoli crashing and getting hurt halfway thru the MX1-MX2 race while running 5th . He could've podiumed that moto and maybe do even better in the race against the Open class where the 250s usually do better. It's a bummer we didn't get to see that."
Most disappointing rider or country?
What was disappointing was Cairoli crashing and getting hurt halfway thru the MX1-MX2 race while running 5th . He could've podiumed that moto and maybe do even better in the race against the Open class where the 250s usually do better. It's a bummer we didn't get to see that. As far as countries go, Australia's 14th place was disappointing but the guys had bad starts and DNFs caused by big crashes. I thought it would have been a good track for Chad and Matt Moss. To have a good MXDN, you have to start the weekend on the right foot. And it starts by getting lucky on the gate pick drawing for qualifying races on saturday. If you get a bad gate pick, it's tough to start in front on those stupid Euro starts where the inside is the best gate. If you qualify 10th, you get 10th and 30th picks on sunday which sucks
What would you change about the mxdn, if anything?
I think the format is pretty good and has been the same for decades. I would change a few things. The random drawing for Saturday gate pick qualifying gate picks is ridiculous and obsolete. Gate picks for qualifying should be based by timed practice. A bad draw could ruin any teams weekend before it starts! Also, I would change the race format. I'd pick only 13 teams, 12 from qualifying races and a 13th team from whatever fastest team in timed practice that didn't make the top 12 team. Taking the winner of the B Final is lame. Hard on riders and mechanics to get ready for the afternoon motos. Make a B Final for teams that didn't make it but don't take a team from there to race in the afternoon. For the afternoon you have 39 riders and have them ride at the same time in a 3 moto format that way you see everyone race everyone 3 times. They could go from a 30min + 2 laps to a 25min + 2 laps moto format if they race 3 times. You can still write off the worst result. That would be my idea… But, seriously, who really cares about my thoughts?