The Chicken speaks
The Chicken speaks
Matthes note: This was supposed to be a Moser Shorty column where he texts back and forth with someone in the industry and seeing as how Jeff Matiasevich rode the #project90 MX 250 I had built this past week, we thought it would work out well for Moser. Well, Chicken doesn't text so he called Moser to chat. So scrap the Shorty's column and right to this hard hitting interview from Moser.
PulpMX- How was it?
Chicken- It was awesome. It was a lot better than I thought it was going to be.
When's the last time you rode a two-stroke?
Last time I rode a two-stroke was '98. It's been a while. After I rode it I missed it.
Are you going to go out and buy a two-stroke now?
No. They don't make them. I tried to buy Matthes', he wouldn't sell it to me.
How well do you know Steve, or how well do you know his wrenching abilities? Were you worried about riding that bike at all?
He brought a big box of extra bolts that Nick found tucked away in his tool box, so that sort of set off a signal that the man wasn't that good with tools. And then we had the front brake cable slip down and wrap around that disk, we were a little scared. But overall, he's a pretty damn good mechanic. Just minor little problems. I felt he did a good job on the bike. Couple little mishaps, no biggie. (Matthes note: the aftermarket front brake line outer sleeve slid down and the front brake line dropped in and around the disc. We safety wired it and all good from there.)
As far as replicas go, how close was it to your race bike?
It looked like it. I haven't seen the bike for 24 years so my memory's not that good. I thought it looked like it. Of course the performance of the bike wasn't what my bike was, but it ran good. It just felt awesome to be back on that two-stroke, honestly. Probably the funnest day of riding I've had in a long, long time.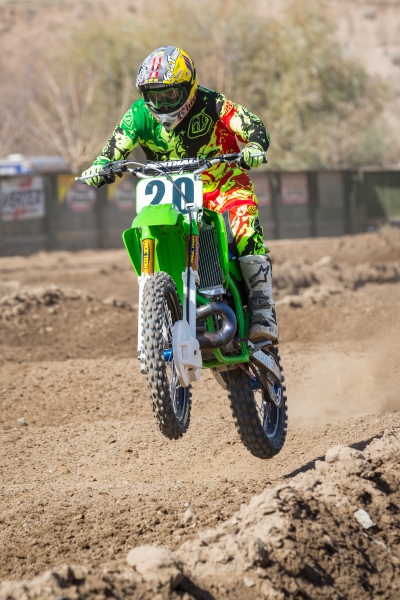 Jeff, a former factory Kawasaki and Suzuki rider, still rides pretty fast and gets out to the track quite a bit. Matt Francis photo
What is a normal day in the life of Chicken? What did you do today?
I got up at 7:30. I did some work until 8:30. And then I went over to a chick's house and hooked up until about 12:00. After that I did my morning moto. Then I went by the office. And then I came home, grabbed my RC car, went over to the Kawi Supercross track, drove my RC car. I'm at the hobby store right now getting some parts. That was today's day.
It's not bad being Chicken.
Not bad, can't complain.
You're normally riding a 450, right?
Yeah, normally I've got a Kawi 450 that I ride.
Where is your usual ride spot at? Where did you ride today?
I didn't ride today, I rode that chick. She lives in Chino Hills if you want to know where I rode today. The days I ride a motorcycle I usually ride Monday nights at Milestone and then Wednesday or Thursday at Terrace, sometimes Thursday I hit Glen Helen, Friday night Milestone, and then on the weekend I'll hit wherever.
If you could have another replica bike made of yours, what year bike would you get?
For me personally that is my favorite bike of all time, that 1996 KX, two-stroke. By far my favorite bike I've ever been on.
What about the perimeter frame on the '90? I understand there's still some confusion.
Yeah, I'm all confused. I still think I'm right. When I showed up and I looked at the bike, I'm like, dude, this is a '91. You built a 1991. He's like, no I didn't. We were looking at pictures on the internet. I thought, I got to or Kawi because in '91 I know for a fact they changed the frame. But they changed it so dramatically and that's when it went to the perimeter square tube up top. I know for sure it was '91 because I hated the frame, hated the way the bike worked and wanted to go back to my '90 chassis, but it was so noticeable that we couldn't do it.
It would stick out like a sore thumb. There's no way of hiding it. So I couldn't do it. Steve's bike, what he built, was a perimeter square tubing frame. I'm all confused. I know for a fact they did something to the frame in '91. It was a lot different than '90 but it worked like crap. I think he had it right because we were looking at pictures and then when I was at my office today looking at some posters but I couldn't really see the frame that good in the poster shot. I know they changed something from '90 to '91 that I didn't like and I thought it was to the perimeter frame but maybe not.
So Steve rebuilt the bike that you would have wanted to ride again?
Yeah, that 1990 bike was by far my favorite bike. It just did everything I wanted it to. Just one of those bikes where we didn't touch much, just left it and it was great.
So when you work for an hour, from 7:30 to 8:30, do you actually have to go into the office or are you able to do that from the comfort of your own home?
I hardly ever go to the office. I work out of my house.
Can you do any work while driving the Porsche or do you usually have to sit on the couch on something?
I usually have to sit on the couch.
What is the last thing you've airbrushed?
I think it was a naked girl on fire.
What was that on?
It was on like a big poster type plot.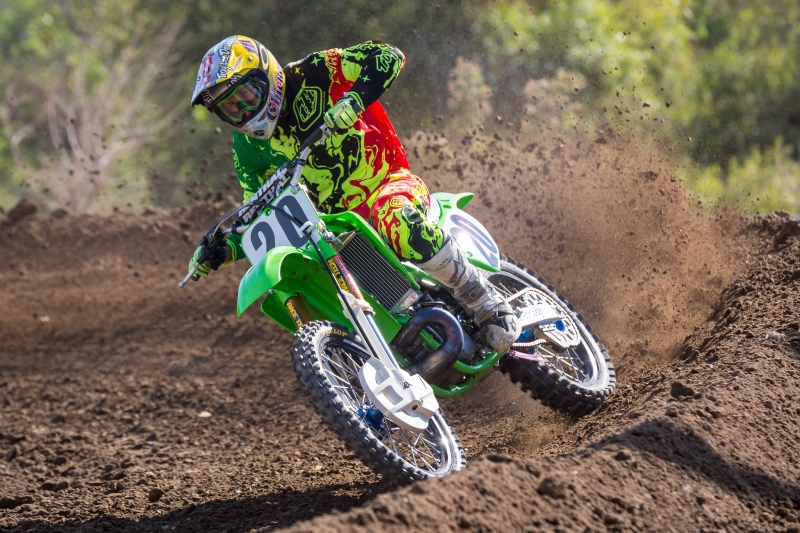 Matiasevich had a good day of riding #project90! Matt Francis photo
How's Chicken going to finish his day off? You got some work done, you got some riding done today, some art.
I try to hit it all. It's only 6:00, 6:30 California time. I'm just going home now. I got to get dinner somewhere. My house I've lived in for 9 years and there's never been a meal cooked. I don't believe in cooking so I eat out every meal.
You should write a "How To Be Chicken" book.
I don't even really have dishes. I use paper plates and shit. My dishwasher has never been turned on. Awesome. Every chick that moves in with me, they're like, "Oh my God, I'm going to cook you the best meal!" And I'm like, shut up…. And then pretty soon they get used to it. It's so easy to go pick up. I eat at the house, I just get takeout. Me and my daughter eat at the house.
Where are you getting takeout tonight?
BJ's.
Are we talking about riding again?
No, BJ's is actually a good restaurant.
Either way, good way to end the night.
We'll have to see about tonight's activities. My daughter's all over my ass. She's playing detective and shit. The other night I told her I'm going to go to my buddy's house. He lives down the street. She's like, okay. And I f***ed up and I pulled up to this chick's house and thought I called the girl. I'm like, "Hey, I'm outside the house." And I called my daughter by accident. My daughter's like, "Huh, what?" She's like asleep. I'm like, "Never mind!" And I hung up the phone. I'm like, f***! She called me right back and she's like, "where you at, Dad?" I'm like, "I'm at Brian's, why?" She's all, "No you're not. Where you at?" I'm like, "I told you, I'm at Brian's." She's like, "No, you're on the street."
The she tells me the street name I'm on. I looked up at the sign, and I'm like holy f***… She goes, "Look at your phone, Dad. You have 14% charge left." I look at my phone, it's like 14%. I'm like, what the fuck? She's tracking my ass somehow, dude. She's got the phones connected to each other or something. I got to figure out how to block here.
Seems like she might be parenting you.
She totally is, dude. Right now she's just like, where are you at? What's taking so long?
How old is she?
Sixteen.
You're going to have your hands full.
She's a good girl though.
Did you buy her a Porsche yet if she's 16?
No, she got a Audi A3.
That's a pretty good first car.
Yeah, I think I overdid it. But she's a good kid.
What's next on the agenda, what's your next adventure?
I don't know. I've been, like, low key lately. I feel like I need to do something.
You didn't do Monster Energy Cup?
No, I didn't. I wanted to but I couldn't. I had to actually work that weekend. There was a big produce convention.
You do any of these RC races or do you just drive for fun?
No, I just did the National, which was like the biggest race in California for them or whatever. I killed them.
What class are you in?
I did the big 5th scale truck.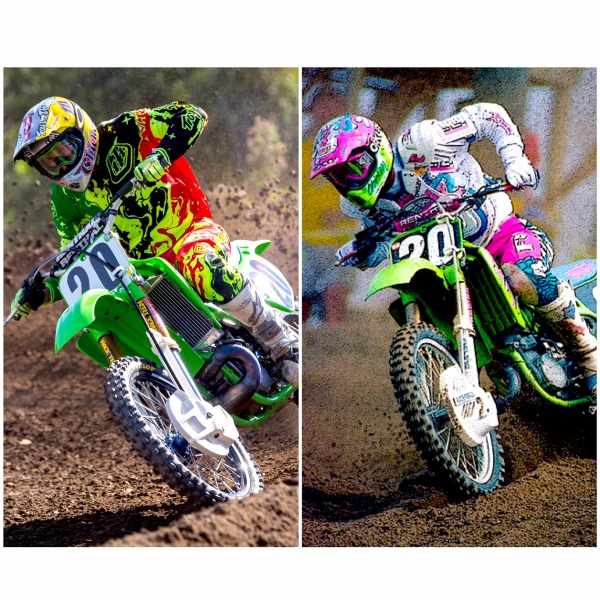 Chicken on the left on #project90 KX 250 and on the right on his actual factory KX 125.
I think we'll all vicariously live through your day. I can't think of anything else crucial to talk about. Nothing fell off the bike, too bad anyway. You made it through project '90 Ride Day.
Pulled it together. I'd like to ride that thing again, matter of fact. Why does everybody want to see Steve fail and be totally miserable? Hope his bike would just explode on impact and go to a million pieces?
The problem is if you compliment him too much he'll never let you hear the end of it.
He did a pretty good job. Hats off on the bike. He did a good job. We lost a radiator shroud bolt and a plastic radiator louver. The major was the front brake cable was wrapped about the disk and the disk was starting to wear through the cable. Nick's the one that caught that. That could have been ugly.
I'm not sure how safe riding this thing sounds.
Nick was a little hesitant when he was riding it. I just rode the thing. I didn't care. It looked like Nick was waiting for stuff to fall off.
That's because Nick's had Steve as a mechanic before. Do you do any of these bike test rides with any of the magazines?
No, not really.
You should get in on that. You ride enough.
I don't do nothing, so I should.