Kenny Roczen's doing something that not many have done before. Will it work?
Kenny Roczen's doing something that not many have done before. Will it work?
Hammerhead Designs was launched with the intent to provide new and better parts and innovative accessories for motocross bikes. One of our goals has been to design entirely new and unique products with improved ergonomics and the shift lever was the first part that we felt could be dramatically improved by providing a feature that would allow for the shifter to be repositioned to perfectly suit the riders size, shape, and preference.
For years, we have seen title after title come from the high powered factory efforts of Honda, Kawasaki, Yamaha, Suzuki and more recently, KTM. These manufacturers have the best equipment and typically the biggest budgets, thus leading to the best riders. A few times, however, we have seen private teams swoop in, steal the stars and ride off with a championship. As I was thinking about this Ken Roczen move to RCH Suzuki, it occurred to me that such a scenario played out with supercross's biggest star ever, Jeremy McGrath.
In 1998, Mazda Chaparral Yamaha made huge headlines by signing the then 4-time Supercross Champion. After a rough year with Suzuki, Jeremy was looking to make a change and get back to winning. Dave Damron, Larry Brooks and Keith McCarty presented an opportunity to have a private Yamaha team to run as they saw fit but still have full access to the Yamaha factory equipment. It was a coup for Damron, hiring the sport's greatest rider to an unproven team. Sure, Chaparral had been racing for a few years but nothing near the spectrum that they would now take on. All eyes would be on McGrath and the team at large. To win a supercross championship, things have to be done correctly and at the highest level. After winning three titles in a row (1998, 1999, 2000), I would say they did it the right way.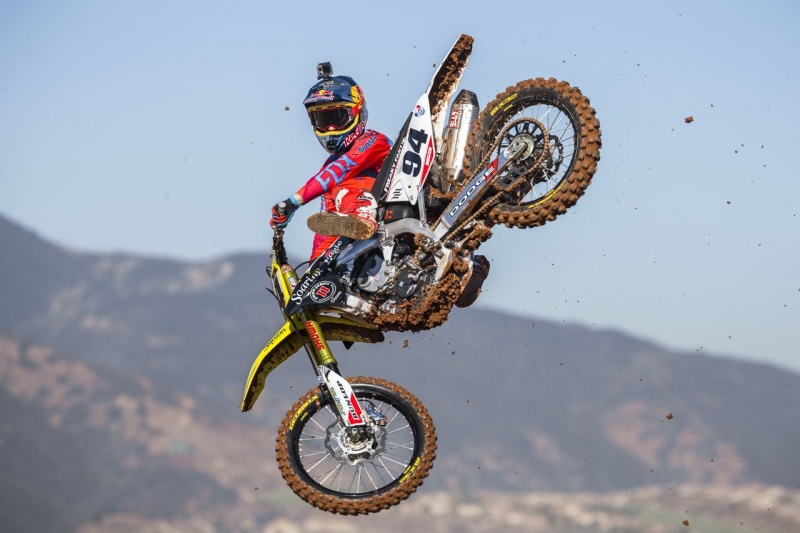 The last time we saw a move like 94's was in '98. RCH photo
In 2014, Ken Roczen decided to make a similar move, heading over to factory supported RCH Suzuki. The circumstances are a little different, as Roczen was very successful this past year, winning supercross races and the Lucas Oils Pro Motocross Championship in his first year on the 450. He was in a very good place in his career but wanted to make a change. Whether it was the bike, the money, the scenery or just liked the color yellow better, he had his reasons for switching and jumped in with both feet. Much like Chaparral, this signing was a steal. KTM had the top two riders in the outdoor championship and looked to have the odds on favorites for 2015. With one signature, RCH and Suzuki lured away perhaps the most marketable rider on Earth and put the ball squarely in their court for a championship. Of course, hiring Roczen raises the stakes. The team will have a new level of pressure to perform. For a team that scored their first ever SX podium in 2014, that will be expected week in and week out. Surely it is both challenging and exciting, they will truly be racing at the highest level in 2015.
Time will tell if this move works out as well for Kenny as it did for King Jeremy. Much like that move, all eyes will be glued to every aspect of that program. Roczen is expected to win in 2015, no question about it. With so many changes and moving parts, and without any races before Anaheim, that is a tall order to deliver. Everyone has seen what Roczen was capable of on a full factory effort KTM in 2014, what will we see in 2015? Kenny, Carey Hart and Ricky Carmichael have all pushed their chips into the center of the table. They have taken all of the necessary steps to winning that elusive first championship. They secured the factory equipment, they found funding to put together a world class team, and they hired the most sought after rider available. They followed the same recipe that Chaparral and Yamaha laid out so many years ago. The question is, will history repeat itself?