We sent a photo out to Blazier and some riders. Here are the comments
We sent a photo out to Blazier and some riders. Here are the comments
I started shooting Motocross Photos in 1975 basically just because I liked to but then when I started showing some of the guys I knew who raced they would tell me, hey you should sell those, when I asked them "who would buy these?" they said we would we'll buy them all. Those guys were true to their word and they bought every photo I took of them and that was the start of Buckley Photos. Since then I've shot a ton of local races around here in New England, I'd say 99.9% of the novices that have ever raced in New England have a Buckley photo of themselves hanging in their garage.
I also shot a ton of nationals and supercrosses X Games Gravity games road races GNCC's a little bit everything over the years traveling around the country shooting for almost every motorcycle magazine in the world I guess as well as shooting for almost every motocross clothing and accessory company in America. Want to order a classic print or something else? Go to buckleyphotos.com and we'll hook you up. Thanks for reading- Paul Buckley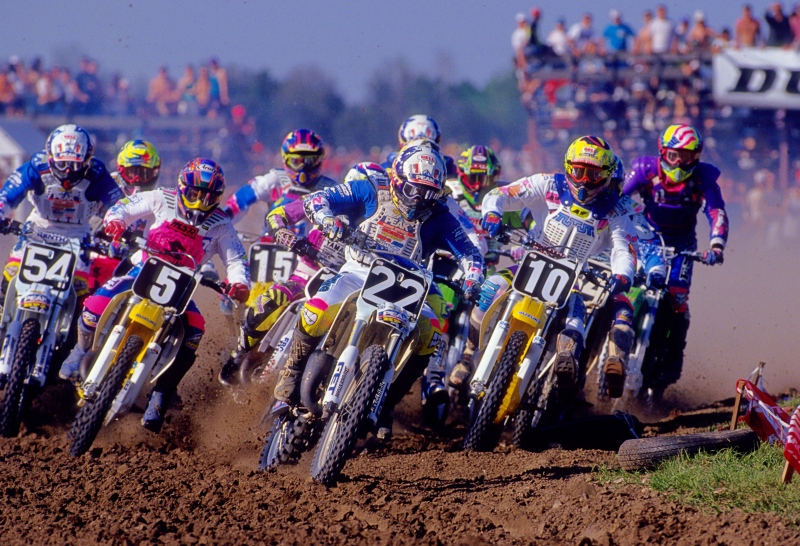 1992 Gainesville 125 class- #22 is Buddy Antunez, #5 is Guy Cooper, #10 is Larry Ward, #54 is Mike Brown, #15 is Brian Swink, Larocco is green helmet between Antunez and Ward, Tim Ferry is far right with Fox gear and Jeff Emig is between Cooper and Brown. Great photo with great color.
Blazier- Ah, good old Gatorback, the home of high-speed, hard pack and the Elevator. We just don't see tracks like this anymore. No rice hulls (WTF is a rice hull anyway?), mulch or knee deep loam here, just sun baked sand and concrete disguised as a race track. Once upon a time, Gatorback was a pretty sandy affair, but by the time Paul Buckley shot this photo in 1992, most of that soil was gone with the wind, leaving a brutal mix of chop and wheel-busting square-edged holes.
As the opening round of the series, Gainesville was always a special affair. Coming smack dab in the middle of the Supercross series (we did this crazy stuff back in the day), Gatorback was an opportunity for the outdoor specialists to get their season back on track and a chance for slow starters like Mike LaRocco to get a full 30 minutes to make up for their inevitable bad starts. Of course, this also meant if you were hurt in Supercross, you were probably screwed for both series. There was also the not insignificant hurdle of having to switch from Supercross mode to Motocross mode, only to have to switch back again in the span of three weeks. With all that in mind, it is not hard to see why Gatorback is no longer on the National calendar.
While Gatorback may have been a pain for the teams, it was lots of fun for the fans. Back in the day, many of the sport's big name Factory 250 riders actually dropped down to the 125 class for the Nationals. This gave the event an added spice, as the sport's veterans duked it out with the youngsters on screaming 125 buzz bombs. In this pic, you can see Guy Cooper (5) and Larry Ward (10), both accomplished 250 SX guys, mixing it up with Buddy Antunez (22), Brian Swink (15) and Flyin Mike Brown (54).
Making 1992 even more interesting, we had Mike LaRocco (sneaking up between Ward and Antunez) and Jeff Emig (between Cooper and Brown) making the step down from the 250's to race the tiddlers as well. LaRocco would go onto win this event, with Emig settling for sixth. In 1992, these two would end up duking it out all season, taking the series down to the final round in a true nail biter. Early on, LaRocco would have the upper hand, only to have Emig catch fire at Red Bud and claw his way back into contention. In the end, a series of fluke DNF's (a self-ejecting carb at Steel City and a broken shifter at Budds Creek) would cost LaRocco the title, in one of my favorite National seasons ever.
Gatorback was epic, 1992 was epic, and this pic is epic. What about you Matthes, what did Gatorback mean to you?
Matthes- Blazier, screw what I think. I thought it would be fun AND funny to send this photo out to some random people in my phone to see what they thought. I got the man who got the holeshot (Antunez) and Tim Ferry (far right) along with a bunch of other current and retired racers to talk about this first turn shot and what they thought. And away we go!
Timmy Ferry- "I'm the only guy standing up (on Kawasaki right hand side) and everyone has chest protectors on. Oh and custom painted helmets were badass. Someone put a car tire on the track and Mike Larocco got a bad start. That is 90's motocross."
Jason Thomas- "Timmy should have just cut the tires on the inside and gotten the start. No one would have noticed."
Ferry- "I was probably thinking about my 11th grade book report that I had to do when I got home from this race. Hence the bad start."
Nick Wey- "Swink (#15) is bummed on Marshall's (his mechanic) gate pick and somehow Mike Brown (#54) is still racing. Larry Ward is convinced his bike sucks and he should be way out front with the kind of jump he had out of the gate."
Jimmy Albertson- "I don't know if Guy Cooper won the race (#5) but he sure as hell sent it the furthest out of the Gator Pit"
Dean Wilson- "Looks like a typical #15 start! The struggle is real!"
Jake Weimer- "Bell helmets were really popping back then with those Scott Quick-tear things or whatever they were called."
Denny Stephenson- "In 92 I was still coming off navicular (wrist) surgery. I was still in a cast that ran from my thumb to my elbow. However I'd still been riding a ton at home the couple months before Daytona and Gainesville. Doc said I couldn't do any harm and the vibration was good to stimulate blood flow. Only problem was I foolishly decided to get a new cast before flying out to Florida. Cast ended up being too tight. I qualified for 250 main at Daytona but got really arm pump in the cast. Decided to try again at Gainesville. But arm pumped up so bad both motos I couldn't feel my hand so ended up pulling off each moto."
Kyle Chisholm- "I don't know who a single person is looking at this photo! I was four years old bro. But yes, like Jake said Bell helmets seemed to be the shit back then. Everyone has a sweet chestpro on. Oh and I would bet that car tire is still there in the first turn."
Andrew Short- "Scary first turn! And Guy Cooper was the best."
Buddy Antunez-"Check out my fat holeshot! The 10 bike got by me. I ran 2nd until 20 minutes, then hit the fader! Unfortunately broke my big toe the 1st moto on the shifter side. Hurt bad! The funny thing is Mitch was pissed and didn't believe me until I pulled my foot out of my boot. It was black and blue. In Mitch fashion he gave me a look and was off."
Trey Canard- "Who can forget that day? It was a cool breeze out of the south and there was a good vibe in the pits. I felt good in practice…Oh wait, I was a year and a half old! I do hope Coop won though!"
David Pingree- "Budman was legit, he should've won more races. Larry Ward's wearing RS Taichi and it was the shit back then. Not sure what happened to it but it was cool stuff. Ferry yelled at me this year for taking out his buddy at Loretta Lynn's and this was Mitch's second year of his team and they changed the sport and raised the professionalism of the sport. Oh and I remember that Cooper's old lady had big boobs."