With the JS7 news not out, what's next for his team?
With the JS7 news not out, what's next for his team?
Hammerhead Designs was launched with the intent to provide new and better parts and innovative accessories for motocross bikes. One of our goals has been to design entirely new and unique products with improved ergonomics and the shift lever was the first part that we felt could be dramatically improved by providing a feature that would allow for the shifter to be repositioned to perfectly suit the riders size, shape, and preference.
Thomas: With the announcement that James Stewart will miss 95% of the 2015 racing season, it presents an interesting question. Should Yoshimura Suzuki hire a rider to replace Stew? This sounds simple but is far more complicated than at first glance. I have my own take on it but for a different view (because we always disagree), I ask you Steve, what should they do?
Matthes: Well I don't know their budget and guessing that they are still called "Yoshimura Suzuki" and not "generic outside sponsor" Suzuki I'm guessing money might be tight. And seeing as Suzuki seems to be supporting James I'm guessing he's still getting paid so another reason why money "may" be tight over there. But again, I'm not privy to their books in case you're wondering
Having said that I would absolutely would've called Jake Weimer or Josh Hill (before his Valli ride) and put him on the bike. I can't go into a supercross season with Blake Baggett who's a 450SX rookie in the truest sense of the word. It's simple math JT!
Thomas: I agree that putting all of your eggs into Blake's basket may be a bit risky. Yoshimura Suzuki had a legitimate race winner and title hope with James but now, expectations for the team have to be lowered significantly. It will be a learning year for Blake and that won't change just because the team lost their #1 rider.
The team was in a tough spot because they were in the dark for so long. Had they known this decision a few months ago, they could have met with the potential riders to fill that spot. As you said, Weimer and Hill would be two of the first that come to mind, along with Brett Metcalfe and Malcolm Stewart. The timing of the penalty really precluded the team from making any sort of move. If they had moved ahead of time, they could have potentially been stuck with three riders and over budget if James' penalty had come back favorably. They were really up against it with this timeframe and are suffering the consequences. Hopefully Baggett will step up when his team needs him most and deliver them some tangible returns.
Matthes: You're waffling again. Should they hire a fill-in guy or not? And whether or not you think they should or shouldn't, do you think they will? Two different questions there. And I have been getting a lot of people talking about Metcalfe but when he was last there it didn't end well with Brett weeding himself up due to a simple mechanical problem with the bike and if memory serves me right, Metty was a little more than pissed at the way Suzuki handled his, ahem, "issue" and Suzuki none to pleased with the way he aired his "issues" in the media.
But anyways, they should hire someone in my opinion but I don't think they do mostly due to finances.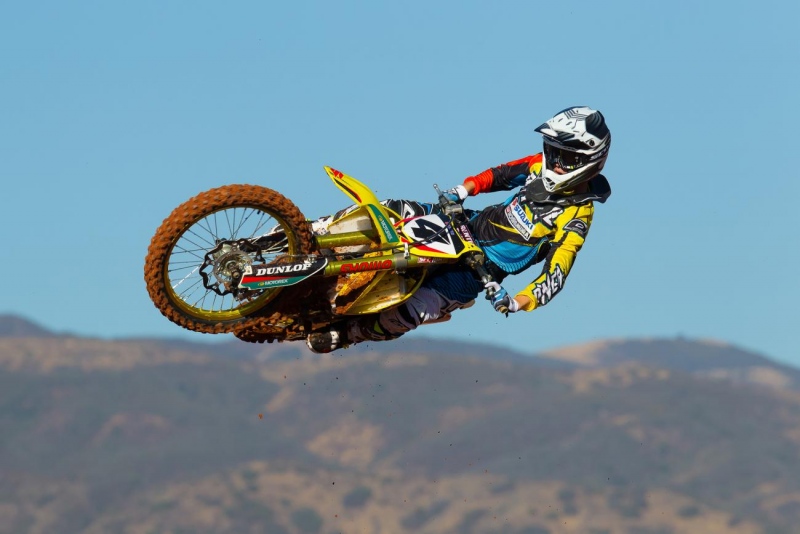 Blake Baggett is now the lone man over there on Suzuki
Thomas: I know, I am waffling but that is kinda what I do. I guess to answer the "should" part, I say yes. I think that Weimer or Josh Hill would both find a way out of their contracts if given the time to do so. I can't imagine the Tedder family just locking the handcuffs on Jake because after all, this isn't a profitable enterprise they are running over there. The Tedder team is built around passion for the sport and having said that, they would want the best for Jake. It wouldn't be ideal to lose him this late and undoubtedly a lot of money has been spent to prepare but I think a solution could be found. The only real bummer here would be that he wouldn't be on a Kawasaki and from what I have seen and heard, Kawi has been very supportive of Jake even after he departed the factory team.
For the "will they" question, that's a different story. I believe that Suzuki will support James through this deal and if so, that doesn't leave much in the way of budget for another rider. I just don't see them making a move unless Baggett suffers an injury. Blake is a great rider and although supercross may be a big learning transition, when we go outdoors I expect to see the #4 near the front. It's so close to Anaheim now and with a legit guy already on their team, I just don't see them pressing the panic button. Losing James was a massive blow but they prepared and have Blake ready to roll.
Matthes: There's no way that MIke Webb and the Suzuki guys knew that JS7 would be out for the year and all that when they signed Blake Baggett but do you think the thought of possibly losing James to suspension got them to sign Blake? The Baggett hire was a little strange and agents I talk to say that spot doesn't pay much.
You think that had anything to do with it?
Thomas: I don't think they knew anything concrete but of course it had to be a possibility. If you are managing a powerhouse team, like Mike Webb is, it would make sense to have a backup plan in place. Not to say that BB4 is a backup plan because he is a champion in his own right but he is a new addition to a former one rider team. I don't think that Baggett had a plethora of options for the 450 class so even if the pay was minimal, as I have also heard, it was still a spot on a factory team and a proven motorcycle. The two sides really needed each other in this case and regardless of the results, both have to be happy with the relationship as of now.