Ahhhh, nothing like the smell of Supercross in the New Year.
Ahhhh, nothing like the smell of Supercross in the New Year.
Photos By: James Lissimore
Are you in the same boat as me? Did it feel like this off-season was the longest you can remember? Like your air was being sucked right out of your lungs? I haven't been this pumped up for Anaheim One in a long time. It's kinda crazy too, I mean, the returning Champ and favorite chose to sit in the cheap seats, James Stewart, an obvious title hopeful was absent as well due to a personal choice gone awry and yet I was so damn pumped for the first gate drop!
The track was kind of a non-factor. You didn't hear riders either complaining or raving about any part of it. It was pretty much looked at as "yeah, we're all on the same surface so lets have at it". In Trey Canard's post-race interview with Matthes, he noted that the whoops were a little tricky but in my opinion, whoops are always a hitch or a shimmy from ruining any riders night or even career. Speaking of ruined nights, it's hard to even put a sentence together in regards to the turn of events with Wil Hahn. I feel like this is Groundhogs Day for Wil, oh wait it pretty much is. In Anaheim One practice from three years ago, Wil crashed in a very similar fashion in practice and that was the tipping point for the most trying year of his career. He's been no stranger to setback since then either. At least he's had some bright spots interspersed along that timeline as well to at least show him that there is always hope. And that's very true. Were you watching the LiveStream practice when he crashed? If you missed it, search PulpMX for last year's "Crash Olympics" story. Wil's crash was similar to Weston Peick's crash from the story, coincidentally, Wil had a crash featured in that story as well. All in all, I'm already looking forward to Wil's resurgence because I know his mind is in the same place. Bring it strong, Wilbur.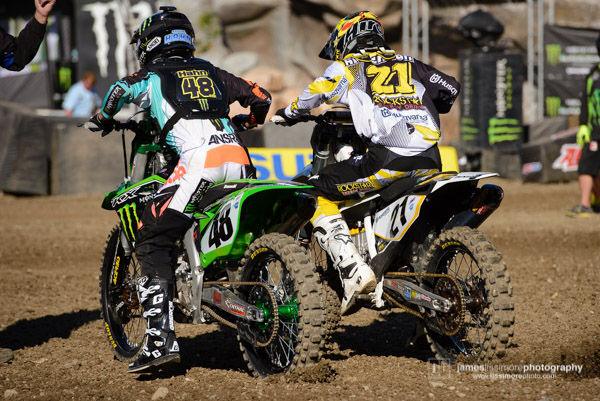 Wil's 2015 started with a bang. A bad bang. He'll be back.
450
I want to focus on the things I found to be the biggest surprises coming away from the opening round. First and foremost on that list was seeing Eli Tomac remounting after a soil sample in the Main. After his Heat win, his off-season rides and the way Anaheim One went for him last year, I expected to see hell fire and sparks shooting off his back wheel as he clicked off laps in the Main. I didn't for a second think we'd see him leaving round-one with nearly the same points as last year when he and Jake Weimer tangled like Jimmy Superfly Snuka and The Nature Boy Rick Flare. It just goes to show that there is a damn good reason we never take ANYTHING for granted in racing. Anything can happen at any time. There are mechanical failures (see Chad Reed's tweets today), personal error and supremacy and then of course the possibility that any of 21 other barbarous competitors can falter or excel and affect you at the same instant. That's why racing is the best form of competition. It's super disheartening for Eli to find himself again hoping that some of the misfortune he had at round-one hits those who excelled, so he has a shot at the title as the series moves on. I'm not saying he wishes them to be injured or anything but he sure does need them to falter in order to get back in this thing at some point. Yup, even after round-one. What's that oft recited cliche? Oh yes, he couldn't win the title last night but he sure could have lost it with that split second misstep.
Chad Reed's pace was, at the time the second most surprising revelation of the night. I'll be honest, I had picked him in our new PulpMX MotoDynasty Fantasy league for the win and I was still fully confident after qualifying. We all know The 22 doesn't typically resemble his race pace in daylight hours in Supercross. As the Main unfolded I was baffled that he kind of just circulated and held position. It was of some comfort to find this morning that it was a freak mechanical issue that halted the charge before it got underway. I tell you one thing, Eli Tomac would sure as hell trade him points right now. This is just beginning. Chad, you get a mulligan.
Jason Anderson was the 3rd thing that most shocked me last night. I know he's been training and riding with Ken Roczen under the guidance of Aldon Baker but I think this is the 12th or 13th year that we've heard of Jason Anderson figuring it out (I kid I kid), so pardon me if I wasn't exactly gulping the Kool-Aid yet. Well, serve me up a 2-liter of that stuff because for all the speed that Jason has always had a grasp of, he has CLEARLY committed to the Baker program and is matching his endurance to that speed. If he can prove that the random crashes are part of his past and he can keep pulling great starts like that, we may have to add an 8th title possibility to the Super-7.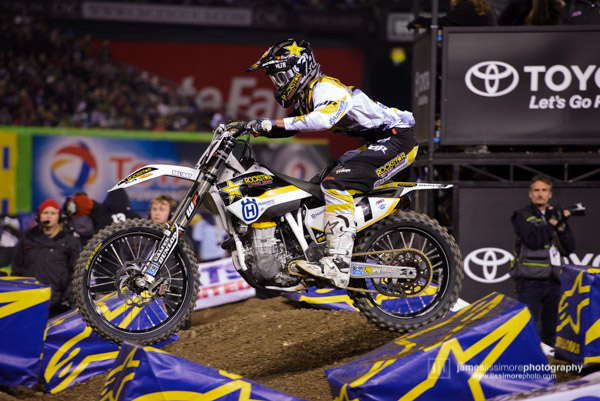 Can EL Hombre ride this horse on the podium to ALL 17 HOME RACES?
I put Davi Millsaps in the same boat as Eli Tomac. A disastrous round-one for Davi and even moreso for the Factory Kawi outfit as a whole. I wonder if anyone at Kawi was glancing in RV's direction pondering what size check they'd have to scratch to make his newfound happiness coincide with another Supercross Series… again, I kid. It's not good for green when your brand's best finish is a 10th and on a bike that was handicapped by a mechanical issue. Davi's Monster Cup win is all but a memory now, oh the cruelty of "only as good as your last race". So true, so unfair.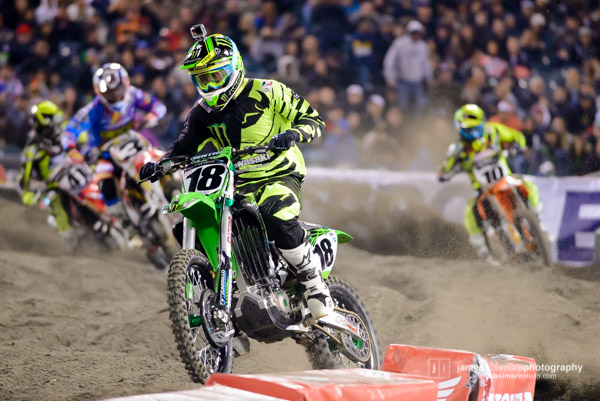 Davi's A1 was better than his teammate's… but not by a whole lot.
I don't want to say I was surprised by Broc Tickle's finish but I was. In a kind of crazy turn of events, I was expecting a tougher start for the 20 because the last time we talked he noted how little time he had on the bike since his recovery and he talked about how much weight he had lost and still hasn't put back on yet. Lots of cycling following his downtime made for a pretty lean Broc. Well he looked strong out there despite running into some tightness around lap 16. I couldn't be happier for him. I think it was ridiculous that it took as long as it did for his RCH deal to get done. I mean, he was clearly getting better prior to his crash in Toronto and knowing how committed he is to getting to the next level, it seemed like a no-brainer. He will crack the top 5 this series.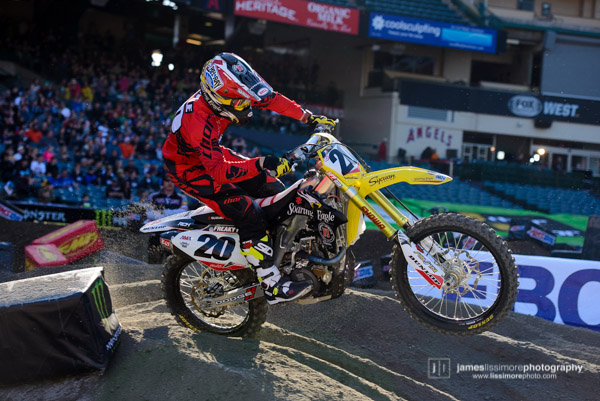 Broc's finish was one of the feel good stories of the opener. RCH had a lot to celebrate in Anaheim.
I was glad to see Jake Weimer sniffing the top 10. I feel like, and I've felt like for years now that he is capable of so much more but contrasting from what he has been, I'll take a sniff at the top 10. The crazy part is he looks like a shoe-in for that Wil Hahn spot back in the Factory Kawi rig but if you're Kawi, what do you do? You know what you're gonna get and it's pretty lackluster for a full factory guy. Missing Anaheim One seems a little more detrimental now for Kyle Chisholm. Had he been there on a Kawi, which he is supposedly racing, he could have put himself into consideration as well. Perhaps Kawi wants to move quickly and get the back saddled? Maybe Kyle gets his ducks in a row for Phoenix and Kawi uses the second round for another look at who may get that spot. Perhaps no one does?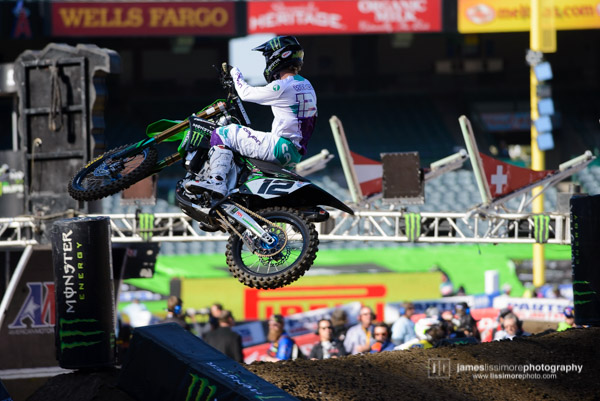 Could Jake's "one-race outside the Factory Semi" stop right there?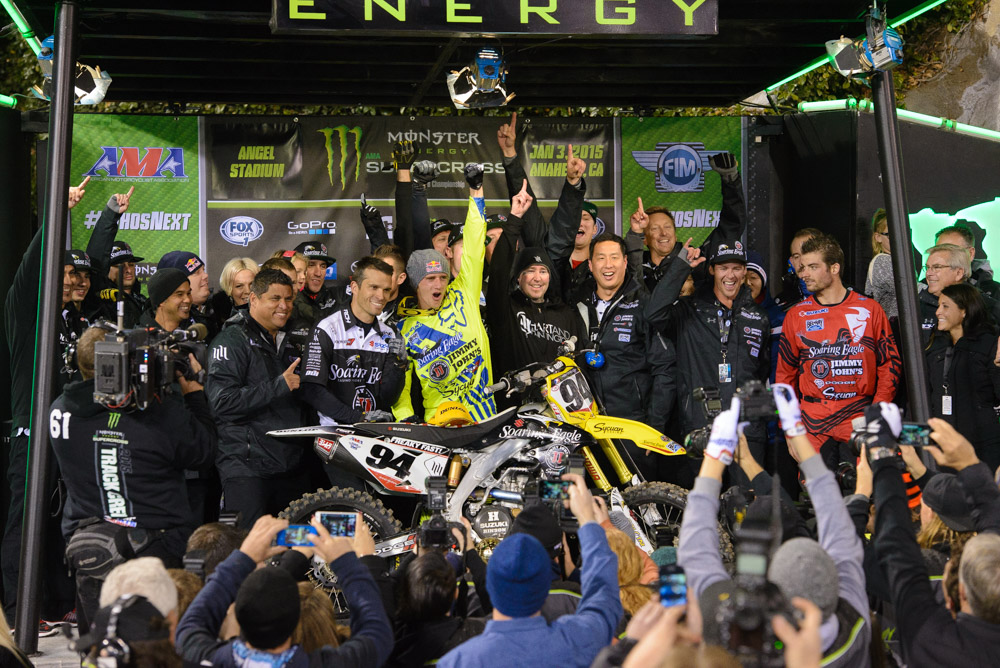 That is one group of truly happy team personnel. Great to see and so deserving.
250
There was of course a lot of debate on Tyler Bowers' move he put on Zach Osborne in the heat-race. Any time there is a punt, physical contact or pass made that ends with someone off their steed and picking up the pieces, it's going to get the types and tappers busy on their phones, pads and keyboards. To be completely honest, right as Zach was ejecting from his Factory Husky, I was just finishing my sentence on how I couldn't believe Tyler hadn't punted him in the preceding corner. When a guy who makes Chris Blose look average, wins multiple Arenacross titles and then moves on to Supercross, I'm thinking anytime he is in tight quarters with another rider, they are going down. No questions asked. In Arenacross, real estate is limited and your win races by taking real estate from your competitors. After years and years of honing that race-craft, you don't just forget it when you move up to the big stadiums. Was it dirty? I've seen worse and I'm honestly shocked that Gallagher had words for Tyler after the Heat. Zach's not afraid of the contact game and though I'm sure he wasn't slightly amused by the move, he knows the score and will "checkmate", accordingly. This will be a stellar series.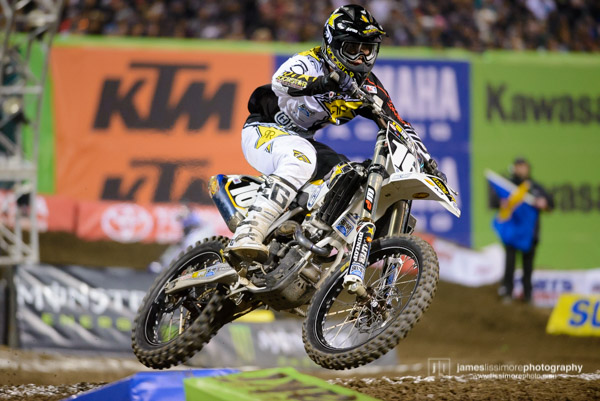 Osborne is a born scrapper. Not Scared.
Congrats to Jessy Nelson for a great ride and proving that not every racer has to blast out of the amateur ranks and light the pro's on fire in order to "make it". TLD has put confidence in him for years and years and with his Moto win in the 2014 Nationals and now this, his first SX win, he's proving that progress doesn't always have to be sudden and steep. I like that.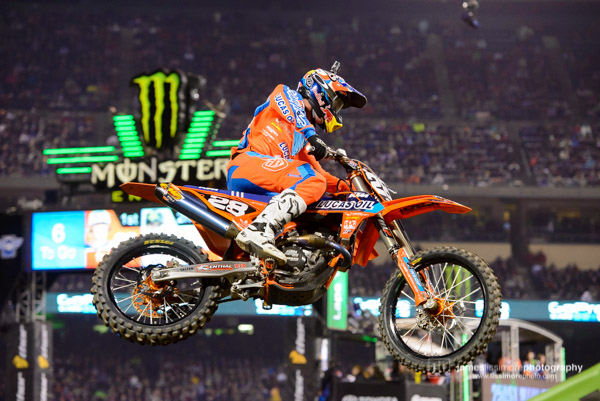 Jessy Nelson proves progress comes in multiple forms and durations.