Two, that's right TWO Swizcorner's in one week but it's not so bad for one reason.
Two, that's right TWO Swizcorner's in one week but it's not so bad for one reason.
Photos By: Josh Rud
Swizcorner can be a bit laborious at times. When races are boring or there isn't anything compelling happening during them but as we are all well aware, there is plenty to keep my fingers tapping away three rounds into the SX series. This week though, there was even enough action to keep me conjecturing for two editions of "the Corner" as we refer to it in… well in my brain.
I headed about 3 hours west of home to Grand Rapids for the second night of action at Van Andel Arena in the Amsoil Arenacross Series. Now there is one thing that really perplexes me about this series and that is, obviously, that it runs concurrently with the Supercross Series. Therein lies one of my biggest hesitancies about even attending the race, because it's program was held the same night as Anaheim 2. There is A LOT to be deemed from the third round of a race series and I was honestly finding it hard to be excited about missing the race. Even though I would be watching it live from home and not actually at Angel's stadium, it would gnaw away at my consciousness that I was behind the rest of the moto community in forming my opinions and interpretations of that nights races.
It was quite a bit of relief that thanks to the Fox Sports GO app, the tightly constructed Arenacross schedule and the fact that the Supercross Series was 3 time zones away, that we'd be able to watch live on the drive home (not me of course, being the driver). Anyhow, onto the Amsoil ArenacrossCorner!
The first thing I noticed prior to the nights opening ceremonies was the ambience in Van Andel arena was very "family reunion-like". The concourse of your average Supercross seems to be like a busy metropolis at any given moment. The risk of getting swept away in any of many intersecting foot-traffic currents, is high. Here in the confines of the Arenacross venue, everything was very relaxed with more of a mosey and stroll vibe. I like that. When the opening ceremonies did begin, I was not surprised that the festivities so closely mimicked a real-deal Supercross but that it didn't feel out of place and really did rev you up for the upcoming action. There were even rider intro videos. Everything about the program was top notch and the execution of the tightly planned schedule was awesome. We were in our seats at 7:15 and headed for the doors at 9:35. As we were leaving I told my buddies, "other than the 3 hours drive, this was as easy as going to see a movie". There was literally ZERO downtime. Far less than a Supercross.
The little nuances of Arenacross are some of this type of event's biggest positives. The double-row starts, the suitcases to determine the starting order, the bare-bones track, multiple main format… all things I really liked about the program. And the action! Holy crap, we've all heard the stories of Arenacross. From the start-straight brawl that JT was involved in so many years ago to the carnage that is inevitable pretty much overtime the gate drops. It's non-stop, eyeball popping action all night long. I am not kidding.
Now, I do have an issue with the "Road to Supercross" thing. I understand there is a need for a sort of prep-series for guys wanting to be prepared for the Supercross series but I can't honestly say that I think this qualifies and I don't think that is any type of dig against the Arenacross Series in any way. It's it's own animal with plenty of worthwhile draw to it and makes it absolutely worth the cost of admission. The track-size doesn't lend itself to being any type of preparatory tool for Supercross. If you suffer a poor start, you better be praying the inevitable carnage comes sooner rather than later to give you a real shot at making up positions. The good thing is, there seems to always be carnage, so you stand a good chance at turning a poor start into something.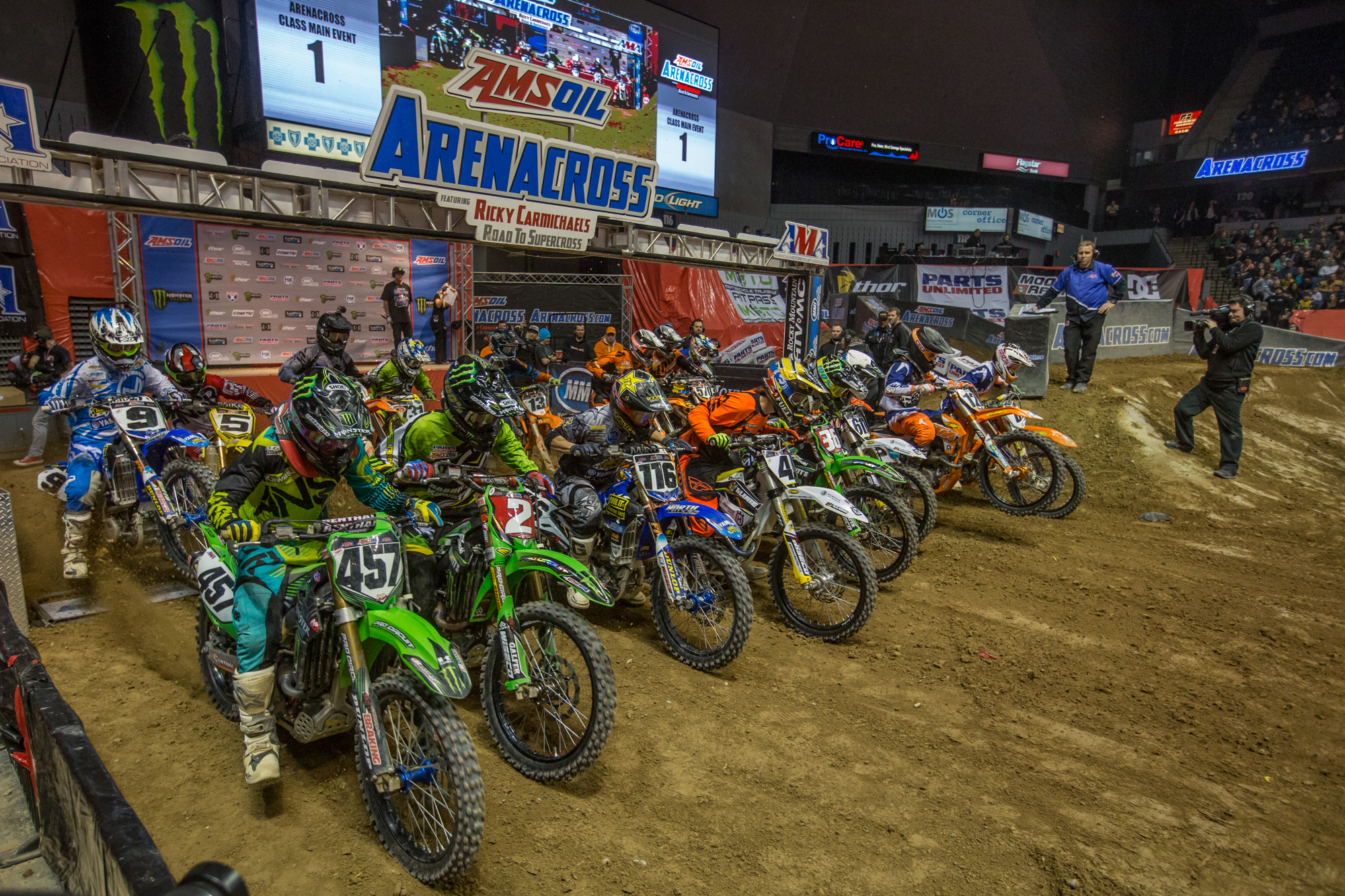 Arenacross is it's own breed of animal and I think that is it's strength.
Bobby Kiniry is racing the 250 class in this series and he had himself one of those terrible nights where you seem to be fighting an uphill battle from the first gate drop. If you know Bobby, you know he always looks at the positives in everything and he kept fighting through the pitfalls thrown at him. I called him up to get his thoughts on the series and the inside story on one of the most inspiration sequences I've ever been witness to with a crash into oblivion and unblievable re-emergence to pound out laps mere moments later. Here's what Bobby had to say…
Swizcore- Talk a little bit about the decision to get back into Arenacross. You've raced it before, right?
Bobby- No, I've never done Arenacross. I've raced those races in Europe which are very similar but I've never done an actual Arenacross, since I was about on a 50. I used to do them when I was a little kid to keep racing in the winter on 50s and 80s, but I've never done one on a big bike.
That's crazy that as long as you've been racing that this was your first foray into it. What did you think about it?
It's definitely different. It's pretty intense, and not so much the race pace; I think the intensity level that you have to ride at in Supercross is a little more intense, but there's a lot going on in Arenacross. It's a lot different in the fact that you come up on lappers really quick and the track is about half as wide as a Supercross, so to get by people is a little bit more of a feat. And then on top of that, because it is so narrow there's minimal room for error and a lot of hay bales and people and bikes come flying across the track at you. You could be out front leading the race and you'll have a bike come over a berm or a hay bale come over from a different lane into you and cause you some havoc. That's kind of been a learning experience, trying to figure out how to avoid some chaos such as that. I'm learning. I feel like the speed is fine, it's just kind of a learning process for me. I'm trying to make the track a little bigger than it is. I'm trying to find that fine line between sitting behind people and taking your time and being potentially too aggressive. So I'll figure it out.
Your bike sounds fast. It doesn't sound like any other bike out there. I know your mains didn't go well, but the one-on-one races, nobody could keep up with your bike. That thing is super fast.
Yeah, Yamaha's got a great package in both the 450 and the 250. As a lot of people know, I've been around with Yamaha for a little while now, a few years. It's been a great home for me. I really think they have a great product. I've really kind of turned down some other offers to do other things to stay on Yamahas. I think ultimately I'll have a better success on that bike. We've done our homework. I've been on it, I've been comfortable with it. The thing rips, man. Junior Jackson, the FMC Group, they've put together a great motor package and suspension package, and it's not hard when you have a good bike to start out on anyway, that I'm real familiar with. So it was a pretty easy transition from a 450 right onto that 250, like you said because it is so fast. Made it a little easier on me.
When was the last time you rode a 250?
2008 when I rode for Ryan Clark on that Solitaire team. When I got approached about doing this I was kind of skeptical. I haven't ridden a 250 in a long time and I said, man, I hope I can even get around the track on one. The first day I jumped on one I was right into the Supercross track and the first lap or two I'm like, I hope I can ride this thing. Within five minutes I felt right at home on it. I was turning good lap times, felt right comfortable on the thing. So it was a lot easier transition than I thought it was going to be.
If Tyler Bowers and Mookie have proven that the 250 can get around the big guys you're pretty much right in that same boat, so at least you have a little bit of reference for it.
Exactly. I looked at it as it's a dirt bike. You'll figure it out. I've ridden them my entire life. It can't be that much different. I had good success on them prior to being a 450 guy kind of permanently. So, you'll figure it out. It can't be that hard; it's a dirt bike. You can ride anything. Luckily, like I said, I jumped right on it and it was really fast. It felt like a toy though, it was really nimble compared to a 450. That kind of made up some of the difference for the first couple days at least. I really liked that fact and I still feel it because I'm so used to the 450 even still. But it's really light and really nimble just being back on a 250. So that made it a lot more fun to jump back on. It's not quite as fast. I can't quad jumps like I can on a 450 but the thing is a toy to turn and get on and off table-tops and stuff so it's been a lot of fun to ride it.
Let's talk about that amazing get-off that you had in your first main on Saturday. I had my eyes on you and I saw you get a little bit out of shape just as you got off of that last whoop into the corner and then I saw the apex that you were on for the corner and I was like, holy shit, what is happening right now? Then you sky-rocketed out of sight. I was like, oh crap, Bobby might be dead. It was like watching Rocky 4 when he came back against Lundgren. You shot out of nothing. You singled over the backside of that berm right into the rhythm lane and jumped everything like nothing had happened. I lost my voice in 3 seconds watching you come back onto the track. It was incredible.
Here's a portion of Bobby's crazy get-off in Grand Rapids.
It was a little frustrating. We've been having a couple little minor clutch problems, believe it or not. The practice the day before I had kind of a similar problem where I kept stalling my bike and stuff. We got a handle on it now. We know what we did. But long story short I went through the whoops, we had put a new clutch in before the main and we had some WARPED plates. So when you're pulling your clutch nothing happens. You have no clutch in there. So I went to jump four out of the whoops because they ended up being a jumper set of whoops instead of skimming, and no one had quadded out of the whoops on the second night like we were on the first, just due to the way they were formed. And I said, well, I know how to get four out – I'm going to wheel-tap the third one and get the fourth one. And when I did that I pulled in my clutch to try and stop because it did slap down. I tried to stop. When I pulled in my clutch the bike just took off up the berm with all the momentum that it had. I couldn't stop myself so obviously I went up those big staked-in tough blocks and they're just another part of the lip and it just sent me up into the concrete wall and into the tunnel. I had to have been about 15 or 20 feet in the air. I landed flat on my butt into the concrete and tumbled in over there near the dozers and podium. Bounced up like nothing happened, grabbed my bike, and I heard everyone screaming and yelling. I couldn't believe I was even alive and, like you said, just didn't want to go a lap down so I tried to hurry up and get myself back onto the track before it was too late and I lost even more track positions to unlap myself and potentially pass some people. Just tried to tough it out. I know it's a long series. We have a lot of racing left to do, 34 more main events. Every point is going to count here in the end and I know they reset it but still I don't want to be that far behind going into when they reset it just out of pride. So I just picked up my pieces and got myself back into the race the best I could and got as far up as I could, at the same time trying to stay out of the leaders and respect them and the races they had going on. Just tried to move out of their way and let the race go on, because I know how frustrated I get when people don't do that for me. Then second main just had an unfortunate event, got hit and ripped my radiator hose off of my motor. That was that, man, DNF, maybe the first or second lap. Just a bad night. I got hit on the first or second lap and ripped my radiator hose off. I guess it was just one of those throw-out nights for me. I know everyone has them. I know Bowers is a multi-time champion but as I studied films and stuff I seen he had quite a few of those nights himself. As long as you can rebound from them and put yourself up front and make up the points it doesn't end up being a big deal.
That's definitely the perspective you've got to have in that type of racing.
With that two-moto format there's a lot of potential to make up points. There's a lot that can happen and those races are 15 laps, about as long as a 450 heat race in Supercross. It makes it a little hectic when a lot of things are going on out of your control. I believe Matt Goerke was winning this weekend and had a bike fly over a berm and almost kill him and ended up putting him in 4th, for instance. It's going to happen to all of us a few more times. Hopefully I can get mine out of the way here quick. Again, there's 34 more motos left in our series. That's a lot of racing. And plus there's heat races and intense head-to-head racing, so we have a lot of racing to be done still. I'm not worried about it just yet.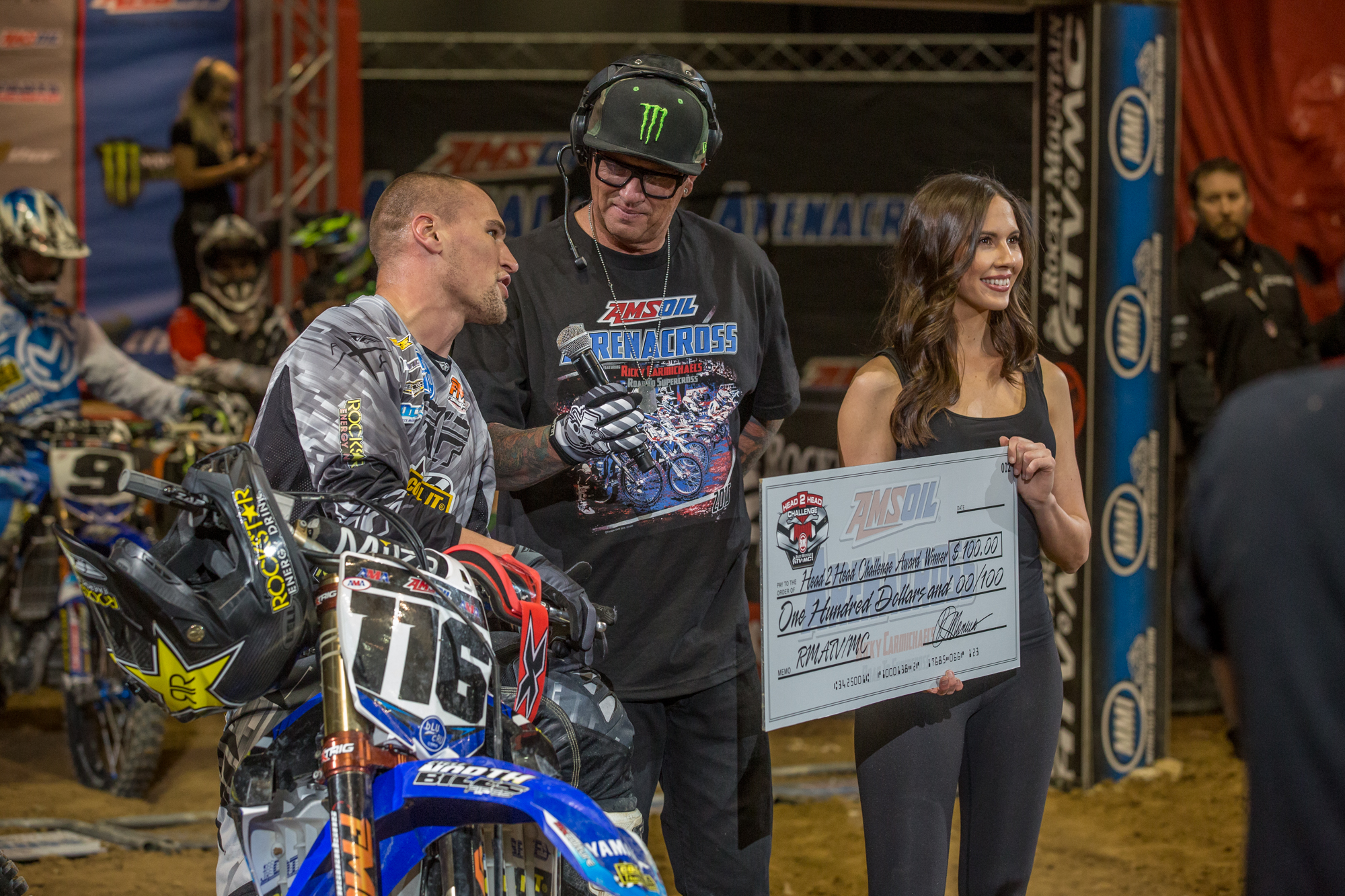 Bobby is a wordsmith among Moto, Super and Arena crosser's.
Do you have plans to make any type of reemergence back into Supercross in a year or two or is this kind of something you want to focus on for now?
I don't know. I'm kind of concentrating on this for the time-being. I don't want to look too far ahead of anything. I'd like to focus on the task at hand and just see where it puts. I love riding Supercross but I love riding Arenacross. I think this is a great series. I think they're growing it, as you can see with the entry list. There's a lot of Supercross guys now moving into it, and then on top of that the whole series itself seems to be growing better with TV packages, public appearances, and just the overall series itself is getting a lot attention I feel and a little more purse money. The series itself is growing. I'm getting a little older. I've got a family and stuff and I need to make money. At the end of the day that's what it comes down to, it's my job. I can make good money. It seems like Tyler and the boys did racing this series. Maybe I'll just stay in here. It's a similar deal to why I go to Canada. It's a fun series, it's a growing series, and I have good success at it and make a good living here. I have no problem staying where I'm at, but if a great opportunity arose to ride Supercross I wouldn't hesitate to go back into that series either. So we'll see what happens. See how I make out this year and move forward.
Thanks, Bobby.
I may not see this as being the path to Supercross that it is attempting to be but I can unhesitatingly say I will be heading back to Arenacross next time it comes around. The only change is, next time I will bring my kids, they will love it too.