Former SX and MX winner gives us his take on Oaktown and all that happened
Former SX and MX winner gives us his take on Oaktown and all that happened
Photos by Simon Cudby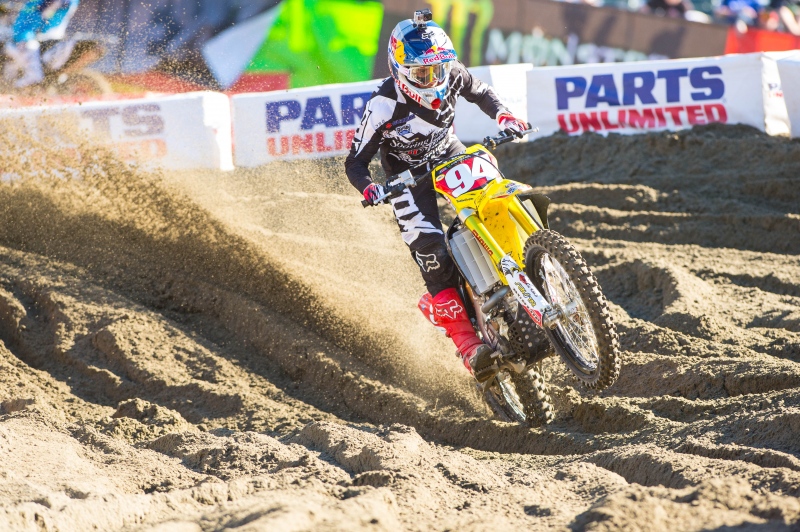 "Roczen got lucky he could finish without getting hurt. He lost 17 points on Dungey in the process but he's only trailing him by 5 points in the championship. It could've been worse."
Roczen made a rare mistake (for him) by going for that triple and the points race is wide open. Obviously that was a poor decision by 94 but take us through that move, what's going through his mind and your thoughts on his move
The pass on Reed was actually pretty good by block-passing him before that triple. We see those moves a lot when there is a 90 degree turn before a triple. Canard made a similar move on Reed for the lead before the other triple. Ken went in front of Reed at the bottom of the take off of the triple. At that point, he made the pass and he didn't have to go for the triple. Reed sure wasn't going to triple but Ken was afraid he was so he went for it. But Reed rolled or just doubled it. Both of them had no run to jump. The thing to do for Roczen was to double the triple. There is no way Chad was going to jump it.
It was a big mistake on Roczen part because it could have ended his season. It's easy to break a wrist or an ankle like that. It shows you that you have to respect the track and focus/think of what you going to do his you blockpass someone like that before a triple. On Canard's pass on Reed, Trey didn't make both of them slow down that much before the triple and they both jumped it clean. Roczen got lucky he could finish without getting hurt. He lost 17 points on Dungey in the process but he's only trailing him by 5 points in the championship. It could've been worse. When everyone thought, me included, Roczen was going to run with it, this happens. It's good for the interest of the championship to have the top 5 riders within 20 points of the leader.
Trey Canard was amazing, he rode great to come from the back and win the race– do you think last week's fiasco had anything to do with him being more "angry" or whatever to help him be faster?
I'm not sure if what happened in A2 was a factor for Trey's performance in Oakland. I think it was more an affect on Reed's ride in my opinion. Canard rode very well and agressive in the opening laps. He had good lines that he was comfortable with and he could charge through them while other guys were trying too much to find the right ones. I didn't think the track would be that good for passing but Trey made it work. That's something Dungey could learn from. Canard didn't lose anytime passing guys. As soon as he saw an opportunity, he went for it and made it stick. RD, in the other hand, just capitalized on Reed's mistake to get into second. Like I said before on here, I was waiting for a ride from Trey to his potential. He just did that in Oakland and confirm himself as a favorite in this championship and is now a member of the Big 4. I used to say Big 3 (94-3-41) but I have to include Dungey now since he's in the points lead… Now, Canard will have to confirm in the next few weeks to catch Ryan and Ken in the points
Do you think Reed's back or this is a one week thing?
I've read and heard he changed his bike again this week and made huge progress. Do I buy that a couple days of testing made a bigger difference than the 3 months leading to A1? Not really. Do I buy that Chad showed up in Oakland pissed and ready to turn things around? Yeah, a little more. He won't agree with me like he mentioned it in a interview and on Twitter but, I don't really care… we're buddies but I'm right! In the first few races we saw a Reed that didn't really look like he wanted to be there. In A2, he was holding up a bunch of guys before he got landed on by Canard. He wasn't charging. He was riding "lazy", meaning just jumping the obstacles without looking to be fast in between them. Can the two half days of testing before Oakland make this much of a difference? I guess it could but we saw a totally different rider in NorCal. In the first lap of the main, he passed Roczen, the points leader, with authority. He was charging his turns and scrubbing jumps like we didn't see do in the first 3 races. If he was riding like that in A1 and Phoenix, his results would've been better than two 10th places. I think Oakland will be a game changer for him and if he keeps focusing on his riding like he did on Saturday, we will see him on the podium again. If he doesn't, we just have to ask the AMA to black flag him again…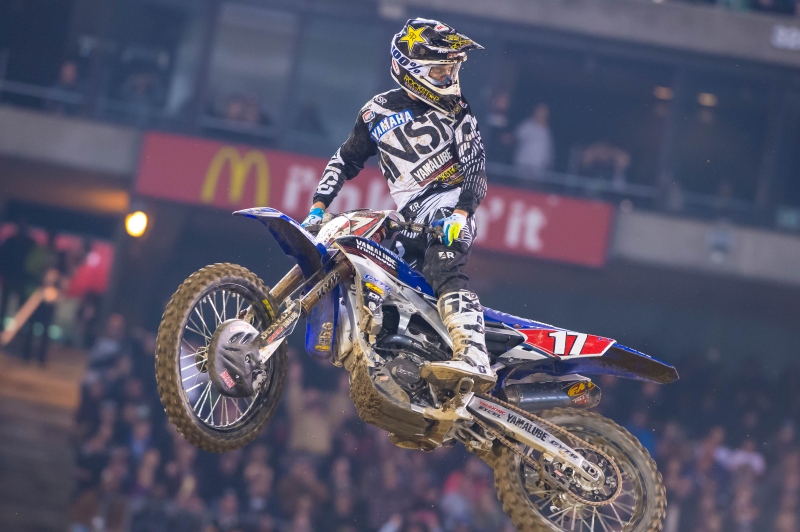 "I thought it was a cheap shot from Bowers but I can understand people saying he didn't mean to. Bowers went from the far inside with the apex of the turn as a target while Webb was making a move on Bell. Who in his right mind would think that was a smart move by Bowers?"
Webb/Bowers. Again. Ok, go .
Here we go again… It's crazy how an incident like that can divide everyone… From the riders, to the media, to the industry and to the fans. Webb was trying to make a move on Bell and was already pretty far inside to try to blockpass Zach before the whoops. I don't know what Bowers was thinking by going even more inside to make a move on Webb. When a rider wants to pass another rider that is trying to make a move on a third rider, it never ends well. I thought it was a cheap shot from Bowers but I can understand people saying he didn't mean to. Bowers went from the far inside with the apex of the turn as a target while Webb was making a move on Bell. Who in his right mind would think that was a smart move by Bowers? Who in his right mind would blame Webb for getting in the inside rut to pass Bell? When you're driving your car on the street or on the freeway and hit someone that is slowing down or stopped, you are in the wrong. You have to anticipate what the guy in front of you is going to do. Just like Canard was in the wrong by jumping on Chad in A2…
Webb was amazing after he got up, thoughts on that ride?
It was obviously a great ride to come from 12th to 2nd in just over 10 laps. He was a lap short to win this thing. Cooper is physically ready to ride hard for 15 laps and he's faster than everyone in this west coast championship. Just like the way Canard rode, he didn't spend any time behind other riders to make moves. It shows you that you have to race SX like it's a MX track now. The speed is the essence of a great performance and obviously, when you can do it for the length of a main event, you will get good results . We are halfway into the championship and Cooper only has an eight point lead on Bowers. Something tells me that we haven't seen the end of his battle yet. The next couple races before their break should be interesting.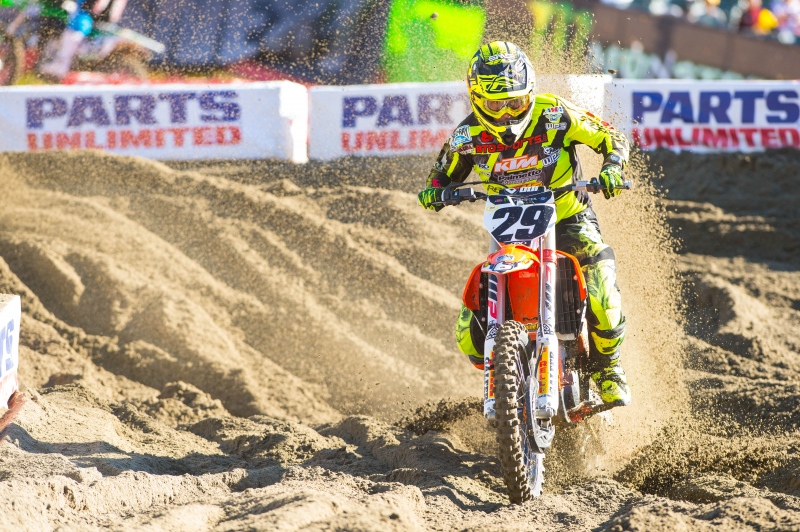 "It's always difficult to race when you're not 100% and after a big crash like he had in A2. It's always good to start in front but also difficult because you have to set the pace. I thought Andrew did good in the first couple laps but I think he wasn't confident in his line choices."
Andrew Short with another holeshot and the veteran led a few laps at that. His holeshot probably helped the drop back a bit because of being a little out of rhythm but what did you see from him?
It's always difficult to race when you're not 100% and after a big crash like he had in A2. It's always good to start in front but also difficult because you have to set the pace. I thought Andrew did good in the first couple laps but I think he wasn't confident in his line choices. We saw him try a few different options that didn't pan out and he lost a few spots because of that. This is what you have to focus on before the main event and think about a few different scenarios. What am I gonna do if I get the holeshot? Where am I gonna go if I'm mid pack? What are the fastest lines to pull away? Where are the passing spots ? How can I set up riders to pass them? I felt like Andrew wasn't mentally ready to be leading the race and was a bit lost in his line choices. But, we gotta give it to him for showing up in Oakland, ride after a big get off and lead a few laps. The 3 races he finished this season he got 5th, 7th and 8th. That's actually pretty good…