Our own Jason Thomas tells us where he thinks SX should go
Our own Jason Thomas tells us where he thinks SX should go
Hammerhead Designs was launched with the intent to provide new and better parts and innovative accessories for motocross bikes. One of our goals has been to design entirely new and unique products with improved ergonomics and the shift lever was the first part that we felt could be dramatically improved by providing a feature that would allow for the shifter to be repositioned to perfectly suit the riders size, shape, and preference.
This week I want to take a look at our supercross series. Over the past few years, the venues have bounced around a bit but we have our mainstays that have been around for a decade or two if not more. As the series has grown in popularity, I would like to see a few different rounds now and again. I like visiting new places and I also think it helps broaden horizons when we take the circus to a different city.
So in recent years, we have come and gone from Seattle, Toronto, Salt Lake City, Los Angeles, New Orleans and Jacksonville. When you add in cities like Vancouver, Orlando, Tampa, Charlotte, and Minneapolis, you may ask why am I even bringing this up. I can certainly understand that line of thinking and I do think that Feld does try to introduce viable new venues whenever possible. Still, I would like to try a few of these places and see how it pans out.
THE MUST HAVE: These should be added ASAP.
Pittsburgh: This area is moto central. District 5 is one of the strongest districts in AMA racing and just bleeds motocross. Decades of having two nationals (High Point and Steel City) within an hour of Pittsburgh helped grow the sport immensely in the area. The sport's biggest media outlet, Racer X, is also just over an hour away and would be instrumental in making the race a huge success. This race would have to be late in the season, much like New Jersey, as the weather is a bit unpredictable in April.
Nashville: What used to be a midsized town that only country music singers frequented has blown up into the Hollywood of the East. Country music's growth has surely spurned Nashville's rise to a very enviable city. Getting "star power" for a supercross would be a no brainer and the football stadium is seemingly ready for supercross. Being centrally located for the Southeast and close enough to drag in the Midwest would mean big attendance numbers. This city would be a hit.
Denver: One of the coolest cities in America, Denver used to be a stop on the circuit in the 1990's. Stadium changes, politics or attendance probably saw the diversion away from Colorado but it's time to go back! There is a huge off-road market here and it is very outdoorsy. The elevation would present a few bugaboos but with modern day EFI, it would sort itself out. The Thunder Valley national has been a huge hit with everyone so I think Denver SX would be no different.
Charlotte: The last time we were in Charlotte was 1998, my second year on the circuit. We were moved out to the speedway for the 1997 and 1998 editions and I was ho-hum about it. There didn't seem to be many spectators and viewing is tough with the track so spread out. The answer here is to go back to where the Carolina Panthers play in the downtown market. Charlotte has a lot of the regional qualities that Nashville would have and Atlanta currently enjoys. Attendance would be a home run and with all of the NASCAR community nearby, it could be a great way to cross promote with the good ol' boys.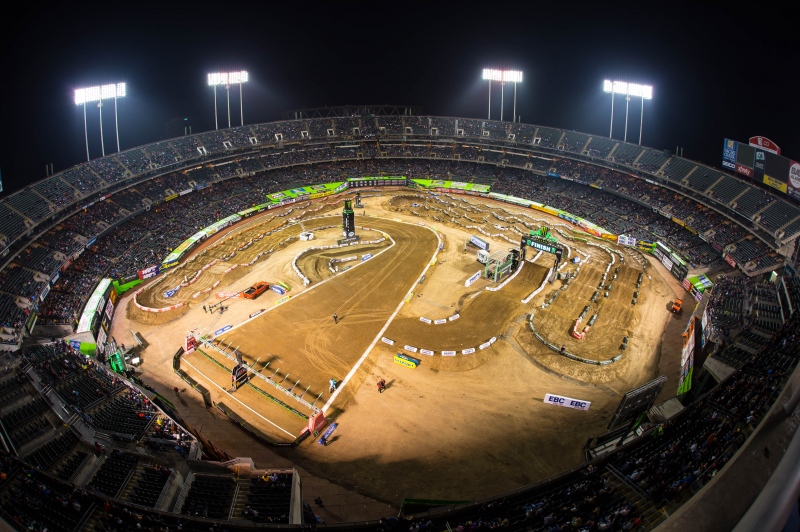 Thomas thinks the SX folks should dump Oakland. A Cudby photo
THE FRINGE: I think there is potential here but it could take a few years to make hugely successful.
Washington DC: Centrally located for the Mid-South and Northeast, the draw of the nation's capital is usually a good reason to go. The Redskins football stadium would be a fine host and it might be a good eye opener for all of the Congressional morons that try to shut down riding areas.
Chicago: We tested the waters here in 2000 but not in the right venue. We were out at the Joliet Speedway and it didn't come off very well. To do this correctly, we need to be in Wrigley or Comiskey or Soldier Field. Chicago is a gigantic city and would easily pull in a crowd worthy of the event. Weather can always be tricky here but so can Seattle, San Francisco, New Jersey, etc. I would love to give this one a shot.
Cincinnati: Ohio, like Pennsylvania, is a huge motocross state. Also, with Cincy being on the Kentucky border, it will draw from a plethora of states for attendance.
Boston: I am a little iffy on this one because the weather would be a huge gamble, even more so than New Jersey. With Boston, we are fairly limited to the New England area for spectators but there are a LOT of people within a few hours' drive. Gillette Stadium in Foxboro would be a cool place to have a race, though. Maybe Gisele could be a Monster girl?
So, these are the races I would like to see in the near future. I didn't really talk about it but I think losing Seattle is a huge downer and Toronto was always fun, too. I am excited to see how Santa Clara works out this year but I would remove Oakland permanently. Seattle is such a nicer area and better image for supercross. I would like to go back to Minneapolis when renovations are done as I feel that market is starving for it during the winter months.
These are just my rambling thoughts and opinions. What do you guys think? Email us or leave comments to let us know where you would love to see supercross.