Matthes and the new guy debate the east coast
Matthes and the new guy debate the east coast
Hammerhead Designs was launched with the intent to provide new and better parts and innovative accessories for motocross bikes. One of our goals has been to design entirely new and unique products with improved ergonomics and the shift lever was the first part that we felt could be dramatically improved by providing a feature that would allow for the shifter to be repositioned to perfectly suit the riders size, shape, and preference.
Before we start our little debate I would like to introduce myself to you faithful Pulpmx viewers. I'm the new guy. My name is Troy Bendgen and I have been writing and doing other things in the motocross industry for a half decade now. Motocross has been in my blood since birth, yada, yada, yada. I am glad to be a member of this team and I feel lucky to have this opportunity. If you want to chat about dirt bikes or anything else email me at troy@pulpmx.com.
For my first post I figured what better way to kick things off than a little 250 East Region rundown. I enlisted the help of my new boss to help me analyze the heavy hitters that we will be seeing next week in Arlington. The following is the first debate of many in my time here at Pulpmx. So now without postponing it any longer, who is your pick for the East Region title?
Photos: James Lissimore
Bendgen: Matthes, the East Coast swing is upon us once San Diego gets out of the way. Who in your mind is going to be the rider to beat? The defending champion Justin Bogle is always going to be tough to stop. He is going to be stronger this year and come in with more confidence carrying the best digit in motocross on his plates. What about Jeremy Martin? Despite missing the first two main events last season, due to not qualifying, he really had a decent season. He topped it off by winning a main event in Las Vegas. He then went on a summer tour that would make the G.O.A.T proud. Is he now the man to beat in this series as he carries in the confidence from his motocross title?
Now let's talk about sleeper picks. What riders are going to step it up this season and challenge for the podium and top five? Martin Davalos had the series almost in the bag last year before his unfortunate crash that took him out of the season. Where does he fit into this equation? Vince Friese is always charging forward and has a few rounds of 450 supercross under his belt already. Where do we place him? We can't forget about Marvin Musquin, had an injury not held him back last season he was poised to be a championship contender.
Also, I want to mention the guys who are fairly new to the game. Anthony Rodriguez, RJ Hampshire, and Jordon Smith have some of the best rides that you can get in the sport. These guys will have a hard time with consistency this season, but how do you feel about breakout rides?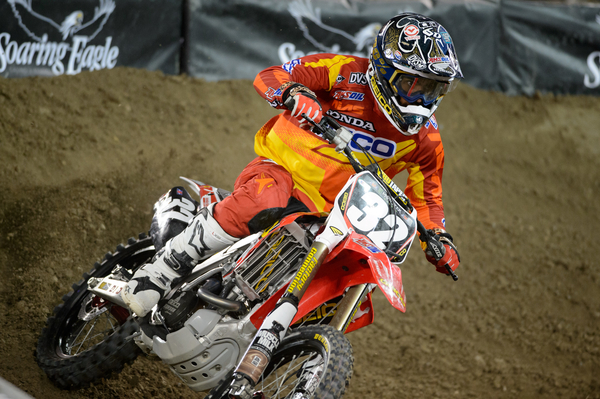 Justin Bogle is going for back-to-back East Region titles.
Matthes:Troy, first off- welcome aboard Pulpmx. We're Dungey-super-pumped to have you on the team. It's going to be interesting to see who emerges on the east coast. Marvin Musquin is, I think, the clear favorite going into the series with champ Bogle right there along with Martin. Don't sleep on Joey Savtagy now on the Pro Circuit team and of course the rookies Smith and Hampshire will challenge for podiums. The real wild card is Martin. We all know his story of not qualifying for the first round two years in a row but that win at the last round of supercross whether it came against a depleted eastern region class or not, is huge. And of course with the 250MX national title under his belt, Jeremy knows he can win.
So has Martin made "the leap" like his teammate Cooper Webb has? That's the question for me right now. Until we know for sure, this is Musquin's title to lose in my opinion.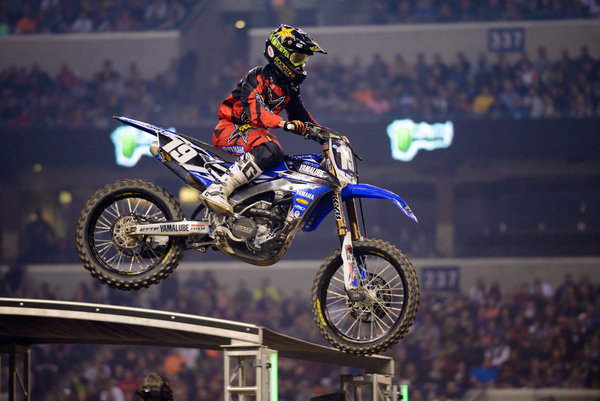 Can Jeremy Martin keep the Yamalube Star Racing Yamaha on top of the 250 class in the East?
Bendgen:Musquin is not a bad choice for the title, but he was supposed to win the east for a few seasons now. A lot of riders like to point out that the East Region is never as stacked as the West. Do you foresee that changing this year? Is this lineup of riders perhaps stronger than the West?
We do need to talk about Joey Savatgy, he will be very strong this season, and a weekly podium contender. The way he came back from injury during the nationals and continued to build every weekend was very impressive. His hard work showed when he led at the Ironman National and finished second overall on the day. Hopefully Savatgy doesn't feel the pressure of being the only rider with a chance to bring home a title for the Pro Circuit team in supercross.
What about a guy like Matt Lemoine? He is a veteran of this class and scored two fifths and a third last year. It was the first and only podium of his career. Does he come out of this coming season improving these results?
Matthes: I think this east coast could potentially be stronger than the west but we'll have to see once it gets going, Once thing for sure is it will be better in 2015 than it's been in a couple of years. And hopefully it won't make JT as angry as it used to do.
Shocker, AC is very high on his teammate Savatgy's chances on the east coast predicting some wins for the kid who's very entertaining on Twitter. Bogle's game will be strong but again he's coming back from an injury so we'll have to see how that affects him. I think Lemoine is an underdog for sure and everyone was pumped on his podium last year. He makes way too many mistakes to be a title threat and I think that once again, people have counted out Vince Friese. His two races on the 450 this year have been strong and Vince has some serious skills.
I'm still going with Musquin for the title. You?
Bendgen: Since you went with Musquin I have to choose someone else to avoid being a follower. If I have to choose I think I will go with Martin on this one. Ever since May of 2014 the Yamalube Star Racing Yamaha team has been on top of the world. Why should they stop winning now? Up until this point, Martin has been a better rider outdoors, but I think 2015 is the year he shows he can be dominant in both disciplines. One thing that is for sure is that the East is stacked and a lot of guys are going to make a run at the title.