Jason Thomas breaks down the east side for us
Jason Thomas breaks down the east side for us
Hammerhead Designs was launched with the intent to provide new and better parts and innovative accessories for motocross bikes. One of our goals has been to design entirely new and unique products with improved ergonomics and the shift lever was the first part that we felt could be dramatically improved by providing a feature that would allow for the shifter to be repositioned to perfectly suit the riders size, shape, and preference.
250 East Preview
With the East Coast kicking off this weekend in Dallas, I wanted to chime in on who the players will be and why. It's always refreshing to see a whole new group of contenders after the West Coast boys have been duking it out for the past month or two.
Marvin Musquin: This is my pick for this title. In fact, I have him winning this quite easily. The reasons are simple: He is the most experienced (World champion in MXGP, multi-time winner in both supercross and outdoors), on a great new KTM 250SXF, and this year has been working with the most successful training program in the sport's history (Aldon Baker). Barring injury, I will be shocked if he is not the champion.
Justin Bogle: Bogle is coming in with the big #1 plate on his GEICO Honda and won't want to relinquish that. He suffered an injury recently and where his speed and fitness will be is a concern but maybe shouldn't be. No one has a ton of insight on that as it has been fairly quiet on the Bogle front. Regardless, I have him up front and improving as this series moves on.
Jeremy Martin: The 2014 Lucas Oils Pro Motocross Champ is looking to end his two year stint of not qualifying at the first supercross round in Dallas. He turned things around at the last two races, finishing in second place in New Jersey and winning the final round in Las Vegas. Hopefully for he and his team, he can continue those winning ways on Saturday.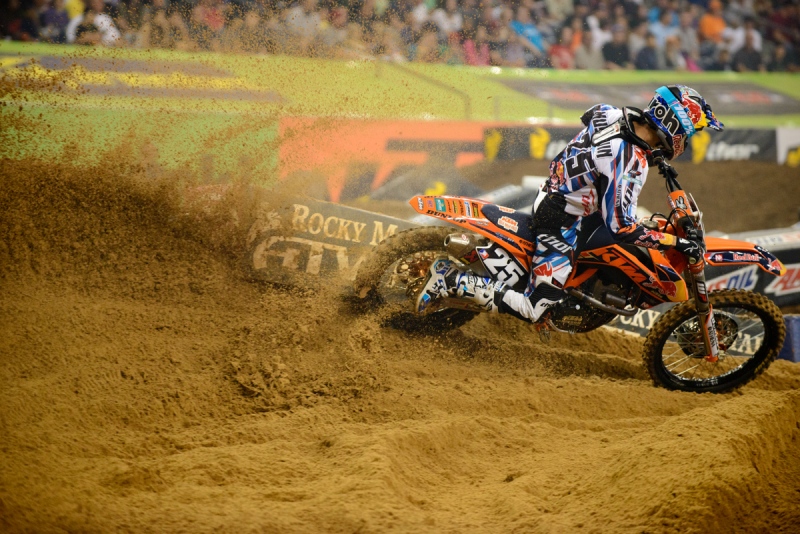 Moving Marvin is Thomas' pick for the 250SX eastern title.
Joey Savatgy: Versace Savatgy should be on the podium multiple times this season. In his rookie year in 2013, he was leading heat races and surprising everyone with his skills. This season, he should be ready to do some real damage. He is a great starter and that will help his chances at winning races. Can he be as consistent as the other title contenders? That is the real question.
Arnaud Tonus: This one is a question mark as no one has seen Tonus ride an American supercross before. I think there will be a learning curve for the Swiss but he will be inside the top ten. Maybe he surprises everyone and comes out firing with a podium. I am betting against it, though.
Martin Davalos: This was almost your 2014 East Coast champ. Barring a crash that wasn't his fault, he had the title wrapped up for the most part. Alas, it didn't work out that way and he is coming in at less than 100% from last year's injury. He will still be fast but I didn't see the same intensity at Anaheim 2 and Oakland that I saw last year. Maybe it was just the 450 and he is ready to win again, that would be great for the series.
RJ Hampshire: One of the rookies making his move to the big show, I expect big things from RJ. He is a Florida native, like myself, and I have known his family for a long time. He has been groomed by Timmy Ferry for the past couple of years and I know they are ready to get this series started. I think he will have a few ups and downs but he will be a force to be reckoned with before it's over.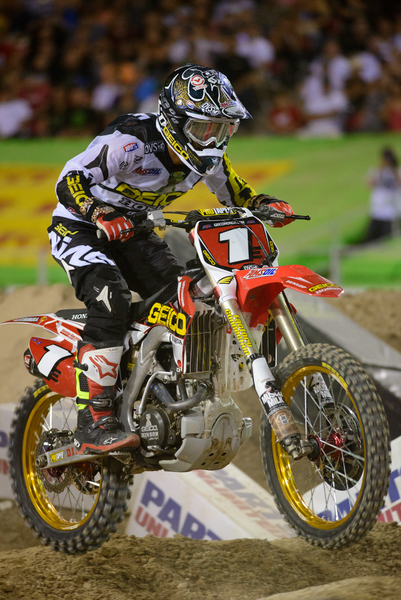 Bogle is back to defend his number one plate from last year.
Anthony Rodriguez: Venezuela's finest is making his second run at the 250 East Coast series. He was very fast last year and also very likely to end up on the ground. That seems to be the trend with the new crop of speedsters. Blinding speed but to reach those speeds, things seem to teeter on the edge of control. If he can stay upright, he will be up front.
Jordon Smith: If not for Smith's broken hand, he was my dark horse to surprise everyone. The kid is insanely fast but incredibly scary to watch. He will grow out of that (I hope) but needs to keep somewhat of that edge. That is what the teams pay big money for.
Kyle Cunningham: One of the veterans of the 250 series, Cunningham is a wild card to be in the top 5 at any race he enters. He goes fast but crashes a lot (notice a trend?). Dallas is his home race so he should come out swinging.
Vince Friese: The Cape Girardeau, MO native was a surprising third overall in points last season. His good starts and "I will literally rip your face off if you try to pass me" attitude paid off and landed him on MotoConcepts for another season. If he can stay out of trouble and keep the holeshots rolling, he will be in the top five quite a bit.
Matt Lemoine: Much like Cunningham, Lemoine is a native Texan that is really fast when he finishes. He is typically up and down in the result column but he has been working with a good group in California this off season and should be ready to roll. This isn't his first go-round in the 250 class so look for him to make a dent in this first race.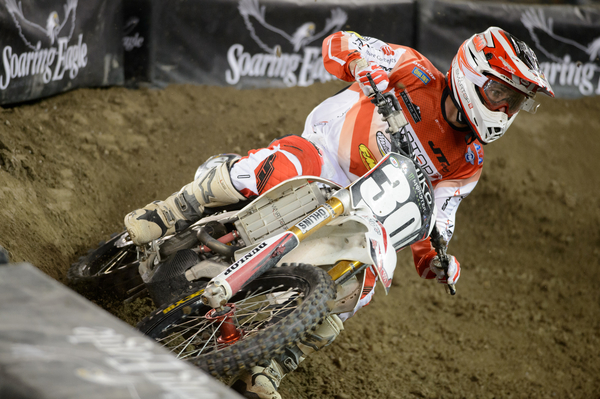 Kyle Cunningham, on the AG Motorsports team, could snag some podiums here or there.
Jimmy Decotis: Jimmy Deeeeee is a fan favorite and has a new team behind him for 2015. He had a good showing in November at the Geneva SX in Switzerland so hopefully he used that momentum to build towards this East coast swing. He is a good starter and isn't afraid to hang it out so anything goes for Decotis on Saturday. Solid top ten guy but has the speed to be top five.
Mitchell Oldenburg: His ride at the Indiana National last year landed him on this list and I have heard many rumors of him absolutely flying at the practice track lately. If he can get a start, he will do damage.
These are the riders who I feel represent the elite of the 250 East class. There are a few more I could have included, such as Kyle Peters, Jace Owen and others. That is the coolest part of the 250 class is that the new kids keep coming and coming. Who will be the break out rider that makes me look foolish? We are only a day or two away from knowing.