Injuries have held back Kyle Chisholm in recent years, but after a successful rebuilding year in 2014 things have finally turned around. Chisholm has made his own dynasty in 2015 with his new team and he is pushing for the top ten.
Injuries have held back Kyle Chisholm in recent years, but after a successful rebuilding year in 2014 things have finally turned around. Chisholm has made his own dynasty in 2015 with his new team and he is pushing for the top ten.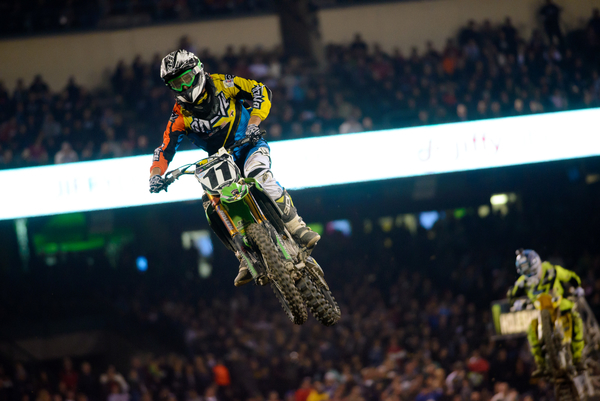 Kyle Chisholm is ready to take on the top ten again.
Photo: James Lissimore
Photos:James Lissimore
It's January 4, 2014 and Kyle Chisholm is lining up to the gate for his heat race at the opening round. For Chisholm, it has been a long journey to get back to this point. A year earlier the 2013 supercross campaign started off a bit rough for the Floridian. He locked down a ride with the quickly upstarted, and just as quickly forgotten, Velocity 3 Yamaha team. The team folded early on and Chisholm was left searching for something, anything, to fall back on. The JGR Yamaha crew came to the rescue via a fill-in ride and things were again looking bright for the double one-one..
Then at the ninth round in St. Louis, Chisholm collided midair with then BTO Sports KTM rider Matt Goerke. The incident caused the main event to be red flagged as the Asterisk Medical crew had to cart Chisholm off of the track. The hard hit put Chisholm in a wheel chair for four months with injuries to his leg, knee, and both ankles. He did not return to the track until the 2014 season at Anaheim 1, where our story began, and he was able to log his first racing laps in almost a year. The eight months he spent without even riding a bike had put Chisholm behind. It did however, set up a solid rebuilding year for the entire 2014 season. It was a busy season at that.
Coming into the 2014 season, Chisholm did not have a ride. On January 2, two days before Anaheim 1, he had officially found a home with the Rock River Yamaha squad. Their primary 450 rider Ben Lamay had gotten hurt, so they offered his bike to Kyle, and a place to stay even after Lamay's return. Things were beginning to look up for "the Chiz" as immediately after that signing he locked down another deal for the outdoor season in Canada. Chiaholm now had the perfect opportunity to execute his "rebuilding year," as he likes to call it.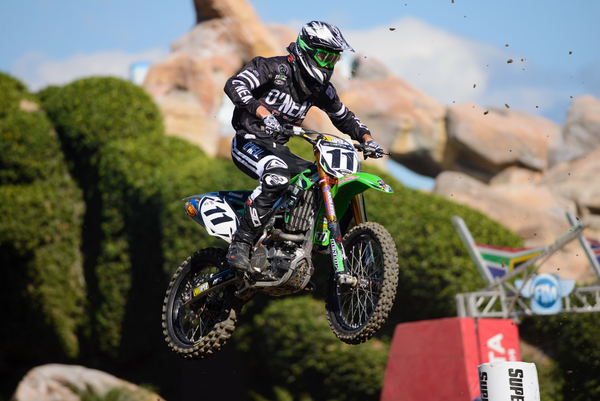 Chisholm at Anaheim 3.
Photo: James Lissimore
As the supercross series neared Daytona, Chisholm would have another minor setback, this time hurting his left shoulder while practicing. "I did it riding at Chad Reed's place. I went through some sand whoops, tried to wheelie out the last five or six of them, and I dropped my front end on the last one," Chisholm said. The crash resulted in an AC separation, which for you non-doctors at home, it's when the end of the collarbone gets separated from the shoulder. Kyle was on a week-to-week basis, but as the year went on it would end up being his only off time.
The good vibes for Chisholm's summer started out in Las Vegas for the final round of the Monster Energy Supercross Series. He put in his best result of the season with an eleventh. Before this his top finish had been a thirteenth. It was time to head north of the border, but before that he loaded up his pick-up truck and headed to Glen Helen Raceway, round 1 of the Lucas Oil Pro Motocross Championship. Chisholm ended up having consistent results on the day as he went 15-14 for 14th overall. It was finally time to head to Canada to ride for the Rockstar Energy Drink Yamaha team.
When the Canadian Nationals kicked off, Chisholm never finished outside of the top ten overall and was second overall at Gopher Dunes. Midseason and with two weekends off in his primary series, Kyle decided to load his trusty truck up again to race Muddy Creek and RedBud. By this time the Chisholm train was rolling smoothly as he was consistent in all four motos, resulting in 12th and 10th overall at the events respectively. In mid-August the high point of his summer had occured. It came down to two races, in two different countries, and two different series.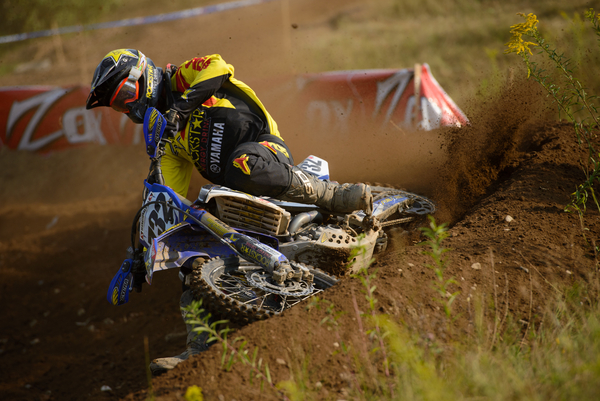 The Chiz at Ulverton, the venue of his overall win.
"I had double duty, I raced at Unadilla on Saturday and then in Canada on Sunday," Chisholm said. "That's actually the weekend that I won up in Canada. It was a good test for me."
The race in Canada was at Ulverton and Kyle, once again nabbing consistent 3-2 scores won his first and only overall of the year. He clearly had evolved and become Iron Man.
"The toughest part was not being able to sleep that much," Chisholm remembers about how he felt the Sunday night after both races. "I've been around the block a while, so I know what my body needs. As far as my riding fitness went I felt pretty good all day."
Chiz ended up fourth in points in the MX1 class behind the champion Colton Facciotti, Mike Alessi, and Tyler Medaglia. Heading into the offseason, Chisholm had accomplished his goal of 2014, in which he really utilized as a rebuilding year.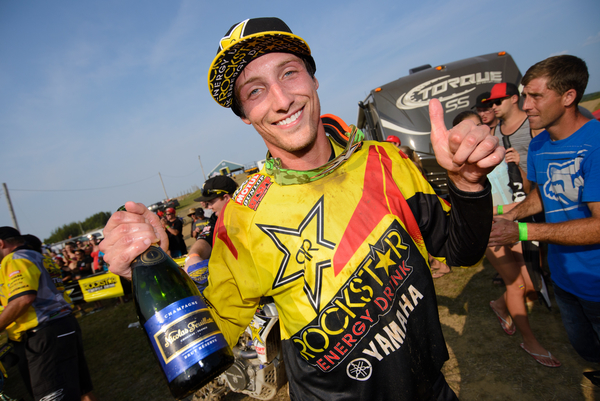 He had raced Unadilla the day before and yet is still smiling.
So that takes us to the offseason and the season that is in play right now. The birth of Team Chiz occurred in early December. Chisholm assessed his situation and the options available. He had some deals lined up but he wanted to take a new route in 2015. "This is my eleventh season as a pro, at this point in my career it made more sense to not settle for a smaller team with minimal support. If Nick Wey and Jimmy Albertson can put their own deals together, I'm like, why can't I?" Chisholm said.
Kyle had one month to put together his team and to get everything ready before Anaheim 1. He was able to secure support from a Kawasaki dealership and then he was able to place together all of the smaller pieces. Essentially Kyle is his own team manager and he can decide what parts he wants to run. His original motorhome had an issue that needed to be fixed so he took the one his parents own temporarily while his gets fixed. This issue was the reason Kyle missed Anaheim 1. The reality of this deal is that it took a lot of work to get finished, in a short period of time, yet he still almost made it to Anaheim 1. Since then he just barely missed the main event in Phoenix and has two 13ths, a 14th, and a 16th this past weekend at San Diego.
Chisholm already has his mind on the bigger picture for his Team Chiz dynasty. "I'd love to build it into something bigger for next year, get some more sponsors on board, and a little more support," Chisholm said. "I have more of a long term goal in mind. I wouldn't be spending my money if I didn't have another plan in mind. I'd go get a real job if that were the case."
The goal for Kyle is to get into the top ten this season, he's been close already. He wants to continue to build Team Chiz into something bigger and better. He said that he enjoys the business side of things and wouldn't mind being a team manager one day when it is all said and done. Before that happens he has some business to attend to on the track.
"I am definitely trying to make an investment in the team and myself and my career. Putting in good results and a good program together and seeing where that builds me for 2016." Chisholm said. "Whether that's on my own program again, or maybe it can catapult me onto a factory team again. That's the goal in mind behind everything."
Email me at Troy@pulpmx.com if you'd like to discuss this story, anything dirt bike related, or anything really.