Comparing Chad Reed's 2008 title run to Ryan Dungey's season thus far. The statistics are eerily similar.
Comparing Chad Reed's 2008 title run to Ryan Dungey's season thus far. The statistics are eerily similar.
Photos: James Lissimore
Originally this feature was going to go farther back in time. However, after studying the statistics, the 2008 Monster Energy Supercross Series is eerily similar to this year's title fight.
In 2008 the championship was really only expected to be Chad Reed vs. James Stewart. The battle never materialized as Stewart dropped out at Anaheim 2 due to a knee injury that wouldn't stop bothering him. Thus the previous year's champion had decided to drop out of the series. This is very same fate the 2015 series faced since Ryan Villopoto decided to hit up the GP series instead of defending his title. Oh yeah, both of these previous champs raced for the Monster Energy Kawasaki factory team..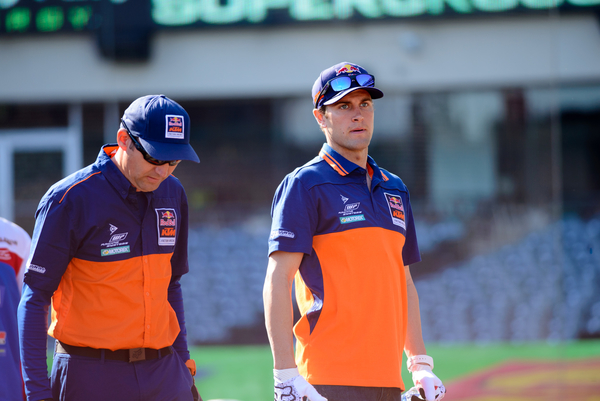 Dungey has three wins at the halfway point compared to Reed's six in 2008.
After more digging the similarities continued to add up. At the time Reed only had one Supercross title to his name, which is the same situation Dungey finds himself in today. Both Reed and Dungey had won just a single Regional title before winning a premier class title. Chad had a three-year gap where he wasn't the champion in the 450 class. Dungey is in the midst of a four-year gap.
In the "gap years" as we'll call them, Dungey and Reed stayed in the title hunt. In 2005 and 2007 Reed finished second and in 2006 he was third. Dungey finished third in the final standings in 2011, 2012, and 2013. He finished second last season.
Since Reed is one of the most consistent riders the sport has ever seen, it's important to note that Dungey is on the same road. Reed has 126 podiums in 13 seasons and Dungey has 63 in seven seasons. These stats are up to date and as of Atlanta 2. Dungey gets a mulligan in this category. Since he did not race a 450 in 2009 it does not count. Reed raced the now 450 class a few rounds in 2002 therefore that season counts.
Here's where it starts to get confusing, but also kind of incredible. In the first half of the 2008 season (up to Daytona) Reed had racked up a total of 16 points when adding up all of his finishes. This season Dungey has a total of 19 points at the halfway mark. This means that in 2008 Reed's average finish to this point was only a 1.7. He had won six out of the nine races. This year Dungey has an average of 2.1 at the halfway point after amassing 19 points up to Daytona.
Chad went on to have an average finish in the 2008 season of a 2.8. He had bike troubles while leading the infamous Daytona that year. He had to fight through other problems as well. He was sick in Minneapolis, and of course who could forget the spitting up blood episode after a practice crash in Detroit?Otherwise his average would have been lower. He went on to win nine races that season. Where does that leave Dungey? He has three wins through the first half and has only finished off of the podium once. Compare that to Reed, who did the same thing in, you guessed it, 2008.
Dungey is solely responsible for starting the "Ryan Era" in the sport. Ken Roczen officially ended the outdoor run of the Ryan's when he won the title last summer. Other than that Dungey and Villopoto have swept the Supercross and Motocross championships since 2010.
Some other fun facts about 2008:
-Dungey finished second to Jason Lawrence in the West Region after blowing a large lead in the standings. Consistency is something that Dungey has perfected and executed since then.
-Trey Canard is currently second in points and is closest title contender to Ryan this year. In 2008 he won the East Region title as a rookie and beat the now defending four-time Supercross champion Villopoto.
– Kevin Windham finished runner-up to Reed in 2004 and 2008. He also finished second to Dungey in 2010. Add this to Reed's runner-up in 2011 and possibly Canard in 2015 and these are all of the Honda bridesmaids in the new century.
What are the odds that Dungey throws this title away in the second half of the season? It's not likely. If the 2008 series is any indication Dungey will become a two-time Monster Energy Supercross champion in May.
Want to talk about this story or anything else? Email me at Troy@pulpmx.com.