Huh? Yup, I know what you're thinking…
Huh? Yup, I know what you're thinking…
Photos By: James Lissimore
I know, you think you've been watching great racing for the last nine weeks but that was all in your head. I mean, all of our heads because "the series doesn't start till Daytona". Everything we've seen in the prior 9 rounds never actually happened! I know, it's crazy, I'm still coming to grips with it too because it seems so damn real!
Remember A1 when Ken Roczen looked to a be a shoe-in for the title? Meaningless. What about perennial-podium guy, Dungey? He missed the podium at A1 and didn't look comfortable either. He looked like he had a long way to go before he could contend with Kenny. Lest, we forget, that never happened. It was all in your imagination.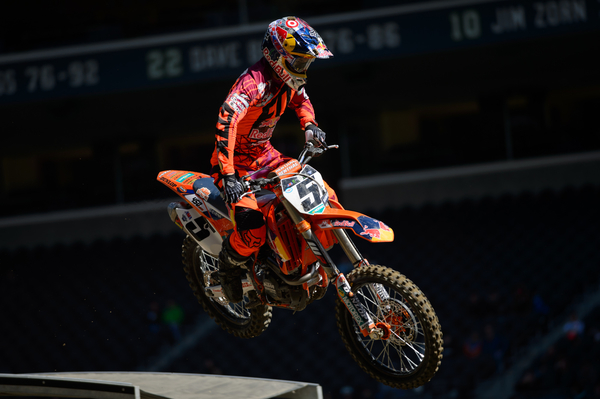 With Dungey riding the way he did at Daytona, it really makes me wish RV was still in SX but of course, if he was Dunge wouldn't be with Aldon. Catch22.
Think back to that daydream you had on the evening of January 10th( I know, it's crazy that I can actually recall the dates of YOUR random daydreams)?! Eli Tomac bounced back from an utterly forgettable(though filled with Deja Vu) A1 with a convincing win after a dogfight with Roczen. Now that was an intense contemplation since it never actually transpired.
Chad Reed could not have picked a better time to nudge Trey Canard and get Black Flagged because since it was before Daytona, it bears no negative side effects! Someone tell Chad right now, all that frustration was for nothing because A2 doesn't even matter in the final seasons points… it's before Daytona.
A week later, some of you may have sat in your cubicle at work, stared out the window at the birds chirping and imagined an A2 rematch between Chad and Trey in Oakland, albeit with less contact. In your imagination, Dungey may have capitalized on a couple mistakes by Reed to sew up the 2nd place position and looked to be figuring out his bike setup. ken Rockne may have had his first major falter by casing a triple in horrific fashion but it really shouldn't matter because the actual series just started two days ago.
On January 31 I'm betting some of you thought you saw Ryan Dungey get his first win of the year. You didn't. You're taking crazy pills. The series hadn't even started. In fact, it was over a month away!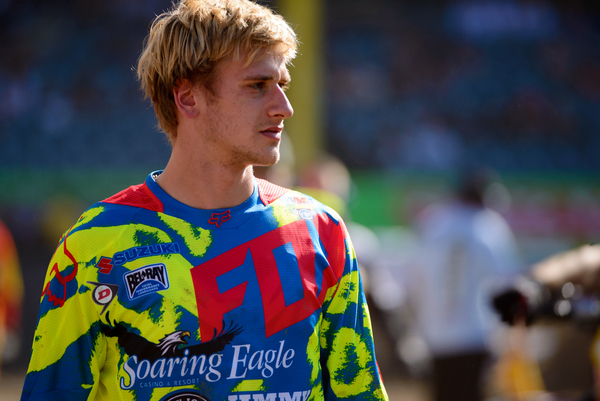 Kenny is on the outside of this title-fight looking in after(and slightly before) Daytona.
Trey Canard and Ryan Dungey might have traded wins over the next two weeks if they had been racing… but they weren't. Clearly, that was all a figment of your vivid imagination.
Speaking of vivid imagination, those of you with questionable decision-making skills may have eaten some mushrooms and imagined Chad Reed winning a race at age 33, the first week of an Atlanta double-header. Put the psychedelic's down and go back to your day job. It couldn't happen because as I said, the first race was two days ago.
I would tell you that Ryan Dungey has looked awesome in his last two wins but he's only got one win because the start of the Series, Daytona, just happened and yes, he won.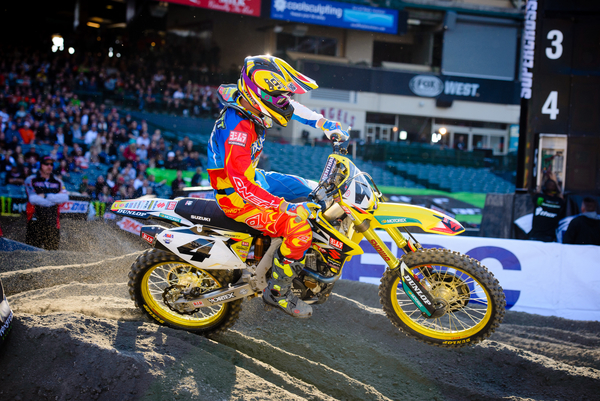 Baggett is right in this title hunt since the series "just started".
Reality has finally set in. The series has begun and if Dungey is as in-tune with his bike as he looked at the REAL round-one (Daytona), this title is locked already. Although, before leaning in a tad too far, Chad Reed looked like a spring chicken again, ready to battle with the kids at their pace. This guy has been through a few of these rodeo's, very strangely, he's even won every single race from Daytona on to the last round BUT DIDN'T WIN THE TITLE!! How is that even possible? He won every race from "when the series REALLY starts" but he didn't walk home with the trophy or championship check. Math is my worst subject but even I know that doesn't add up.
Judging from the beginning of this series, you know, two days ago… I'm looking forward to this grudge match between Ryan Dungey, Eli Tomac and Blake Baggett! It's gonna be so close between those 3!