Here are some hard charging interviews of some hard chargers
Here are some hard charging interviews of some hard chargers
Photos by Simon Cudby
Jimmy Albertson
I saw at one point you locked in a battle with Nick Wey. Track got rough, huh?
The track was super rough. You haven't interviewed me like all year and I don't blame you.
But I have been writing positive things.
I was riding like crap all day. Riding all the motos just awful. I was riding like garbage. Honestly my last five laps of the main were my best laps. I got lapped by, I think it was Seely and I like stayed with him. I'm like, I'm riding good. That was the very first time I think in my entire life when I saw the white flag I was a little bit bummed. I didn't ride good all day but I finished good and I wasn't completely dead at the end. I almost felt like I was riding better and better the more time I got on the track. That was the one positive note. I got to go get my hand actually x-rayed. I'm sure they saw it on TV, but me and Chisholm got into it in the heat race pretty hard. He came in and slammed me, just out of the blue. I thought he broke my hand. We hit each other. I hit him and I was riding so god awful he actually came back and then smacked me. But it was fun. It's whatever. We're grown men.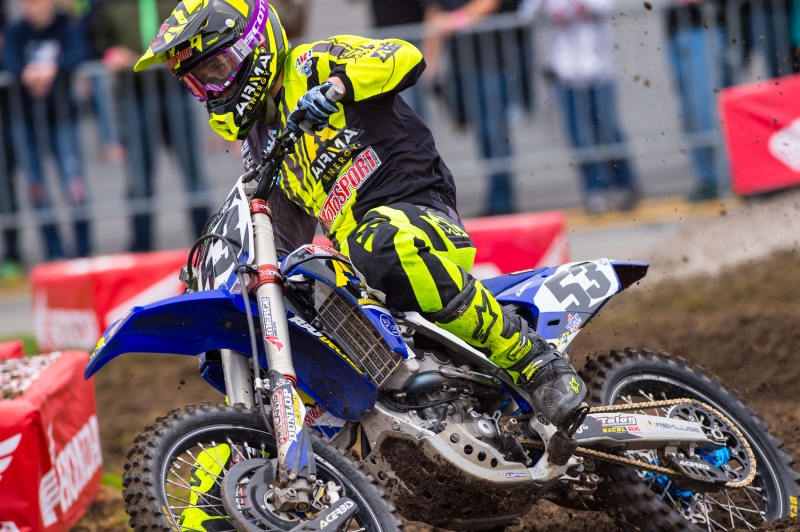 Albertson had a tough night to get into the main but once there felt like he rode well.
After the finish you land, you guys were hauling ass right there. That's very scary.
You know what's funny too, when you get scared you chop your throttle it's worse. Then your bike unsettles. Not only that but there's a nice kicker right before you land into the face of a triple with a billion ruts at the face. It was a sketchy track.
I thought you maybe weren't going to qualify. You were like 6th.
I sucked all day. I wasn't even on the bubble, I got 3rd.
You easily made it, but I was scared.
With ease. But I beat every single other Jimmy out there so I pretty much owned the night.
What about Sinjin? You think he's happy with that ride?
No, Sinjin's not happy. I can tell you that. I'm not happy. It was better than all day but I had back to back dislocated shoulders at Atlanta. I'm just going to try to keep my shoulder in socket for a couple weeks, get it tightened up. I think I'll be better and better every week now.
***
Broc Tickle
Laying on the ground 22nd, and 10th place with the fastest lap of the night. You've got to be pumped. Another great ride.
I think I could have made it a lot easier on myself and the team if I could have been better in the beginning of the day. I struggled all day kind of. Not a flame. For me the main thing to work on is just to get better earlier in the day, that way we're not struggling trying to figure out what we need to chase to get better. I'm pumped on it. I haven't been the fastest guy since probably Lites class. For me that's something to build off of. The track was pretty gnarly tonight. It was faster than normal but it was rougher. Not much else to say. I'm stoked obviously on the fastest lap but 10th place is 10th place. That's what everybody sees.
I didn't catch it; you and Canard both go down first turn?
We tangled. I believe his front wheel got stuck in my foot peg. I felt it so I got on the gas to try to get away from it and then it just hooked it even more and both of us just went down.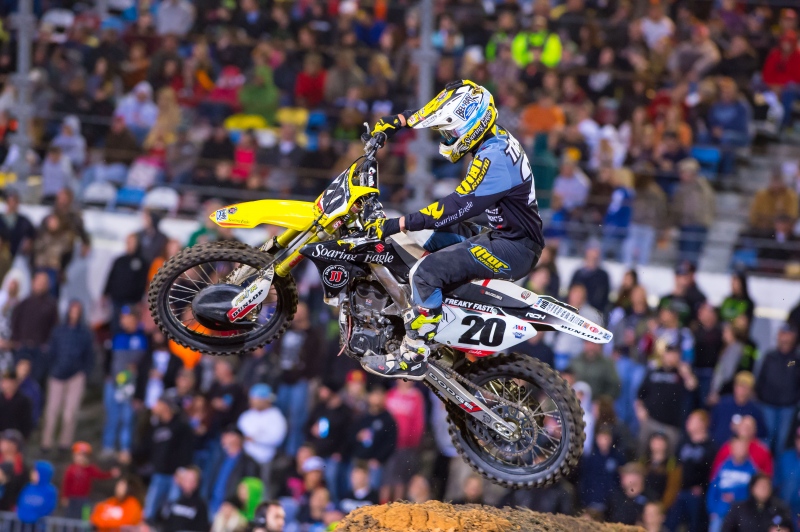 Tickle came from way, way back to get into the top ten.
Was it kind of a little bit of no pressure on you because you were dead last so let me just go balls out and see how I can do?
I would say it's probably a little bit a mixture of that and I kind of had a really good feeling before coming here. I felt like I had the momentum to podium. I think that kind of fired me up a little bit, obviously getting put in that bad situation. But stoked with everything. I'm 100%. I had a pretty bad case on press day I don't think anybody really knows about. My jaw is killing me. With everything being said, I'm pumped on the weekend. Obviously 10th isn't the best but I'm still making improvements.
Last question, who gave the USA the Statue of Liberty?
France.
Good job. Watson got that one also so we were testing you.
***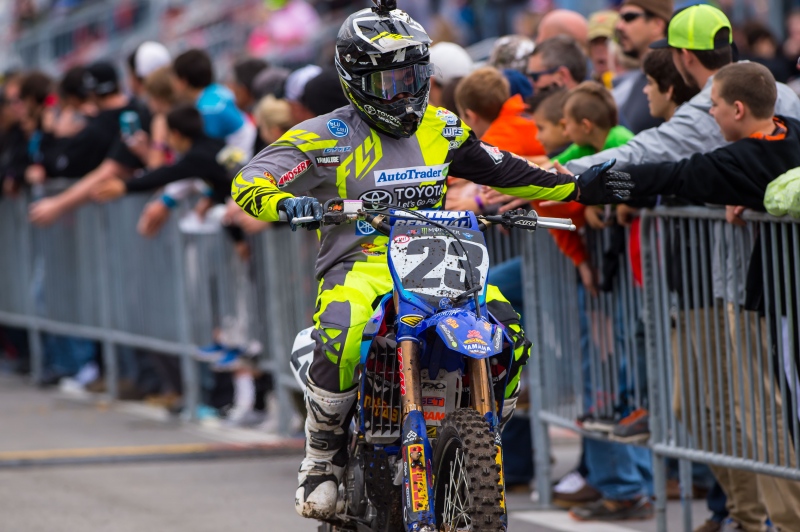 Weston Peick ran second for a long time before getting a bit tired.
Weston Peick
Ran 2nd at one point, on it. Didn't finish there. I still think it's kind of a positive. You don't have a ton of practice time going on with all the injuries, but what's your take on it?
Definitely. We got off to a decent start. I was running about 8th place at the start of the main event. Passed my way all the way up into 2nd place and ran with Dungey for a few laps. He started pulling me for just a little bit. I think I ran about 13 or 14 laps in 2nd place and then just starting riding a little bit tight, making a few mistakes here and there. Like I said, just been getting a little bit tired towards the end of the race just because I've been off the bike for so long. Other than that I've just been building my way up there. I think if it weren't a Daytona style track and I was in that position I would have finished on the podium. Looking forward to just being able to get back home again and keep training and riding and putting more time on the bike.
You were good in the whoops. You almost died one time, but you were good
.Every weekend I almost die in the whoops every single lap, which I purposely do that just to make sure I keep me on my toes. That just always happens.
At some point were you out there saying, full conserve mode now, I don't have a lot so let's just try to finish it out? What's the balance between still trying to attack the track but realizing you're not 100%?
I was running 2nd for like 14 laps and then all of a sudden it was like I got bitch slapped in the face by something. I was like, what the hell just happened? I was like, damn, I've got to go definitely conserve mode. Not too conserve mode, but it sucked to get passed by those guys. But everybody on the team and everybody out there knows that I have the speed to run up front. It's just a matter of time before I'm 100% comfortable on the bike and back up to speed fitness-wise and we'll be good.