Let go by Cycle Trader Rock River Yamaha earlier this season, Ben Lamay has found a new team to call home.
Let go by Cycle Trader Rock River Yamaha earlier this season, Ben Lamay has found a new team to call home.
Hammerhead Designs was launched with the intent to provide new and better parts and innovative accessories for motocross bikes. One of our goals has been to design entirely new and unique products with improved ergonomics and the shift lever was the first part that we felt could be dramatically improved by providing a feature that would allow for the shifter to be repositioned to perfectly suit the riders size, shape, and preference.
Cover Photo: James Lissimore
Story Photos: Simon Cudby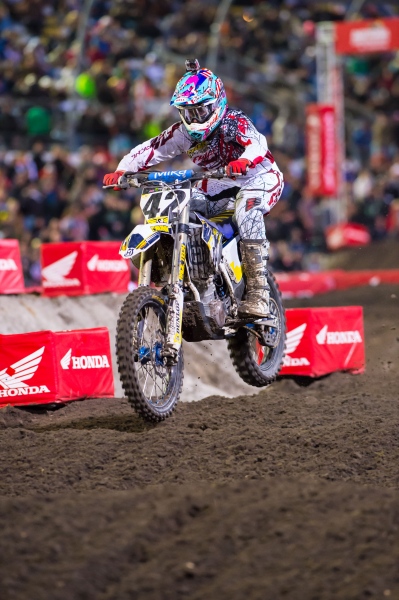 Lamay's new deal is with Munn Racing Husqvarna.
The marriage between Ben Lamay and Cycle Trader Rock River Yamaha ended abruptly this season, five rounds into the Monster Energy Supercross Series, an FIM World Championship to be exact.
Through the first five rounds Ben had made two main events. At Anaheim 2 he finished a season-high 15th and 19th at Anaheim 3. Lamay had fought to get into the main at A3 with an injured wrist.
It isn't often in this sport that a rider is let go while the season is in full swing. So when this happens it is kind of of strange. In this certain case, Lamay was dropped from the team after the third Anaheim and immediately replaced by Josh Hill the next weekend in San Diego. For those keeping score at home, that is only one month of racing.
"Josh, at the time, had a tenth the weekend before (Anaheim 3), but he had only made two mains. The same amount as I had," Lamay said. "I guess they just thought that he had more potential than I had so they picked him over me."
Ben received a call after the second round in Phoenix from Rock River. According to Lamay the call was pretty straightforward. The reality of this story is that this was a business decision. The team's title sponsor Cycle Trader wanted to have a rider in the top ten each week. He hadn't qualified for a main event at that point and the team wanted results right now.
Lamay had seen Rock River grow and evolve into the program that it is today. He had been a member of the team since late in the 2010 season.
"I feel that I was their main rider that got them to where they are at," Lamay said. "I thought my results were pretty good, they weren't great, but they weren't terrible."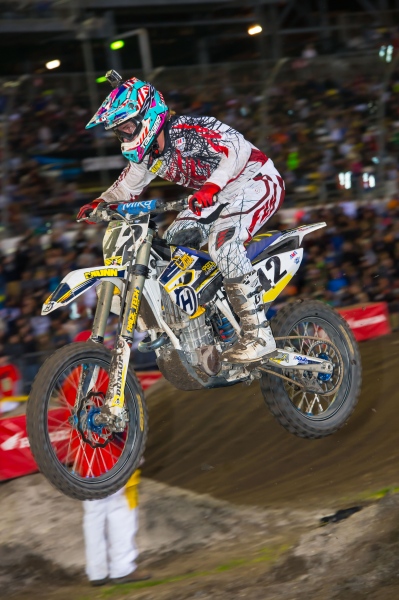 Lamay was 17th in his debut ride at Daytona.
Left without a bike and parts, Ben was forced to sit out San Diego, but he borrowed a bike and came to Arlington ready to race. Lamay is based out of Austin, Texas so the round was close to home. His borrowed bike was bone stock, except for the graphics, which were non-existent. He narrowly missed the main event by one spot in the LCQ.
Had this been 15 years ago, The Assassin's career may have been over. When the team dropped him he didn't have a bike to ride. Lamay contemplated retirement and surveyed his options. Then he decided to turn to the internet and he put a post up on the Vital Mx message board. He explained the position he was in and the good folks of this fine sport of ours decided that it wasn't right for him to be without a ride.
Lamay did not post looking for a free bike to ride, money, or anything of that nature. He simply posted that he didn't have anything set up for the rest of the season, that he didn't plan to race any other supercross races this season, and to thank everyone who still supports his career.
Several message board regulars donated money, offered advice (some better than others), and eventually Munn Racing, became interested in creating a deal with Lamay. A member had reached out to owner Chip Munn and he was able to offer two brand new Husqvarna 450s to race. Both parties are located in Texas, which made the deal easier to construct.
Although the deal is still getting the kinks worked out here is what we know. Lamay is scheduled to race the rest of the 2015 season, indoors and out, for Munn Racing. The team is getting more parts and working on small little details everyday. MotoConcepts and Mike Genova have stepped up to haul Ben's bike and parts for the time being.
This new deal got its first race out of the way last weekend in Daytona and Ben made the main event finishing 17th on his debut ride. With more seat time on the bike, Lamay feels that his results will only improve the rest of the season. He hopes to continue this good mojo tomorrow night in Indianapolis.
Originally from Alaska, Lamay had ridden Yamahas since 2007 and finished his amateur career off with the brand. After nine years of riding blue, Ben is now focused on the future with Munn Racing and Husqvarna.