Qualifying for your first Main of the year at round 11 and finishing 21st with a smile.
Qualifying for your first Main of the year at round 11 and finishing 21st with a smile.
Photos By: James Lissimore
This one is going to be short and sweet which ironically is quite the opposite of the subject matter who happens to be above average-size and bouncing off the rev limiter in the raditude department.
Adam Enticknap is a prime example of all that is right with the sport of Supercross, all the while traveling the rocky road of struggle.
He doesn't have a factory ride, doesn't dominate qualifying or the LCQ, shit, he isn't even a shoe-in for fastest privateer but you'd never guess that in a million years because Adam has the absolute best attitude going in the pits. He's not even the every-man which is what fans usually pull for. He simply has a positive outlook in all situations,. Without question he is a glass half-full guy… I take that back, if you asked him if the glass was half-full he would spin it and say, "this is the sickest glass you've ever seen, it's got the perfect mix of liquid, Co2 and o2?!"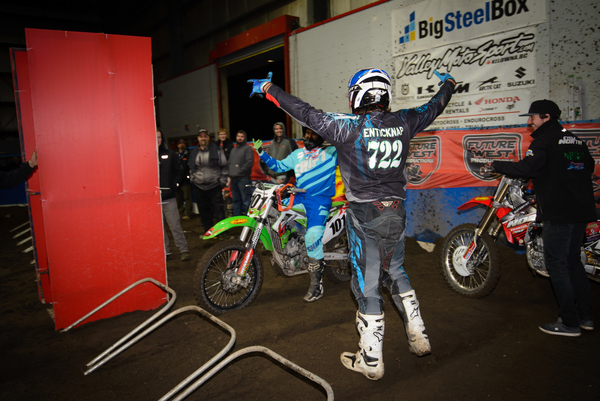 This embodies the 722. At the races and just fully stoked.
Adam doesn't gain fans with his speed, he sucks them in like a vortex with his unstoppable positive spin on everything he encounters. He didn't get frustrated when he failed to qualify for the first 10 rounds of the series—I take that back, he was disappointed but he didn't absorb that disappointment and let it spread through him like a sponge (a negativity sponge at that), he actually focused on the positives from the failure, bottled them up much like Matthes bottles up sand at Southwick(RIP) and continues whistling his tune all week long. This sport is full of inspirational quotes on social media but Enticknap embodies that in his standard day to day existence. Can you imagine how chipper this kid would be (will be) when he is making mains week in and week out? With his sidekick, and an amazing story in himself, Weston Peick to gleam knowledge from, coupled with his skills and attitude, it would be silly to not expect Adam to become a main event mainstay sooner rather than later.
I think back to the first time I ever heard of the 7-Deuce-Deuce, it was on the PulpMX Show when Matthes made mention of how insanely appreciative Adam was of him doing a Privateer Profile on him in a recent issue of RacerX. Matthes sold his excitement level pretty well but it did sound a little exaggerated. Well, to my surprise it was spot-on and Adam has matched that positive intensity in every instance I have been witness to. Either this dude is what he appears to be or he has an equally intense dark side that could melt the earth if it were triggered.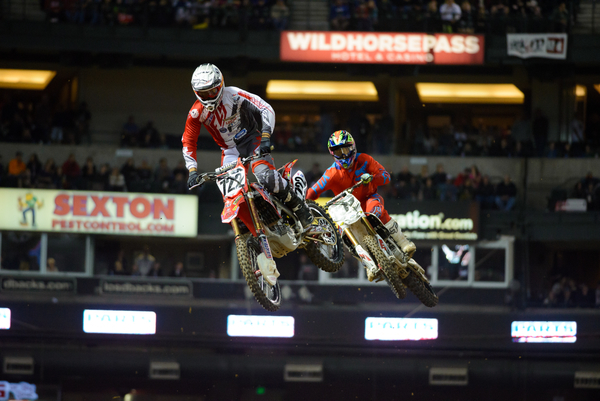 I'm hoping to see the 722 put a strong of mains-made together, building on Indy.
Whatever the case, if you have a problem with Adam Enticknap, you have a problem with puppies, bunny rabbits and sunsets too. That or he took you out for the last spot in the LCQ… and even then, I bet he could bro you down and talk his way back into your good graces. Shit, he'd probably have you calling him to hang out before the next round.