Here are all the answers you had about Winner's Take All answered by an expert
Here are all the answers you had about Winner's Take All answered by an expert
Hammerhead Designs was launched with the intent to provide new and better parts and innovative accessories for motocross bikes. One of our goals has been to design entirely new and unique products with improved ergonomics and the shift lever was the first part that we felt could be dramatically improved by providing a feature that would allow for the shifter to be repositioned to perfectly suit the riders size, shape, and preference.
The 1987 movie Winner's Take All came up randomly on the Pulpmx Show the other week and our privateer hero Adam Enticknap (he being born in 1990) had no idea what we were talking about. There's probably no one on the planet that's seen the movie more than Jason Thomas (maybe Nick Wey) so after Adam expressed that he didn't know what he was watching, we had him write his questions down and Thomas would fill in the blanks for him. So here is a conversation between a pupil and the master about a masterpiece–Matthes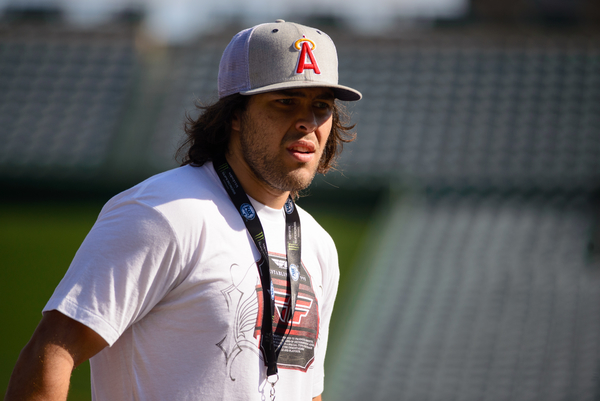 Young Adam has never heard of seen Winner's Take All until last week. Look at his face, clearly he's still trying to process it all. Lissimore photo
Adam Enticknap: Why in the opening race does the announcer say Bad Billy is out front but he is literally not in the race footage at all until the finish?
Jason Thomas: This is where you are supposed to be lost in the magic of Supercross. I too often wondered "WHERE IS BAD BILLY??!!!" in this opening scene but then I remembered that the budget for this move was probably around $200 and they had to use what they had. If it helps, close your eyes during the opening scene and just let the soothing sounds of Supercross fill your mind. Otherwise, the holes in that opening scene will drive you batshit crazy.
How does homey not sense this chick is a MOTO hoe right from the get go?
I think he does but he is booty blinded. This is like a Monster chick going with a Beginner rider to Milestone on a Tuesday. The dude surely knows that he is batting way out of his strike zone, but he is damn well going to swing for the fences anyway.
Oh by the way below is the movie in all its glory for free. God bless Youtube…
How come suicide hill doesn't look that gnarly?
It's TV doing injustice again. If you ever watch an outdoor national, the hills don't look too steep either. I fell into this trap the first time I went to Mt. Morris in 1995. I watched the race on video while in a motorhome heading up from Florida. Keep in mind that the biggest hills I had ever ridden were up and down a ditch. The Mt. Morris hills looked mellow on video and I figured, no worries. That is until we pulled into the track and I took a gander at the actual race track. Let's just say that I didn't set any land speed records down those hills and that my judgment from television is forever changed. Suicide Hill is a nightmare for any man. Know that.
Why does the hurricane bike look like a piece of shit with a PW80 front fender?
That's because it IS a piece of shit. Hurricane's sales are in the toilet, Bad Billy wants out of his deal, and Johnny Rivera is doing curls before his moto. Total shitshow.
Why does that side car look so sketchy but yet the music makes me want to ride that thing?
A) Side cars are sketchy. B) Soundtracks can move mountains.
What's Judy MCcormick talking about a moving water pumper motor!?
She's clearly trying to fit in with the boys and just talking out of her ass. She thinks she is Tony Berluti, but Rick Melon is only bout that booty.
Why to this day do security guys not want to let you by even when you have gear on!?
Have you ever watched Observe and Report with Seth Rogen? If not, watch it and you will understand who you are dealing with.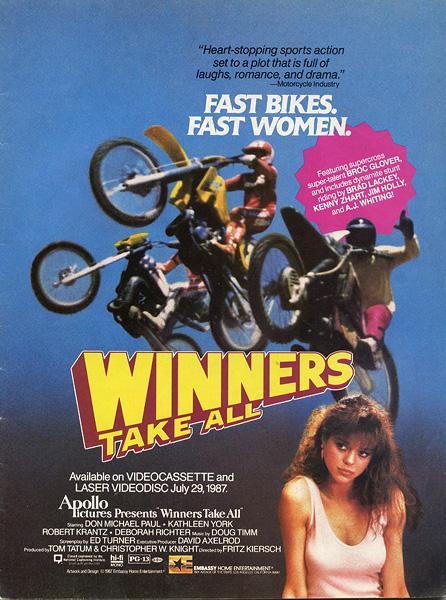 The movie wasn't a hit at the box office but Thomas doesn't care.
How many curls did team hurricane do in the movie?
Somewhere around a thousand. They must have had that arm pump surgery.
Why are there so many fights?
Team Hurricane is a squad of assholes. They had to be dealt with.
Why do they look like such squids on every start in the whole movie?
There were no holeshot buttons back then, which was part of it. Also, the director probably thought it looked cool.
How funny is it when the Japanese guy says "Rick Mellon , ohhh iiinn-de-peeenndennttt"?
Nothing but bonus checks and works parts coming Ricky's way after that.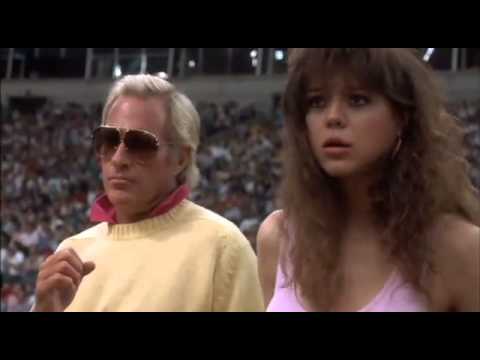 Team Hurricane manager Frank and Judy watch the Dallas SX.
Judy MCCormick is hot.
Do you really think that Broc Glover would drive his baby blue Corvette to the desert to pick up anything that wasn't a dime?
Who calls a triple the Himalayas?
Mostly Tibetan monks. They know that they key is distance, not height.
Can skidding a 2ft high dry berm in the hills get you ready for supercross?
Let's be real, Judy kept that turn tight. I had to recheck my skills after that scene. She might own me on a tight Colorado Arenacross track.
Why do I feel like Nick Wey looks like Rick Mellon ?
You have OD'd on Subway sandwiches. They look nothing alike. If anything, he looks like Bad Billy.
How did they get the POV MOTO footage back in the day?
Some crazy ass stunt guy rode on the back with a handheld video recorder. Kidding. In all seriousness, I think it was black magic.
What does a little sluggish on the high end even mean?
It means it's running rich on top. I know that you youngsters didn't deal with the joy of carburetors, but it was a constant shell game of jetting. They would want to go leaner on the main jet in this case.
Why do I feel like bear and I would get along lol?
I have a strong feeling that you and the Bear do get along… Every year at your family reunions.
Thoughts- Bear is Weston Peick and 7deucedeuce mixed together.
Mind. Blown.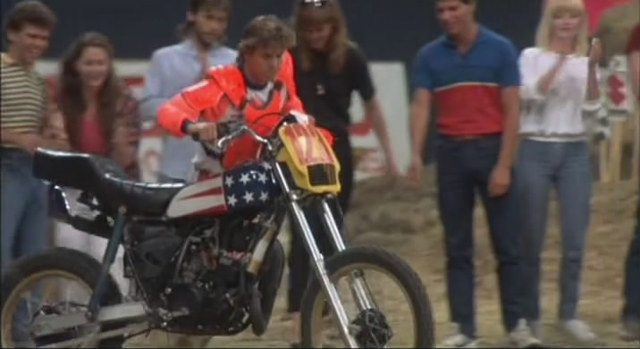 Rick Melon pushes out the "factory" machine for the final showdown.
Why is Rick Melon's bike so whacked out? Is it a Harley ??? Why does it look like he needs to slow the rebound wayyy down on the rear shock? Does it have street bike tires?
It's a 1982 YZ. There are more issues with that setup than Lindsey Lohan's personality. There is no way that bike would pass Tech. Although, maybe it is the Melon Edition bike, like Dungey's KTM.
Why does Rick Mellon look so squirrelly !!!!?
He is squirrelly! The guy sells seed all week and then lines up against Rick Johnson on Saturday? Psh, not buying that one.
How did the whole supercross race get in a fight so fast?
There was a lot of tension in the pits leading up to this brawl. Purse money was way down and referees had been throwing black flags left and right. It was a volcano ready to erupt. All it needed was Johnny Rivera's punk ass to ghost ride the whip one time to set off an inferno.
Why was that last race like the game road rash ? Haha
The most interesting thing about the last scene is how many riders participated! There was no purse money, no crowd, no team personnel, etc. I'll be damned if every rider didn't show up though! It was like Anaheim 1!
Why did I like that movie so much!?
It is one of the greatest movies in history. Every sport has their epic saga. Sailing has Titanic, football has Rudy, baseball has Major League, bowling has Kingpin, golf has Caddyshack, basketball has Space Jam, and this is ours.