Villopoto is consistent in the first three rounds of MXGP.
Villopoto is consistent in the first three rounds of MXGP.
Article: Jonathan McCready
Pic: KTM Images/YS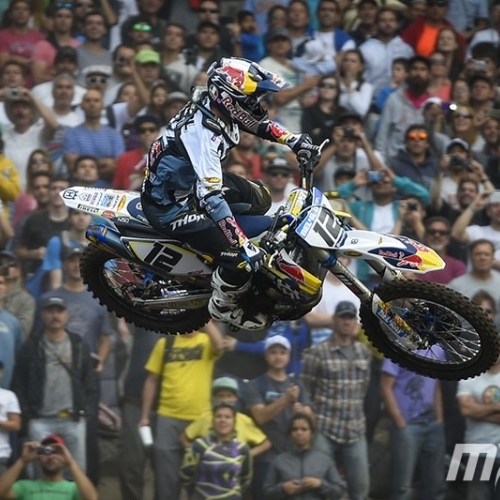 Nagl won his second overall of the season in Argentina.
A brilliant track in a beautiful location led to some tense racing in front of a great crowd in Argentina. But it was Max Nagl who enjoyed it the most with a superb overall win!
On Saturday the track was loamy and not very rough, it looked fun to ride and Ryan Villopoto was in electrifying form. While some of the riders wanted it rougher, Villopoto was loving it, and came from tenth to second only for Cairoli to keep him at bay in the final couple of laps to prevent the American from getting the win.
The track suited Villopoto perfectly, loamy corners and no big bumps suited his steer with the year, aggressive riding style and it showed. But while RV was giving it everything, Max Nagl admitted in his post-race interview that he let RV and Cairoli by but would fight them on the Sunday.
I'm not sure just how many people believed Nagl at the time but the German was true to his word come race time on Sunday! Nagl, who usually struggles to come through the pack, started just inside the top ten in race one on Sunday and moved up to third by the finish and passed Villopoto to do it!
In race two he got a better start but still had to pass Desalle and Cairoli to get into the lead and he did just that before controlling the rest of the race to take his second overall win of the season.
The German commented: "This is a fantastic result. I'm so happy for everyone involved that made this victory happen – it was a real team effort. We had some problems during Saturday but we managed to overcome them and with each lap on race day I felt more and more comfortable. With two wins from three rounds in these flyaway races I'm really excited to return to Europe for the next round in Italy."Nagl is back to his best form and this time he appears to have the mental strength to go with it.
Antonio Cairoli also picked up the pace from Saturday and was ready to pass Desalle for the win on the last lap of race one until he crashed doing a scrub and went down hard. Cairoli still had time to pick the bike up and hold Nagl off for second. In race two Cairoli admitted he didn't feel good in the beginning after his crash in moto but was happy with a podium.
"Every time on the podium, that's the way to the championship," admitted Cairoli, adding: "I wasn't really feeling good after the crash in the first moto and I was a bit dizzy at the start of the second. I lost my rhythm, the sun went down and Max (Nagl) passed me. After that I was feeling okay so I tried to pass Desalle and maybe get closer to Max, but by then the track was tricky and bumpy and I didn't want to risk a crash."
Cairoli is very calculating and he is looking at the big picture for the championship. He maintains he isn't on his best form yet and there is more to come. The Italian was third overall and is joint second in the championship, ten points behind leader Desalle.
Clement Desalle was brilliant in the first moto holding off Cairoli's mid-race charge and again on the last lap to take his first moto win of the season. Desalle (like Nagl) are showing what they can do with a full winter of preparation and no injuries hampering their seasons.
The Belgian looked like he would win the overall for over half the race in moto two but ended up third behind Cairoli and lost the overall on a tie breaker with Nagl. It was Desalle's worst moto of the year and it was still enough to tie him for the overall win! So far Desalle has went 2-2-2-2-1-3, that is incredible with such a deep field. He has a ten point lead over Nagl and Cairoli and already 27 over Villopoto. Desalle right now is still the man to beat for the championship!
It was a bad fourth then a good fourth for Villopoto in Argentina. Ryan just didn't have the pace in race one after the half way mark despite getting into third and stalking Cairoli. He ended up 20 seconds behind race winner Desalle.
But race two was a huge improvement. Despite getting fourth again, RV was able to stay with Nagl, Desalle and Cairoli for the entire moto in a race that any of the four could have won. Villopoto is maybe finally learning to pace himself and ride a bit smoother as well as learn how to set up the bike for rough tracks.
RV explained: "This weekend was OK; it's not exactly what we wanted but we were able to improve in the second moto and to be right up there with those guys was good, but we still need to find a little more, and definitively to improve our starts. It was tough without a good start, I was able to salvage and get up there and come with them in the front, but Max was riding really well, and so were Toni and Clement. To pass all those guys would have been hard but I think that if I had a little more speed I would have been able to make a little more happen. Once again I'd like to stop saying that but I need to get used to the format of the GP, and we'll do some more work with the team and hopefully be better in Italy."
The problem for VIllopoto is the first three races is where many thought he would do the most damage. The tracks suited him, especially Thailand and Argentina, and Argentina in particular was as neutral as you get, being a new track and new country for everyone.
Things will get even tougher for Villopoto in Europe on tracks that will suit his style less, beginning at the very next round in Arco di Trento in Italy. That track is super slick and even Cairoli didn't make the podium last year!
But no-one should panic, RV is still in this championship hunt and he knows how to win. Villopoto is learning quickly, 1-3-4-4 is decent for the last two GPs but the American just needs to show more versatility with his riding and bike-set on the different tracks once they go to the different countries and circuits around Europe.
It won't be easy, the World Championship is a different ball game to what he is used to racing at home in the AMA Nationals. RV was the man in the USA and was comfortable in his own country and on the US tracks but now he is just one of the many potential winners in MXGP and having to ride in a different country and track every week.
Villopoto has the ability and the intelligence to adapt, however, he needs to figure it out quickly because Desalle already has a 27 point lead on him and Cairoli and Nagl are also 17 ahead.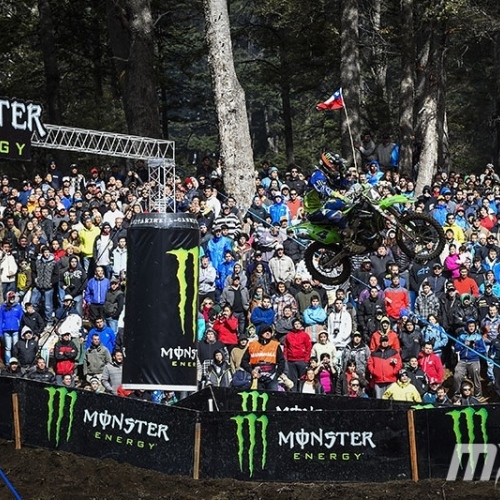 Ferrandis finished on top in the MX2 class.
But it's even tougher for Gautier Paulin right now. Everyone expected Paulin to be doing what Nagl and Desalle have been doing so far and taking it to RV and Cairoli but two terrible starts left Paulin never seeing the leaders all day as he struggled to a 6-7 for fifth overall. That's two bad races in a row and, like Villopoto, Paulin needs to turn it around quickly. The Frenchman will be hoping the hard pack of Italy will see him finally challenge for a win at the next round, because being 37 points of the championship lead already wasn't in HRC's plan three races in!
The Yamaha duo of Febvre and Van Horebeek could also win races this year. Febvre was again fast but crashed in race one just as he was looking to pass Villopoto. Van Horebeek crashed hard in the same lap and took himself out of a possible top five result too.
But in the second race both came back impressively. Van Horebeek and Febvre stayed with the leading four all moto even closing on them at the end of the race. And both will be looking forward to round four as the track should suit their styles perfectly.
In MX2 it was supposed to be the Jeffrey Herlings show but his teammate, Pauls Jonass, tagged the back of Herlings on the first lap of race one over a big double and Herlings went down hard!
It was a DNF for the title favourite and the Dutchman was lucky not to be seriously injured. Dylan Ferrandis duly took advantage and won the race to leave leading the championship by three points!
A battered and bruised Herlings took the line for race two and still won it. Ferrandis crashed trying to go with Herlings but salvaged second place to win his first overall of the season. Herlings and Ferrandis are now jointly leading the championship and confident Frenchman will be hoping he can beat Herlings straight up on the hard pack of Italy in three weeks time to take the red plate!
Pauls Jonass was a fine second overall and has been a revelation this season. Whatever Stefan Everts has been teaching the teenager in the winter has certainly worked!
It was the first podium ever for Jeremy Seewer and the consistent and steady factory Suzuki rider deserved it. After fainting in the heat of Thailand and not being allowed to race the second moto there, Seewer couldn't have wished for a better comeback. The Swiss youngster is now a full time motocross rider after combining racing and studying for the last few years and the extra time he can spend on the bike is showing already this season. Seewer will have more podiums, that's for sure!
It was another impressive ride for American Thomas Covington. Covington was strong all weekend and is hovering inside or just out of the top five on a regular basis so far. Last year things went downhill for Covington once they headed to Europe but he should be much better prepared this year and should be in the hunt every week for top five results. Covington deserves a lot of credit for what he is doing right now in GPs.
Tim Gajser had, at least for him, a poor weekend. He never really gelled with the track but still managed fifth overall despite some bad starts. Gajser will be looking for podiums and even challenging for race wins from here on out and so will Honda!
The next round of the championship will be in Italy and will be the first European round of the season. The tracks will be rougher thanks to nearly 200 European riders contesting the EMX250 and EMX125 series and from here on out the championship will really begin to take shape!
MXGP Overall Top Ten:
1. Maximilian Nagl (GER, HUS), 45 points
2. Clement Desalle (BEL, SUZ), 45
3. Antonio Cairoli (ITA, KTM), 44
4. Ryan Villopoto (USA, KAW), 36
5. Gautier Paulin (FRA, HON), 29
6. Jeremy Van Horebeek (BEL, YAM), 28
7. Romain Febvre (FRA, YAM), 28
8. Evgeny Bobryshev (RUS, HON), 27
9. Todd Waters (AUS, HUS), 22
10. Glenn Coldenhoff (NED, SUZ), 20 p.
MXGP Championship Top Ten:
1. Clement Desalle (BEL, SUZ), 133 points;
2. Maximilian Nagl (GER, HUS), 123
3. Antonio Cairoli (ITA, KTM), 123
4. Ryan Villopoto (USA, KAW), 106
5. Gautier Paulin (FRA, HON), 96
6. Romain Febvre (FRA, YAM), 95
7. Evgeny Bobryshev (RUS, HON), 72
8. Todd Waters (AUS, HUS), 62
9. Jeremy Van Horebeek (BEL, YAM), 60
10. Kevin Strijbos (BEL, SUZ), 55
MX2 Overall Top Ten:
1. Dylan Ferrandis (FRA, KAW), 47 points
2. Pauls Jonass (LAT, KTM), 42
3. Jeremy Seewer (SUI, SUZ), 32
4. Thomas Covington (USA, KAW), 28
5. Tim Gajser (SLO, HON), 27
6. Aleksandr Tonkov (RUS, HUS), 26
7. Jeffrey Herlings (NED, KTM), 25
8. Adam Sterry (GBR, KTM), 20
9. Max Anstie (GBR, KAW), 20
10. Brian Bogers (NED, KTM), 19 p
MX2 Championship Top Ten:
1. Jeffrey Herlings (NED, KTM), 125 points
2. Dylan Ferrandis (FRA, KAW), 125
3. Pauls Jonass (LAT, KTM), 112
4. Aleksandr Tonkov (RUS, HUS), 82
5. Thomas Covington (USA, KAW), 81
6. Julien Lieber (BEL, YAM), 80
7. Tim Gajser (SLO, HON), 79
8. Valentin Guillod (SUI, YAM), 73
9. Jeremy Seewer (SUI, SUZ), 70
10. Petar Petrov (BUL, KTM), 57