"Thankfully it appears Villopoto avoided serious injury."
"Thankfully it appears Villopoto avoided serious injury."
Article: Jonathan McCready
Picture: YS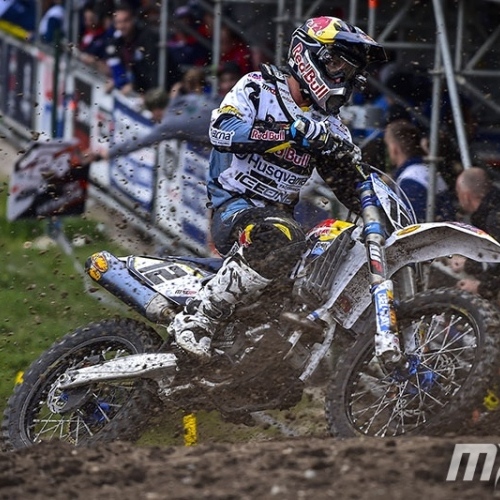 Nagl is on fire to start the MXGP season.
What a breathless GP that was! With three European classes plus MX2 and MXGP on track it amounted to nearly 300 riders racing on two days. It left the track set in the beautiful backdrop of Dolomite mountains slick, rocky, rough and extremely treacherous.
But the big winner was Max Nagl. The German has simply been brilliant this year on the Husky, and after shadowing Cairoli in an epic four rider battle for the win in race one, Nagl holeshot race two and simply checked out going a second faster than Cairoli. Villopoto and Desalle were behind him.
The German said he could have passed Cairoli in the first moto but it would have been risky and he didn't want to crash, but he admitted he went for it for the first ten minutes in race two when he had the lead. Both Nagl and Cairoli are tied for second in points only one point behind leader Desalle.
"It's been a great weekend but honestly this win is the result of yet another big team effort, said Nagl on his third GP win out of four rounds this season."During Saturday we made a lot of progress with the setup and I felt much more comfortable on the track. My start was good for race one and I was second behind Antonio for the whole race. We were having a great battle – I did feel faster in places – but I didn't want to take the risk necessary to make the pass stick. I was happy with second.
"When I got the holeshot in race two I decided it was my time to go. I gave it 100 per cent for the first 10 minutes and pulled a gap to win. I love riding at the minute and the team are working so hard for me – I can't thank them enough. It was also special to have my son here watch me race for the first time. Today was perfect."
It is interesting to see that Nagl had some set-up issue on the Saturday on a track that is unlike anything most of the riders see during the year. But he had it figured out by Sunday and unless Nagl gets injured it looks like he will be in this championship for the long haul and giving Cairoli plenty of headaches throughout the year.
Talking of headaches, Cairoli had one this weekend – but it wasn't because of Nagl. It was due to the fact he fell in the shower during the week, banged his head and needed 10 stitches! Cairoli though still performed when it mattered in front of his home crowd and went 1-2 on the day for second overall on a track that is one of his worst of the year. That is impressive, even more impressive is that Cairoli, despite not being on top form is now only one point of the championship lead. Since the second moto in Thailand Cairoli has went 1-2-2-1-2. The World Champ is turning the pressure up on the competition despite not winning a GP, and with Valkenswaard next, he may just have the points lead by next Sunday night. Cairoli's plan is working well so far!
But he can't relax because along with Nagl, Clement Desalle is seriously impressing so far. After crashing on Saturday in the qualifier Desalle had 22nd gate pick but somehow got away fifth in race one and seventh in race two. He passed Villopoto for third and was nearly got Nagl for second in race one and again came through to catch Villopoto for third in race two.
But when Villopoto crashed Desalle ended up crashing a few corners later and lost a place to a very fast Febvre. Desalle settled for fourth after dealing with his boot buckles being undone all moto and a rock in the boot. It was good enough to keep the championship lead and was an excellent salvage job by the championship leader in what could have been a much worse weekend.
So what of Ryan Villopoto? Before we get to the crash, let's start with his performance up to that point, it was very good! RV was down in ninth in free and timed practice but he got the start with Cairoli in the heat and admitted to learning some lines from AC and Paulin and as a result he found the pace he needed for Sunday.
In race one on Sunday Villopoto got a good start again in third and shadowed Nagl and Cairoli all the way until Desalle struck and demoted him to fourth. But his pace was good and he showed patience on a track that demanded it. This was probably one of the worst tracks of the year for RV but he showed he was figuring it out and slowing down to go fast.
Villopoto eluded to his strategy prior to moto two when he said it was important to be smooth and not push too hard on this track. Again Villopoto was running third and at times pressuring Cairoli. But just like race one Desalle caught Villopoto and started putting the pressure on. The aggressive Belgian wasn't afraid of the US champion and put a couple of failed block passes on RV who countered and held on to third but he was rattled and thinking about holding Desalle off instead of being smooth.
Then it happened, after another attempted pass by Desalle, Villopoto came off the jump on the outside with Desalle positioned perfectly for the inside going into the next turn, RV knew it too and gave it a big handful of throttle while trying to turn left to shut the door on Desalle only for the big Kawi to hit some breaking bumps and unbelievably loop out!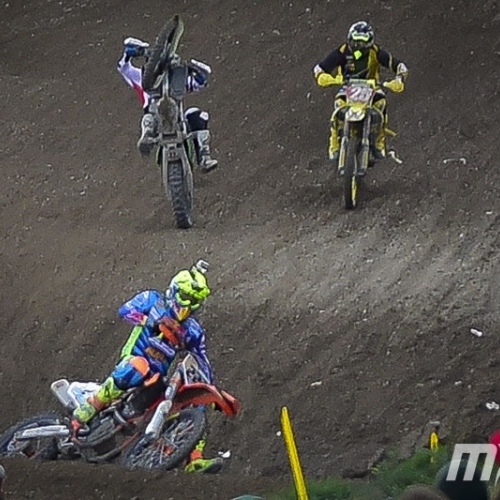 The crash heard around the world.
Villopoto crashed hard and the collective 'oh no' could be heard across the motocross world when he couldn't rejoin the race. Thankfully it appears Villopoto avoided serious injury and will race this weekend in Holland. But, his championship hopes have taken a big dent.
He is sixth in the championship, 47 points behind Desalle, and 46 behind Nagl and Cairoli. Is he out of the title hunt? No, it's far too early and Ryan has too many championship credentials, but he is against the ropes a bit with not much more margin for error. Villopoto now needs to go on a string of 1-1 GP wins to get back in this or hope that the riders ahead of him have some bad luck. It's not the position he wants to be in but Villopoto has to go for it now, he has no choice.
Part of the problem is Villopoto just can't ride with the aggression he has in the USA on all the GP tracks, the circuits are too diverse and require a different technique at each track. Does he ride hard and aggressive like the USA or ride smooth on the rougher tracks? Does he soften the bike or stick to the USA settings? Villopoto is struggling for routine right now because each track presents a brand new set of problems he has never faced before. It's tough for him but Villopoto has never been afraid of a challenge, and I expect he is even more motivated to win now.
Talking of problems, Gautier Paulin has some of his own. He just cannot get a good start on the HRC Honda! Paulin was one of the favourites to win this weekend and he was fast but bad starts, just like Argentina, meant he was starting behind the championship contenders and while he matched their pace he couldn't catch them. Paulin said they will do more testing this week but, like Villlopoto, he needs some wins soon to stay relevant in the title hunt.
Romain Febvre was superb again, a seventh in race one was followed by a blistering third in race two and he almost passed Cairoli on the last lap. Febvre is now fourth in the championship and leaving a lot of people red-faced who doubted the quality of Herlings' competition in MX2 last season.
In MX2 it was Tim Gajser who stole the show from Jeffrey Herlings! It was his first GP win and it came down to a last lap shoot-out with Herlings who had come from tenth, but teenager Gajser kept his pace up and wouldn't give in, leaving Herlings to overcook it on the last lap giving Gajser the win on the tie-break!
His 2-1 results showed everyone just how talented his is and that Herlings can't give the Slovenian a head-start on hard pack track like this. Herlings went 1-2 on the day and graciously congratulated Gajser on his hard fought win. Herlings is looking at the big picture and knows he needs to play the long game to win the title.
Jordi Tixier was back after his ban in Argentina and scored two holeshots and two third places for a very satisfactory day for the World Champion. Tixier was missing the confidence and speed he had in pre-season but this was a big step after the mess of the first three rounds.
Dylan Ferrandis lost more points than he wanted too on Herlings after two terrible starts. You just can't expect to beat Herlings starting behind him and Ferrandis will be the most frustrated rider leaving Italy not named Ryan Villopoto. He salvaged fourth overall but he knows this should have been the track he could have pushed Herlings for the win.
It was a fine fifth overall for Max Anstie despite a crash in race two. The Dixon Kawasaki man is looking good this season and the bike seems more reliable. He loves the sand and will be pumped for the Dutch GP this weekend – Anstie could podium there!
It was a terrible GP for Thomas Covington who just couldn't adapt to the track, saying: "I never had a feeling with this track; every time I tried to push in both motos I ended up crashing."
So the World Championship now heads to the sand of Holland this weekend for round five after the hard pack of Italy, underlining just how versatile you have to be to win this championship. And you can bet Cairoli and Herlings just can't wait for the sand!
MXGP Overall Top Ten: 1. Maximilian Nagl (GER, HUS), 47 points; 2. Antonio Cairoli (ITA, KTM), 47 p.; 3. Clement Desalle (BEL, SUZ), 38 p.; 4. Romain Febvre (FRA, YAM), 34 p.; 5. Gautier Paulin (FRA, HON), 32 p.; 6. Evgeny Bobryshev (RUS, HON), 28 p.; 7. Ken de Dycker (BEL, KTM), 26 p.; 8. Davide Guarneri (ITA, TM), 22 p.; 9. David Philippaerts (ITA, YAM), 21 p.; 10. Shaun Simpson (GBR, KTM), 20 p.
MXGP Championship Top Ten: 1. Clement Desalle (BEL, SUZ), 171 points; 2. Maximilian Nagl (GER, HUS), 170 p.; 3. Antonio Cairoli (ITA, KTM), 170 p.; 4. Romain Febvre (FRA, YAM), 129 p.; 5. Gautier Paulin (FRA, HON), 128 p.; 6. Ryan Villopoto (USA, KAW), 124 p.; 7. Evgeny Bobryshev (RUS, HON), 100 p.; 8. Todd Waters (AUS, HUS), 78 p.; 9. Jeremy Van Horebeek (BEL, YAM), 75 p.; 10. Davide Guarneri (ITA, TM), 70 p.
MX2 Overall Top Ten: 1. Tim Gajser (SLO, HON), 47 points; 2. Jeffrey Herlings (NED, KTM), 47 p.; 3. Jordi Tixier (FRA, KAW), 40 p.; 4. Dylan Ferrandis (FRA, KAW), 34 p.; 5. Max Anstie (GBR, KAW), 32 p.; 6. Jeremy Seewer (SUI, SUZ), 29 p.; 7. Valentin Guillod (SUI, YAM), 28 p.; 8. Benoit Paturel (FRA, YAM), 25 p.; 9. Brent Van doninck (BEL, YAM), 21 p.; 10. Julien Lieber (BEL, YAM), 21 p.
MX2 Championship Top Ten: 1. Jeffrey Herlings (NED, KTM), 172 points; 2. Dylan Ferrandis (FRA, KAW), 159 p.; 3. Pauls Jonass (LAT, KTM), 133 p.; 4. Tim Gajser (SLO, HON), 126 p.; 5. Julien Lieber (BEL, YAM), 101 p.; 6. Valentin Guillod (SUI, YAM), 101 p.; 7. Jeremy Seewer (SUI, SUZ), 99 p.; 8. Aleksandr Tonkov (RUS, HUS), 95 p.; 9. Thomas Covington (USA, KAW), 86 p.; 10. Jordi Tixier (FRA, KAW), 75 p.