Marvin Musquin controlled this series top to bottom.
Marvin Musquin controlled this series top to bottom.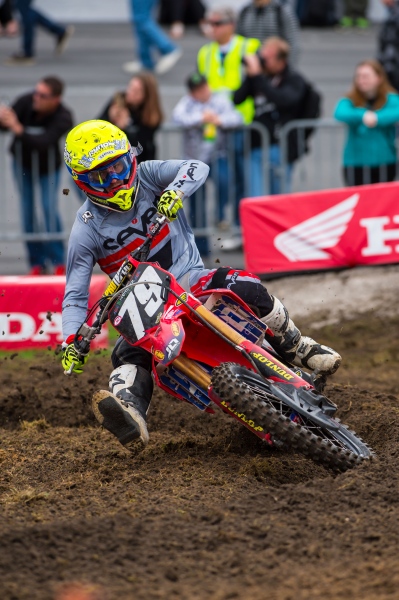 15th Jace Owen
Best Finish: 9th St Louis
Worst Finish: DNQ
Well lookee here! Owen's very talented and oftentimes posts a pretty good practice time for a privateer dude. And you watch him out there and can see he's got some skills. Last year was his first in SX and about mid-season he just disappeared off the team he was on and I really couldn't get a straight answer on what happened to him. Well this year he came back as a privateer on Honda's and although early on he was back to his "this dude's fast but can he keep it together"-mode, later on in the series he started getting real results. Up until his breakthrough in St Louis, he was better know as the 2015 version of Shawn Rife AKA-fantasy SX killer. But something clicked in St Louis and he made it into the top ten. Confidence blossomed from there and he scored double-digit points in the next three races to close the series out. Ok so this kid has something there, he's salvaged his career a bit and let's take a look at him outdoors and then next year in SX, I could see him breaking through a bit.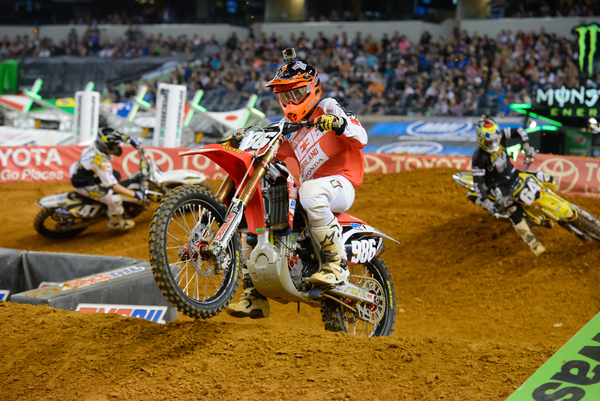 14th Colt Nichols
Best Finish: 6th Detroit
Worst Finish: DNQ
It feels like I've been hearing about Colt Nichols for a while, NYK tried to hire him, Albertson said he was going to be on the Crosslands team last year but he chose to race Arenacross. Well this year we got to see Nichols and guess what? The hype was legit. He was very good, as it goes for any non-superstar rookie, there were some bad races here or there but generally speaking, Nichols was a surprise in his practice times and his main event results. He missed the last race (and the rest of the season) with a knee injury but he had a chance at top ten in the points. There's no doubt that Crossland's should keep him next year and beyond as there's something to work with here.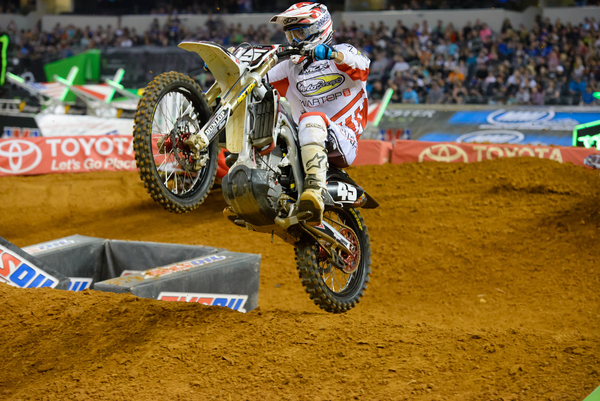 13th Vince Friese
Best Finish: 6th Dallas and Atlanta
Worst Finish: 13th
Yeah the 250SX field hasn't been the strongest the last couple of years but still, Friese had logged some impressive results as a privateer on the Motoconcepts team. This year, in a way more stacked class, he was on his way to doing that again when he crashed and hurt himself at Indy. He soldiered through that nights main event but the injuries were too bad to go on. Hence this finish. He was consistently the leader of that next group of guys after Musquin, Bogle, Martin and Savatgy and probably could've landed on a podium at some point. With his starts, he's always going to put himself in good position.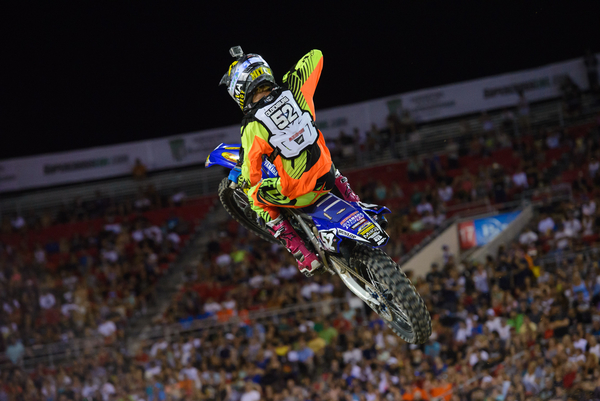 12th Mitchell Oldenburg
Best Finish: 8th
Worst Finish: DNF (crash)
"We can work with speed" is what Mitch Payton told me one time and it's true in the case of Oldenburg. Yeah he finished 12th in the series on the ARMA Yamaha squad but he was more impressive in practice and some main events. On privateer equipment, Oldenburg was impressive at times. He also took a lot of dirt naps and had some close calls but he's not scared to pin it. And he seems to be a kid who's in good shape and is tough. He didn't practice much during the week from a hand injury and still came out and pinned it. There were many times he was in the top five in practice. This is his third 250SX season and he's gotten a 7th before in the weaker coast years but I would say he was more noticeable this year than ever before. TLD KTM has picked him up for the 250MX series and it will be interesting to see how he does with a factory bike and support.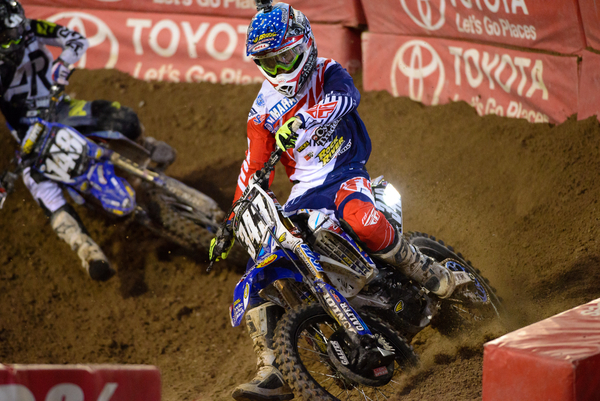 11th Luke Renzland
Best Finish: 7th
Worst Finish: DNQ
Another rookie, Renzland raced a few nationals last year for this team and did pretty well. He was a bit lost in the hype of the other Yamaha amateur kid Aaron Plessinger I feel but he still did well. He's got to work on his starts but he appears to be in shape and grounded enough to know that he doesn't know the game of supercross just yet. I think having Alex Martin around him on that team will help out as he can see what a veteran guy does to be ready. Luke had a couple of DNQ's along the way and I suppose that's to be expected from a rookie. He didn't have any "OMG LOOK AT RENZLAND" moments where he was brilliant but he was steady.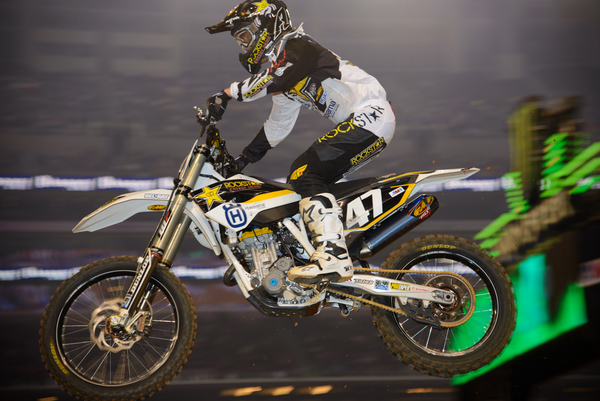 10th Martin Davalos
Best Finish: 4th
Worst Finish: DNF
I mean, what else can you say about Marty at this point? He's had great bikes and made lots of money in this class and outside of last year, can never seem to pull it together. I will say that this year he had WAY less moments of amazement by Davalos than ever before. But then again I had heard his bad injuries suffered last year were still causing issues. Later on in the series he went out with an illness what was Epstein-Barr "like". Well, hey, hopefully next year he pulls it all together and figures out why the anvil keeps falling on him.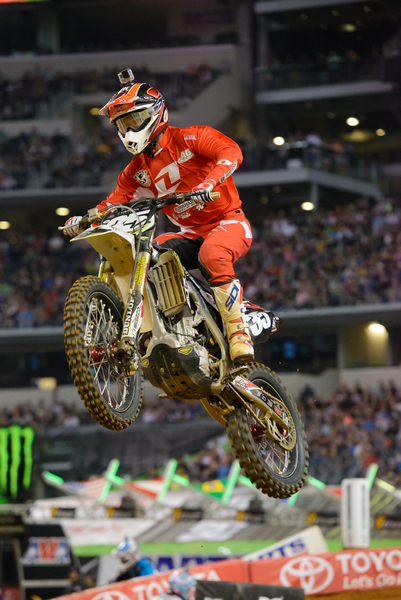 9th Kyle Cunningham
Best Finish: 5th
Worst Finish: DNQ
Three rounds into the series, Kyle had a crashout DNF, a DNQ and a 15th which for a guy like him, wasn't good. Thankfully for him he pulled it together somewhat and ended up with a decent year. Decent I said, not great. Kyle's another guy that's been in this class for too long without much success and you have to wonder if his luck/results/bank account would change if he moved up to the 450 class. He is racing the 450MX series so I guess we'll see. Like Davalos, Cunningham is good for some amazing rides here and there but this year, they weren't there. I know he was battling his bike a bit so maybe that was it. Time to move up I say.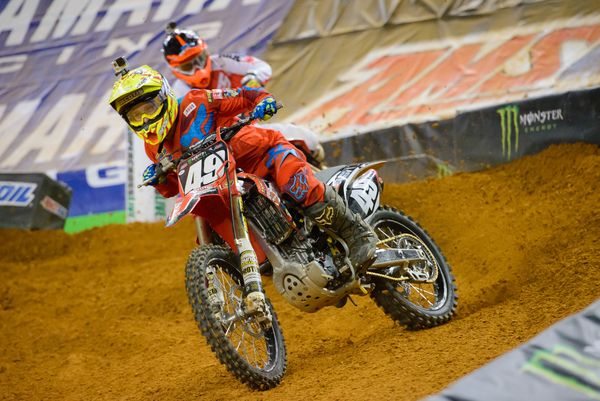 8th Jimmy Decotis
Best Finish: 5th
Worst Finish: 18th
JIMMMMMYYYYY DDDDDDDD had a slow start to the series but claimed to me that he had never worked harder and was in the best shape of his life. I had my doubts but after a couple of rounds he started becoming the old Jimmy D but didn't fade as much as the old Jimmy D so that's a good thing. Decotis has some good supercross skills, he's not scared to jump stuff and on his bike, I thought he did pretty well. There's no machinery gap bigger in our sport than in 250SX…the factory machines and personal are a huge help in my opinion. So anyways, guys like Decotis, Oldenburg who show speed on machines that, again in my opinion, probably aren't as good as the guys around them is always impressive. Decotis had a shot at 6th in the points but a bad final round (in sort of his hometown race in NYC) did him in. He's going to Canada this summer to take his talents up there in the MX2 class.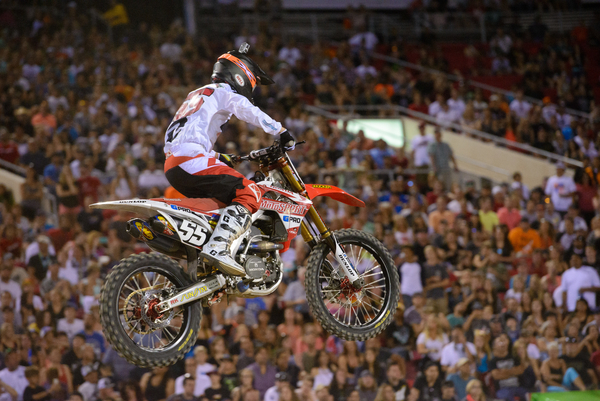 7th Kyle Peters
Best Finish: 7th (twice)
Worst Finish: 13th
Nice job by Peters here to get a 7th. In a class filled with kids who make mistakes, the way to score a great series finish is make every main and finish between 7th and 13th which is what Peters did. He got this result without much fanfare really, he was a working mans 250SX hero. Good starter, in shape and consistent laps get you a good finish. I guarantee you that most people noticed Nichols or Oldenburg more than Peters this year (Kyle's had a few years like that—he's just not flashy guy on or off the track) more than Kyle but yet here's Peters with this solid finish.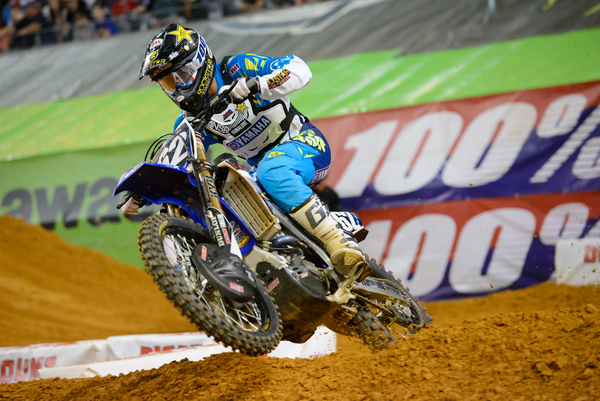 6th Anthony Rodriguez
Best Finish: 5th (twice)
Worst Finish: 16th
Well we all said that if A-Rod could stay on the bike he would do well and he did just that. The Star Racing Yamaha rider has got some skills but it seemed every time the last couple of years he would show something, you would see yellow flags waving shortly after. Rodriguez had a tough start to his SX year but got better as the season went on to get this position. With Star Racing's history of not really giving guys a chance over there (hello Kyle Peters!) I'm surprised that they kept Anthony for this year and glad to see the wait was worth it. He's got skills-you can see that- but he's got to keep it upright. Finally, this 250SX season, he did just that. I don't know him at all but by all accounts he's a nice kid also.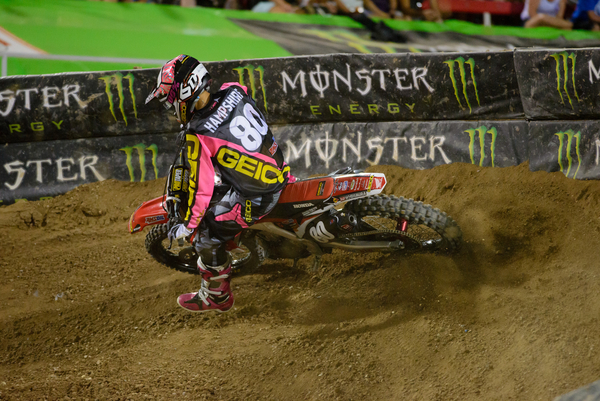 5th RJ Hampshire
Best Finish: 3rd
Worst Finish: DNS
Hampshire's rookie SX season and a 5th (with missing a race!) is great to me. Next year he'll take that next step up, get some podiums, maybe a win, and then in 2017 go for the title. That's how these things work unless your name is Stewart, Carmichael or one of those types of dudes. RJ had a good season despite crashing hard in Dallas in practice and then missing one round totally after crashing in practice. When I asked him one thing he had learned about SX in his rookie season he said "It's not as easy as it looks" which is refreshing to hear. He's coached by the great Tim Ferry who can vouch for the fact that podiums get you titles in this class!
Speaking of Ferry, I asked him RJ's greatest strengths and weakneses and he had this to say "Strength is he likes competition. Would rather race the best and try to beat them. When AC was racing a local Florida race a while back he went to try and beat him. He isn't afraid to fail. Weakness is he needs to stay off the track, he's always runnning off it."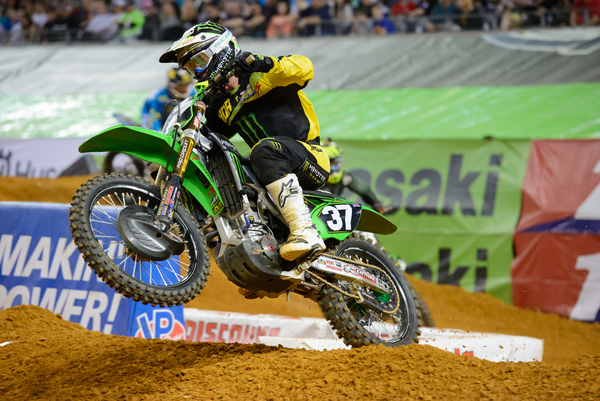 4th Joey Savatgy
Best Finish: 3rd (4 times)
Worst Finish: DNF
This is a nice season for Savatgy in that he didn't have a lot of career supercross races when he came into the series. Something like seven career starts so even though he's a MONSTER ENERGY PRO CIRCUIT RIDER you look at no wins and a fourth in the points and think that he didn't do very well but this was ok. I dont' think he surpassed expectations but he wasn't a failure either. He won some heat races but there wasn't any point where he was on the same level as Musquin and Bogle but he was right there with Martin many races. Nothing wrong with this finish or his SX year and next year, he'll be better.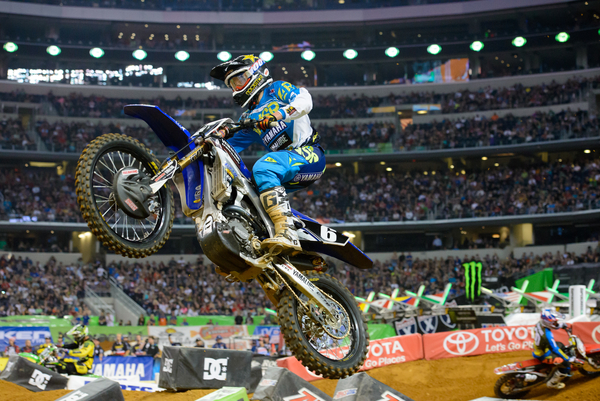 3rd Jeremy Martin
Best Finish: 1st
Worst Finish: DNQ
I know he won a race but I'm sorry, I can't get over Jeremy not qualifying for a main event for the third year in a row. How do you go from winning to not being able to make the main? There's definitely something mental going on with this guy in terms of supercross because in case you didn't notice, HE WON THE 250MX NATIONAL TITLE! Like Savatgy, he was never really as good as Bogle or Musquin this 250SX season but he was much better than ever before. You could see at times his racecraft in traffic needed work. He had a tendency to freak out and just grab a bunch of throttle which left him in trouble more times than not. Still, let's focus on the positive here not the DNQ which is still amazing and say that Jeremy got a win, he'll be in the class next year and let's just hope he makes all the mains. I know, I'm a dick.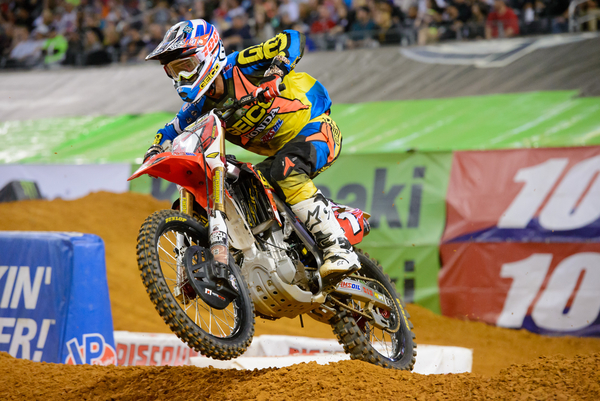 2nd Justin Bogle
Best Finish: 1st
Worst Finish: 4th
Bogle's title defence was fine…in fact most years seven podiums in eight races would get you a title. Bogle came into the series a bit behind the curve due to a late surgery he needed but you could've fooled me as he was pretty strong right off the bat. I wonder how many times we hear a rider is "late" in his prep when in fact he's perfectly fine? Not saying this is the case here but just a random thought. Bogle finished only 23 points behind Musquin and again, he did well, but it seemed to be much more of a gap then that. He was just that much better than everyone else in the class but Marvin was able to catch and pass him more than a few times. Bogle's win in Detroit was great though. I think they could've ran that race for another 20 laps and Marv wasn't going to catch the Bogle Monster. Great season, not great enough though.
1st Marvin Musquin
Best Finish- 1st
Worst Finish- 2nd
Uh yeah, this guy had a fabulous season to remember. Six wins and two seconds in eight races? Wow. Marvin came in as the slight favorite to win this title and he was better than most people thought he would be. Some people are saying "Well, duh, he SHOULD wax these guys, he's a two-time World Champion, has been in the 250 class forever, is on one of the best bikes and has experience over these kids" which is a good point. Him winning wasn't a huge surprise but I'd say the way he dominated was. He was better than expected and is really on a roll. Marvin seemed to be able to jump anything he wanted by taking any line, he was able to slice through traffic whenever he needed to. Expect him to be in the 250MX fight all summer also but don't look for him to defend this title, he's onto the 450SX class next year.