Cooper Webb reigned supreme in the East but what about the rest?
Cooper Webb reigned supreme in the East but what about the rest?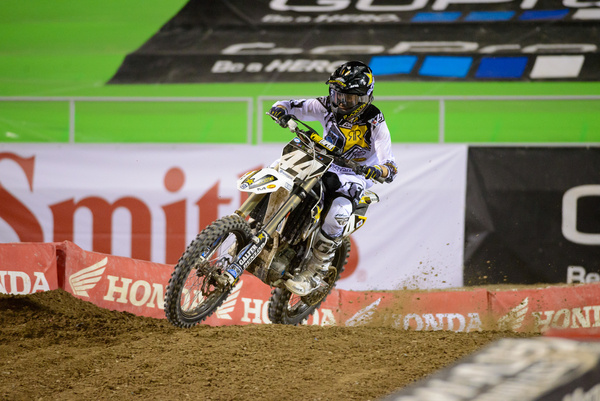 15th Zach Bell
Best Finish: 7th
Worst Finish: DNF
Bell had some decent rides here and there but stop me if you've heard this before, he crashed a lot as well. Sucks for Zach that his best race of the year was San Diego where the west series proceeded to go on a long break. Nothing like being able to carry some confidence into the next week right? Bell looked good at times, he was impressive at A1 but he can't keep it on two wheels long enough to log good enough finishes. His window as a guy that can get viable rides is closing here because teams need riders that can stay on the track. Let's hope he figures it out soon.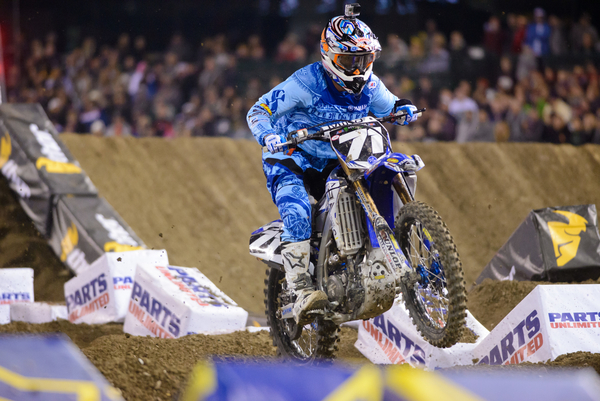 14th Cole Martinez
Best Finish: 10th
Worst Finish: DNF
Martinez was the second guy in the points who probably had the least amount of help. Not slamming his Strikt team at all but all the guys ahead of him but one had good bikes and maybe even made some money. He's the guy who almost did the most with the least ok? That will probably still get some people angry but whatever. Martinez first made his name a couple of years ago as a full privateer but last year struggled with injuries. This year he was back and I was impressed with him in that I often saw him out of qualifying position in heats or LCQ's and he was forced to ride himself into a spot.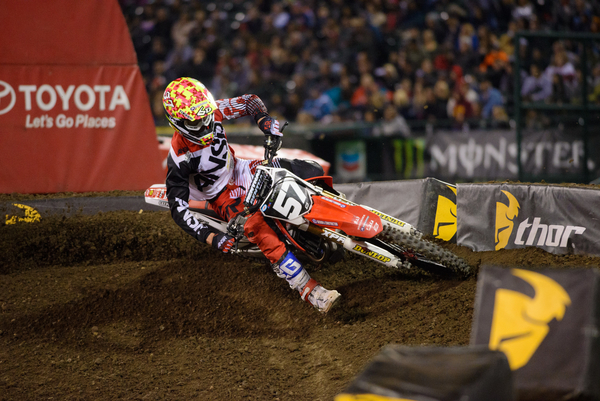 13th Jackson Richardson
Best Finish: 6th
Worst Finish: DNQ
Thanks to a strong last round in Santa Clara, Richardson pulls ahead of Martinez in the "guy who did the best with the least". Congrats! This Aussie kind of flies under the radar out there and he didn't qualify for A1 which is a bit of a shock also. He, like Martinez, has shown the ability to be "that guy" that people may not know who he is but this guy now has a 13th overall to go with his 15th overall last year and 18th overall in 2013. Solid results for a guy whose just grinding away at the game.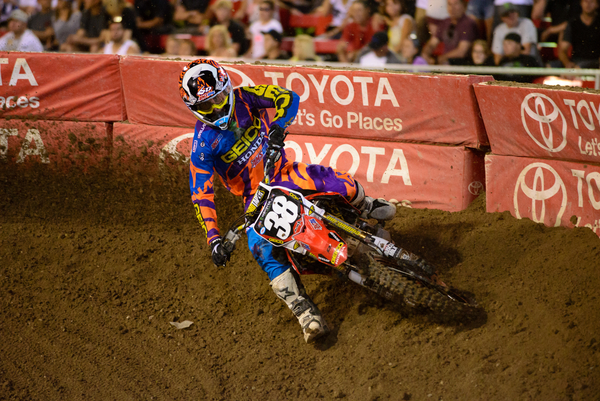 12th Matt Bisceglia
Best Finish: 5th (3rd in the shootout though!)
Worst Finish: 15th
Matt missed a couple of races with injury so this explains this finish. As a GEICO Honda guy, you want to see him be way more consistent than he's been so far. WAY too many crashes and LCQ appearances for The Bisch if you ask me. Still, there's something here that shows he can be "a guy" as he's gotten a couple of podiums in Vegas the last couple of years. At times he looks great and fulfills what you want of a top flight guy but as I said, too many times there are too many mistakes. Matt's probably on his last chance to impress this coming outdoor series because when you have a bike and team like he does, you only get so many chances you know?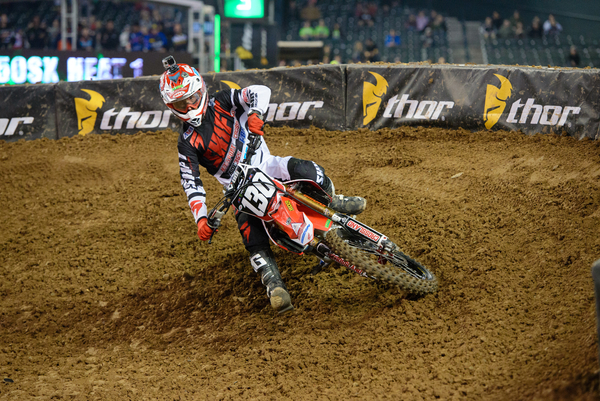 11th Tommy Hahn
Best Finsh: 8th
Worst Finish: 16th
Hahn, making a comeback to the sport this year, didn't really show much flashes of speed like he used to have but he was consistent week in and week out. I don't remember a time where he got a blazing start and set the pace for a few laps but then again I don't remember any massive mistakes either. He's a veteran racer so he understands how to keep it together for 15 laps and not spaz out like some of the kids around him. 11thoverall isn't probably what he was hoping for but it's tough to come back into the sport after you've quit a few times…it just doesn't work looking at past history of racers. Also the money in the 250SX class isn't great so it's not like he's killing it there either. Tommy had some backers that gave the Crossland team some money for the ride so you have to hope they stay into it and enthused about his riding.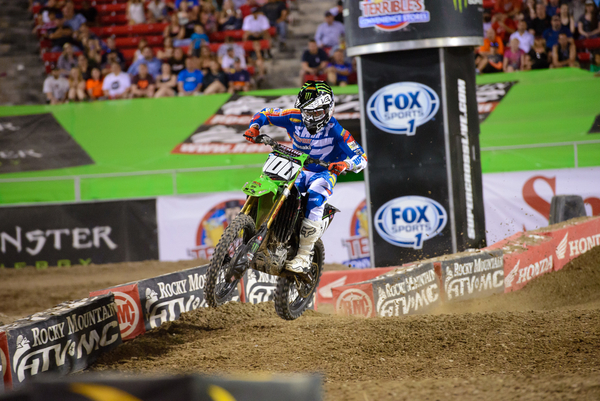 10th Josh Hansen
Best Finish: 4th
Worst Finish: DNF
Going into the season we talked about Hanny as a potential race winner and consistent top five guy. Well, it didn't happen. I think he had a podium in the bag in Santa Clara if his bike didn't break but thems the breaks (literally). So this position, when you take in he made every main, is nothing but a disappointment. And like Hahn, it's not like this spot means Hanny is killing it in terms of making cash. The good new is he stayed out of the drama, wasn't a jerk on the track like he's been in past years and seemed to be putting his head down and working hard. I don't know his team funding situation all that well (it looked pretty good) but it's time for Hanny to move up to 450's if he can…he can at least make mains, put in some good rides here and there and make some money. Josh had flashes here and there but in the end, he wasn't as good as many of us thought he would be.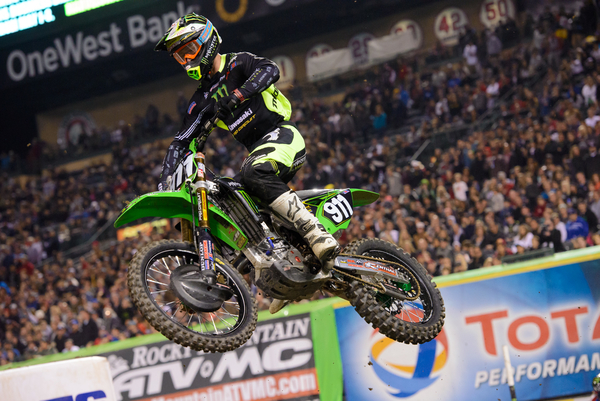 9th Tyler Bowers
Best Finish: 2nd
Worst Finish: 15th

Bowers was probably going to get second in the series before exiting stage right with a back injury. His return to SX was exciting to say the least with his battles with Cooper Webb and all the drama around that. 911 was a good number for him! He was also about four turns away from winning his second career supercross also before Webb got him. I admit, I didn't think bringing a guy that's pretty big for a 250F that's been in AX for so long was that good of an idea but he surprised me. He was good in the whoops (not shocking) and his fitness seemed to be pretty decent also. Webb was just that much better than everyone else (Bowers season was a little like Bogle's in the east in the fact that it was great but there was just one rider who really stepped up) and Bowers wasn't going to be able to stop him.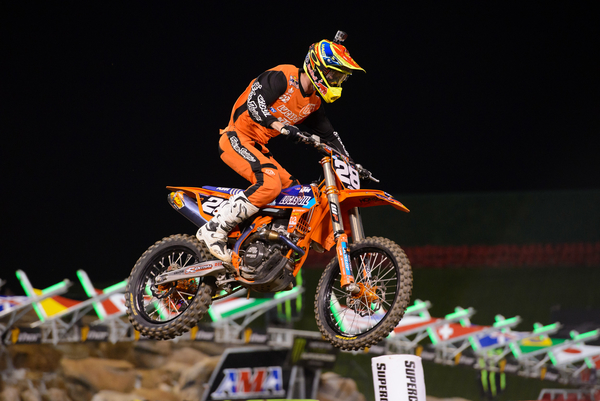 8th Jessy Nelson

Best Finish: 1st
Worst Finish: 10th
Oh what could have been for Nelson. Coming out and blitzing the first round was impressive and even after that, the kid looked to have this thing in control. But then while leading Anaheim 2 and seemingly having it on lock (although Webb was coming on) Nelson effed up the over/under bridge then crashed about thirty feet later all by himself. Had he taken that win he would have gone 1-3-1 in the first three races and had a nine point lead on Webb with just over half the races left. Instead of nine up, he left four down and crashed in the first turn that next race in Oakland. He got on the box one more time then missed the last two races due to injury. Who knows what would have happened had he gone on to win A2? Anyways, don't be surprised if this kid is your 2016 250SX West Champion.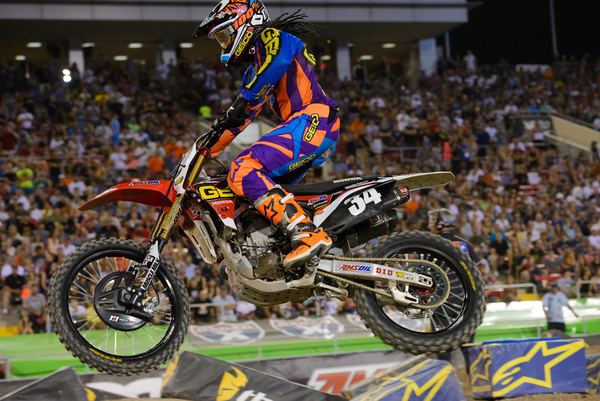 7th Malcolm Stewart
Best Finish: 1st
Worst Finish: DNF
GEICO got themselves one hell of a deal with Mookie as he wasn't able to find a 450 ride he wanted (last year Mookie pulled a "Pourcel" where he announced that he was done with 250's and looking forward to 450's but then couldn't find a ride…the lesson is kids, be sure of what's going on before you just eliminate yourself from half the teams in the pits) and GEICO got him late on what I would imagine was a cheap deal and he won a race for them. That was the good. The bad was Mookie was Mookie where he couldn't be consistent every week (a little bit like James Stewart…hey wait! They're brothers!) and crashed out of two races and had a poor third one. You just can't do that in a short series. But hey, Stewart's aren't build for consistency, they're built for flashes of brilliance and we got that out of Mook. The team liked him so much that he's signed up for next year in 250's where he will probably once again go really fast here and there but also make a bunch of mistakes.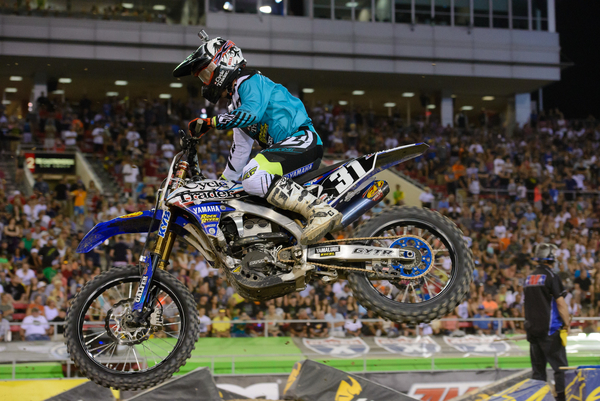 6th Alex Martin
Best Finish: 3rd (twice)
Worst Finish: DNF
Look at Alex! He got a lot better in supercross this year than in the past and he was on the west coast also. For only the second time in his career he rode the west coast and it agreed with him. Martin credited the good bike and team structure around him as one of the reasons he was able to shine this year. He got a couple of podiums which is awesome for him and his team. It's so rare to find a veteran guy who gets better as the years go on. Usually there's a curve of excellence and a rider gets as high as he's going to get on the curve within a year or two of him entering pros. Well, with A Mart that's not the case. He works hard, takes his job serious and yet understands who he is and what he does. Nice to see good things happen to good people.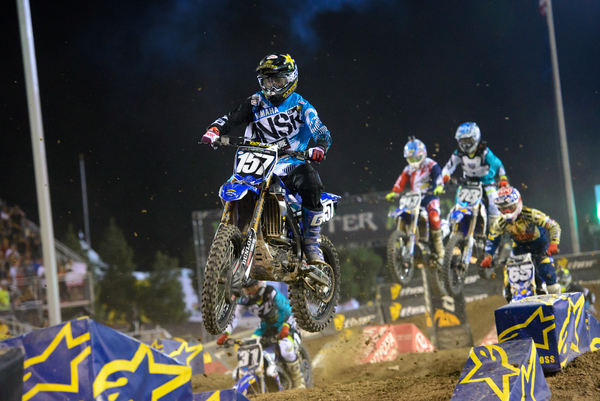 5th Aaron Plessinger
Best Finish: 3rd
Worst Finish: DNF
This guy was good right? Like, amazeballs good for a rookie. Everyone knows I don't follow the amateur stuff that closely (I'm too busy with USA and Canadian pro series as well as the GP stuff…my brain can only handle three series) but I do know enough that there wasn't much Plessinger hype coming into the series. But the kid impressed with a podium, consistent rides and he looked to be in shape as well as he ripped through the pack a few times. Technically he looks a little like Windham to me in that he's taller and doesn't move around on the bike much. Nice rookie showing to get fifth in the points first year out (same as Hampshire on the east) and the future is bright as long as he doesn't get caught up in SoCal life and all the distractions it brings.
On another note, one thing that amazes me about some of these kids who race and have some success in the 250SX class is how full of themselves they get when success in this class means little in terms of how your career goes. Don't get me wrong, it's great to win or do well in the regional series but motocross history is littered with dudes that either won titles and races or were VERY good in the small bike SX class and didn't go on to do jack squat as a pro. While I know it's hard to keep perspective on this when you're 19 years old and killing it, someone needs to remind some of these kids that they really haven't done much and that 100K they made as a 19-year old racing a regional series isn't going to get them a private island. To be perfectly blunt, we have WAY too many ball lickers around these kids telling them they're awesome. Can we maybe call a meeting and get these guys under control? This has nothing to do with Plessinger who I've barely met or been around, just something that came to mind after seeing and hearing some things about some of the top kids in the 250SX class. Ok, rant over…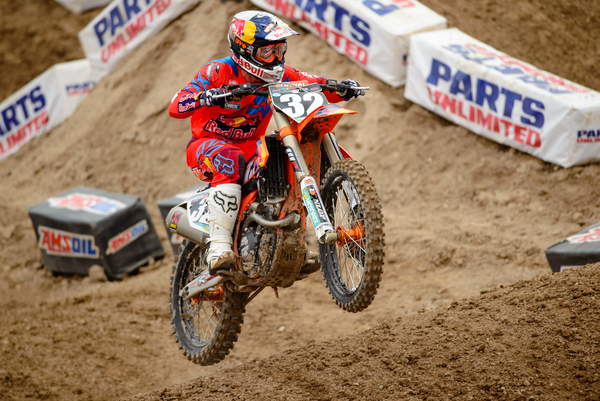 4th Justin Hill
Best Finish: 3rd
Worst Finish: DNF
I guess looking at this and seeing Hill finishing fourth would make people who look at results years from now think it was ok. But in the reality of going to the races there were at least three guys (Bowers, Nelson and Mookie) who finished behind Hill in ponts that were consistently faster. This 250SX season can't be looked at anything but a disappointment for Hill who's in his first year at KTM and was stolen away from Pro Circuit for more money. But this isn't a lost cause, Hill's very fast, he was right up there most times in qualifying and he won a bunch of heats. Just in the mains he couldn't get it going. We talked about Hill as a potential title threat and he wasn't close. It was a weird season for Justin and I know he came into the year with some injuries but still, to me if you can win 6 lap heats, you can't use injuries as an excuse in 15 lap mains. The good thing is Hill got a lot better from year one to two on Pro Circuit so hopefully the same thing happens here.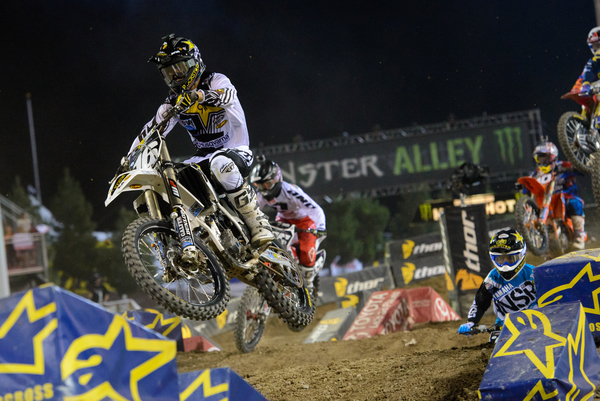 3rd Zach Osborne
Best Finish: 2nd
Worst Finish: DNF
Osborne looked great at Anaheim one, like he had done his homework on the new Husky team and was ready to kick ass. Then he got into a stuffing match with Tyler Bowers that ended up with a cracked thumb and that was it. Somehow he finished second at A1 but we all figured that injury was going to catch up to him and it did. He wasn't the same guy after the first round as he wasn't practicing much and therefore his chance at winning races went bye-bye. He still did pretty well though, his best 250SX points position of his career but he was often times the best of the rest of the dudes as Webb, Bowers and Nelson fought it out. Osborne's a serious dude, he works hard and although SX doesn't come naturally to him, you can tell he's older and more experienced than those dudes around him. And he's in shape. So oftentimes he can make something out of nothing. And then other times he gets cleaned out in the first turn in Santa Clara and loses second place in the points and almost gets put down to fourth.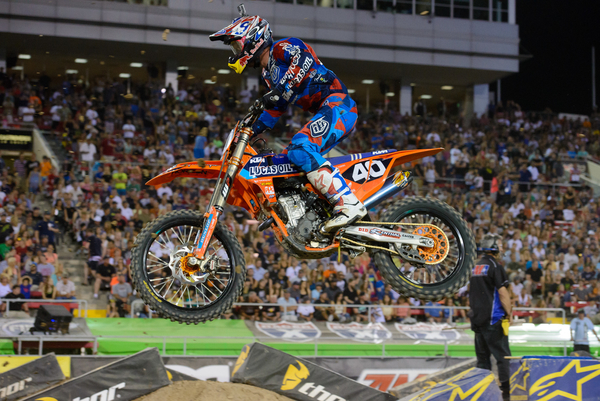 2nd Shane Mcelrath
Best Finish: 2nd
Worst Finish: 11th
I said Nelson has a great chance at being a 250SX champion in 2016 but I would put Shane right there with Jessy. You can see the switch was flipped with him this year and he sort of figured things out. Next year TLD KTM will be doing both east and west series so maybe they split the guys up to give them a great shot at a title. Shane's a bigger dude but I think that helps him as much as it hurts him. I had heard he was looking for a 450 ride next year but I also heard he was locked in with TLD on the 250. Getting a second at San Diego and then eight weeks later when the series picked back up to get another second it pretty cool. This is a sleeper title contender next year, you watch.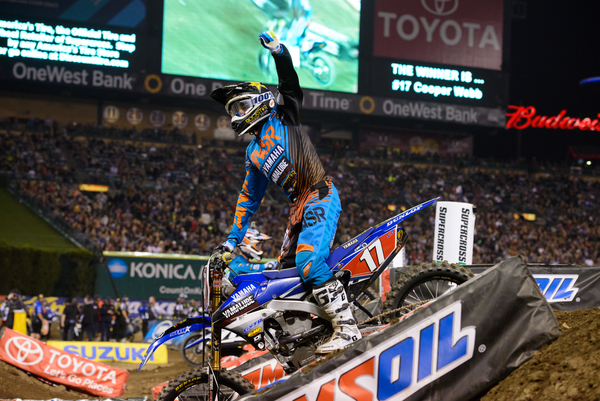 1st Cooper Webb
Best Finish: 1st
Worst Finish: 7th
Wow! What a season for Webb. Amazing really, he was obviously projected to be one of the guys fighting for a title but like Musquin on the east, he made sure that there wouldn't be a fight at all. This kid could rip through the pack and win, he could holeshot and win, he could crash badly in practice and still win…whatever you wanted to throw at him, he could handle it. He also just looked like he could put his bike wherever he wanted to and still clear the obstacles. And by the way, the Yamaha looked pretty awesome under him. Is it clear yet that I was impressed? Webb took his game to another level this year and I'm interested to see if he can do the same outdoors. This 250SX west title, it wasn't even a race.