Here's how a former top privateer thinks the series will shake out
Here's how a former top privateer thinks the series will shake out
Photos by Simon Cudby
Motocross is upon us. I, like most of you, am getting more and more excited for this new championship to start. The unknown is the most appealing factor for me. How will Ken Roczen fare after his ankle injury and team swap? How will Adam Cianciarulo stack up after such a long layoff? Can Jeremy Martin repeat his surprising yet dominating 2014 championship? These were all questions that I have been asking myself. Let's take a look at where I see the top five in each class ending up… and why.
250 Class:
1. Ryan Dungey: I just can't find a good reason to not pick the Dunge. He is on such a roll right now in every aspect. His new bike seems to be just what the doctor ordered, his new trainer Aldon Baker seems to win every championship up for grabs, and he generally seems happier with his life than I have ever seen before. He seldom makes big mistakes that cost big points, he has been nailing his starts in 2015, and his speed is remarkably good even at the beginning of the race. Whatever weaknesses he may have had in previous years, I am just not seeing them this year. It's good to be Ryan Dungey right now.
2. Eli Tomac: This was a tough one to choose between ET3 and Ken Roczen. My final decision was just the momentum factor that Tomac has. His speed may be the best in the world on a given day and if he does grab a holeshot, everyone will probably have to wait until the podium area to see him again. I am sure he learned a lot last summer about what it takes to win in this class and he, along with his dad, surely have implemented adjustments. I think he will be a touch inconsistent due to youth and a bad start or two. That will let Dungey sneak away in the points over time but make no mistake, Tomac will win races.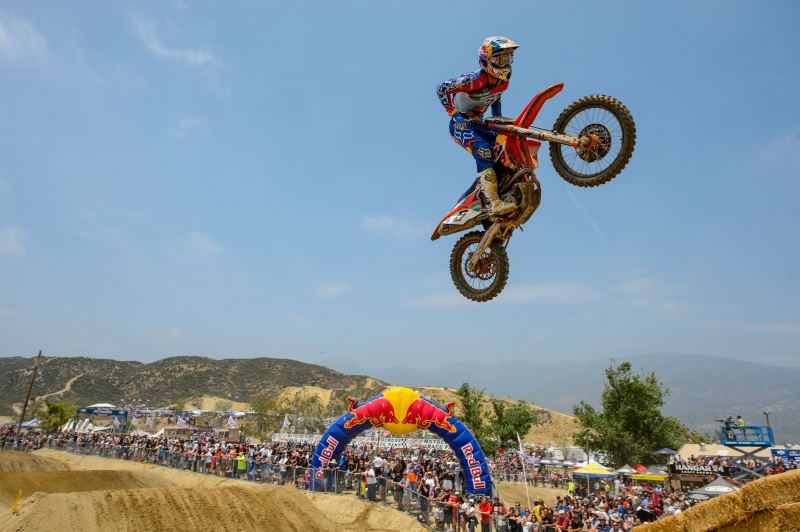 Thomas thinks that Dungey will hold off Roczen and get his number one plate back.
3. Defending champ Ken Roczen probably wouldn't love my placement for him but that's how predictions work. The main reason I have him third is that he is in flux compared to his situation last year. He is dealing with an ankle injury that we don't quite know the severity of, but we do know that he sat out the second half of the supercross series because of it. Furthermore, he is on a team that is still relatively new to him. They will be guesstimating outdoor settings at times until they get a strong race spec base for him specifically. The two riders I have placed ahead of him are coming in with much more of the big mo' and that has to count for something. For three riders that are so evenly matched in my estimation, that was the biggest factor. I would not be surprised, however, if Roczen came out swinging early in the season. He has done that in every championship thus far. The real question is how does he do down the stretch? He has shown an inability to match that superb level of intensity as the series rolls into July and August. That could be his undoing if he doesn't jump out to an early lead like he did in 2014.
4. Blake Baggett is a wild card in this series. Keep in mind that he is a past champion and he accomplished that by beating two of the three riders I have placed in front of him. I fully expect Blake to be in contention for podiums at every round. He is that good, plain and simple. The only reason I have him placed behind Eli and Kenny is because he is a rookie. He has clearly adapted to the 450 and that is only going to be more apparent when we move outside. If Blake isn't on the podium multiple times this season, I will be shocked.
5. Weston Peick may be a surprise here, but he really shouldn't be. Weston was a legitimate podium level rider in the last month of the supercross series. It could be argued that he is a better outdoor rider than supercross, as well. I don't think he is ready to win just yet but he will be in the mix when he is feeling it. He was 7th in points last year and three of the riders who finished in front of him (Andrew Short, Trey Canard and Brett Metcalfe), won't be in contention for the entire series this year. Couple that with him being better than he has ever been and it makes the choice easy.
Possibles:
-Chad Reed could easily be here but his past seasons haven't gone to plan. How his sore shoulder responds to a grueling summer is anyone's guess. He has the ability if all cylinders are firing.
-Justin Barcia is highly capable of being in this group as well but will need to find his groove with the blu cru.
-Rockstar Husqvarna's Jason Anderson and Christophe Pourcel could land here with great seasons but will need to find consistency over the long summer.
250
1. Jeremy Martin was an absolute revelation last season. For those of you psychics that saw it coming (see:none), kudos to you. And also, you're a liar. No one saw that coming! He came out swinging at the opening rounds and besides a few rough moto's in the middle of the season, never let anyone up for air. He dominated the last round in Utah just to let everyone know why he is holding that #1 plate. After an incredibly impressive performance last season and the rumors about his training efforts leading into this season, he has to be my pick.
2. Marvin Musquin is a two-time world champion in this class. This is also the best Marvin we have seen maybe ever. Those two statements alone are enough to qualify him into the top three discussion of this class. His new KTM Factory Edition 2015.5 seems to be working quite well for him as he scorched his way to a regional supercross title a few weeks ago. Basically, everything is working for the very friendly Frenchman and that's showing up on Saturdays. His situation is remarkably similar to Ryan Dungey in every way. His personal affairs are in order, he has Aldon Baker in his corner, his new bike seems to fit him very well and he absolutely stole the show in the East Coast 250 series. If he winds up as the champ, I would not be surprised in the least.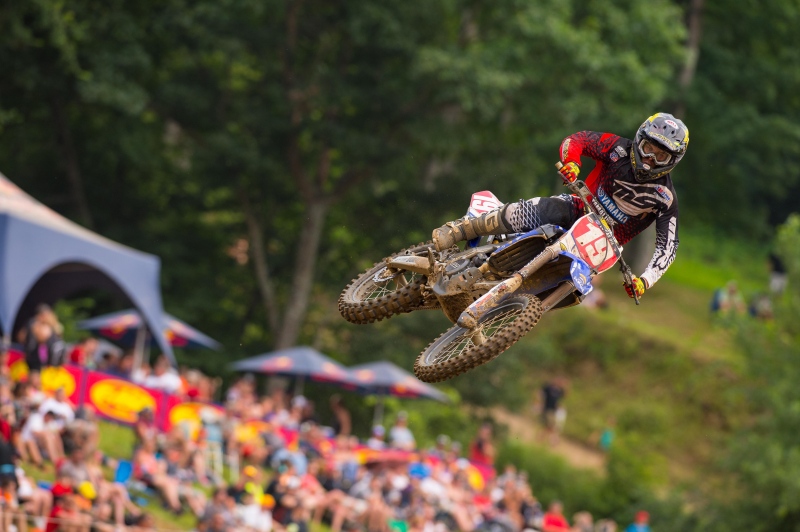 J Mart held the red plate for the whole year last year and is JT's pick to repeat.
3. Cooper Webb could really be anywhere inside this top three to be fair. The single reason I have him behind Musquin is that the last time I saw him, he was on crutches. While I don't think it was a serious injury, he surely missed some riding time and who knows how it feels as of today. If he comes out and is 100% at Hangtown, I would have no issue putting him higher in the order. He can win, no doubt about it.
4. Justin Bogle will be a threat this season. As Honda's best hope for wins and titles, he will get a lot of help from anyone wearing a red shirt. He skipped the last round in Las Vegas in order to better prepare for Hangtown and from past experience, I know that can help quite a bit. Getting an extra week of outdoor practice may sound trivial but when the past 8 months have been all about supercross, every second counts. Justin is a great starter and that will propel him to great finishes. How high he can climb the ladder is up to him.
5. Adam Cianciarulo is my dark horse. While that may sound crazy for someone as highly regarded as AC, keep in mind that he simply hasn't raced many professional races yet. I really think that Adam can win this whole thing, IF, he can keep it on two wheels and stay healthy. He may need a couple of races to find his rhythm but he will be a factor before this is over. Then again, he came out and won his very first supercross ever last year in Dallas so, as I said, anything is possible with this kid. Above all else, hopefully he can stay in it for the entire twelve rounds. If he does that, I am interested to see where he stands. My money would be near the top.
Possibles:
-Zach Osborne could easily be in this group. He has all of the tools and ability. It's a solid group to break into but he has what it takes.
-Joey Savatgy is on the most successful 250 team in history. That has to help, right?
-Jessy Nelson should probably be on the podium at times this season. Leaving him out of my top five was tough.
-Alex Martin has an outside chance here. He rode very well in the supercross series this year and should come outside feeling confident. I think he is an underdog for this list but he has a puncher's chance.