A surprise winner in MX2?
A surprise winner in MX2?
Interview: Jonathan McCready
Pic: Yamaha PR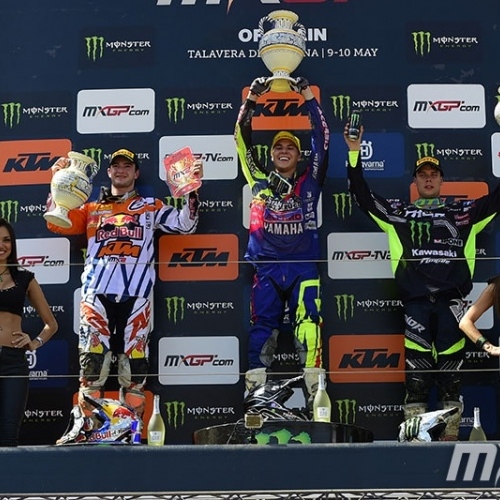 Guillod was all smiles after his win in Spain.
Valentin Guillod shocked the world in Spain by winning his first ever GP! But in reality the foundations had been laid for such a triumph over the last couple of years.
The friendly Swiss rider sprung to prominence in 2013 when he won the EMX2 championship and fought with Dungey at the Des Nations in Germany. But 2014 was his breakout year in GP racing. The technical and smooth Swiss talent got on the podium and was regularly in the top five in his first season back in MX2 riding a Standing Construct KTM.
Due to their success, the team got full factory support from Yamaha for 2015 but up until now, while looking fast, Guillod did not have the same spark he had in 2014 as he adapted to the blue machine.
But now after lots of testing and a brilliant ride in Spain, Guillod is back on form and finally accomplished his dream of winning a GP. We caught up with the grinning 23 year-old to get his thoughts on his dream coming true.
Pulp MX: First GP win, were you expecting that coming into the weekend?
Valentin Guillod: My goal was to make two top fives and to change nothing on the bike! I changed nothing on the bike was sixth in the first race and won the second race and I won the GP it was just awesome.
Pulp MX: When you were in second it looked like you believed you could win when you were in second and catching Dylan?
Valentin Guillod: I was not pushing so hard next to Dylan. I didn't make mistakes but I couldn't find a solution to pass him. Physically it was difficult and in one moment I tried to give him a block pass but it didn't happen and with two laps to go I made the same move and it happened. I took the lead and I won the race.
Pulp MX: Did you feel the pressure in the last lap, what was going through your head?
Valentin Guillod: One of my problems is I crash sometimes! So i stayed just stay on two wheels even if someone passes you, a second is better than a crash. I was just riding clear with no mistakes and it happened.
Pulp MX: You had to switch from KTM to Yamaha this year, was that a big adjustment?
Valentin Guillod: Yeah last year we had a good bike, this year we start from zero but we show now that we have one of the best bikes. It was a bit difficult the first GPs but now we show that the bike is ready and I'm ready.
Pulp MX: Where you a bit frustrated at the start of the season?
Valentin Guillod: Yeah for sure, but we saw we weren't ready for the start, actually today also we have a small problem with the jump out of the gate but it's part of the business and we will keep working and try to find the best solution
Pulp MX: How did you find the track? It looked a bit one lined but fun to ride?
Valentin Guillod: The track was nice, today was perfect, warm-up was perfect. For the European race it was perfect then when we went for our sighting lap the track was full of water. I was a bit pissed about that, they put water everywhere, it was bad because the condition of the track had been perfect. But it's the same for everyone,
Pulp MX: Just a word on Yves Demaria, he had a lot of success in his career, how does he help you?
Valentin Guillod: Every day we are together almost, I live close to his home and every day he comes training with me, we go cycling or running. He knows exactly who I am and he knows what to do to help me get good results.
Pulp MX: Are you having to move up next season?
Valentin Guillod: Yeah I have to move up but I don't want to! I want that U23 years old to change but it is the business and I have to go to MXGP
Pulp MX: You are quite smooth so a 450 could suit you?
Valentin Guillod: Yeah, but I might have to put more muscle on, I'm a bit skinny but it will be ok!