An Iron Man effort in Amsoil Arenacross
An Iron Man effort in Amsoil Arenacross
Photos: Josh Rud
Steven Mages has really made a name for himself in this year's Amsoil Arenacross series. He started to pick up steam last year when he picked up his first main event win in the AX class. This year he was a legit title contender and made the final top ten in the race for the championship. Mages is an Ohio native who has had many successes in the amateur ranks through the years. The 24-year-old is coming off of his most successful Arenacross series' to date and finished tenth in the final standings. His year culminated with a busy weekend in Las Vegas, where he made his Monster Energy Supercross debut.
We caught up with Mages after the season wrapped up and discussed his year, future goals, how bad it sucks to live in Ohio, and his apparel company Slakawear among many other things.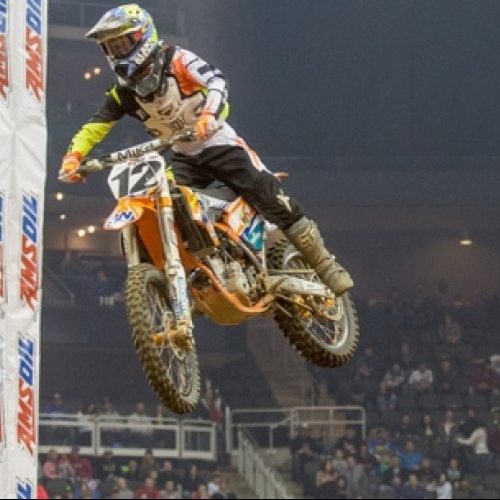 Mages won a total of seven main events in both the AX and Lites classes this season.
PulpMx: How did the Amsoil Arenacross season go in your eyes? Gives us a bit of a recap.
Mages: It went pretty good. I started the season off really solid and I got on the podium at round two. Then after that I was putting it in the top five pretty much every weekend. Then around the restart I had some bike issues. We changed up some suspension and stuff and that was not a good idea. I was fighting the bike for three rounds after the restart. I finally got it redialed for the final two rounds. I ended the season with a podium in both classes.
You also won your second main event in the AX class this season.
Yeah, then I got two podiums this year in the AX class as well. I had seven wins total this year in both classes.
So which main event win was better for you, as far as the premier class goes? Was it your first win last year or your second one?
I'd say this year because I carried on with good finishes after it. I stayed in the top five for nine rounds.
Right on. This year was also the first time that you made the Race for the Championship. What was that like for you?
That was the goal for this year and I got to achieve that. Next year, and I know a lot of people say this, but I really want to go for the win. I have a lot more training that I have to do. I was excited when the points changed up. Since my bike and I weren't working together for the first three rounds it left me out of the chase. Next year I know not to do some of the changes that we did.
You proved this season that you are a major contender in the Arenacross series. This year the series had a lot of veterans of supercross come in as well as a lot of rookies who had to get their points. Arenacross is a big deal now.
Oh, it's gained a lot of respect ever since we've had to have (Jordon) Smith, (Tristan) Charboneau, and (Mitchell) Harrison come through. They had to get their points. Then you have guys like (Bobby) Kiniry, (Chris) Blose, and (Matt) Goerke who can get top ten at a supercross. It's not like they are coming in and dominating every weekend. Arenacross has definitely excelled and has gotten a lot more respect.
With two main events that are fifteen laps long it's very hard to dominate.
Oh, definitely. Then if someone pulled a 16 card they would have to flip the order. The top guys in the first main event are now in the back row. They have to sneak their way up through there. You can have guys who didn't do well in the first race pull the holeshot and sprint out of there. It's pretty eventful how the rounds go and how the points fluctuate so much. It's pretty suspenseful.
Do you think last year was your break through season or do you feel like that was this season?
I'd say this year. I really showed that I can win and now it's about applying it to every weekend. I want to win the AX class like I do in the Lites. I was pretty much undefeated in the Lites class. I now have to apply that to the AX class and just up my game.
You really were the iron man of Amsoil Arenacross this year. You would come back on the amateur day and race the pro classes as well.
If they gave that award I would have gotten that one for sure. I guarantee I had the most laps out of everybody.
Talk about your setup that you had for this season a bit. You had some help from KTM, right?
Yeah, KTM helped me out a lot with my motors. Between KTM and Team Faith they were both big supporters of me. I was talking with Team Faith as far as what they are doing next year. It depends on what kind of offer everybody puts up to decide who I'm going to go with.
What did you think about the last round in Las Vegas? Did things get really heated behind the scenes?
Things got heated between Hayes and Regal obviously. Hayes could have ridden behind Regal and won the championship. I don't think Babbitt's was too pumped about the move he pulled. He could have had the title.
Yeah, but it was very exciting to watch! Have you heard any news about your home race Cincinnati being back on the schedule for next season?
I'm pretty sure and almost positive that it's back on there. I wish I could have done better there this year. I think I got eighth. It was still a good round with the whole crowd and all of the support. My family got to come so that was cool. They said that it was the biggest crowd at an arenacross that they have had. They had something like 120 entries for the Lites class. I told the promoters that Ohio, Kentucky, and Indiana is like the capital of arenacross.
You had a busy weekend in Las Vegas as well. You raced arenacross on Friday, made your supercross debut on Saturday, and then raced amateur day on Sunday.
I can't complain about that. I got on the podium in both classes on Friday. I made the night show by qualifying in 13th at my first supercross. I just had some bad luck in my heat. I messed up the rhythm lane on the first lap and got passed by three guys. That took me out of qualifying position. I ended up finishing 12th. In the LCQ I was around third and someone wrecked in front of me on the first lap. It took me down. Overall it was a great learning experience. Then I woke up Sunday morning and won two amateur national championships in the Pro Sport and Expert Class. It was definitely a successful weekend.
So how did you feel on Monday?
(Laughs) Monday wasn't too bad. I was a little sore.
True, I guess your body was used to it from racing all weekend the whole season. You ended up getting TV time with that crash in the LCQ though.
Yeah, everyone was super bummed about that. Hopefully next time that I do a supercross I can put it in the main.
Is that the plan for next year? Are you going to do more supercross races?
I'd say that's a goal for next year. I want to try and do as many supercross races as I can to coincide with the Arenacross schedule.
What about this summer? Will you be racing any outdoor events?
No outdoors for me this year. I'm going to focus on training riders and marketing Slakawear.
How is Slakawear going for you? It seems to be growing pretty well and gaining a lot of popularity.
It's going well. We just got a bunch of new product in. We are going to focus more on other industries such as skateboarding and doing some Transworld ads. We will be doing the Loretta Lynn's Regionals and some of the nationals. We're just trying to get it out there.
You are also one of the guys that have to work full-time. How hard is that to work like that, own an apparel company, and still maintain a successful professional arenacross career?
I do auto body collision, but I specialize in crane cabs though. That's one of the big reasons why I won't be doing outdoors this year. I'm going to focus on work and Slakawear. That fills up my plate. I talked to a few teams about doing outdoors, but nothing really hooked.
You really are one of Ohio's only hopes as far as professional racing goes.
(Laughs) Yeah, I'm going to have to take Gibby's (Jeff Gibson) spot. Well, Aaron's (Plessinger) got supercross, and I have the arenacross on lock. It's all good.