Zack Williams discusses his season on the way to Thunder Valley.
Zack Williams discusses his season on the way to Thunder Valley.
Photos: Simon Cudby
Zack Williams and Jesse Wentland don't really like to talk much, they like their riding to do that for them. They are just two Minnesotans from a small town teaming up this summer for the Lucas Oil Pro Motocross Championships under the Rick Schugel Racing awning. I thought it would be cool to get in touch with these two teammates to let the world get to know them a little better. Before I called I found out that they were driving from California to Thunder Valley in a van with their practice bikes and team mechanic Tyler Mickelson. What better way to bro down than a road trip?
Below is Zach's excerpt. The conversation went really long; after all it was a road trip. I'll have the Wentland conversation for next week.
Part 1.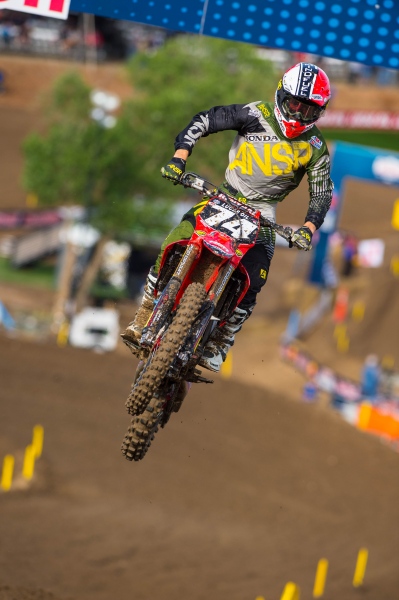 Williams at Hangtown.
PulpMx: Hey Zach why don't you give the people a little introduction about yourself?
Zack Williams: All right, I'm just a kid from a small town. Elko Minnesota is where I'm from and I'm 21 years old. I like to go hunting a lot as well as snowboarding, and mountain biking. I'm mainly living in Florida and I've traveled out here for the West Coast rounds.
This is your third year as a professional?
Yeah, this is my third year as a pro.
Awesome man. So talk a bit about the team that you're on. It says RSR on the results page but tell us what the team is all about and how it functions.
RSR stands for Rick Schugel Racing. It's a guy that we know from Minnesota. He owns a large trucking company called J&R Schugel Trucking and we came to him for some support and he came up with the idea for the team for both Jesse and I. It started out with both of us and then last year Jesse went to Canada and now he is back. It's a good team and I'm pumped to have the support from a guy from Minnesota. He definitely helps us a lot.
Are you traveling with the race bikes in the van right now?
No, right now we just have the practice bikes. We've been staying in Florida, but we came out to California because we had to do some testing with Pro Circuit and to race the first two rounds. We just came out with the practice bikes and now we're making our way back to Florida after we race Colorado. We have race bikes. We have a whole RSR rig and a trailer. We have a mechanic/driver Sean Robertson that drives the truck. He gets there on Friday morning and we get there Friday afternoon. It's a pretty good fit because we don't have to worry about anything but our practice stuff. We just show up to the races.
It's a good deal too because you have one mechanic (Tyler Mickelson) driving you guys and the practice bikes around. Then you have the other mechanic taking the race rig.
Exactly, it makes our life easier because then all we have to do is worry about riding our dirt bikes fast.
Do you guys have to drive this way to all of the rounds or just the first few?
We're just doing the first rounds like this. I think once we get back to Florida it'll be easier because we will just fly to the rest of the rounds from there. Sean, with the race truck will probably just stay at a hotel for a week or come to where we are. We aren't sure yet. Either way, he will be driving from round to round.
I know you were with RSR last year, but did Rick help you out before that? I know the team is more legit this season.
Yeah, I raced for him last year, but before that I was on my own. When I first started racing professionally I was with Munn Racing. So the deal this year is really awesome. Their goal and our goals are to try and get a factory ride. It can only last so long for them paying out of pocket. They want us to get to the next best thing.
I'm sure you've known Jesse for a while, but how long have you known your mechanic Tyler?
I've known Tyler for about a year now. We've been buds even before he was my mechanic. Finally an opportunity arose to where he could work for us and so far so good. He's a goof ball.
He is a goof ball, but you've got to love him. How is the season going so far for you? You did better at Glen Helen than you did at Hangtown, so you're moving in the right direction.
So far it's been kind of a struggle. I feel like I haven't shown my potential. I think that I've always struggled at the California rounds and with the way the tracks are. I'm excited to go back east. I have a lot more to prove and a lot more races to show it.
Yeah, you're used to that sandier, loose, rutted type of dirt. Not the hard packed stuff.
Yeah exactly, there are just more ruts and more clay on the East Coast. That's what I prefer more. I expect a lot more out of myself for the rest of the rounds.
You're probably really excited for Millville and Red Bud then.
Oh yeah, for sure, but I don't know Colorado is actually my favorite round. I don't know if it's the track or being in Colorado. Colorado is my favorite state so that's a plus.
I've never been there, but I can only imagine it being really hard to ride there because of the oxygen, or lack there of.
It's kind of weird. Last year and the year before that I noticed it more just being there and walking around, and sleeping. When I'm on the track it never seems to be an issue.
What are the goals here? I know the biggest goal is to get a ride, but what do you want to accomplish this season?
My goal for right now is to get in the top fifteen and then once I get that obviously I'm going to go for a top ten. As long as I keep improving all year long I'll be happy.
Good deal. What time did you guys leave this morning?
We left at 5AM. I pretty much rolled out of bed, zombie to the van, and then just slept. We made Tyler drive and he got a big coffee from Starbucks.
Well, that is his job, you have to ride and he has to drive.
Yeah exactly, I'm not a morning person so I make these guys drive.
Do you guys get a hotel tonight?
Yeah, we'll get a hotel and then depending on the weather we're going to try to hit the Novik ride day that they have in Denver.
So what has the experience been like through the first two rounds? It sounds like a really fun time with you three.
It's actually been really fun. It gets a little sketchy sometimes at the races because we all have these goals and we're competitive. We try to keep it fun as much as we can, but it's also serious at times.
Do you have any good road trip stories yet?
Not yet! We haven't logged too much time on the road yet. We're just picking on Tyler a bunch.
Yeah, make sure to give him a lot of crap.
Oh, don't worry. I do (laughs).
You're first pro number was #874 right? It's pretty cool this year that you got to keep #74.
I know. It's pretty wild that it worked out that way and #74 was actually my amateur number. My first two-digit number was also my amateur number, so it's pretty cool.
What's the van like? Is it comfortable for you guys?
Yeah, it's actually not bad. I have the whole backseat to myself right now so I can just layout and sleep. The back of the van is just packed and their isn't much room for anything else to fit in here.
Who do you need to thank for helping you out this year?
RSR, Star Cycle, Rick Schugel, Answer, Von Zipper, Pro Circuit, Black Diamond MX, Kenworth, Dunlop, Love's Travel Stops, Mind FX, Renthal, my trainer Dylan Turner, and my mechanic Tyler Mickelson.