Irony on top of coincidence.
Irony on top of coincidence.
Photos By: Mike Sweeney
Well we've reached round three of the 2015 National MX Series and FINALLY I feel like I have enough data to actually write about the state of this series.
Am I the only one who wasn't exactly buying into the dominating display put forth by Eli Tomac coming into and even halfway through Thunder Valley? Don't get me wrong, he has been insane. Totally unbelievable. I remember standing in the infield of Unadilla just before Screw-U in 2012; Eli was putting on a clinic. It was blowing my mind. He was going so much faster than everyone else on the day and on a treacherous, beat down track too. I was watching Eli like I watch those viral videos where you just no something bad is going to happen. In my opinion, Eli was going wayyyyyy faster than I would consider even remotely safe on a Unadilla track in the last moto of the day. I was wrong, he prevailed and made me look like a silly little worry-wart. Now that was a digression; seriously though, as unbelievalbe as Eli looked, it was just that, I didn't believe it. We've seen him do that before on 250's in SX and MX but this is the 450 class and he has thus far not been able to sustain that type of ride. Unfortunately for him, the type of consistency he is still searching for, is firmly in the grasp of Ryan Dungey.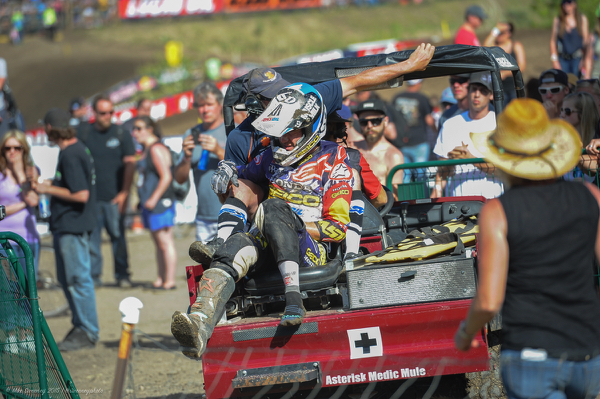 Eli hit the ground so hard, it hurt me.
Judging from JT's impressions and many others who have watched Eli through Hangtown, then Glen Helen, Eli was on that same blistering pace that had me so nervous at Unadilla three years ago. He managed to put the ones and zeros together and go undefeated through the first 5 moto's. Impressive no doubt. Then came the ironic (because it's his home race) end in, coincidentally, the same GPS coordinates that saw James Stewart disappear for essentially the rest of the 2012 series. Eli said it himself on Instagram today, "These type of crashes always leave me scratching my head on how or why it happened. It's the unexpected ones that get you…" I'm more amazed that he survived Unadilla in 2012 than I am that this crash occurred yesterday. The Thunder Valley track was crazy. How incredible that it rained for more than 20 days in a row and still they ended up with a dry, dusty race course. I don't care that they bladed away the muddy surface. Remember Kenworthy in 2002? It didn't even rain for 6 days in a row and that place was 5 feet under water! Yeah, I know totally different elevation and part of the country… "yeah but still."
I bet if you took a poll among the riders, none of them would cite that downhill which bit Eli and James as one of their top 5 scariest sections in the Nationals, yet it's track record now earns itself a place in the top 3 of sections which demand your full attention and respect.
I know this whole "leave the tracks rough" thing is thought to be our best bet at getting another winning streak going in the MXdN but damn, when one our current fastest rider hits the ground that hard at round three, I just hope we have three guys that are healthy enough to send this year. I'm not going to go as far as to say definitively that the tracks are too rough because that's impossible to argue. We might as well argue (again) that 450's are too much motorcycle, 4-strokes are too heavy and racers will always push it to the limit and beyond— ALL OF THESE ARE TRUE; but that's irrelevant. Racing motocross is dangerous and its impossible to make it safe. Groom the tracks and they are easier to go faster on, which increases risk and detriment. Don't groom them and they become treacherous as hell, which increases risk and detriment. Try to slow them down by making them more technical and the propensity for error increases which, yes, increases risk and detriment. So I guess what I'm saying is, until we are racing in bubbles, where we are is where we will always be. These guys will find a way to go faster than each other or crash trying to do so. I just hope Eli didn't end his National campaign with that crash.
I'll use the rest of this Corner to display some of Mike Sweeney's great shots and provide concise commentary for them.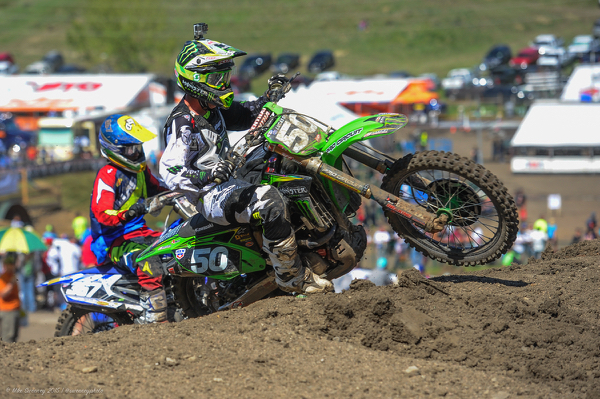 Adam Cianciarulo finally made it through a day without hitting the deck and walked away with a podium. Good on the TV crew for recognizing his 3 lap battle with Jordan Smith in their last moto, that was good stuff.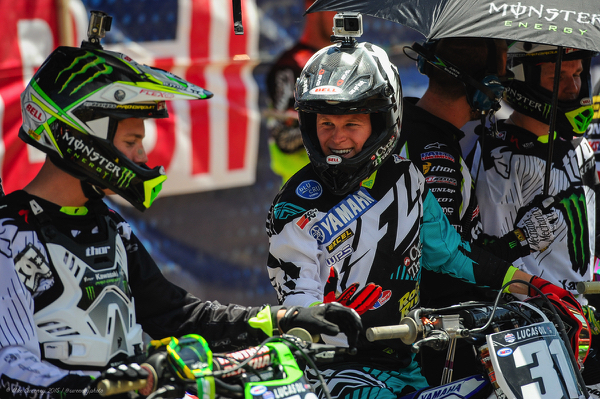 "So Alex, I know you wear EKS Brand goggles and your vision is impecabble, please use that clear vision to make sure you don't move over on me on the start… or I'll scissor-kick you. Thanks."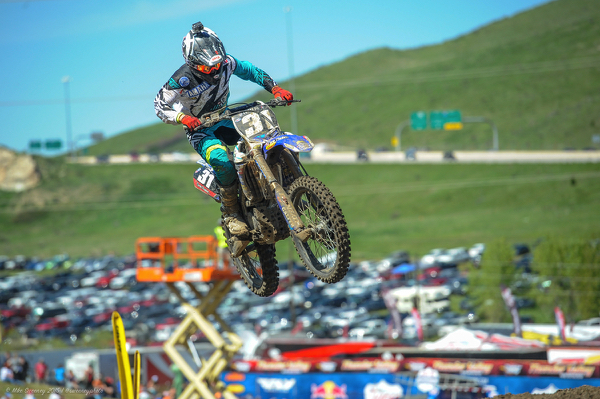 Wouldn't you just know it. Alex Martin sat 3rd in points before his disastrous double moto mechanical at Lakewood where he walked away with 3 points on the day and now sits 6th in points. He'll be back though, this isn't the Alex Martin we used to know.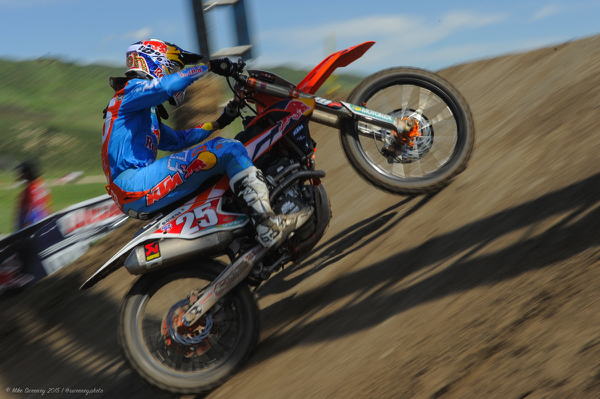 Marvin Musquin hit the deck hard too and I feel like Ryan Dungey's comments on the track were at least partially related to his friend and teammate hitting the ground in the first 250 moto. Marvin dug deep in moto 2.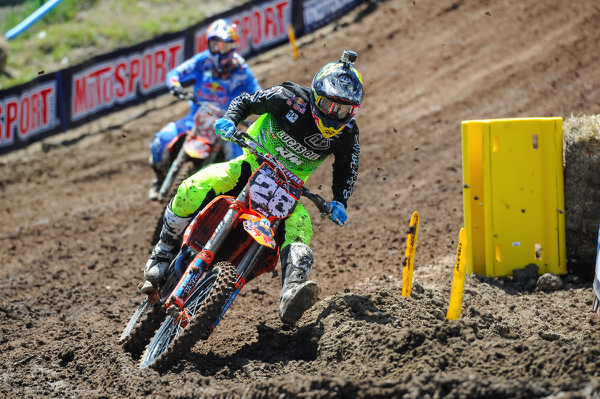 Jessy Nelson has been up front a ton and very fast but I also feel like he's been riding a very wide bike for those trying to get around him. Now I know the idea is to not get passed but it seems like Jessy is moving over into the lines of approaching riders quite regularly.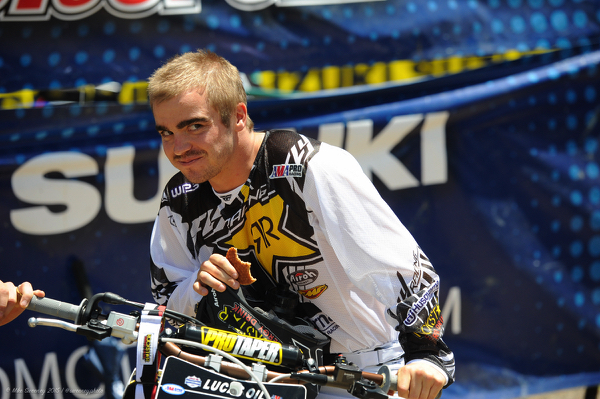 It was nice to see Zach make it through a weekend without any storm clouds and bad luck affecting his abilities.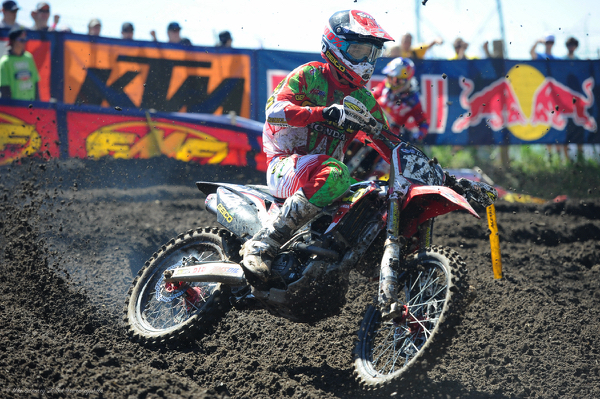 Jordan Smith had his best day yet. Not hitting the deck is key.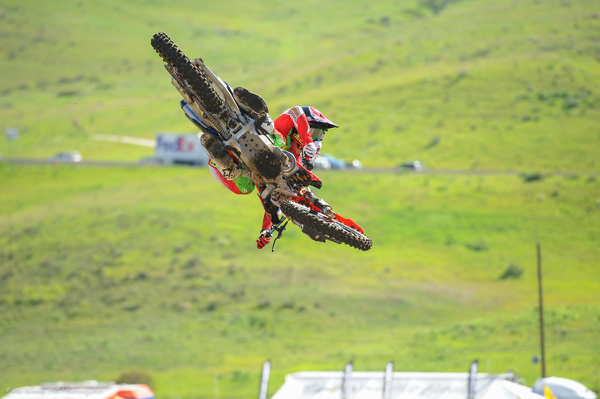 Christian Craig made a lot of people lok pretty silly, myself included. I pegged Christian finishing about 12-14 with my most optimistic guess. He was incredible! Such a great story.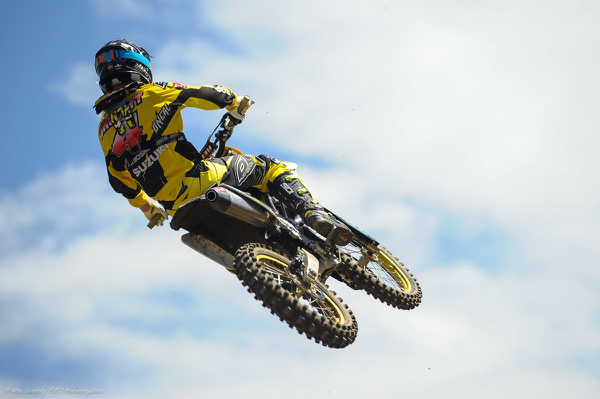 Blake Baggett just continues to impress and in my opinion, overachieve. Working with RJ has definitely been a huge benefit for Blake.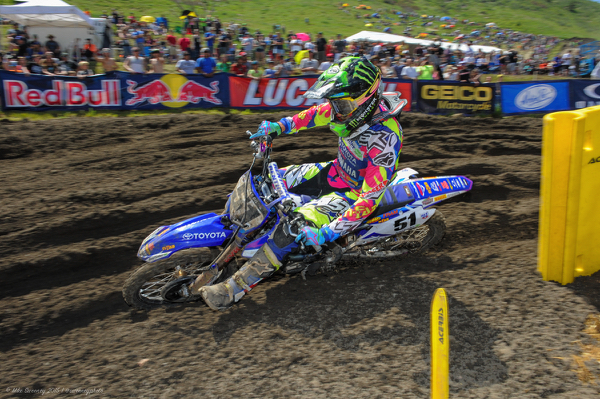 Barcia looks to still be putting the pieces together. He hasn't looked overly impressive but he's also not crashing as much. I'd take that more moderate path to success any day.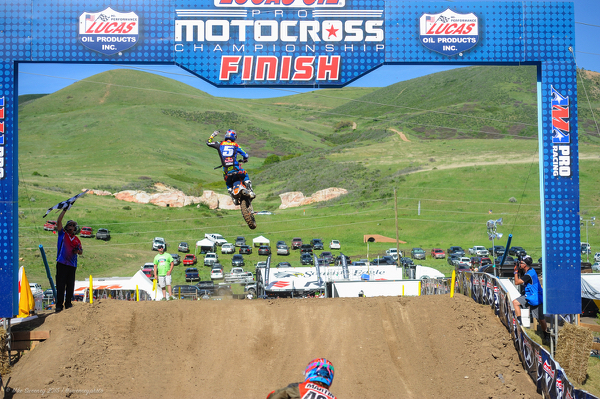 Ryan Dungey has taken control of the series at Lakewood before and he has again.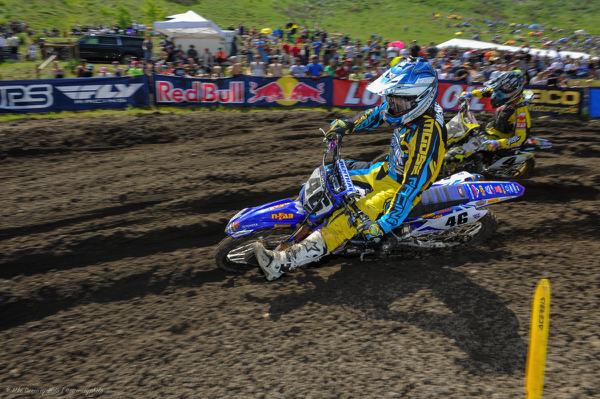 It says a lot about Filthy Phil's progress over recent years that when he finishes 9th overall, he is utterly disgusted. He and Alex Martin appear to be linked by not only Geo Metro but raceday satisfaction too.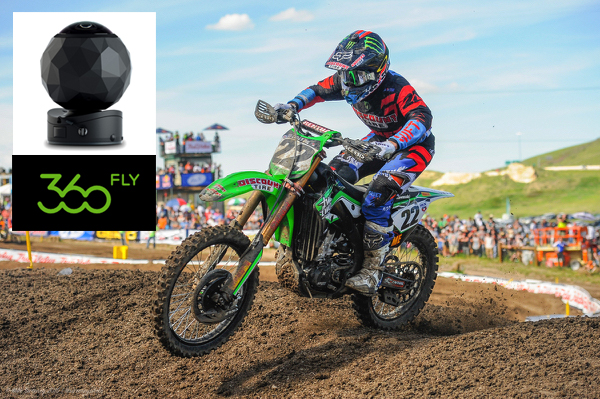 I sure hope Chad doesn't say goodbye to the series over this camera deal. Maybe the ten eyeballs reading this and seeing the camera above will persuade him to stay… It really is bullshit that the promoters let GoPro get away with monopolizing the helmet camera game. Maybe next year, EKS Brand can get in on this "Exclusivity Contract" and force anyone who doesn't wear EKS Brand goggles to watch the races from outside the fences.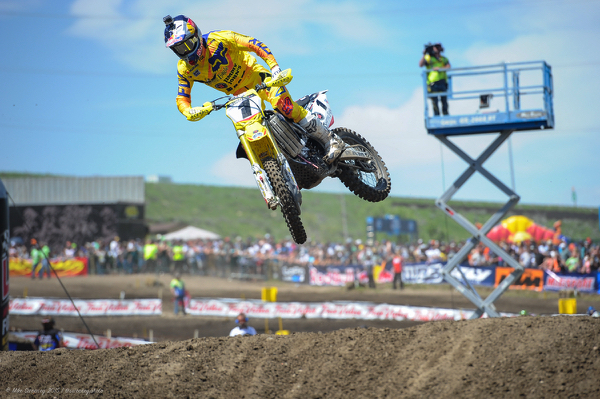 Kenny is looking more and more like the Champ from last year, he may just be ready to make a title-fight out of this series starting at Muddy Creek.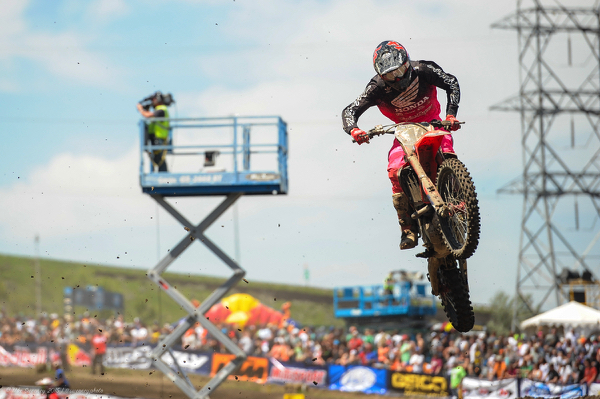 It seems Cole Seely is all about the start. If he starts up front, he is strong but if he gets caught back in the pack he just doesn't seem to make forward progress like you would think.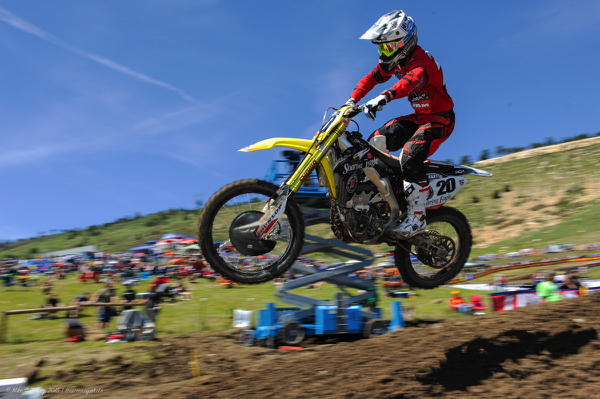 Just like his dog, Broc is Steady Eddie. He's in incredible shape and technically proficient on a bastard of a rutty track like Lakewood.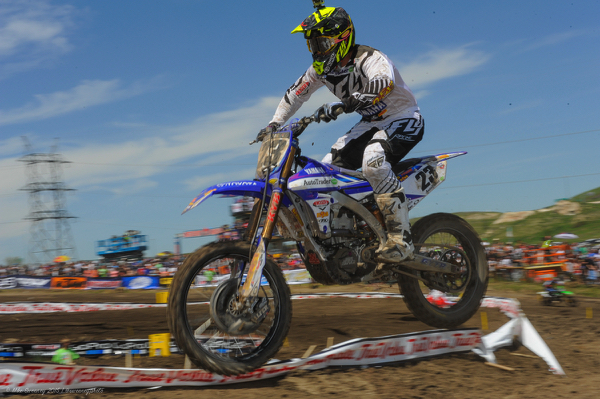 Weston Peick's PulpMX Post-race interview from Lakewood may be the most unfiltered, honest opinion a rider has given of a track since Bradshaw talking about Hangtown. Go listen to it, it's awesome.