How a rookie is now leading the championship race.
How a rookie is now leading the championship race.
Article: Jonathan McCready
Pics: MXGP and KTM Images.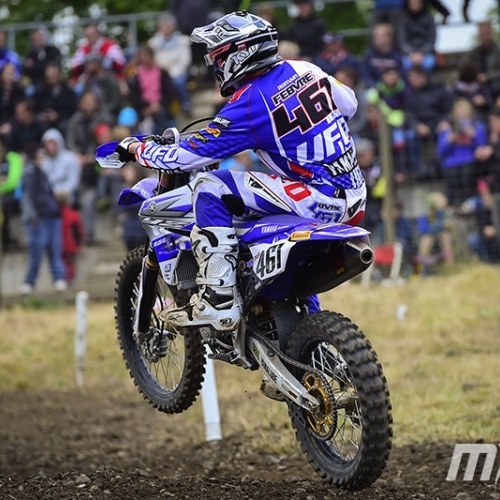 Febvre is the new red plate holder in the MX1 class.
Simply unbelievable, that's the only way you can describe the events that transpired at round ten of the world championship in Germany.
Even Villopoto looping out of the championship, Cairoli hurt twice in a season and Desalle crashing out of title contention on a slow practice lap because of a rock isn't dramatic enough to top what happened in Germany.
This Grand Prix just took unexpected to a whole new level.
First Max Nagl, at his home Grand Prix of all places, crashed on Saturday and got hit by Paulin and Philippaerts, resulting in a broken fibula at the ankle joint. Nagl was immediately rushed to hospital and got two screws inserted in the offending bone. But right now no-one knows if he will be able to line up in Sweden to try and salvage his title hopes.
Nagl has said that if the doctors say there will be no more damage done that he will try and ride through the pain but that he won't risk long term damage.
Then on the Sunday on the first lap of MX2 moto one, Jeffrey Herlings got a scrub all wrong, caught the footpeg and handlebar on take-off and went over the bars big style and broke his collarbone!
Like Nagl, Herlings went straight to hospital for surgery. The Dutchman got a plate inserted and will try and ride in Sweden. But it is another mistake in a season that is showing more than ever that the young guys are catching Herlings' pace after all his injuries and he is crashing trying to keep them at bay. He still can't accept a second place, even when he wants too!
But back in MXGP and the World Championship was blown wide open after Nagl's injury with Antonio Cairoli, who injured himself just one-week prior and Romain Febvre the main men ready to take advantage.
Cairoli struggled with his injured arm in race one and also crashed leaving him 14th but he rebounded in race two to shock everyone by leading the first lap and battling in the top four for 20 minutes. The Italian somehow held on to sixth place and is now firmly back in the hunt for the title. With a weekend off, Cairoli will be desperate to get his arm healed so he can really attack the series once the sand tracks come.
He is only 17 points off the championship lead, quite a remarkable feat given the two fractures in his hand and the dislocated elbow he suffered a week ago at Maggiora. Cairoli has always been a fighter but we are seeing a new side to the World Champ this year, he is willing to ride through some serious pain and injuries to win his ninth world championship.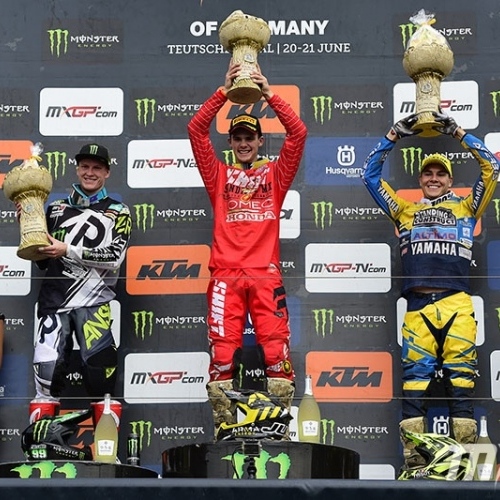 Tim Gajser was the big winner in the MX2 class in Germany.
But the championship leader is now Romain Febvre! The MXGP rookie went 1-2 to take the championship lead and won his third GP in a row. Febvre is the man to beat right now and his confidence is sky high. He dominated race one and wisely settled for second in race two after he got dirt in his goggles with a couple of laps to go.
Febvre will now have to deal with the pressure of the red plate, but he is on such a high I don't think he will even feel the pressure. The big test will come once Cairoli is fit and the sand tracks come such as Latvia and Lommel. On the hard pack the Frenchman is more or less unbeatable right now!
It was finally a good day for Gautier Paulin. The HRC rider was second overall and won the final moto to give him a huge boost mentally and in the championship. Paulin is still 45 points out of the lead but if he hits form (he's good in the sand too) and Febvre makes a mistake, Paulin could still be in with a shot of this title. Stranger things have already happened this season!
Kevin Strijbos won a moto last week in his first race back from injury and made the podium again in Germany. The Belgian was showing great form in pre-season and now, finally healthy, is showing his speed again. Strijbos must be so frustrated that his wrist injury cost him the first half of the season.
Evgeny Bobryshev was flying all weekend. He is finally back to his best and stalked Febvre all the way in race one. In race two he went down in the first turn but rocketed through the field to claim seventh place. He missed the podium on a tie-breaker but will be back on the box soon and could even win a moto.
Also back on form is Jeremy Van Horebeek, two fourth places, including a brilliant ride in race two after a crash left Van Horebeek frustrated he didn't make the podium but pleased his speed is back where is should be – capable of winning races and being on the podium every week.
A special mention must also go to Dean Ferris. The Aussie used Cairoli's 350 engine this weekend and led both motos. He couldn't quite hold the pace at the front but still finished sixth overall and has made some huge steps in the last few weeks. Ferris is a genuine top five contender now.
In MX2 Tim Gajser won his third GP of the year. The ultra-talented HRC man pipped Herlings to pole in timed practice and that frustration may have been what caused Herlings crash in the qualifying race. He knew he couldn't let Gajser get anymore confidence and wanted to prove a point. But right now the reality is that Gajser is pretty much on Herlings' level on hard pack and is getting more confident every round.
The teenaged Slovenian has only just finished his studies at school, so is only now a full time motocross rider this summer – he's going to get even faster!
Gajser won race one then settled for a smart second in race two. He is now second in points and still 100 points behind Herlings. But with the confidence Gajser is getting and the mistakes Herlings is making it only takes one more incident with Herlings to really let Gajser have chance at this title.
Valentin Guillod is also there in the background. Suffering from four broken bones in his foot the Swiss man was second in race one then hit the gate in race two but still came back to fifth despite a crash. In fact, Guillod set the fastest lap of both races on his last lap!
With two weeks to heal his foot, Guillod will want to battle Gajser for the win in Sweden.
Max Anstie won his first moto of the year! The Brit has been impressive at times this season and finally put it all together to win race two and get on the podium. Anstie has been plagued by bike trouble yet again this season so his championship position doesn't reflect his speed but when it clicks Max is a contender.
In some transfer rumour news for 2016, Anstie is apparently being considered by Husky to be their second factory rider, it would be a great move for both parties as it would be Anstie's last year in the class and give him a good shot at the title. But he also has some interest from 450 teams.
In MXGP it is believed KRT Kawasaki are going after and may have already signed Clement Desalle, and they could have current MX2 World Champ Jordi Tixier as his teammate who has to move up from MX2 next season. That would certainly be a strong team!
With a vacant spot at Suzuki it is believed Jeremy Van Horebeek could move there from Yamaha, which would be a decent replacement for the Suzuki team.
Romain Febvre has already re-signed with Yamaha for two more years while Valentin Guillod will move up to the 450 with Yamaha but may stay in his current team – Standing Construct.
Shaun Simpson has been getting a lot of interest from factory teams for his solid performances but it is not clear where he will end up. Husky, Yamaha and even Kawasaki appear to be possibilities.
Still no word on the big question though, will Jeffrey Herlings move up?! It looked likely but now may rest in the balance again because Herlings isn't happy at only winning 4 GPs this year and may want another season in MX2 to dominate.
But with the youngsters catching up, you have to wonder what Herlings is getting out of racing MX2 apart from injuries and frustration. He would learn much more in MXGP and wouldn't be expected to win every race. He also is seeing Febvre now lead the championship in MXGP and he beat Febvre all year last season! Herlings is ready but he just needs to learn how to lose in order to win in MXGP.
So it's onto Sweden in two weeks and can Max Nagl return to racing and rescue his title hopes? He is only nine points back of Febvre and if he can compete will very much still be in the championship. But will it be physically possible? Only time will tell.
MXGP Overall Top Ten: 1. Romain Febvre (FRA, YAM), 47 points; 2. Gautier Paulin (FRA, HON), 45 p.; 3. Kevin Strijbos (BEL, SUZ), 36 p.; 4. Jeremy Van Horebeek (BEL, YAM), 36 p.; 5. Evgeny Bobryshev (RUS, HON), 36 p.; 6. Dean Ferris (AUS, HUS), 30 p.; 7. Shaun Simpson (GBR, KTM), 27 p.; 8. Christophe Charlier (FRA, HON), 24 p.; 9. Antonio Cairoli (ITA, KTM), 22 p.; 10. Glenn Coldenhoff (NED, SUZ), 21 p.
MXGP Championship Top Ten: 1. Romain Febvre (FRA, YAM), 369 points; 2. Maximilian Nagl (GER, HUS), 360 p.; 3. Antonio Cairoli (ITA, KTM), 352 p.; 4. Gautier Paulin (FRA, HON), 324 p.; 5. Evgeny Bobryshev (RUS, HON), 306 p.; 6. Clement Desalle (BEL, SUZ), 291 p.; 7. Shaun Simpson (GBR, KTM), 227 p.; 8. Jeremy Van Horebeek (BEL, YAM), 194 p.; 9. Todd Waters (AUS, HUS), 192 p.; 10. Glenn Coldenhoff (NED, SUZ), 169 p.
MX2 Overall Top Ten: 1. Tim Gajser (SLO, HON), 47 points; 2. Max Anstie (GBR, KAW), 38 p.; 3. Valentin Guillod (SUI, YAM), 38 p.; 4. Jordi Tixier (FRA, KAW), 35 p.; 5. Julien Lieber (BEL, YAM), 34 p.; 6. Jeremy Seewer (SUI, SUZ), 29 p.; 7. Pauls Jonass (LAT, KTM), 29 p.; 8. Benoit Paturel (FRA, YAM), 27 p.; 9. Brian Bogers (NED, KTM), 22 p.; 10. Henry Jacobi (GER, KTM), 22 p.
MX2 Championship Top Ten: 1. Jeffrey Herlings (NED, KTM), 398 points; 2. Tim Gajser (SLO, HON), 298 p.; 3. Valentin Guillod (SUI, YAM), 297 p.; 4. Pauls Jonass (LAT, KTM), 288 p.; 5. Jordi Tixier (FRA, KAW), 286 p.; 6. Jeremy Seewer (SUI, SUZ), 275 p.; 7. Aleksandr Tonkov (RUS, HUS), 256 p.; 8. Max Anstie (GBR, KAW), 248 p.; 9. Julien Lieber (BEL, YAM), 243 p.; 10. Dylan Ferrandis (FRA, KAW), 205 p.