Hanging With SuperMac For a Good Cause.
Hanging With SuperMac For a Good Cause.
Story and photos by Milan Damnjanovic
Imagine for a second, you are sitting astride a KXF450 with a big number 2 as the roar of a 4 stroke signals another #2 KXF charging towards you and the rider jumps past you throwing a massive Nacnac. That rider is and can only be the King of Supercross Jeremy McGrath. My mind is blown away that I am spending a weekend with The King.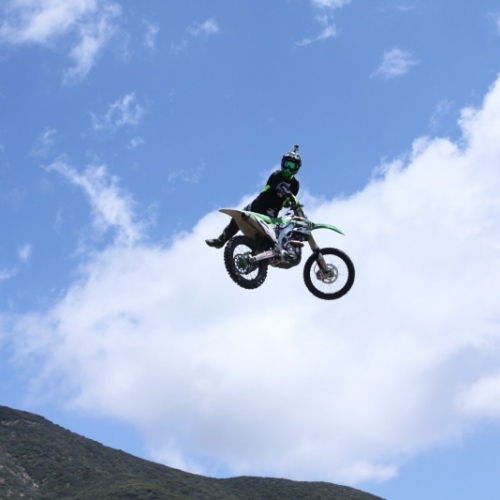 The King putting on a show at the freestyle section of his track
Many people ask how I managed to get this opportunity. Well, I won a charity auction for Be The Match®, which helps sufferers of blood cancers like leukemia and lymphoma find Bone Marrow donors. Over the past 25 years Be The Match®, operated by the National Marrow Donor Program®, has managed the largest and most diverse marrow registry in the world. With the money donated to this great cause I managed to get a weekend at MC's ranch riding and just hanging out, which turned out to be way cooler than you could have expected.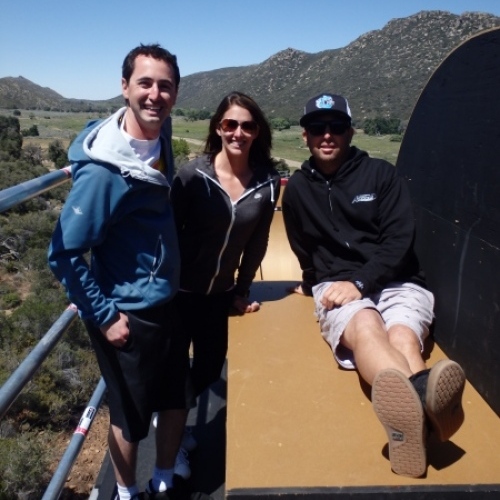 Jeremy, My wife & I hanging out on drop in.
Our Weekend began meeting Jeremy at a rest stop near his ranch. Rolling up and seeing 2 KXF450's with big number 2's was pretty exciting stuff and the nerves had me stuttering as I introduced my wife Casey & myself. Jeremy was super cool and laid back and introduced us to his friend Taylor and his 2 awesome dogs. After chatting for a while we met his Publicist, who organised the auction prizes, and then we were all on our way to the ranch! The Ranch is awesome, It is at pretty high elevation but it is flanked by mountains either side and it looks absolutely stunning. Upon arriving at the ranch we all got to sit around and have a magnificent lunch MC brought with him from El Callejon in Encinitas. Seriously people, if you are in the area, go there. The food was sensational. During lunch I managed to get some bench racing questions in with MC about his career and it was awesome hearing first hand from Jeremy his thoughts on certain things. It was quite surreal to be sitting around the table and having names like RL, Factory & Chicken be dropped in general conversation, the young mx fan from the 90's inside me was grinning from ear to ear.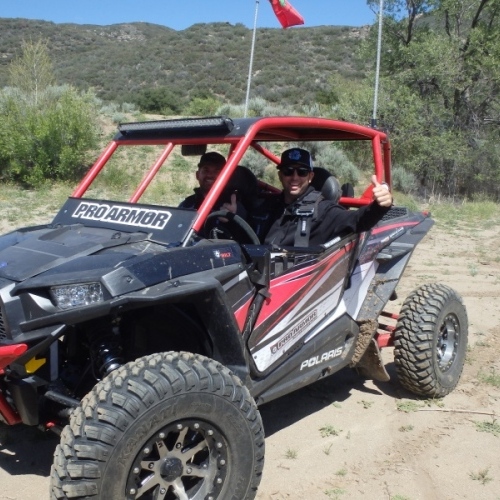 MC & Taylor during our UTV tour of the Ranch.
After Lunch MC gave us a complete tour of the ranch on Polaris RZR's, and that was a blast. Those things are fast and watching the King launch a couple of jumps in one was pretty darn cool. After a tour of the building's at the ranch we went down through the horse paddocks and got to check out the freestyle jumps, which was a super technical mix of ramp's and dirt doubles which look awesome, but more about that later. Onward to the outdoor track after a sight lap with the Polaris I deduce that it is not too difficult or have any crazy jumps, but it is fast and the dirt, though nice, can be a bit slippery. Laptime is a bit over 2 minute for the King himself. Near the outdoor track is the pond, which is just awesome. This pond is the sight of a nitro circus stunt a few years ago where Travis Pastrana skimmed across the big lake and Gregg Goddfrey failed to do so? Yeah that all happened here. As a matter of fact, this ranch has played host to some very cool stunts and even cooler people! Hearing MC bring up and point out all these cool things has my inner superfan jumping up and down, screaming.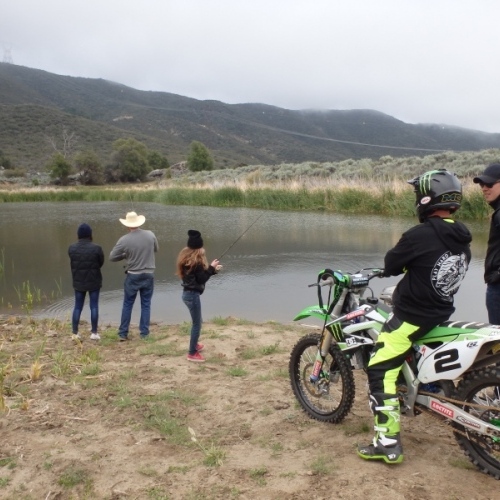 The Pond and the crew for the weekend enjoying some fishing.
After the RZR tour of the ranch we headed back and it was time to gear up and go for a ride. Now Jeremy was cool enough to bring out his 2 x 2015 KXF 450's for us to use for the weekend. Now, jumping aboard a Kawasaki 450 with big Number 2's on the number plate can be very daunting, especially considering I can count the amount of rides I've done in the last 2 years on 1 hand. The comedy started when after getting the bike running and warming it up, I proceeded to turn the choke off too early, stalling the bike. Then proceeded to try restart it for a minute of kicking, only to have Jeremy jump on and give it 1 kick to start. Goon status confirmed.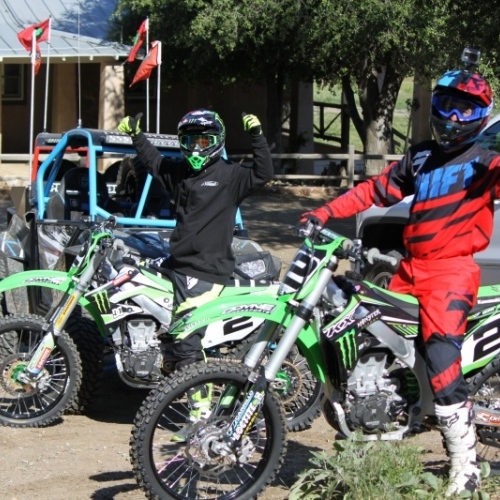 The Kawi 450 is sweet!
So now riding down to the track was just an experience in itself. Following the king is just awesome, every little thing he does on the bike is cool whether it be flicking the bike out over a small bump or blowing apart a berm. Anyone who has ever watched him and how he rides, well it appears after all these years he has not lost a thing. His style is just as awesome and sweet as in his prime. I can't say it enough how cool was it to watch MC whip it and slide into corners and get on the gas before the midpoint and explode out of the corner roost going everwhere. It is hard to pay attention to the track when you are fixated on how awesome the King really is on a motorcycle.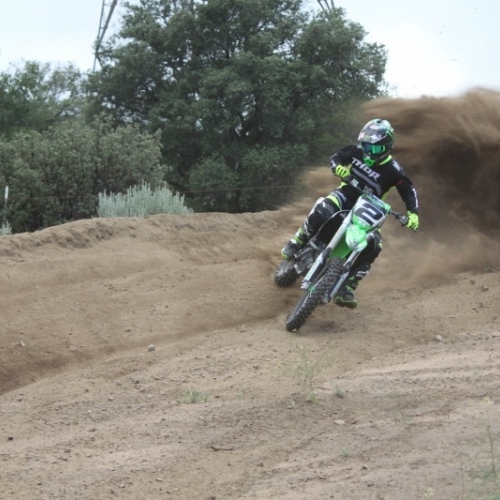 MC and the Kawi 450, I am just getting used to it.
As you can tell from the pictures the track is sandy by SoCal standards, which is still quite hard for someone from Australia. I do love the layout though and just wish I could have had more time as the track is really fun and the whoop section was absolutely awesome. It is pretty cool when you are riding and there are jack rabbits and other wildlife all around, it can be distracting but the scenery is beautiful. With the hill's either side, the greenery and the fog that settled over, it was definitely like riding a motocross track in god's own backyard.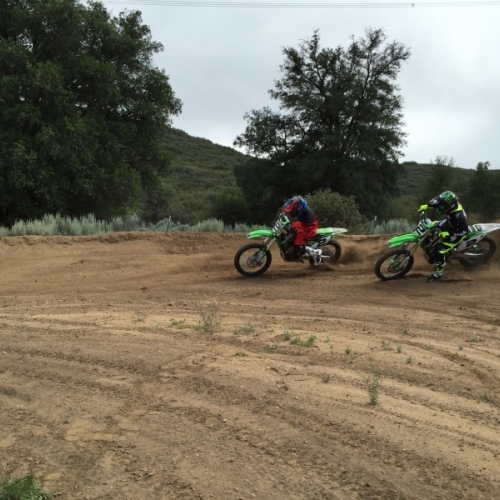 MC was cool enough to back it down a notch for me. PC: Iikka & Kim
After watching MC destroy some berms which would have been perfect for a Kawasaki commercial. We headed to the pond to chill while everyone got some fishing done. On the way back for dinner, MC pop's a wheelie that lasts at least 1 kilometre. I'm sitting back and just still thinking how cool is this?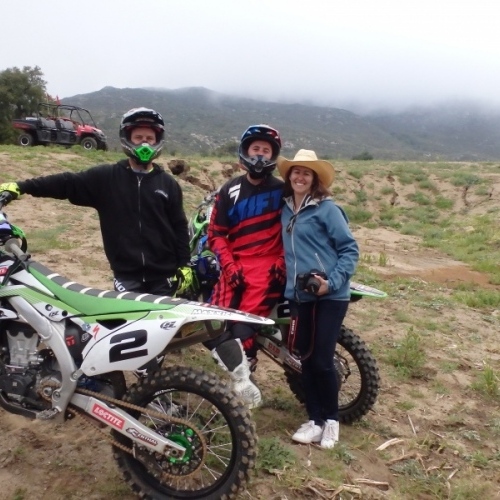 MC, Casey & I hanging out by the pond. PC: Taylor
Upon our arrival back, MC got the Glen Helen National on. Now I don't know how your weekend went, but sitting with MC and talking about the race was just awesome. Several moments were replayed, but Weston Peick's save was rewound multiple times. When the King is amazed at something you pull off on a motorcycle, it is amazing, stamp it. With this opportunity I was able to shoot MC questions about all sorts of stuff and MC's insight was definitely valuable. Though the consensus on Glen Helen 2015 was, that it was rough, and Eli Tomac was masterful with his ride.
Meanwhile dinner was getting ready and we had a sensational feast, followed by a movie to conclude the evening. To top off how cool MC is he choose Talladega Nights, and darn it if my weekend couldn't get better than watching Ricky Bobby with the King.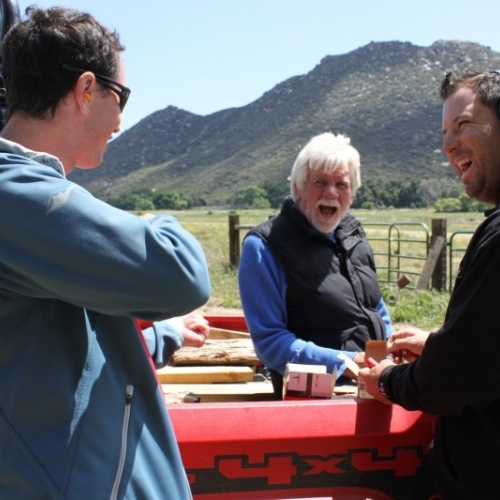 They're probably just laughing at my Aussie accent. #Straya
The next morning we started the day with some skeet shooting. Now I thought I was a good shot, but struggles with adjusting to the Beretta Shotty had me miss some shots; the King on the other hand didn't miss a single shot. It was a great time having fun with the whole crew.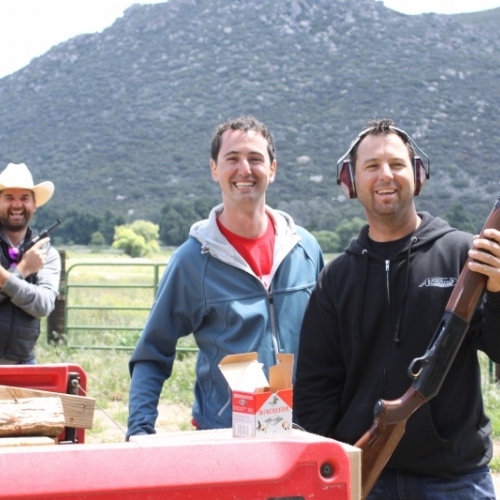 MC & I with Taylor pulling off a sweet photobomb.
Afterwards we got geared up again and went for a ride. MC led us over to the freestyle area and we were fortunate enough to witness MC throw some Nacnac's and big whips. We've all seen his work on video & at races and after all of these years he can still put on a show, complete with Stoppies and that Showtime style.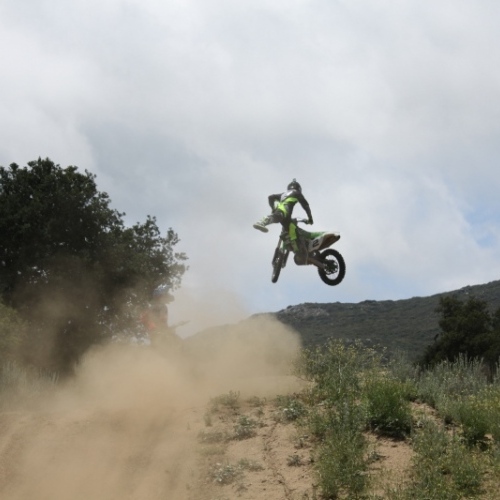 Dusty but still awesome watching the King throw Nacnac's past you.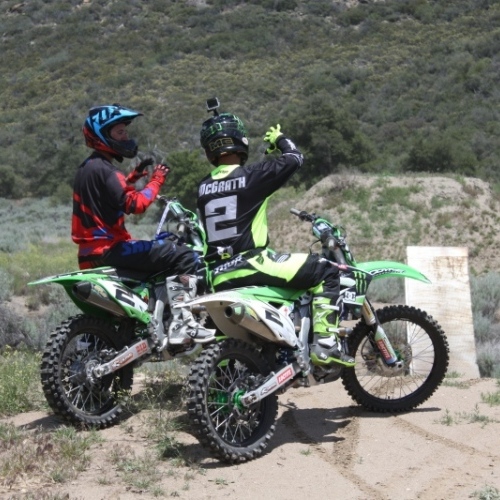 MC & I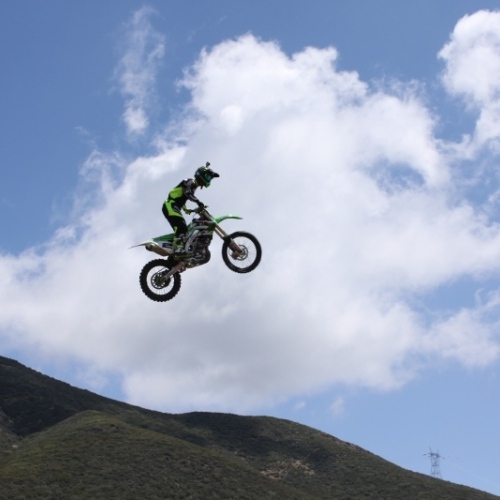 The King is still one of the best riders to watch.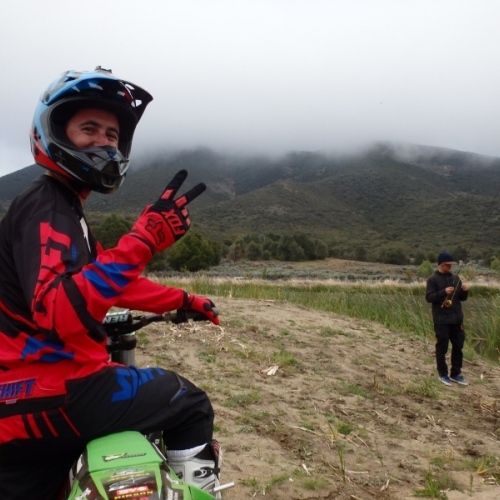 Me loving every minute and Iikka in the background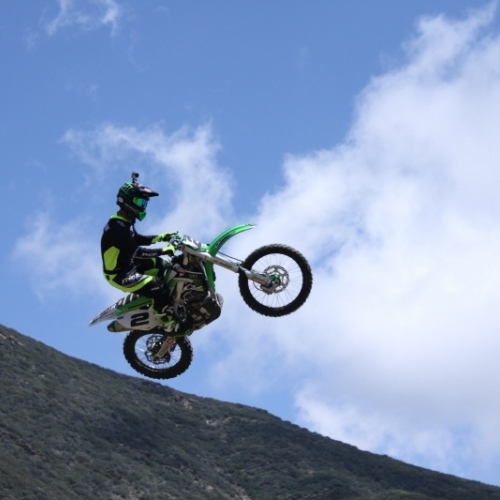 MC serving up pancakes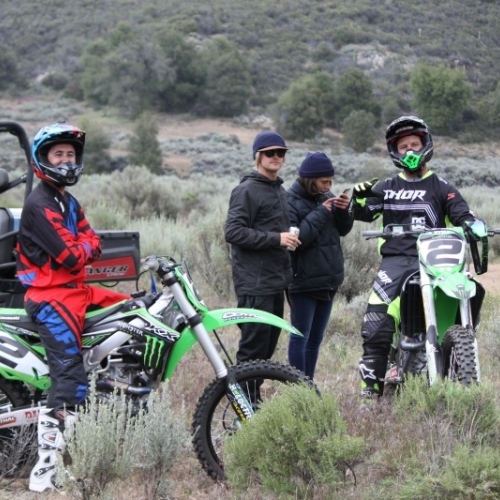 L-R: Chris, Myself, Iikka, Kim, MC.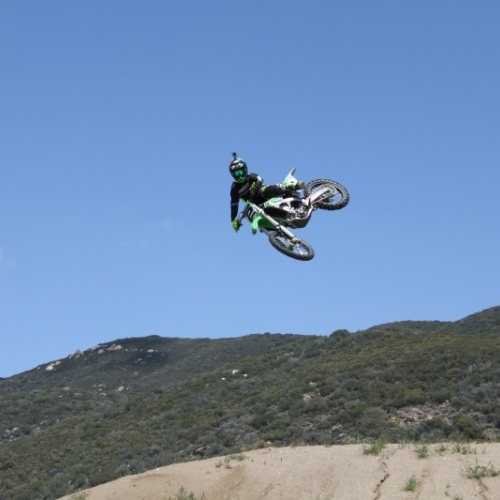 Showtime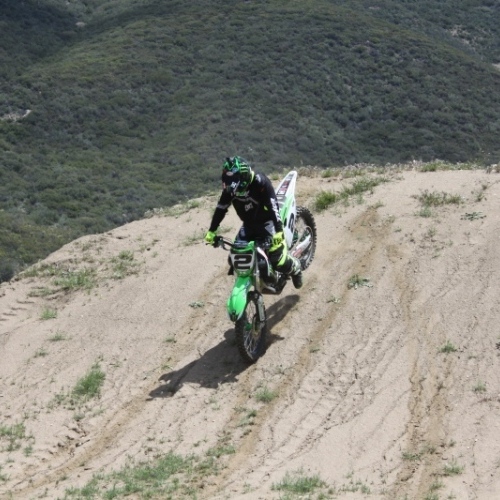 Showtime has bike skills like no one else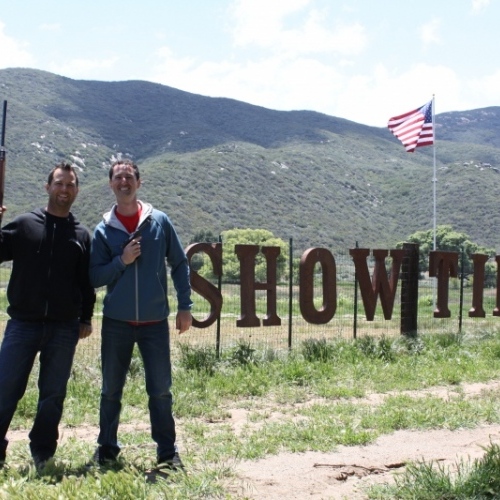 Greatest weekend ever
Though my time at the ranch with Jeremy came to an end and it was time to take the drive to LA in preparation for the flight home to Australia, I look back and am still smiling. Not only was MC down to earth and nice, he really is as cool as you can ever imagine one of your child hood hero's being. In closing I'd like to thank all the cool people I met including Chris, iikka, Kim, Taylor, Rob, Robbie, Cheryl, Tabby & Jeremy himself, but also Jeremy's family for letting him spend the weekend with us. As a super fan of the sport and growing up with Jeremy as a hero, it truly was one of the best times you can possible imagine, hanging out and riding with the King.