Matthes and Bendgen discuss the 250 championship again, and Canada!
Matthes and Bendgen discuss the 250 championship again, and Canada!
Photos: Simon Cudby
Earlier this season I asked you the following question:
Bendgen: Alright boss, the 250 championship is just a two horse race with a third of the racing finished. Both Marvin Musquin and Jeremy Martin have won and have salvaged great points on their bad days. Right now Martin has the upper hand over Musquin, but it's still very close. Based off of what you have seen in the racing so far this summer, which rider do you think will take home the number one plate at the end of the season? Do any other riders have a prayer to close the points gap on these two?
Only two motos remain now in the Lucas Oil Pro Motocross Championship. Two points with one round to go separate Yamalube Star Racing Yamaha's Jeremy Martin and Red Bull KTM's Marvin Musquin from a championship. I went with Musquin in our last debate, however after watching the entire season I do believe that Martin will be a two-time motocross champion. Who do you see taking this bad boy home?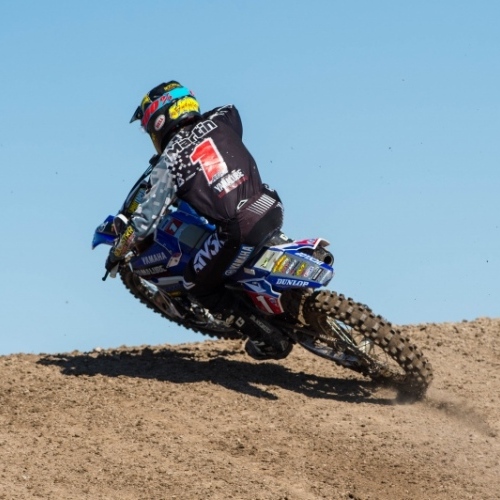 Will it be Martin…
Matthes: I've said it all along, I think these two are pretty evenly matched and to me that makes Cooper Webb the wild card. And yes, he's truly wild right? Webb can beat the two guys straight up and therefore if he's on it and Jeremy needs help, Cooper has shown that he can do just that. Marvin doesn't have any one, he's one versus two out there. However, if Martin can't get off the gate like he needs to, it may not matter what Cooper does because if Marv goes 1-1 then he wins. Martin's starts haven't always been terrible but they've hurt him more than helped. Musquin is so damn consistent that you just KNOW he'll be there in both motos.
What do you think?
Bendgen: I think we need to look at the track this weekend and whom it will suit better. Last weekend Marvin was very vocal about not being comfortable and that the Utah track did not suit his style. On the other hand Jeremy salvaged what could have been a terrible first moto. Martin came from basically dead last to third place and that could have made all the difference in this championship. Musquin will be stronger this weekend. He literally has no other choice if he wants to win this championship.
As far as your point about Webb goes, I think you are correct to an extent. Cooper definitely has the speed to win any moto, however if it's down to a championship. I say he lets Martin by easily and then gives his buddy Musquin hell. A championship is on the line though so I see Musquin and Martin on another level this weekend that we haven't seen all season. It's going to be very exciting and I can't wait to watch it unfold.
I still have to go with Martin for the championship. He has put in so many clutch rides this season when he has had to. I think this weekend won't be any different. He won the championship at the Ironman last year and I think we will see déjà vu again. It's nothing against Marvin, he's very deserving of the title as well, it just seems that Martin has had the ball in his court all season long.
Like you said, it's all about the starts, and those will be very key. If it comes down to it in a one-on-one race for the title, which rider will be champ on Saturday? It will be the first dry race that Indiana will see. It's Martin in my eyes.
In other news, Colton Facciotti, Jeremy Medaglia, and Seth Rarick will be representing Canada at the Ironman National. Where do you see these guys finishing?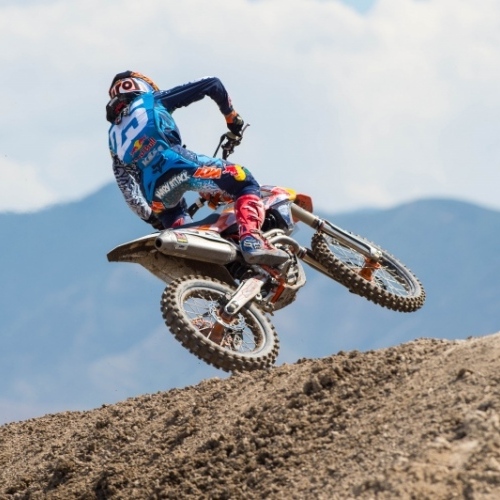 …or Musquin?
Matthes: NOW we're talking Troy! Batten down the hatches the Canadians are coming! Rarick is American by the way, he doesn't count but besides Facciotti, Medaglia there's also Tyler Medaglia, Kyle Keast and Kaven Benoit. I think Facciotti and Benoit can get inside the top twenty with the Medaglia brothers right around there as well. Screw the 250MX title chase, where Team Canada finishes and how they jack up everyone's fantasy moto leagues is really the true question.
Oh and whether or not Ken Roczen's dad will ever be allowed back under the RCH Suzuki tent ever again as well.
Bendgen: I knew that Rarick is American by the way! Obviously I did a story on him a few weeks ago and stuff. At the time he wasn't sure whether or not that he was going to be able to race the Ironman, but I'm glad to see that he gets the chance to.
As far as Facciotti and J. Medaglia go, I think that they can show their wheels inside of the top ten for a bit. These guys are no joke and I think that they will show it this weekend. Also keep your eyes on Benoit. That guy is going to be legit this weekend. He is now a two-time MX2 Canadian champion and he did it on a two stroke by the way! It's going to be awesome to see some different names show up in the Lucas Oil Pro Motocross Championship. These guys have zero pressure on their shoulders and it will be cool to see how well they do.
Thanks for your continued support and reading my stuff on here. I really do have a blast writing about dirt bikes. If you have any questions or want to bench race more, hit me up at Troy@pulpmx.com.