Bendgen gives his thoughts on the top twenty in the 450 motocross standings.
Bendgen gives his thoughts on the top twenty in the 450 motocross standings.
It's that time again! The time where I take a look at the top twenty in each class and analyze how well/bad the riders did. This is a column as well as an analysis, so basically I'm taking my opinion and backing it up with a lot of facts. This is part two where I'm focusing on the 450 class. If you missed part one you can check it out here. I've been writing about motocross for almost seven years now, so I've done a lot of analyzing over the years. This is just my latest rant.
Photos: Simon Cudby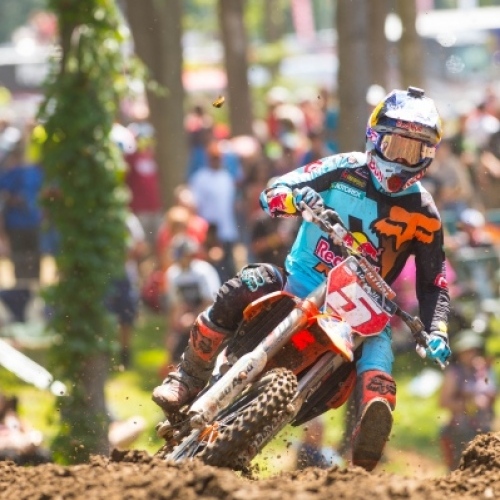 How many more championships can Dungey get?
1. Ryan Dungey / Red Bull KTM / 547pts
Dungey is the most underrated champion since Jeff Stanton. I mean, look at the statistics that he has racked up over his career. He just won his seventh professional title and he's just turned 25! Seriously guys, this man is a millionaire and he is my age. I'm letting that soak in for a minute…I'm here writing this column and he's my age and capable of retirement at any moment. How much more is he capable of accomplishing? He hasn't had any major injuries, which means his body is in really good shape. It's just a matter of how many more years he wants to commit to racing. He will have new challengers, however his consistency is untouched. I can see Ryan winning more than ten championships easy.
2. Ken Roczen / Soaring Eagle – Jimmy John's – Suzuki Factory Racing / 447pts
This was a very strange year for K-Roc. I'm not even going into all of the drama behind the scenes lately with his dad and team. The year started off great, but then he started to get hurt and I'm pretty sure his back was a huge problem this outdoor season. He just got it fixed earlier in the week, so that's a good move. Honestly, I think Kenny will just be back to his normal self next season. This means that he should either win the supercross or motocross title. It's going to be an exciting season.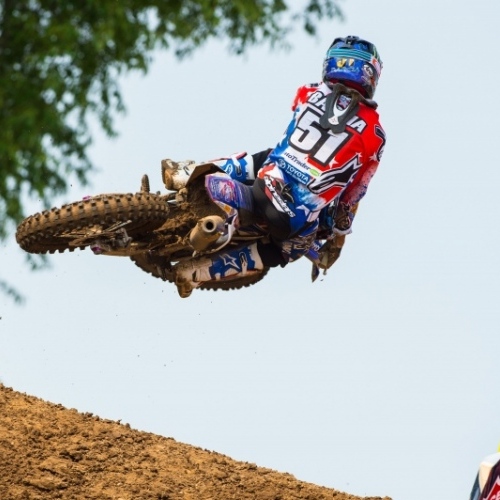 Barcia found some great settings and is back to winning.
3. Justin Barcia / AutoTrader – Toyota – Yamaha – JGRMX / 441pts
I'm certainly glad that Barcia turned his season around this outdoor season. You know that he either isn't that comfortable or something else is wrong if he isn't battling for wins. Justin doesn't just settle in for fourth place. He gives it his all and that is why he broke through for some moto and overall wins this outdoor season. I say that it's only going to get better from here. It's honestly surprising to me that he didn't wrap up second in the championship this outdoor season. It was very close. The Monster Energy Supercross season is going to be exciting to watch.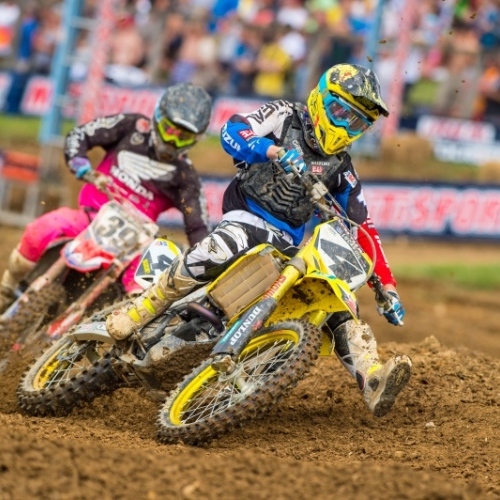 Baggett could win some races next season. He had a solid rookie year inside and out.
4. Blake Baggett / Yoshimura Suzuki Factory Racing / 360pts
I've heard that a lot of people were surprised with Baggett's performance this season. Why is it so hard to believe? Blake is a great rider and a champion. I think he accomplished what he set out to do this season, which was stay consistent in both series and see if he could land on the podium. He did both of those. Next season Yoshimura Suzuki is going to be a team to watch with two potential winners under the tent. Baggett and James Stewart are capable at winning any round that they show up to.
5. Christophe Pourcel / Rockstar Energy Husqvarna Factory Racing / 323pts
You know, I really thought that Christophe was going to win at least one moto this summer. He's very fast when he gets a great start and he's won a lot in the past. To me this was a great return to the 450 class for Pourcel. To finish fifth overall in the standings is not shabby at all considering his last outing in this class in 2011. It's going to be awesome to see his fluid style back in the supercross stadiums next season. He just signed a contract extension that will keep him on Husqvarna until the end of 2017. With a lot of time to test, and to be racing both indoors and outdoors, Pourcel should get back to his winning ways.
6. Jason Anderson / Rockstar Energy Husqvarna Factory Racing / 320pts
It's crazy to look back to Anderson's rookie season in 2011 and then look how far he has come in a few short years. Here's a guy who went from sitting out some races his first season because of not properly training, (if I remember correctly) to a 250SX championship, and the future of a brand. Like his teammate Pourcel, Anderson just signed a contract extension as well that will keep him on Husqvarna until the end of the 2018 season. Jason did have an up and down rookie season in the 450 class, but found the podium inside and out. It will be cool to watch him grow even more in the next few seasons. We have a contender here.
7. Broc Tickle / Soaring Eagle – Jimmy John's – Suzuki Factory Racing / 311pts
Whenever I go to write about Broc I find it hard to come up with things to say about him. He doesn't exactly stand out in the pack, but HE'S ALWAYS THERE! Seriously, this guy is more consistent than a salad at Olive Garden. To put this in perspective for you, he's the salad without the breadsticks. He needs to find the breadsticks. Or he could just continue what he is doing because whatever it is it's working for him. He found the podium this year and his consistency put him thirteen points out of the top five in points. This was a great season for Tickle, who spent last year sitting out almost the entire season.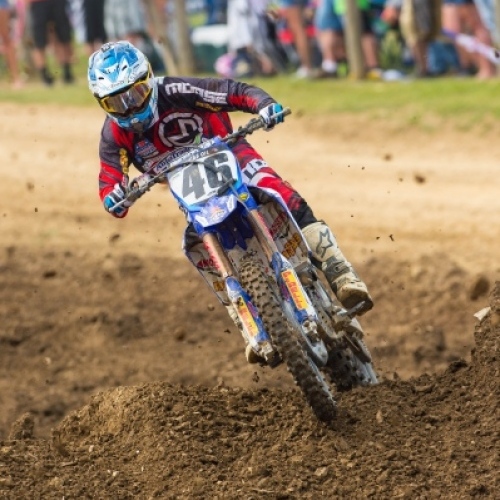 Phil takes advantage of every opportunity it seems like.
8. Phil Nicoletti / AutoTrader – Toyota – Yamaha – JGRMX / 250pts
I know my boss Matthes and Nicoletti have this weird relationship together, which is cool. I feel like whatever Matthes gets him to say to him is all the public really knows about him. You don't exactly hear about Phil flipping rental cars or anything like that. He puts in the work and he finished in the top ten in points this season. I have a lot of respect for guys like Phil in the sport. Hopefully his fill-in deal can convert into a full-time gig for supercross next season.
9. Weston Peick / AutoTrader – Toyota – Yamaha – JGRMX / 223pts
Peick found the podium this outdoor season, but not as much as I thought he would. In some races he finished where I thought he belonged and in the others I was confused. Weston doesn't get hurt when he hits the ground. The Earth gets hurt, so I'm not so sure about a nagging injury. The good news is that Weston has found a home at JGR and he's still one of the best stories to happen in the sport of motocross. Now who wants to see this guy win a race?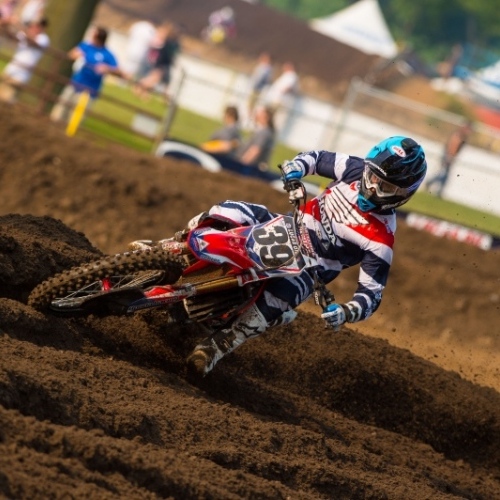 Noren filled in for Factory Honda again and had some of the best results of his career.
10. Fredrik Noren / Factory Honda HRC – Motosport GPI Honda / 206pts
Noren would have finished a lot higher in the standings had he raced the final two rounds. It's funny to look at the top ten in the standings this season, especially Noren and Peick, when these two were doing it on there own a couple of seasons ago. Noren had bought a van from fellow privateer Christian Telker last season and was going to all of the races like that. To come from the van to factory Honda is such a cool story. This season Fredrik came on strong in the heart of the season and really showed how strong he could be. However, I don't believe we have seen his best race yet.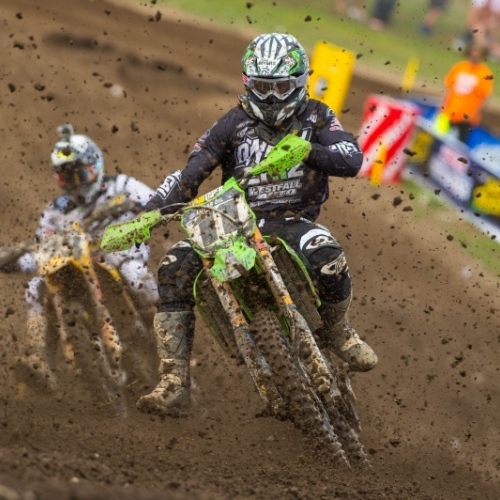 The top privateer.
11. Kyle Chisholm / Team Chiz / 159pts
Out of all of the media people in the world, I feel like I have personally talked to Chisholm more than any of them this season. Needless to say, I know a lot about him in the least creepy way you can put that. I know that he probably isn't too pumped on finishing eleventh overall, but he needs to be. He overcame countless obstacles to be the top privateer. His rig broke down more than once, he had to pit out of a pickup at Spring Creek, and he had to figure out how to run his own team through it all. I think he has gotten a lot of press for his accolades and accomplishments, especially from me (insert Matthes and Ferry joke here). Really though, this was a great effort by the Chisholm family. Somebody should really consider putting Chiz on their team for next season. If they want consistency they will get it with Kyle.
12. Justin Brayton / BTO Sports KTM – WPS / 146pts
I don't have too much to say about Brayton other than the fact that he didn't have a normal season. He sat out the final two rounds and his best result was an eighth in the second moto at Tennessee. That's not very Brayton-like.
13. Josh Grant / Factory Monster Energy Kawasaki / 135pts
Josh did a nice job filling in for Kawasaki. After TwoTwo Motorsports closed up shop the future was uncertain for Grant. When Wil Hahn went out with injury it was the perfect fit to come in and help out. The thing about Grant is that he can win a moto on any given day. It just depends on how he is flowing with the track. He didn't win any motos this season, but was very consistently in the top ten. Let's hope Josh lands a ride with a team next season.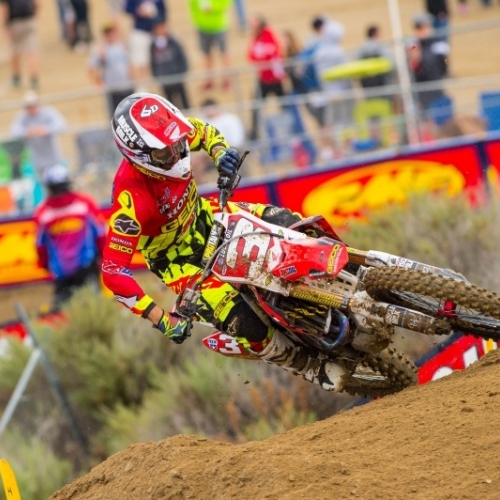 Tomac should have a different setup next season.
14. Eli Tomac / GEICO Powersports Honda / 125pts
Aw man, what could have been? Was Eli about to go on a 24-0 rampage this summer? He won the first five motos going away and almost a sixth. It was going to be a heck of an outdoor season for GEICO Honda and Tomac this summer. Unfortunately injury cut it too short and we will have to wait and see what Tomac has to offer next season. If the rumors are true, it will be interesting to see how fast that he adapts to his new steed. Hey, it took Barcia a bit to figure out his.
15. Trey Canard / Factory Honda HRC / 118pts
Listening to the PulpMx Show a few weeks ago I was disturbed by some of the comments that Canard had said to Matthes recently. Trey said something along the lines that he has a feeling like he did before he hurt his femur. I take this as Canard is afraid to get hurt again. With all of the injuries he's had over the years it's amazing that Trey is even out there still going for it. I hope I'm wrong about this assumption, but we will have to wait and see what the future holds for Trey and his winning ways.
16. Cole Seely / Factory Honda HRC / 104pts
In my opinion I didn't get to see enough of Cole this outdoor season to truly gauge him. He was having some killer results before he got hurt and a season high of fourth in the second moto at Thunder Valley. Honda did a nice job of investing in Seely. He has a very bright future with the brand and he's already a race winner in supercross.
17. Kyle Cunningham / TPJ – Suzuki – Fly Racing / 103pts
I thought Cunningham did very well this season. He stepped up to the 450 again, a bike that he's had success on in the past, and was the only other privateer in the top twenty besides Chisholm. Cunningham only missed out on points in seven motos and he was always around the 10-15 range when he had a good day. I think that if he stays with his current ride that he can really turn some heads again next season.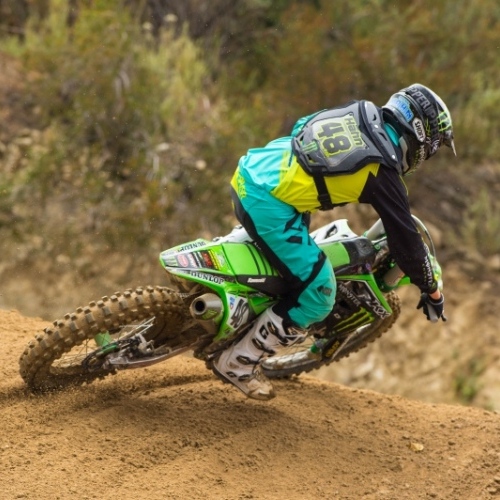 Hahn was starting to find his groove before he got injured again.
18. Wil Hahn / Factory Monster Energy Kawasaki / 99pts
This guy is breaking my heart! I can't just sit here anymore and watch Wilbur continuously get hurt when he is just starting to find his rhythm. This is a guy that deserves a factory ride, but is having another rough spot with some serious injuries. I heard that he is back at Kawasaki next season, but we will have to wait and see. Hahn is one of the most genuine guys in the sport and it is a bummer to see him hurt all of the time.
19. Tommy Hahn / Motosport GPI Honda / 85pts
The Hahn brothers stick together! It was really cool to watch Tommy back out on the track this season. I was always praying fro him to make a comeback and my prayers obviously worked. It does stink that he had to come in and out of the series due to injury and I believe he had a concussion at one point. Will we see Tom back next season? Your guess is as good as mine, but following him on social media it appears that he still has some unfinished business. He is still having too much fun riding his dirt bike.
20. Andrew Short / BTO Sports KTM – WPS / 75pts
Shorty returned late in the series, however you could tell he wasn't ready to. Andrew is just Andrew. He's a veteran that knows how the game works. He will get 85 holeshots next year no problem.
Thanks for reading everyone! I really do enjoy writing about dirt bikes for a living. If you want to shoot me an email you can reach me at Troy@pulpmx.com. The season is over but we can still bench race, bro.