Weeks talks about his life in motocross and coming back from a severe injury.
Weeks talks about his life in motocross and coming back from a severe injury.
Photos: Troy Bendgen and courtesy of Justin Weeks
Cincinnati, Ohio's own Justin Weeks has been out of the limelight for a half a decade now. However, his full story has never been told. Weeks climbed the amateur ranks riding for both Team Green Kawasaki and Rockstar Energy Drink American Suzuki factory support teams. In 2009, his final year as an amateur, he was one of the only riders to challenge Dean Wilson for titles. He also won the 450 A class that season by sweeping all three of his motos and made Loretta Lynn's history in the process. He turned professional at Unadilla fresh off of the title. Two weeks later his life changed forever when he was practicing up in Michigan. He has been rebuilding his life ever since the incident and now he is at a good place and still continues to get better everyday. The following story is mostly in his words with some narration along the way.
This is the motocross life story of Justin Weeks.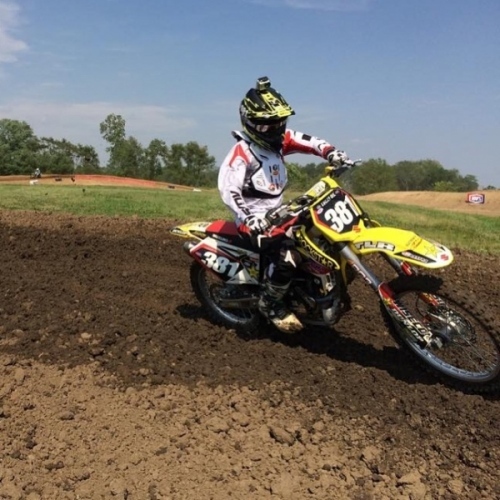 Weeks spends his weekends at the track after all of these years.
Early Life
It didn't take long for Justin Weeks to find the love for two wheels. In 1993, Justin's dad started taking him trail riding when he was only three years old. Justin enjoyed many hours doing this with his older siblings. Once it became time for the older kids to move onto high school Justin knew he wanted to get involved in some type of sport. He signed up to play baseball and also decided to give racing a shot. The rest is history. At the age of seven Justin had found his niche and it didn't take him long to find the speed.
"We decided to go to a local track called Dirt Country to try my first race. On Wednesday nights I had baseball practice and that's when Dirt Country had practice. My dad would ask me if I wanted to go to baseball practice or if I wanted to go ride my dirt bike. It ended up being 95 percent of the time I picked my dirt bike over baseball practice. The next year my dad asked me if I wanted to play baseball or if I wanted to race. I told him I want to go race."
Early Amateur Career/ Team Green
"It only took me about a year and a half to get the hang of racing. That's all it took me to get my first Ohio State Championship. I just did local racing until the age of ten and then my dad asked me if I wanted to take my racing to the next step. We loaded up and drove to Florida from Cincinnati to see what I could do."
The race that Weeks is referring to here is of course the Mini Olympics held in Gainesville, Florida every Thanksgiving week. This first venture occurred in the year 2000.
"I came out beating some of the top Kawasaki riders that week. At the time those were guys like Trey Canard, Sean Hackley, and some others that are big names today."
A week after his great showing at Mini O's, the Weeks family received a call from Kawasaki's Team Green program. Kawasaki was interested in his talent. The two would start their relationship together in 2001 and win some amateur titles together as well as have countless podiums. The support from Team Green took Weeks through the majority of his amateur career. He raced in the 65cc, 85cc, 105cc, 125cc, and 250f classes with the team. The relationship was going well until the end of 2005 when Weeks found out he wouldn't be getting support from Kawasaki in 2006.
Losing Team Green Support
At the end of the 2005 season Weeks was let go from Team Green because of budget cuts.
"I was honestly shocked at the decision and the riders who were picked for that team that year. I didn't bad mouth anyone or do anything like that, but it left a bad taste in my mouth. I just wanted to show it more in my riding than show it verbally to everybody that I was pissed. I feel that I put in better results than a lot of the other teammates that were chosen. Sure, I had animosity towards it at the time, but it actually turned out to be one of the best things that happened to me.
The Vital Year – 2006
Weeks was left without support for the 2006 amateur season. Justin and his father went to a local shop by the name of Beechmont Motorsports and bought six Hondas. During that season Weeks ended up winning six titles in the process. That was a title for every bike that he bought at the beginning of the season. It was great redemption and factory supported teams ended up taking notice of his talent once again.
"Once I jumped on the Honda I really meshed well with the bikes. I felt great on them. If I had lacked national titles, well that streak was finally broken. Going down to Mini O's at the end of 2005 I wanted to show Kawasaki that they had made the wrong decisions with their picks. I also wanted to put it out there to team Honda that I was out there and looking for a ride and looking to give them results."
Everything was going to plan that season. Weeks won his first ever moto at Loretta Lynn's racing in the 125cc Stock (12-15) class and Honda said that they were going to put together something with him for the 2007 season.
"It came to be about seven weeks before Mini O's and we didn't have a contract coming our way. I was still riding the same bikes that I had all season. I guess I just got lucky when Cole Gress (previously the team manager of Suzuki's amateur support team) called me up and asked me what my plans were for the next four years. He offered me a four-year A-level support ride that would take me through to my pro debut. I had to race two years in the B classes and two years in A."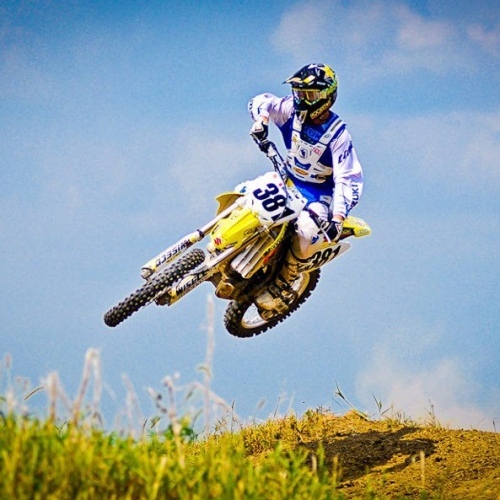 Weeks circa 2008 on his Rockstar Suzuki ride.
Rockstar Suzuki Amateur Program 2007-Pro
During his tenure with team Suzuki, Weeks won four titles between Ponca City, Oak Hill, Mini' O's, and Loretta Lynn's.
"I wasn't coming off of a great Lake Whitney and Oak Hill. I had some lower compressed disks that I had been dealing with, so I let those heal. I started to put in the work around the house, as far as focusing on my corners and my starts. When it came time for my Loretta's qualifiers it seemed like I was on a roll and that I couldn't do anything bad."
Loretta Lynn's 2009 450 A Champion
Weeks came into Loretta's that season on the verge of making history. He became the first person to sweep all of his motos in the 450 A division at his area and regional qualifiers. If he could sweep all three motos at Loretta's in the class then he would be the first to ever clean sweep every single moto in all of the qualifiers and at the national. Sure enough, he pulled off the clean sweep. It was his last time at Loretta Lynn's and he won his only championship there in the most dominant fashion. He ended up fourth overall in the 250 A class behind Dean Wilson, Taylor Futrell, and Blake Baggett.
"It was completely overwhelming to me because it was my last year at the ranch. To come out with such dominance it definitely gave me a lot of confidence heading into my pro debut."
In total Justin accumulated twelve total amateur titles. He had racked up six moto wins at Loretta Lynn's as well as eight podiums in total. He had raced with the likes of Ryan Dungey, Ryan Villopoto, Mike Alessi, Trey Canard, Jason Anderson, Blake Baggett, Dean Wilson, Wil Hahn, and others who sit atop of the sport now. Not only did he race them, but he also had a turn beating them at some point.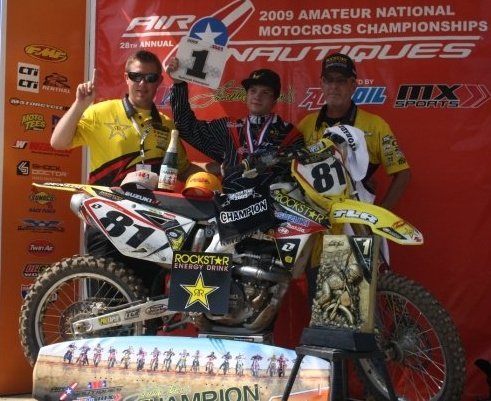 Weeks went 1-1-1 in the 450 A division at Loretta Lynn's 2009.
Turning Pro – Unadilla 2009
Fresh off of the best week of his racing life Weeks loaded up and drove Northeast to New Berlin, NY for his professional debut at Unadilla. He raced his amateur bike in the 250 class. Weeks wanted to show the factory teams that he belonged in the 250 class as well, since he had just shown that he can do very well on the 450. His immediate future was going to be on a 250 and hopefully on a team next season.
"I was always more confident on a 450. I don't know whether it was because of my upper body strength, but I was able to withstand the power a bit more than some of the kids my age. It felt like I was unstoppable on a 450."
At this point Weeks did not have a ride set up for the 2010 season. He did not have an agent, but was talking to some teams for the next season. Most notable teams that were spoken to about possibly hiring on the new 450 A champ were Monster Energy Pro Circuit Kawasaki and the Rockstar Makita Suzuki Factory team. Of course nothing was written up, but he was on their radar for a possible deal.
Budds Creek
Following his debut at Unadilla the 2009 tour visited Budds Creek the following weekend. This was the famous race day that riders and people are probably still wringing the water out of their clothes. The weather was extremely rainy and it got so bad that small rivers were forming on the track. The second 250 moto had to be shortened and Jake Weimer came out on top that day. However, the day wasn't that great for Weeks. He injured himself in the first moto before pulling out of the action for the day.
''Right after Unadilla we loaded up and went to Budds Creek. My practice times were halfway decent to where I qualified around 13th. In the first moto I came out with a top fifteen start. Around the tenth lap I was in 12th. I could see who was in ninth in front of me. I tried an inside move in one of the off-cambers and my front wheel popped out of the rut. I ended up laying my bike down weird to where my ankle was under the backside of my frame. Then Phil Nicoletti went through the same part of the turn and did a wheelie up over my bike. I felt his rear tire on my foot and it ended up twisting. I got up and tried to ride three more laps of the race, but I couldn't put any pressure on my foot. I had to pull off."
The Day That Changed His Life – August 30, 2009
Immediately following Budds Creek, Weeks went up to Michigan to a race at Freeland MX in preparation for Southwick, which was scheduled for the following weekend. Justin put his gear on, just like he had done thousands of times before in his life, and headed out for his second practice session.
"There was a portion of the track that was more dangerous to do than what I had been doing in the first place. I was the only rider there that was doing the section. I did it only two times in the first practice and I only wanted to do it another two times to get it dialed in for the race. I didn't want anyone to see the lines that I was doing. It was an awkward set of jumps. When I came around the turn I was in third gear and clicked to fourth. When I went to go compress my suspension to preload this little kicker my bike bogged. My back end flipped on the kicker and it through my front end straight down. It was to where my knees were tucked up over the bars and my hands were still on the handlebars. The motion was so fast that there was absolutely nothing I could do to react. There just so happened to be another tabletop right after it. I ended up landing with my head and knees flat, straight into the face of that next jump. I was completely knocked out. I wasn't coherent and I don't remember what the paramedics were saying. They said that I was just moaning and very groggy. I had to take a life flight in a helicopter from the track to Flint, Michigan. When the helicopter took off I had flat lined for about 45 seconds. People have told me that when the helicopter was flying away a double rainbow appeared, which is pretty crazy. It was like I was being saved in a way."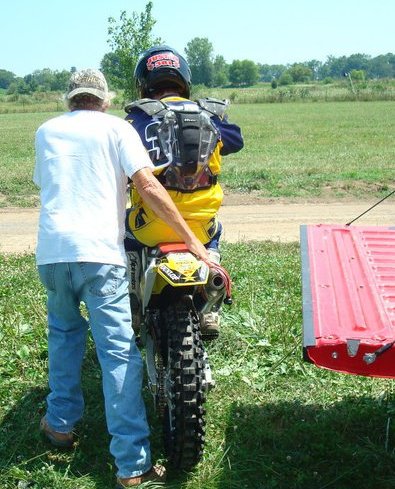 Justin and his father rigged up the bike quickly so that he could ride again.
Rebuilding
"As far as the rest of the diagnosis goes, they did a complete MRI of my body. I had been paralyzed from the chest down. I was a centimeter away from being a quadriplegic and not able to use my arms. I had to actually not move for an entire week because they didn't want any of the nerve damage to go any higher. Along with that I had broken my T-1 to my T-5 vertebra. My T-3 was shattered into like 40 different pieces and some of those fragments had gone into my spinal cord. I had also broken my sternum in half, punctured and collapsed both of my lungs; I had internal bleeding, tore both of my labrum muscles in my hips, and broke my jaw on both sides. I wasn't too coherent during the first two weeks. Then I could be transferred to my hometown and Children's Hospital in Cincinnati. That's where it all started. They came in and gave me a diagnosis with a light needle prick on my skin. They make you close your eyes to see if you can feel anything up and down your body. I tested negative. I was a complete injury, I couldn't feel, I couldn't move, or anything. That was how the first couple months went. I was just getting used to getting my own socks and clothes on and showering. That was a test itself. I had to figure out the motions on how to take care of myself again. I waited about two and a half months before I could use my upper body. My rods, plates, and screws really needed to set in my back. It needed to heal before I could do anything. I just went from there. It took about five months before I started to get some feeling back. I could feel hot and cold spots as well as light pressure. When I started shifting my legs around in my chair I could feel that my hips weren't right. I had to go back to the orthopedics for another MRI and that's when I found out that both of my hips were torn."
In all, Weeks said that he has had around six surgeries for all of the injuries he sustained. It got to the point where he was almost receiving too much anesthesia and the doctors had to be careful not to give him any more.
Believe 381
However, barely three months from his accident Weeks was able to go down to Mini'Os that fall and just enjoy his time at the races. He had a booth set up with shirts among other little personalized items and stickers for sale. The profits from the sales would go to his hospital bills. It was during this time period where Weeks realized the impact that he had had on the sport.
"It's an overwhelming feeling when you have that much support. When I was in the hospital in Flint I was getting get-well cards from Peru and Austria. I never even thought about it more than I'm just a small-town kid from the outskirts of Cincinnati that loves to rides dirt bikes. I never tried to be in the public eye too much. I had an acre and a half in my backyard to practice in growing up. I just wanted it more because of that."
Justin wasn't able to stay the entire week of the amateur national. He was unaware of a fundraiser that announcer, and now TV personality, Wes Cain was putting on for him at the track. The fundraiser was a success and former GNCC star Scott Plessinger drove the money up from Florida and personally delivered it to the Weeks family. Other people around the motocross community stepped up and banded together to help Justin the best they could. Racers stepped up as well and an old racing friend really stood out in Justin's eyes.
"A lot of people had donated money. Trey Canard really stood out in my eyes. He donated a good portion to my fund. I'm very thankful for everyone else who donated money to me. It went a long way for the situation that I'm still in now. I got other support as well. I received phone calls from Mitch Payton, David Bailey, Travis Pastrana, and people who I figured didn't even know who I was. They gave me a lot of support and wished me good luck on getting on the right track."
At this point in the rehabilitation Justin was working with his dad on some exercises. His was instructed to move his toe and Justin did just that. It was the first huge moment in his recovery process. In the past five and a half years Justin has worked very hard on getting back to as strong as he can be. He has taken his full-injury and original prognosis of never walking again and ignored all of the negativity. He always had it in his mind that he will do whatever it took to get back to walking on two feet again and he wouldn't spend the rest of his life in a chair.
As soon as he was able to get back on a motorcycle, Justin and his dad rigged up his bike, strapped him in tight, and it was back to riding. At first he stayed in his backyard and then gradually worked his way to actual tracks. At first Justin was limited to his movement, but now he doesn't have to be strapped onto his bike and he is back to putting his legs out in the turns and standing up whenever he feels like it.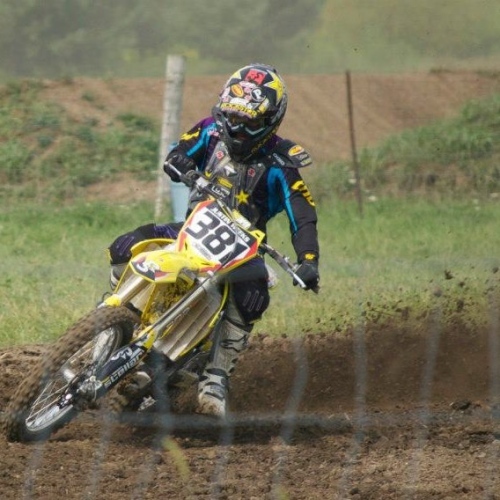 Justin was putting his foot out in the turns as early as 2012.
Present Day
Today Justin Weeks will wake up, stand up, walk out of bed, get onto his Zuma scooter and ride to work. Once at work, Weeks will help customers find the parts and apparel they need to ride because he in fact works for Beechmont Motorsports. The same shop that backed Justin for his 2006 season is backing him now. It's only fitting for each party. Weeks won the shop six amateur titles that season and now they are giving the Cincinnati kid a chance to work around the sport he has loved his entire life.
Growing up and racing motocross has taught Weeks a lot of life lessons. However, coming back from all of his severe injuries these past six years has taught him even more. There is a whole lot more to life than motocross.
"It's an awesome situation. I'm thankful to be in the spot that I'm in. The shop has always been there for my family whether it was trail riding or getting me started in the racing scene. To win six national titles with Beechmont Motorsports graphics on the side of my bike was awesome. To know that my local shop, which is literally a mile and a half from my house, could collaborate with me to do that is incredible. I just walked in there one day and asked if they needed any help and they said yes. For them to let me come in, learn the ropes, and help out is a big deal."
Weeks is saving up to buy a house with some land so he can build a track. His goal is to eventually start some riding schools, not necessarily to train the next big thing, but to teach people how to ride dirt bikes a better way.
He walks with just a cane now and some days he can go through the entire day without it. His hard work ethic and perseverance has paid off dearly in the past six years of his life. He continues to get better everyday.
As Weeks wrapped up the conversation he said that he was loading up his trusty Hi-Point trailer up to go racing this weekend at Scott Plessinger's new track Eastfork MX. Some things will just never change. Racing will always be a huge part in Justin's life. He has never let anything hold him back from accomplishing what he wants to do in life.
"I've learned to be a lot less judgmental in some situations and more patient with day-to-day activities. It makes you way more appreciative of life going through a dramatic experience like that. You just can't hold anything back."
I want to give Justin Weeks a special thanks this week. He has given many hours of his time to chat with me for this story. I appreciate everything my man! As always, thanks for reading my columns every week. I really enjoy this job and it's fun to put together stories each week. You can email me at Troy@pulpmx.com to chat about anything. I'm also on Twitter and Instagram @troybendgen.