Test #6: 2016 Moto Line Priview
Test #6: 2016 Moto Line Priview
Christmas came early this year by way of the 2016 lineup of Scott goggles and accessories. We here at PulpMX were very excited to receive this generous care package of the latest and greatest offerings from one of our sport's leading companies. Since 1970, Scott Sports has produced everything from goggles, glasses, bikes and more, continuing to progress these said items in order to maintain top-quality industry standards that professionals and beginners alike can appreciate. For this edition of PulpMX Product Punishment, the Scott Sports Moto Team provided us their top-tier line of MX goggles and accessories, showcased in their 2016 lineup; the Tyrant and Hustle goggles, all equipped with any and every accoutrement available to the public today.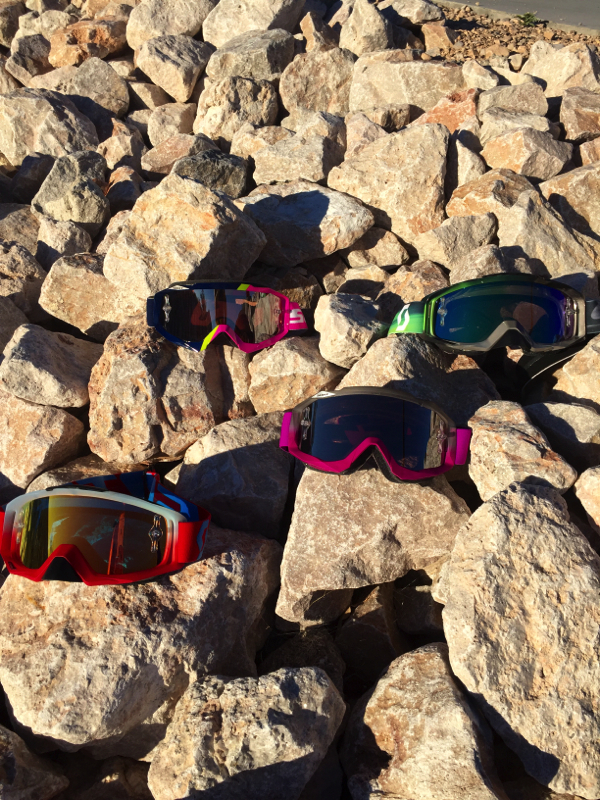 I was excited to hear that I would be given the opportunity to test the latest offerings from Scott. It has been roughly 4-5 years since I last ran their products, dating further back to my amateur competition days when Scott goggles were the only pair I ran. Since then, I have dabbled in other competitor's products to figure out my personal preference among the current options available. To get started in this review, I had to open the infamous Scott goggle bag; a timeless and irreplaceable piece of storage gear that has been with me through thick & thin. If you don't like their goggles, that is one thing… but their goggle bag is one of the best pieces of gear that any of us could own. The first pair of goggles I studied was their Tyrant:
"The Tyrant goggle is carefully engineered to optimize fit, moisture management, and venting. It is designed with features such as the patent Fit system, the RAM Air plug, and adjustable nose guard".
The most unique feature of this goggle is the Fit system; a mechanical adjustment located on the inside of the frame, that allows you to choose between four different position settings, providing a customized face and nose fit. Of course, I got busy fondling with these options, to see what results they could produce. Interestingly enough, it works! Try for yourself; twist the set-screw in ¼ turn increments, applying the goggle frame to your face, to test the fit after every turn. I assure you that you will find 1 setting that works better than the other 3 available. In addition to this frame technology, the Tyrant goggle has a great combination of triple layer sweat-proof foam, high quality impact resistant and 100% UV protection lens, and eye catching color ways.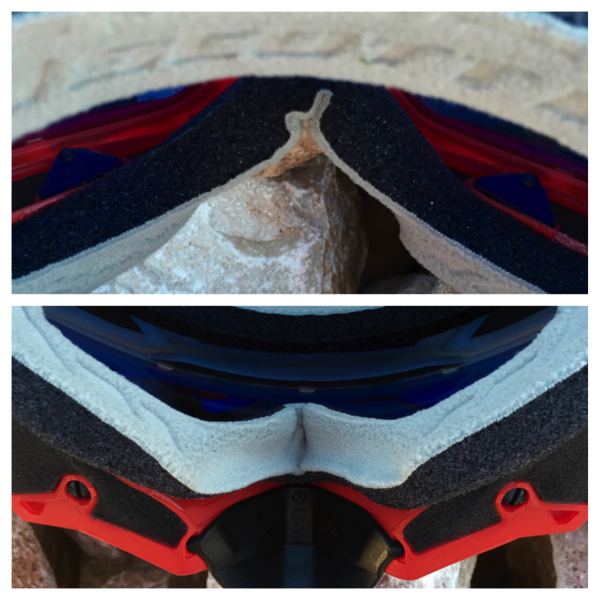 The other major offering from Scott today is the Hustle goggle, which carries over similar features as the Tyrant, but houses a different shape and fit all together. Without a doubt, the Hustle goggle is very well built, and has a great fit, but if you want the best of the best, one would have to focus on the big brother Tyrant line.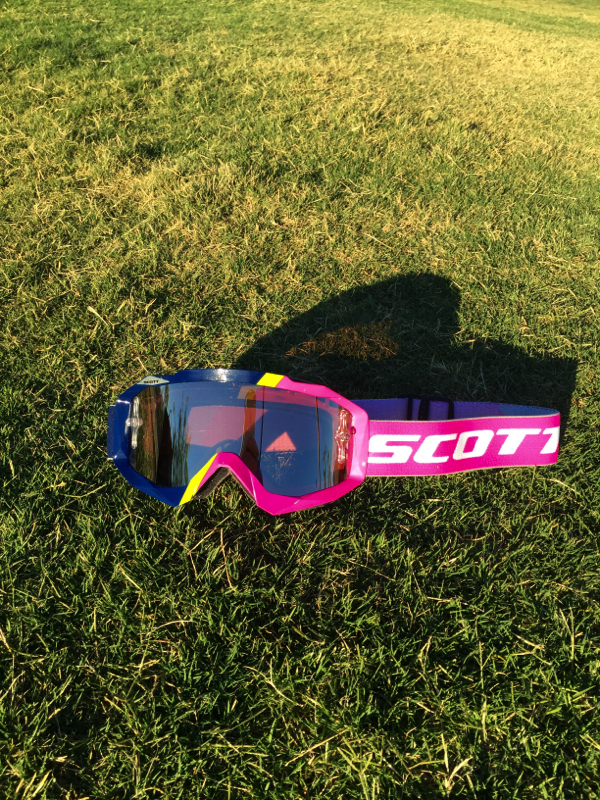 For the actual testing portion of this review, it was only appropriate to venture into the vast 100-degree desert, trying to rack in 50 miles before sundown. Sun was eye level, and cool air was at a minimum. The Tyrant goggle fit very well in the eye port of my helmet, and the strap held sturdy with the no-slip silicone lining. Sweat was never an issue, although you could feel the moisture present. But, I was never left in a situation to make me worry about my perspiration falling into my lens. One of my original concerns when first looking at this goggle was the "flimsy" plastic material they were made out of. I was scared that they would have a loose fit and move with any direction that my helmet might point. But I was wrong; the flexible goggle frame actually made for a better fit than most, allowing the foam to conform around my face when riding. The green-chrome Works lens provided superior protection against the low setting sun, and never showed a sign of fogging. Regardless of what time of day you choose to ride, there are approximately 13 different lenses to pick from; one of which should suit your fancy.
One of my only major bones to pick with this line of Scott products has to do with what was just mentioned above; the lens. Today, we have seen the emergence of new technology from other competitors that allow us to quickly change lenses out on the fly (Oakley "Airbrake", Spy "Ace"). I have been using one of those other goggles recently, and trust me you have to believe the hype. I believe that Scott and every other goggle company will need to look into improving the lens changing mode in the near future.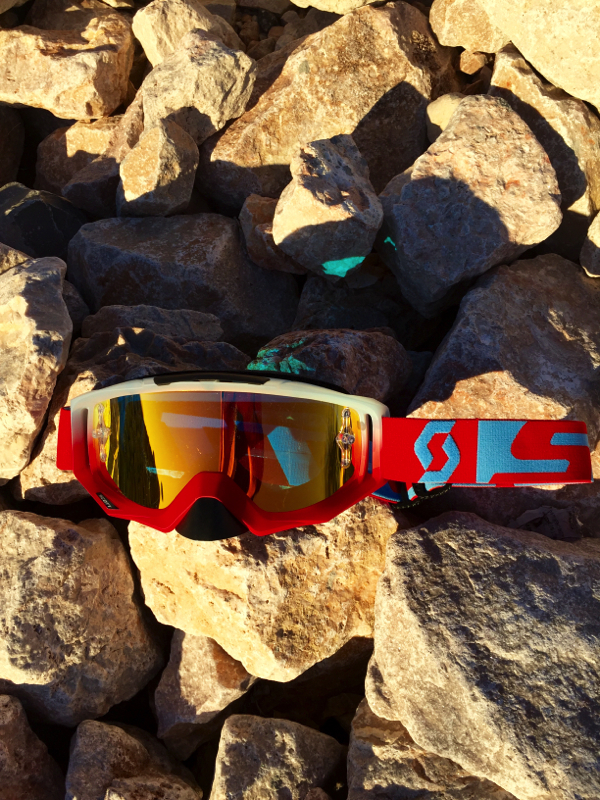 Overall, I really enjoyed wearing the Scott products again. The Tyrant and Hustle goggle line up is impressive, and they feature many traits that please both the eyes, and our needs in performance. I really loved their drastic, bright colors and designs, which all pair well with the different lenses available. In addition, let us not forget about some of their staple products, like the Works Film System; one of the original tear-off performance additions that is used in the most volatile riding conditions. With retail price tags that are well below $100, this also places Scott goggles in a unique, and cost-effective category. Even though they might not have some of the same features as their competitors, they still provide a goggle that has a fit and finish that is good enough for anyone swinging a leg over a bike. Take a look into their 2016 moto line, and if you are really feeling frisky, grab one of their goggle bags… I promise you won't regret that purchase!