A five-year pro has his best year to date in 2015.
A five-year pro has his best year to date in 2015.
Photos: Simon Cudby, Andrew Fredrickson, and Troy Bendgen
It doesn't matter if you're a top guy or a struggling privateer every rider has a story to tell. I'm going to switch my original focus, which was more results based, and I want to bring you the real struggles and stories that made these riders who they are today. It's a new segment called the "Privateer Chronicles". Up first this week we have new national #95 Dustin Pipes.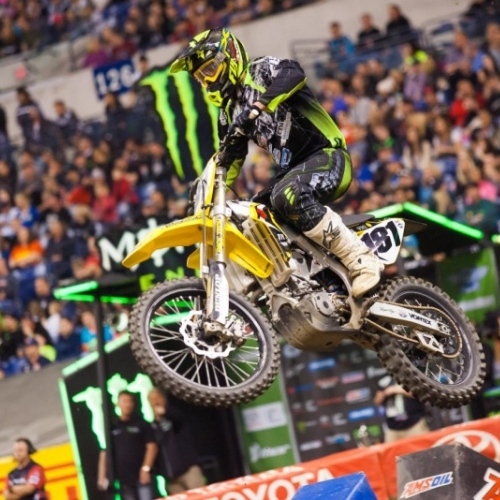 Pipes in his first ever main event at Indianapolis this past SX season.
Racing has always been a part of Dustin Pipes' life. His mom and dad ran a racing organization in northern California called the California Racing Association (CMA), in which Dustin raced for the first time at six years old.
"Of course when you are little you want to be like your dad and race. Pretty soon after I started to race we started going to races in southern California. I won the Golden State Series on 50cc and 65cc," Pipes said.
When Pipes was eight years old he raced the World Mini GP for the first time, back when it was still in Las Vegas.
"I did pretty good in my first one, so we kind of knew that I was somewhat of a decent rider I think," Pipes said. "We still didn't really take racing super serious after that though. We did local races and the World Mini amateur national."
Once Pipes got onto big bikes he started going to most of the amateur nationals, which included the World Mini GP, the Texas Spring Nationals, Ponca City, and of course Loretta Lynn's.
"I wouldn't say that I was that good of an amateur rider," Pipes admits. "I got a lot of seconds to people. There was a lot of Nick Paluzzi beating me back in the day and guys like that. I would finish anywhere between second and seventh. I never won anything as an amateur, but I was always pretty decent. I actually went to qualify for Loretta's four times and the first two times (2007, 2008) I got hurt right before the race and wasn't able to go. I was super bummed on that."
In 2008 Pipes realized that he could probably take his motocross career to that next level. He could be a professional motocross rider. He was doing very well locally and he was a consistent front-runner at the amateur nationals that he attended.
"When you're a little kid and you're racing you think you're going to be a professional racer no matter what. That's your dream. I always dreamed about being a pro, winning titles, and battling with Jeremy McGrath and all of those guys. When I was really young I think I instilled that in myself. That is what I wanted to do with my life. I loved racing dirt bikes and I still do," Pipes said.
Pipes had better luck at Loretta Lynn's in 2009. He was finally able to race because he wasn't injured and he raced the 450 B Stock and Four Stroke classes that year. In 450 B stock he had some bad luck in the first moto forcing him to finish 35th and then had redemption in the final two motos where he finished sixth in each race. He salvaged eleventh overall. In the Four Stroke Class he went 6-9-28 for twelfth overall.
After Loretta's that season Pipes moved up to the A classes. He would spend 2010 chasing the amateur scene for one last time and then turn professional at Unadilla following Loretta Lynn's that summer. Unfortunately at the Texas Nationals, before his Loretta's qualifiers, Pipes broke his wrist. He had to race the final qualifiers in his area and regional to make it to the ranch. Pipes went on to finish 30th overall in the 450 Pro Sport class at Loretta's with DNF-35-9 moto scores. It was off to Unadilla for his first pro race.
The debut national was an up and down day for Pipes and when it was all said and done he had gone 35-25 for 32nd overall.
"As an amateur rider you think you are hot stuff just because you go to the local races and crush everybody," Pipes said. "At Unadilla I was just really nervous when I got to the line. You're next to the guys who you grew up watching and I remember I thought I should be getting out of the way for them. I think that is something that I struggled with for couple of years until I realized that we are all racers. I wasn't even sure if I really belonged there."
At the final three nationals that season he would finish 39th at Southwick, 34th at Steel City, and 35th at Pala. In 2011 he planned on racing both supercross and motocross seasons.
"Gearing up for supercross I ended up having a really bad wreck at the practice track," Pipes said. "My chain broke on a step on- step off and it sent me into the lip of the next jump. I shattered my elbow in that and took a big chunk of meat out of my thigh. It took six months and six surgeries to heal. It was one of those injuries that just wouldn't go away. I was in and out of hospitals."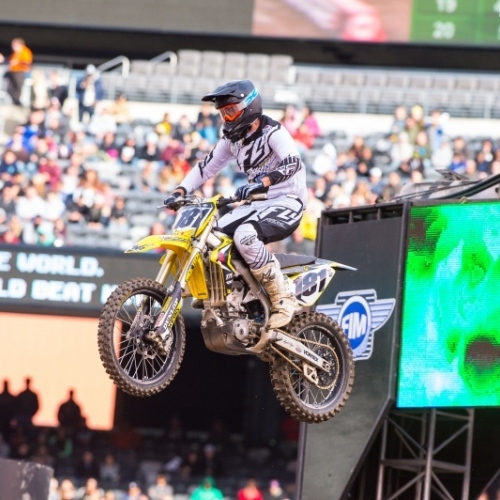 Pipes finished 17th at the New Jersey SX.
By the time he took care of his injuries the supercross season was over and Pipes went into the nationals that year with limited seat time.
"I really sucked at Hangtown that year and after that I just lost all confidence in myself," Pipes admitted. "I would say that was a lost year for me. Honestly I shouldn't have even ridden the outdoors that year. You turn pro with so much piss and vinegar thinking you're going to set the world on fire. You get your ass kicked and then it's like whoa…I just wasn't ready for it you know?"
The 2012 and 2013 seasons went more of the same for Pipes. He continued to plug away at every event. Sometimes he would have flashes of brilliance, while other times he struggled to find his groove. He got close to scoring points a few different times during those years, but couldn't get over the hump.
"Losing my confidence in 2011 probably set me back the next couple of years," Pipes said. "All of a sudden you start doing bad and then you think that is where you belong. You start racing with guys that you shouldn't be racing with and your pace is falling off. You think it's okay, but in actuality it's not. In 2012 and 2013 I had put a lot of pressure on myself to do well. If I wasn't riding up to standard I would get frustrated and pull off or something. I would come up with an excuse and be one of those guys."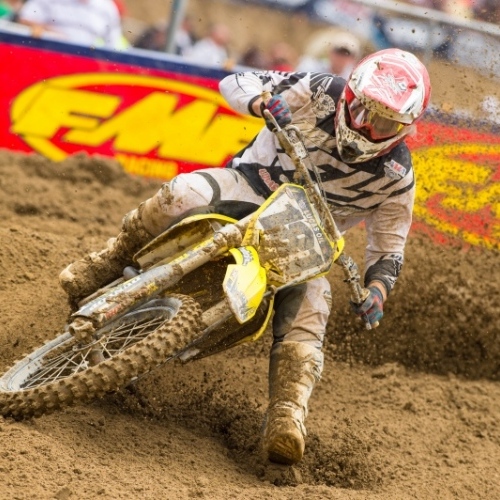 Pipes struggled with injuries during the outdoor season this summer.
Despite breaking his collarbone in the 2014 supercross season, Pipes still felt better than he had on the bike in a long time. He started going to Willow International community college, got a 4.0 in his first semester, and he felt that this helped turn his confidence around.
''Honestly getting good grades was rare for me," Pipes admits. "Growing up I thought I was going to be some big extravagant motocross racer and that I didn't need school. When I did well in school it felt nice because I realized that racing dirt bikes isn't the only thing that I was good at. It opened my eyes to where I know that I can excel in anything that I work hard in. Going into the 2015 I think that took a lot of pressure off of me.
Before the 2015 season began Dustin and his father made a deal with one another. If Dustin didn't accomplish certain goals he would have to hang the boots up and retire from professional racing. He had made peace with the fact that he needed to progress in supercross and motocross.
"I was in a good place heading into supercross this past season," Pipes said. "I wasn't as tense on the track and I could really have fun when I was riding. I think that's what elevated me. I ended up getting hurt at Oakland and took a few rounds off. When I came back I was a completely different rider. I ended up getting better starts in the heat races and I started to get upset when I didn't make it in.
Pipes had made a bet with fellow privateer and friend, the sevendueceduece of Adam Enticknap in Indianapolis. The bet was that whoever finished better on the day would have to pay the other $200. Pipes really didn't want to lose the bet so he dug deep and finished fourth in the LCQ to qualify for his first ever main event.
"After I made the main event In Indy I went back to my pit and was just thinking how easy it was to make it in," Pipes said. "Like really, that's all it was? It wasn't anything extraordinary, I've ridden my bike that fast before, I wasn't out of control, and I just raced how I know how to. Once I did that the hunger to make more main events just grew inside of me. I expected it.
To finish off of the 2015 Monster Energy Supercross Series, Pipes made four straight main events at Houston, Santa Clara, East Rutherford, and Las Vegas. His best finish was a 17th live on TV at East Rutherford.
Going into the Lucas Oil Pro Motocross season Pipes didn't know that he was going to race the entire series until after the third round. His original plan was to race the west coast rounds, but his sponsors such as The Privateer Journey, Fly, and Suzuki stepped up to support him for the entire series. Itwas another up and down summer for the California rider. Pipes broke his thumb and rolled his ankle after Hangtown, but then came back and scored his first points at Budds Creek and then scored more at Utah.
"I think 2015 was a great stepping-stone for me," Pipes said. "It sucks that it took so long because looking back on it I should have been doing this a long time ago. All I did was ride my dirt bike and I never quit."
For the 2016 season Pipes plans on staying put on The Privateer Journey team with help from Fly Racing. Nothing is signed yet, but it should be coming together shortly. Also, next season it sounds that Suzuki is stepping up to support the team even more than they have in the past. Pipes scored a total of 14 points this season, earned national number 95, and he has solid confidence heading into the supercross season next year. He has one of the most unorthodox stories in the pits right now because of his perseverance and commitment to the sport of motocross.
Pipes next race will be at the Monster Energy Cup and he will be under the Privateer Journey tent with Kyle Cunningham and Nick Schmidt.
Thanks for reading my column every week. If you want to chat about anything you can email me at Troy@pulpmx.com. I'm on Twitter and Instagram @troybendgen.