It's a fine line between assholery and honesty.
It's a fine line between assholery and honesty.
Photos By: Brendan Lutes
Saturday we were treated to the 2nd annual Red Bull Straight Rhythm and the return of James Stewart after his forced hiatus from two-wheeled competition. It seems like far more than a year since we saw the "7" on a bike in front of a crowd and that's coming from someone who, like you, has a full life of their own to deal with; so imagine how long it seemed for James himself! Think about that, James has been in the public eye, praised and ridiculed alike but always a source of judgement and discussion, since he was a pint-sized racer. This has been unquestionably the most difficult racing-absence of his life.
If there's one thing James Stewart has though, it's devout fans who always want to give him the benefit of the doubt because when it comes down to it, he seems like a real good dude. Guarded and skittish often times but in my mind that just says he's a bit of a loner and keeps his trusted circle, tight. It's great to have James back, ready to compete and the episode in the rear view mirror.
Here's the part where you, the receiver and interpreter of the following point, will decide if I'm speaking blunt honesty or just being an asshole.
The Straight Rhythm is extraneous. It doesn't matter, is unneeded and indeterminate of anything valuable. (I'm definitely walking the tight rope of asshole and honest here because both are absolute truths). It has been said that the Red Bull Straight Rhythm is a custom tailored event for James Stewart and that is also true. How many times has the point been made that if there's money on the line to pick one rider to go faster than anyone else is capable of for one lap, it's James Stewart? It's the magic of James. Well maybe more than magic, it's the willingness to risk all for victory or the fear of losing which blinds cautious restraint. Probably a little bit of all but the point remains, if news broke tomorrow that Straight Rhythm was conceived by James himself, we'd all just go "yeah, that makes sense".
This isn't to criticize James or the Straight Rhythm itself either. Not at all. The fact that the event is gratuitous and no indicator of anything other than the specific results of each sub-one-minute pass, doesn't diminish our enjoyment of it as race fans one bit. I can very easily admit that the event is superfluous and utterly awesome in the same breath and I am totally right (is the asshole lessening? I can assure you the honesty isn't).
If the Straight Rhythm never happened again there would be no uproar and no outcry for motocross injustice. There would just be a void the weekend before the Monster Energy Cup the stories of "when the was that Red Bull Straight Rhythm" thing. That being said, I hope this event sticks around for years to come. It's entertaining, fresh and intense. It's "one-time per year" schedule is really a strength of it as well. If this thing turned into any type of series, I see it losing much of it's luster. It's maiden-run last year, there was some speculation as to what type of advancement in racing the event could spawn. Some talk of how a Straight Rhythm series could possible unfold even. I'm glad to see this second year was essentially the same as year one but with a tightened up program and some other refinements which improved upon year-one.
I honestly can't think of another form of racing that means less but doesn't suffer in the least for all of it's meaninglessness. Bring on year 3!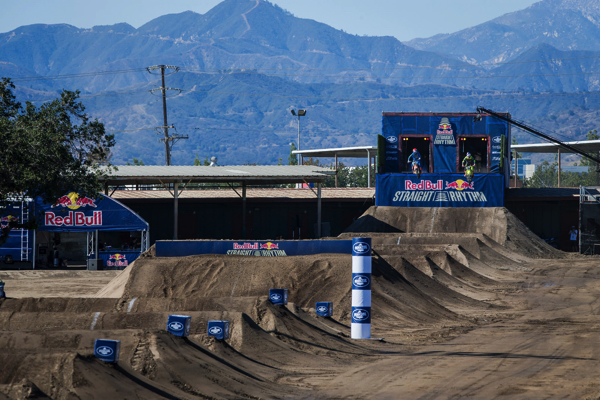 Jason Baker's Dreamtrax crew is so damn good.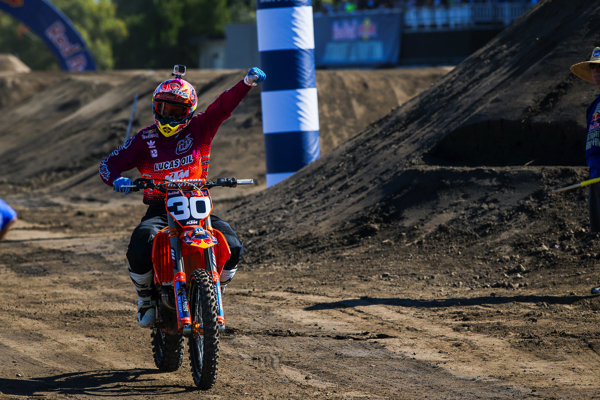 Shane Mcelrath was the most surprising racer of the day for me. He really shined.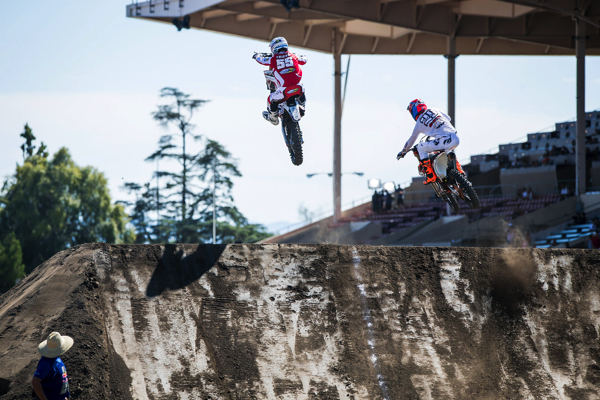 Vince made an error prior to a speed check and it looked pretty dirty! Here he is on his way to checking out that water on Mars deal, firsthand.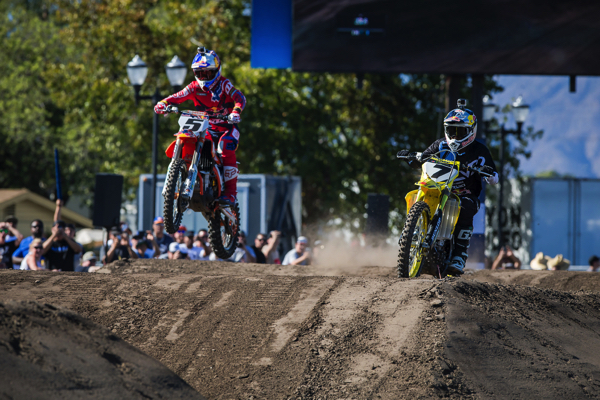 The first run between the 5 and 7 made my heart skip at least 3 beats. It was so good.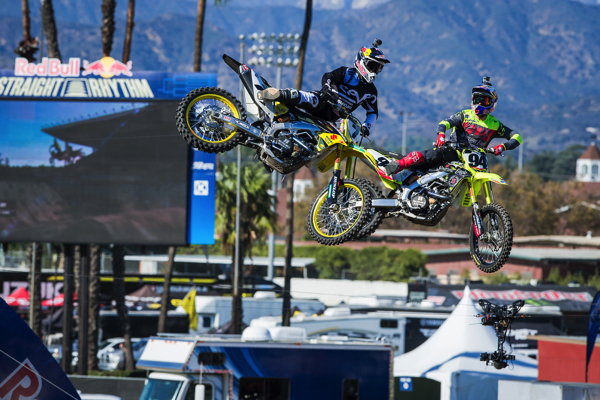 The Stewart and Roczen battle could have trumped Dungey and Stew's but Kenny hit the dividing line in run 2 which = DNF.