This year's Monster Energy Cup was a perfect example of what throwing a wrench into the norm is all about. Moser demands change and creativity!
This year's Monster Energy Cup was a perfect example of what throwing a wrench into the norm is all about. Moser demands change and creativity!
Written by: Moser
Photos by: Cudby
A start is 90% of a race "they" say, and I wood tend to agree with "them". Anyone that has ever pulled a holeshot can relate to how much faster and more relaxed you can ride with an open track in front of you. The starting line has become pretty standardized just like the rest of the track. Supercross is a 20 man gate, Outdoors a 40 man gate, always a dirt starting surface. The 90 degree left hand first corner is also the standard, allowing riders to use their rear brake as apposed to a right hand corner. 90 degree first turns seems to have a lower percentage of first turn pile ups compared to the 180 degree turns.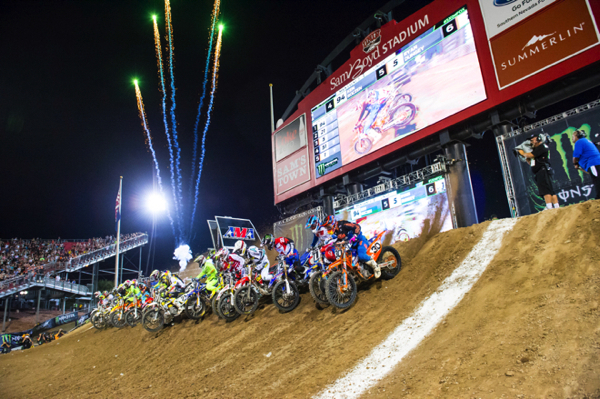 Sure there with some unique starts over the years. Daytona's grass start was iconic and caused more than one rider to grab to much front brake in the first turn, immediately hitting the deck. Throwing a roller into the middle of the start straight appeared innocent enough and resulted in some impressive nose wheelies into and through the first corner. The split start has been attempted a few times and these have proven to be very difficult to make equal in speed, safe and to also ensure the gate drops simultaneously, what they have not lacked is entertainment value.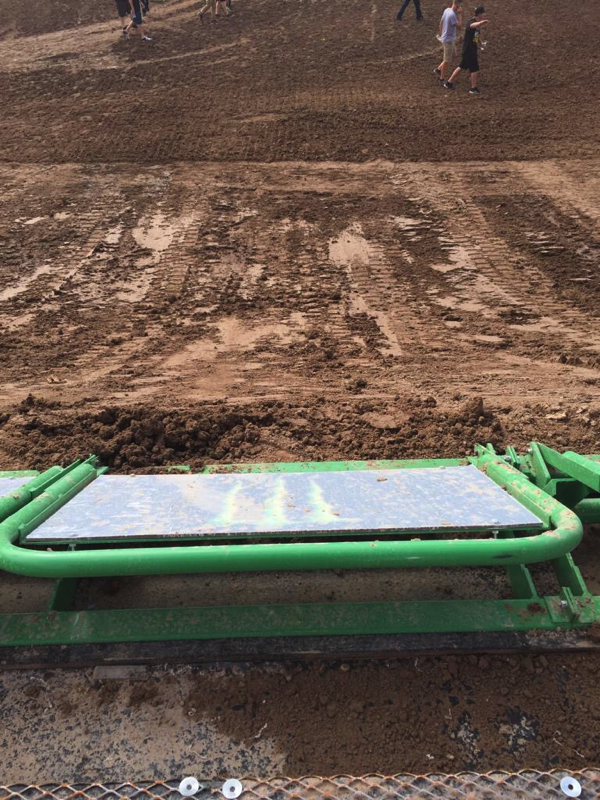 The elevated start has been used more commonly in the last couple years and was taken to a whole other level in the recent Red Bull straight Rhythm and Monster Energy Cup. If you didn't enjoy the variation these starting lines provided you probably only bang your wife in the missionary position and that's a damn shame. The starting line at Monster Energy Cup was the most entertaining part of the track. Rarely do we see these professional riders look human on a Supercross track actually making mistakes. An obstacle on a track that challenges these riders is almost unheard of these days. There might be four races a year that have big enough whoops or a technical enough rhythm section to really separate the men from the boys.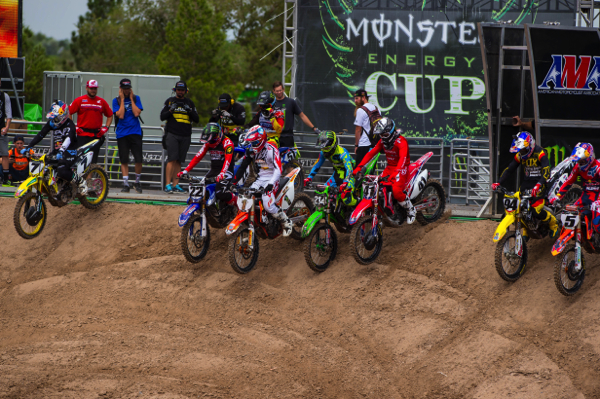 They need to take this new starting line concept and run with it, lets get crazy. I don't want to see two starting lines the same all season. Elevated, steel grates, sand, concrete, asphalt, uphill, grass, quick sand. The MXGP races have different size and shaped starting gates, lets do that too, wide, skinny, tall. Change the size shape and material of the plastic on the starting gates. The holeshot starting device has taken away from starting technique, let's take those off the bikes. Then lets add the holeshot starting device back on for a couple races.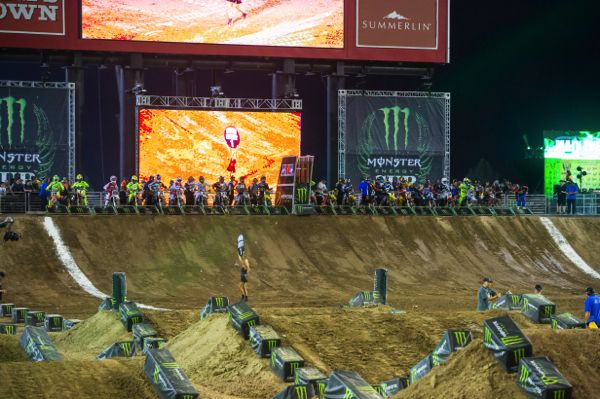 The start is 90% of the race "they" say and if you have a variety of starting lines you are going to have a variety of riders getting holeshots. The start should be the most exciting part of the race, it's the only time all 20 riders have an equal chance to lead the race. The fastest riders always find their way to the front but watching a race where they have to work their way through the pack will always be more entertaining then one they holeshot and lead wire to wire. No matter the type of starting gate or surface I have no doubt Shorty can figure out a way to get to the first corner the fastest.
Thanks for reading, please send complaints to jasonw@racerxill.com