An emotional rollercoaster for motocross in October.
An emotional rollercoaster for motocross in October.
Photos: Simon Cudby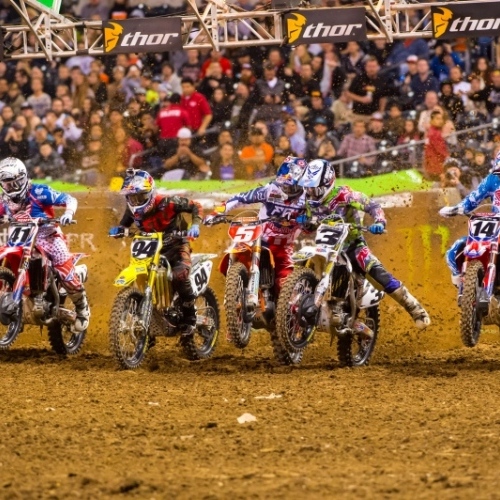 Only 10 more weeks until the gate drops in Monster Energy Supercross.
I hate this time of the year! As much as I enjoy the leaves changing colors, apple pie that my beautiful wife serves up, and flannel shirts, I absolutely don't enjoy it. I'm going to enlighten you fans out there why I feel this way, and yes it relates to motocross.
I'm working on a bigger story related to the truth behind motocross media and it will be coming to fruition in the next few weeks. It'll be posted before Anaheim 1, so be on the lookout for that. For now, I'll just stick to why it's hard for us journalists to do our jobs in October and some of November.
For one, the hardest thing about my job is working from home. I know, I know, I'll get ridiculed for saying this, but it sucks to write this column in sweat pants. I could change into some dress pants, but that would just give my wife more laundry to do, and I appreciate her so I won't. The point that I'm trying to make is that I constantly have to browse the internet searching for the latest news and topics that are trending in our sport. On top of that I'm waiting for emails and texts back from riders to interview and just the random check up from my sources. Without technology I don't have a job.
I'm so far removed from the practice tracks of southern California where everyone is gearing up for another supercross grind. We don't have any supercross tracks in the Midwest. On top of that, the few riders that have made it to supercross from around this area have relocated to Cali for the next several months. I'll just stay glued to my phone.
Even if I do get information of a rider signing with a team I still have to wait to announce it, if that is what the team wants. I could have the biggest news ever to give the public right now, but unless it's official by the parties involved I can't say anything. I could get the team and rider involved in a lot of trouble because of contracts with other sponsors. Contracts that are legal are bigger than the media in this sport. I'm not trying to mess with that.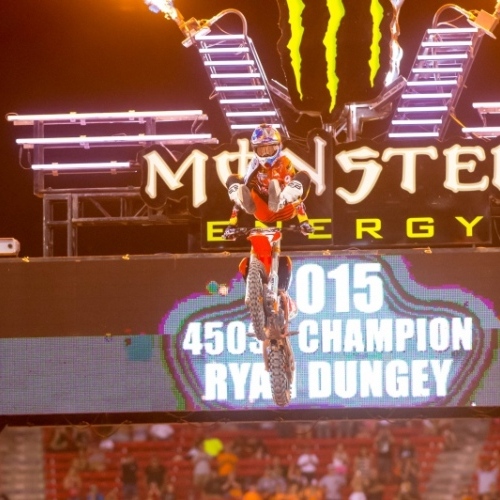 Dungey and crew are preparing to put on another show for all of us that enjoy the sport.
For instance, I along with a million other people in this sport knew of Eli Tomac signing with Monster Energy Kawasaki Factory Racing since the time supercross ended. Those who did some digging brought the news to everybody, but it didn't really make a difference anyway because it wasn't made official until last week. Do you see what I mean? Until it's really official with a team statement rumored deals don't mean much in motocross. I'll touch on this subject more in a month or two.
The "offseason" is getting scarier and scarier every year. Budgets are getting finalized later and it's affecting a lot of privateers in the process. When I hear Kyle Chisholm talking about how he has a few options on the table to consider, but nothing is official yet, it worries me. No, actually the fact that he got everything finalized a week before Anaheim 1 earlier this year worries me. Just to remind anyone who I may have kept entertained to reading this far, it's only ten short weeks until Anaheim 1. This really doesn't give riders that much time to prepare for a grueling 17 round series.
Take a look at Justin Bogle's current predicament. It's not a good year to move up into the 450 class and he is struggling to find a place to call home for 2016. He will find something, but it won't leave much time to test or get too comfortable. He's going to have a busy scramble party to get everything settled for his first full season of 450 class racing.
I guess at the end of the day it's just riding dirt bikes. The riders who continue to put forth the effort every year are really something special. Each rider puts everything on the line every time they swing a leg over a bike. It's not really about how much time it takes to get aquatinted to a new motorcycle or the right settings dialed in. It's about the love of the sport and how much they really want to sacrifice to do the best they can. It's about reaching goals that they set for themselves before the season. It's about being so damn good on a dirt bike that they can leave their fans in awe every time they throw a wicked scrub. It's about ripping the perfect corner. It's about being so accomplished that they can get paid to ride dirt bikes for a living.
The truth is that I'm very lucky and blessed to be a journalist and cover the best sport in the world. I get to talk to riders who I watched and tried to emulate growing up. I get to report and create stories for people to enjoy. We all love this sport in one way or another. I have to remind myself of this every October when I get frustrated about the little things. The riders are getting things settled and training to put on a show for us in ten short weeks. I love this time of year!
Thanks for taking the time to read my columns each week. If you have any questions or comments you can reach me at troy@pulpmx.com.
Twitter/Instagram: @troybendgen