How a Professional Racer's Idea Became a Successful Brand.
How a Professional Racer's Idea Became a Successful Brand.
Are you interested in creating a brand or product that defines who you are as a person? Do you have a ton of ideas of how you want to break into the motocross industry, but don't know where to start? Well, with this new feature entitled "Branded" we will take an in-depth look at those minds who decided to make the jump already. Hopefully these columns will provide some insight and helpful tips to give you the motivation to just go for it. Perhaps you don't desire to create a product and enjoy your current job. That's okay too! It's still fun to see how these companies started and what it took to get to this point. Up first we have SlakaWear.
Cover Photo: Simon Cudby
Insert Photos: Courtesy of Steven Mages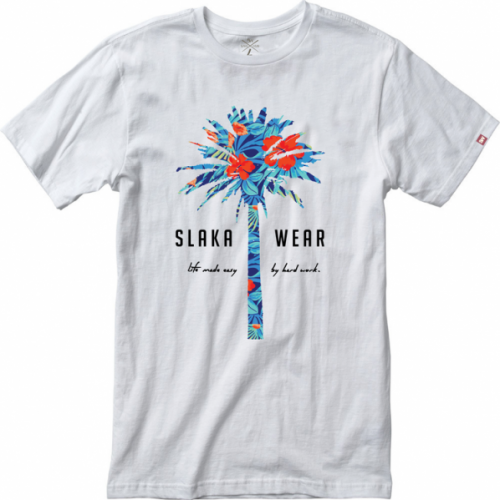 Floral Easy Palm T-Shirt
It all started with an idea.
In 2012, at a Pro-Am race in the Midwest, Steven Mages, Christian Telker, and Cohl Franks were hanging out in the RV when Mages tells of a clothing brand idea that he has had. It would go by the name of Slaka Wear.
"I literally thought about it laying in bed one night and I couldn't sleep because my mind was racing," Mages says. "A week later I proposed the idea to Telker and Franks."
At first Mages sold his two buddies on the idea as a joke. In his mind it would be hard for anyone to jump on this idea seriously. However, the three decided that it would be fun and put up some money for their first order of shirts that Mages designed.
The brand officially started in 2012, however Mages decided to pump the brakes on it early once he realized how far the clothing could actually go. He sent in paperwork for his brand to be trademarked and made everything legal that he needed to. Slaka Wear made its re-launch as an official company in 2013.
However, as time went on, Mages found himself alone on the Slaka Wear front. Franks decided to stop racing and had taken a job with the old Alias amateur squad that featured Eric Grondahl and RJ Hampshire (he now works as a mechanic on the TLD/Lucas Oil KTM team). Telker decided he needed some more time to dedicate to racing and that's where he focused all of his time.
Today, Slaka Wear has come a very long way from just three friends selling shirts out of a van, however Mages will still do that from time to time.
Things have become even more legit in 2015. Slaka Wear has a booth, canopies, a van that's fully wrapped, and several amateur athletes in action sports across the country. All of the money that Slaka Wear makes goes immediately back into the brand.
"We've got a lot ahead of us and we're still working on getting it all spread through the different industries." Mages said.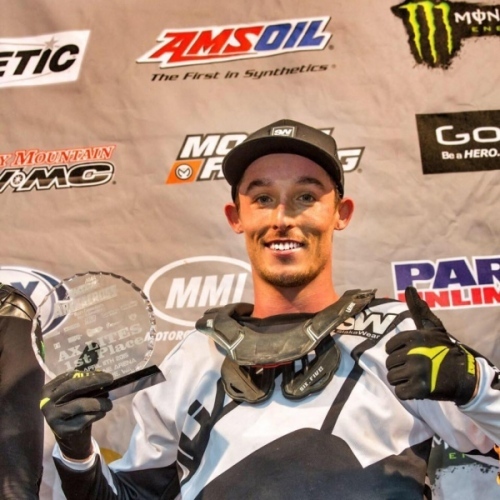 Mages is eager to start his next venture in supercross after a successful three years in arenacross.
So this begs the question, why create a clothing business as a professional motocross racer? Is it so that you can make some extra money for racing?
"It's definitely not for the money," Mages said. "It's for all of the riders and athletes that live life unseen. People get labeled as slackers because they aren't doing the mainstream sports."
Action sports are definitely a world than team sports like basketball, football, and baseball. Mages is saying that he wants people to see that those who participate in action sports are by no means slacking.
Mages decided to create a clothing brand because he liked the designing aspect at first and now he's enjoying watching it grow. He knows that business is all about working hard and he has centered his brand around that.
"Life made easy by hard work is what our brand is about," Mages says.
So now that the brand is growing, Mages had continue working on his own, but he knew he needed help.
"You definitely can't look for people, you have to let them come to you," Mages says. "That way you'll know they are interested."
That's where Max Klein fits into this story. Klein used to paint helmets in Missouri and the two met by going to trade shows together. He's now Mages right hand man and he's also an investor in the company. He makes sure everything stays running smoothly for Mages among many other day-to-day operations.
"Max is a real go-getter and he keeps it going forward like myself," Mages said.
Slaka Wear currently has six employees and half of them are designers.
"It's really just a lot of persistence and determination of doing the same thing and believing it's going to work." Mages says. "It's all about believing in your brand."
He's done overseas trade shows, fashion shows, and right now is focusing on retailing. A lot of what Mages is focused on is getting his brand into as many stores as possible.
"Right now I'm not doing this for my main source of income," Mages said. "I'm doing it because I believe in the brand.
Mages just recently signed a deal to race the 250SX West Region of Monster Energy Supercross in 2016. The team he signed with goes by the name of Atlas Racing/Slaka Wear KTM. Yes, he is the co-sponsor.
Having raced the last three seasons of Amsoil Arenacross, Mages became a front-runner and was a part of the Race for the Championship this past season. He finished tenth overall in the series on his Slaka Wear KTM. He has created brand awareness in arenacross and has a lot of people wearing it. Mages hopes that when he moves to Escondido, California in a week that he can build that awareness on a larger market.
"I want to expand into surfing, skateboarding, snowboarding, mountain biking, and learn those industries," Mages said. It's going to be a good location change."
Slaka Wear is gaining steam by acquiring several amateur motocross riders to represent their product. Their roster includes Blake Green, Cody Penwell, Dean Mills, and Jake McKinney.
"When you look at companies like Oakley and Fox that is the type of quality that we want to have for the future," Mages says.
Slaka Wear's 2016 product line is going to be out shortly, but Mages is really excited about the future of his brand. It was just a dream that started when he couldn't sleep one night almost three years ago.
"You've got to try the new stuff the fit is literally insane," Mages says. "Everyone who tries it on is mind blown and tells me I'm killing the shirt game."
For more information on Steven Mages you can visit his social media pages:
Instagram/Twitter: @mages733
For more information on Slaka Wear you can visit Slakawear.com.
Instagram/Twitter: @slakawear
Thanks for checking out my columns each week. I really enjoy all feedback and you can reach me at troy@pulpmx.com. I'm always down for a killer bench racing session too. Happy Halloween!