Reedy and Cobra voice their opinion on the MXoN and Aussie SX from a recent show.
Reedy and Cobra voice their opinion on the MXoN and Aussie SX from a recent show.
We thought that David Vuillemin and Chad Reed had a nice little conversation a few Pulpmx Shows ago so we actually wrote it all down. Check it out for some thoughts from a couple of guys that know what they're talking about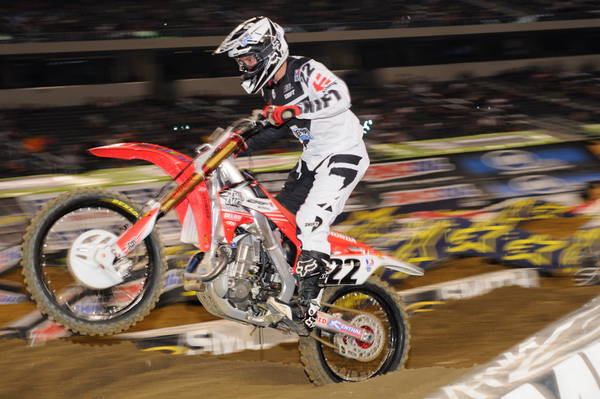 Reed on red a few years back. Lissimore photo
CR: I didn't watch any of it. I was driving on Sunday. I followed it just on Twitter. I'm hoping that your insight was accurate. It seemed typical Des Nations, to be honest. I didn't know that you need to see it, you think you know enough about it and being there, experienced it you get it.
CR: I'm a big supporter of the event. I like it. I've kind of got that love/hate relationship with it. It's at the worst time of the year. I think that it's one of those events that you put a lot on the line. I think the younger generation are losing the value, what it once was. It's hard. I can sit here and tell you as much as I love it and as much as you want to represent your country at the end of the day it really doesn't mean anything. You lay it all on the line for nothing. It's a dangerous… It's not even about the money, it's a really dangerous event. It's at the end of the year. You've kind of somewhat… some people let their guards down. Some people try to act like heroes at that event. It's always different. It's always a sketchy event. I've done well, I've won motos there. We got on the podium that one year. But it's that one race that I wish I was there and I miss it and then I'm so happy that I wasn't there when I see the result because it doesn't change. You're relying on two other people. Motocross is not a team sport. It's the once a year that we get to be a team sport and it's really, really hard. I love it but it's hard.
DV: Yes, I agree. Especially when you're from a country that you can finally… there's three guys that can win. If you're the guy that can win motos and the other guys are going to go 27, 23. If you don't race there, if you race in the US you have to prep a bike. The gas is different, the sound is different. And then you have to ship stuff. It's super expensive.
CR: Just for Australia to show up they're spending easily 100 grand. That's for one race that means nothing. It's not like it's televised. It's not sponsors are… It's government funded but at the end of the day it's a lot of money for that. Look at the sponsors on the US team. Feld's paying for some stuff. AMA and all those kinds of people, a lot of people are supporting that event.
DV: Plus it's a month after the last National. Everybody's on a Supercross program already, testing Supercross, riding the new bikes. And then a month later, oh yeah, let's go do a motocross race in Europe.
CR: I really do love the event but at the end of the day I hear these names get rattled off and I've never heard any names, whether it be Ricky or Everts or anybody talk about how many times they won Des Nations or won a moto or anything like that. So it's not something that we carry other than personal experience.
CR: It's got nothing to do with money, honestly. At this level when Ryan… I mean, look at the money that Ryan's made this year. He won both titles. It's not money. It's like he's hard up right now. It's just a matter of the guy wanted a break and he didn't want to train for a month longer than everybody else. You got James coming back, myself that's been sitting out, Eli's out. They might be hurt. They may not be racing but they're resting, they're getting ready. He didn't want to give that up. Guy deserves a break. It's not easy to train week in and week out and do it for a month longer than anybody else. We're only human. You can only go so long. Ryan's starting to get up there. I think he went six years straight, this would have been his seventh year. He's tapping out.
DV: I think I rode it five times.
CR: My first time was in 2000 at Saint Jean D'Angely, and then I've been a bunch of times.
CR: I think the event for Cooper is awesome. He only races half Supercross. It's a good experience for him right now on a 450. And talk about a guy stepping up, I think he did a great job. A Lites guy stepping up is always a little bit scary. You never know what you're going to get. I think from what I seen and what I heard Cooper was solid. He really stepped up to the plate. Talk about event that has pressure, especially when you're on the American team. You've got a whole nation that wants to hate you, tell you that you're the third rate team, the second rate team, whatever it is, but then when you win they want to high five you and say that you're the best in the world and all this kind of shit. So you're kind of in a lose-lose until you actually pull it off. So it's massive INAUDIBLE for somebody like that.
CR: We didn't send the right team, we didn't have the right people, track didn't suit us, all those things.
DV: Online there's like 50,000 Roger DeCosters. They all tell you a story why you should pick this and that.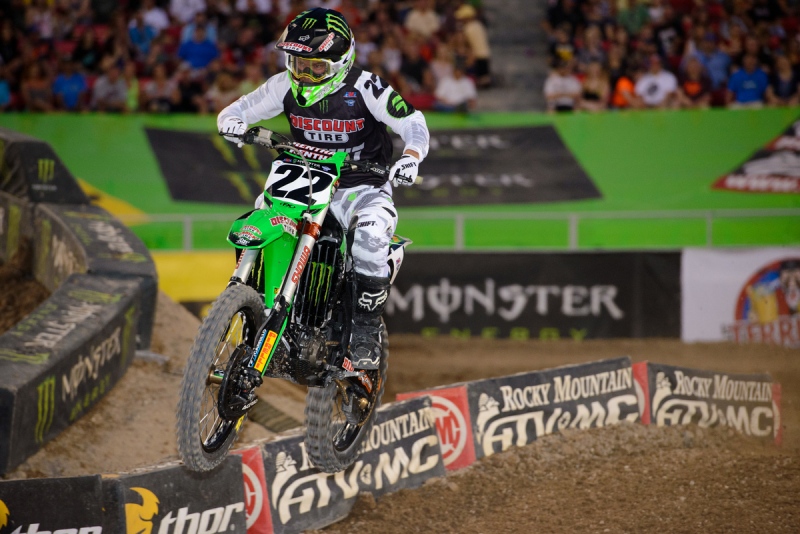 Reed's getting off the Kawasaki and hoping to get back on Yamaha. Cudby photo
CR/DV Aussie SX/JS7
CR: It seems good. I'm enjoying it actually. Just kind of got healed up from my shoulder surgery. Keith was kind enough to send me a bike. Just been riding it and checking it out. Rode it on Supercross maybe twice. So we'll see what happens.
The last Yamaha I rode other than this one I rode at the end of 2010 when I was riding all the bikes. I tested a Valley bike. So that was obviously I think the first year that that generation came out. It wasn't awesome, that's for sure. Come a long way since then. So I'm excited for riding it and seeing where it takes us.Keith's changed a lot, too. I honestly think. I got to hang out at Moto GP with him quite a bit. I think he's changed a lot. I think that obviously I've changed a lot. I'm 33 years old, I'm not 21. I wish that the conversations that I have and the relationship that I have with Keith I had that when I was young.
I do believe that he's changed too. I haven't signed a contract yet. It's still a work in progress but we'll see.
Body feels good. Like I said, I only rode Supercross I think maybe twice and that seemed good. The first day I rode I just kind of was cruising. We got a bunch of rain since then so I haven't been able to ride. But I fly to California this weekend and start working on some things, so we'll see. I would like to do Monster Cup. That's what I'm hoping. I would like to do that. I'm going to use my best efforts to try, that's for sure.
A lot actually, to be honest. I've changed my whole everything from Florida. A lot of people that I've had around me for 10 or so years are no longer around. My bus driver is gone, Joel. Sold the bus. Just going to go to the races and… Try to change it up a little bit. Obviously I'm in a different place and a different stage of my career. Just want to change up things. I think I learned a lot this year. I changed my program for this year a little bit and I don't feel that it was the right things that I changed. I would like to back up a little bit on some of that stuff. So I still feel that I can be competitive. I still feel like I can have a shot at it. That's what I'm doing now is trying to implement all those things that I feel are going to make a difference.
I'm not ready for that, I really am not. Other than my age it's not an option. I don't feel that I'm ready for that. I'm just not. And I don't know that you know that you're ready, I don't know that. Some people I talk to say it just happens and some people are just good with it and they have an age that they're willing to go to then they walk away. DV could probably comment on it better than me. For me, I still love it. I really do. I lay awake at night still and think of ways that I can better and things that I can do better. I've made the biggest changes in my career right now, I really have. In the last 10 years I've made the biggest changes that I've ever done. I shut the race team down and really focused on things and put things in place to try to give myself the best chance of winning again. Obviously I know that it's coming to an end. When, I don't know but it's obviously going to. So I want to go out the best that I possibly can.
DV: I'd like to talk about your last Supercross, the one that just finished six months ago or whatever. It seems like there's some races you were great and everything and even when I see you ride I think you can still do so much better. It seems like you're not going down. The level, the technique, everything is there. It's just in a way to put everything together, because the potential is still there. Me, when I was in my last season, the potential wasn't there. I wasn't good enough. In Supercross I was good enough for top maybe 5 to 8, I was there. I wasn't into it anymore. I wasn't trying to win or trying to get ready. I didn't want to take chances. I didn't want to jump quads that I had to do to gain a second or whatever.
But Chad is a different way because he has more technique. Some races were pretty damn good last year. But still on the best we've seen this year he can still be even better because his technique is so good. When you have the technique and everything then the rest goes pretty much by itself, just need obviously the fitness and then corner speed and that's it. But the technique is really the base of the thing.
CR: As much as I don't love California but I'm going to spend the California races out west, I felt like last year… my tracks are hard and stuff like that but I just think that the biggest thing that you learn from out there I think the intensity is really high at that time of year. One thing that I miss is I miss going to a test track and having equal guys, and you can comment on this DV, but how many times do you show up at the test track and Joe Blow that's your teammate can throw down laps and sometimes be way better than you, but then you show up on the weekend and you're better than him. But yet at the track he's gnarly. I feel like that intensity and it just keeps you in race mode. I think that you get to test a little bit more and use the people rather than kind of just taking yourself out of it.
There's definitely something to be said for going to Florida and not having to deal with bullshit but I think I do need to ride with some of the younger guys and just get that intensity. Sometimes I feel like that was the only thing that I lacked was that part of it. The technique like DV talked about is fine and the fitness and all that. I'm not worried about that at all. I just need to be better, be a little bit faster and be a little bit sharper. I think that some of the things that I'm starting to do with my training program and riding with some of the younger kids, Cooper and all those guys, I'm looking forward to that.
I remember in '09 when Dungey was my teammate, he was on the Lites bike. He was a committed kid and had a good work ethic. It was fun. You got to go to the test track. He was winning races on the East Coast. You got to go do work with somebody that was equally as committed to going racing. I just think that some people that I had the chance to ride with like that. I'd like to do that. And I think that you know I absorb a lot of stuff. I'm a big sponge. I follow other sports and I see what Rossi's doing. I feel like a lot of things that he's implemented into his life and program is really what's allowing him to be winning races at 36 years old in Moto GP. Trying to learn a little bit of that, too.
DV: I really think Florida is good for outdoors because it's really close to what you guys race outdoors but Supercross I think, you guys in Florida you ride on chocolate cake and it's perfect and it's groomed and the dirt is great. If you make a mistake you don't really see when you ride. You don't lose the front because the traction is great. And the whoops are always soft and you don't go left to right. And then if you ride there everybody wants to test in Florida but it sucks. It's like testing on perfect condition. You want to test somewhere in California. You want to be on the shitty track. You remember on the Yamaha days, two stroke days, nobody was grooming the tracks like they do now and we rode on blue groove and we test our bikes on the shitty whoops, going right and left, right and left. And we made the bike work on the really, really hard conditions.
When we were in Anaheim, even if everybody hated Anaheim, our bikes were great. You cannot really go to Florida and ride and charge in the ruts and in those bowl turns, almost both feet on the pegs and then show up in Anaheim and be ready. It's not possible I think. It's great to be in California. I know it sucks. I hated it. But looking back 10 years after it's great. You have young kids back in the day, there's some days, rookie Josh Hansen was going INAUDIBLE faster than us. He was pinning it. And then they would say, this kid, he's an idiot, he's going faster than us. We got to pick it up and go for it. And in 2004 it was Yogi.
CR: That's what funny, leading into A1 like DV said, that year when Mach 1 Yamaha, he had our bike. It was a full-on factory bike. He had our forks and engine and everything like that. It was the full, legit deal. I remember he would always be there super early and riding, and riding when the track's still wet and gnarly and he's just all swapping. You'd go out there and he'd just be yarding you. You couldn't even stay with him, and then yet on the weekends he wasn't really a threat to us.
DV: A guy like this helps you during the week. The guy that trains helps you, he shows you stuff. He pushes you to be better during the week. That's where you win races. You don't win races at Anaheim. You win it Monday through Thursday.
CR: It's hard for me to comment because I don't have a signed deal yet. It's all looking good but there is no team yet. We got a lot of work to do. If they pull this thing off and it all goes forward then it's a lot of work. I'm looking forward to it.
CR: I think the running of team never was like that, it was never a stress, to be honest, just the financial burden of it. When I say that it's just trying to find the budget to do it right. I'm never someone that wanted to just half-ass it. I always wanted growth. I always wanted the best of the best. And that all takes money and effort. For me the biggest thing was the realization of where the sport's at and where it's going, it just didn't meet up with what I was spending and what the budget was. That's when I tapped out. A good business guy doesn't want to keep going down the same road. You want it to be profitable.
I think it's going to be fun. At one point there it was looking like it was going to be the world tour with me and Stew. I was going to go to Lille and do that but then with my deal not coming together quite as quick as what I thought it was going… I kind of pulled the plug on that, but the Australian one I'm committed to. It's going to be fun. He's coming obviously down into my territory. In all honesty I'm as familiar with the event as he is. It's not like I live down there anymore, but of course having my family and friends and fan and stuff like that all there will be fun. I think it's interesting. I don't know what his motivation is behind it but I would assume it's connected to his SE7EN brand and trying to put it out there and go on that, especially some of the things that I've heard from that. I think it's great. We have a fun rivalry. It's kept the juices flowing for many years.
DV: Since 2002, Unadilla.
CR: The thing is I heard that they're going to put up a bunch of money for the local guys if they beat us, and then you never know what they're going to do. Come out swinging and try to kill us.
DV: I'm flying to Australia. I want to see that.
CR: It should be fun. I'm looking forward to it being down. Obviously I think it's going to be different than what it normally is here. Really tight track. It's going to be interesting.
Maybe, I know I want to get out of there alive so I'm not going to do anythignt hat willmjepadiz that. If we can race and race fair that's fine. I'm not going to do any 2011 Atlanta! If he wants it that bad, he can have it and I'll get out there.