Thanksgiving is an extra special time of year for Bendgen, who entered the MX industry on luck and hard work.
Thanksgiving is an extra special time of year for Bendgen, who entered the MX industry on luck and hard work.
Photos: Brent Stallo and Ryne Swanberg
As I sit down to write this it is the six-year anniversary of my involvement in motocross media. Exactly one week before Thanksgiving every year I get a warm fuzzy feeling. It's not because I get to hang out with my family (which is the best part of the year by the way), it's because I go down memory lane about how I got my start in the industry.
On November 19, 2009 I was a 19-year-old punk with no plans or regard for the future. I was living day-by-day and I had nothing really going for me. I worked for my parents in their restaurant as a cook. I was Chef Curry with the sauce, boy. Essentially I was a loser. The only thing that guided my life at the time was motocross. I was obsessed with going on Racer X, Vital, and Vurb Moto (hey, Pulp wasn't even invented yet!) everyday to find the latest news in my favorite sport. Motocross was a passion and I wanted to somehow make it my life.
On that fateful November day I loaded up a weeks worth of clothing and headed to Florida for a week at the Thor Winter Mini Olympics with the Hastings family. You may know Ezra Hastings now because of his recent success in the amateur ranks, but at that time he was just a lil' ripper in the 50cc classes on his Cobras. I had made the same trip in 2008 with them, but this trip was going to be different.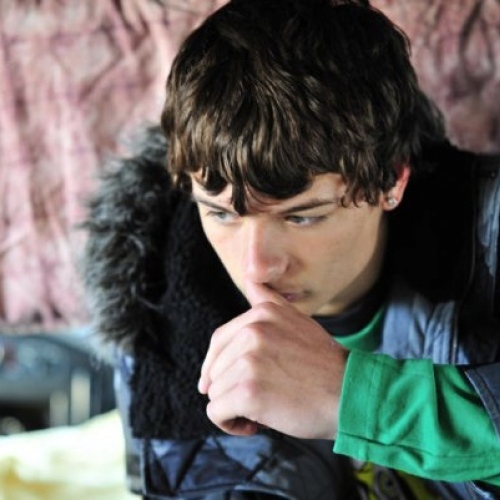 Sick and giving it my all. Yeah, not a pretty sight. Can't get any greasier than that!
In the beginning of the month I had come home late from working another night shift and I was frustrated with the way things were going. I went on Facebook of all places and sent a message to Vurb Moto's videographer at the time Travis Steward. I basically offered to be his slave for the week, just to get a taste of the industry. Heck, if it didn't work out I was going to be at the race anyway and enjoying a fine Thanksgiving week with friends. What did I have to lose?
The morning after I sent him the message he had replied back. Travis told me to meet up with him and he would show me the ropes. You would have thought that the Golden State Warriors had just won back-to-back championships. I was so pumped. I made it, bro! I loaded up my F-150 with my Suzuki RMZ-250 because we were going to stop at Waldo to ride and somehow I was lucky enough to ride at Millsaps Training Facility on the way down as well. I won the lottery. I wasn't in college like many of the other people I graduated with, but I was doing bigger things than that. At least that's what I thought anyway.
As soon as we made it to the track on Sunday afternoon I went scurrying around to find Travis. We met and he immediately put me to work with him and we put together a track preview video. We also did some interviews for the Red Bull amateur riders at the time, which included a 12-year-old Cooper Webb, Jessy Nelson (with braces), and a pre-beard Joey Savatgy. Good times.
The truth is, I worked my butt off for the Vurb guys that week. I slept in a tent on the farthest field and woke up in a rain soaked sleeping bag every morning. Eventually I told Wes Williams and Brent Stallo, two of the co-owners at the time (we all know who Wes is, I know), my sleeping arrangements and they invited me to stay in the Vurb camper around the middle of the week. I was part of the crew. On Friday of that week I had worked myself sick. I had a bad cold and I had no energy, but I still gave it my all. The Vurb dudes saw my commitment and invited me to go on a private shoot they scheduled with Justin Barcia for the next week. Yeah, I stayed at the Barcia household, played poker with Gavin Faith, Justin, and Nicky Myers. The next morning Justin's mom Lorraine cooked us breakfast. Some random kid from Cincinnati, who didn't have any goals for himself, just lucked into the best week of his life.
Somewhere in Georgia living the dream.
At this point I was re-wearing all of my clothes. I had packed for one week remember? I hadn't showered and I had long hair at the time. It was a painful sight to behold. However, I was happy and would rather be no other place. I filmed, I wrote, I worked the booth, I ran around like a chicken with my head cut off. I was willing to do whatever it took to get noticed and it worked. I stayed at Wes' house for a few days and recovered from my week of sickness. I even got to sit in studio with DMXS Radio for a live show. Two and a half weeks after I started my journey I left Georgia and headed north. I was returning from the best trip of my life a new man. I had aspirations of becoming a journalist and nothing would hold me back from accomplishing my dream.
As I look back on it now, it almost makes me tear up. Have you ever wanted something so bad and then it happens? I still can't believe how fortunate I was to get a chance like I did. It was just meant to be. Travis told me that he had gotten emails like mine all of the time. So what made me get chosen? I have no idea. I met some of the best people that week. I still stay in contact with all of them when I can. I still write weekly columns for Vurb, but it's crazy to see how far I have come. I'm very thankful for Chase Stallo and the Racer X crew for allowing me to contribute to them every week. I'm also very thankful for Steve Matthes, who hired me on earlier this year to write columns on my favorite sport. All of these great motocross people don't have to do what they did for me, but they did and still do. I hope to somehow repay everyone in some way.They take me under their wing, give me advice, and I soak up everything they tell me like a sponge.
In three weeks I'm graduating Northern Kentucky University with a Bachelors Degree from the College of Informatics. I've put the work in to become the best I can be, but the work never stops. I write until my fingers are bloody and I write until I can't even spell words anymore. The second part of that statement is true, I don't actually bleed, but sometimes I have trouble speeling. So yeah, my Thanksgiving post is a week early, but this is when my journey started six years ago. It's been a heck of a ride and this wasn't even half of the story. I'm going to write a book one day about it and no one will read it.
Thank you to everyone who reads my columns every week. Thank you to Wes Williams, Brent Stallo, Chase Stallo, and of course Steve Matthes for making my columns possible and for being pivotal figures in my career thus far.
Happy Thanksgiving!
If you would like to email Troy you can reach him at Troy@pulpmx.com. He always responds to every email.
Instagram/Twitter: @troybendgen